Wandering our World is reader supported! If you purchase anything through a link on our site, we may earn a commission at no extra cost to you.
Last updated on July 3, 2023 by Wandering our World
As one of the United States' most iconic regions with ancient lakes, spectacular mountains, and raging rivers, Idaho is full of natural sights ready to be discovered. And we believe dispersed camping in Idaho is one of the best ways to experience and enjoy them!
Thankfully, dispersed camping is legal and free on publicly owned land – such as areas under the control of the Idaho Department of Lands and Bureau of Land Management. Which makes camping a fantastic way to explore the 'Gem State'.
We explain the rules for dispersed camping in Idaho in this article, along with forbidden areas and regulations for campfires. So read on and let your adventure begin!
Dispersed Camping In Idaho: The Rules & Where You Can & Cannot Camp
DISCLAIMER: Below we give general advice, but we always recommend staying in an official campsite. If you choose to go dispersed camping, then make sure you do so with someone who already knows the area where you're planning on camping for your own safety.
In our opinion, there's nothing better than camping. It's a chance to get back to basics, enjoy nature, and separate yourself from the hustle and bustle of 21st century life. It also allows you to experience some of nature's best views for free.
The fantastic thing about Idaho is that dispersed (primitive) camping is allowed and legal, as long as you are camping on state ground and adhere to a few simple guidelines. We outline those further down.
Just remember that public land should be treated with respect – just as you would like your own land to be treated. We have tips on how to camp respectfully further down this article too.
Land looked after by the Bureau of Land Management, National Park Service, Idaho Department of Lands, U.S. Forest Service and other state institutions will be publicly owned. Typically any areas that are green on Google Maps are also publicly owned. A great state map, such as this one could help in finding camping spots too.
Keep an eye on contours as the more spaced out they are on a map, the flatter the ground will be. Maps can also help pinpoint potential water sources to camp nearby.
Typically on state maps, BLM lands are colored yellow and sometimes pink, Forest Service lands are green. You can find a basic map which shows land owned by the different state institutions in Idaho by clicking here.
Just be aware that there are a few areas where dispersed camping in Idaho is forbidden:
You are not allowed to camp in or near paid campsites (you must be at least one mile away), trailheads, recreation areas, boat ramps, picnic areas and similar
You are not allowed to camp within 200 feet of a water source (springs, rivers, water catchments etc).
Areas that specifically state 'closed to camping' or similar are forbidden. Each state forest and BLM area has several regions where dispersed camping is not allowed. When you know which region or state forest you wish to camp in, you can check that state forest or BLM area's official page for where restrictions exist, or get in contact with the local office to ask.
Campers are asked to not camp in the middle of a clearing or meadow, and to make any campsite hidden so not to spoil the landscape for other people.
While you can camp almost everywhere, the Bureau of Land Management has also created dispersed camping areas situated beside popular hiking trails. These exist in the hope of encouraging free campers to camp in the same place, and therefore reduce the impact on the environment.
If you're interested in primitive camping within one of these, it's best to contact the regional office of the area you are visiting to ask for locations.
How Long Are You Allowed To Camp In State Areas?
Legally in Bureau of Land Management areas you can camp for two weeks at a time within a 30 mile radius during a 28-day period. What that means, is that you may camp within a 30 mile radius for two weeks, either all in one block, or spread out across a 28-day period. This is perfect for hikers who will move camp a few miles at a time.
The regulations are slightly different in state forests. In these areas you may camp for 14 days at a time in a period of 30 days within a radius of 20 miles. You must then move on, and camp outside that radius if you wish to continue camping.
Furthermore, if you are a group of 75 or more people you must gain a permit to camp in a U.S. state forest – you can get that by contacting the local district office. There will be no fee.
Dispersed camping on land managed by the Idaho Department of Lands is generally limited to ten days at a time.
Being A Responsible Camper
Once you've found your camping spot, make sure you leave your pitch the way you found it, and minimize waste. When going to the toilet you should do it at least 100m from a water source (such as a river or lake), and use a trowel (like this folding one) to bury human waste at least six inches underground. Take any tissue paper back home with you – use a ziplock bag to keep it sealed.
There are many different water sources in Idaho, but remember to always have plenty of water on you when camping and walking. A space-saving collapsible water bottle would be a good purchase. But do ensure that water from any undeveloped source is safe by treating it. That means heating it until it comes to a boil, or using water purification tablets/filter.
Campers are also asked to abide by the seven principles of leave no trace – they can be seen here.
With bears roaming Idaho's forests, you must take steps to avoid attracting them to your campsite. We advise:
If you have a vehicle nearby, store food there rather than in a tent
Use a bear box or bear canister to store food, rubbish, and anything with a scent
Don't pitch your tent near where food is being stored
Never approach any bear, regardless of its size
Don't spray anything with a scent
Dispersed Camping In Idaho: The Rules Around Campfires
Wildfires are a big problem in Idaho, and the penalties for ignoring fire restrictions can be severe.
The restrictions vary from region to region, and the best way to check whether restrictions exist is to ask the local branch of the Idaho Department of Lands, BLM or Forest Service in the area you are planning to camp in. More general fire restriction info for Idaho can be found here.
Typically restrictions are either Stage I or Stage II in Idaho.
Stage I means that building, or using a fire, campfire, or stove fire is banned, except in a designated recreation site within a fire pit. In Stage II, building or using a fire, campfire or stove fire is banned everywhere.
When there are no restrictions you are sometimes allowed to have campfires. However, most areas of Idaho require campers to possess a fire permit if they wish to have a campfire. It's free and you can get one here.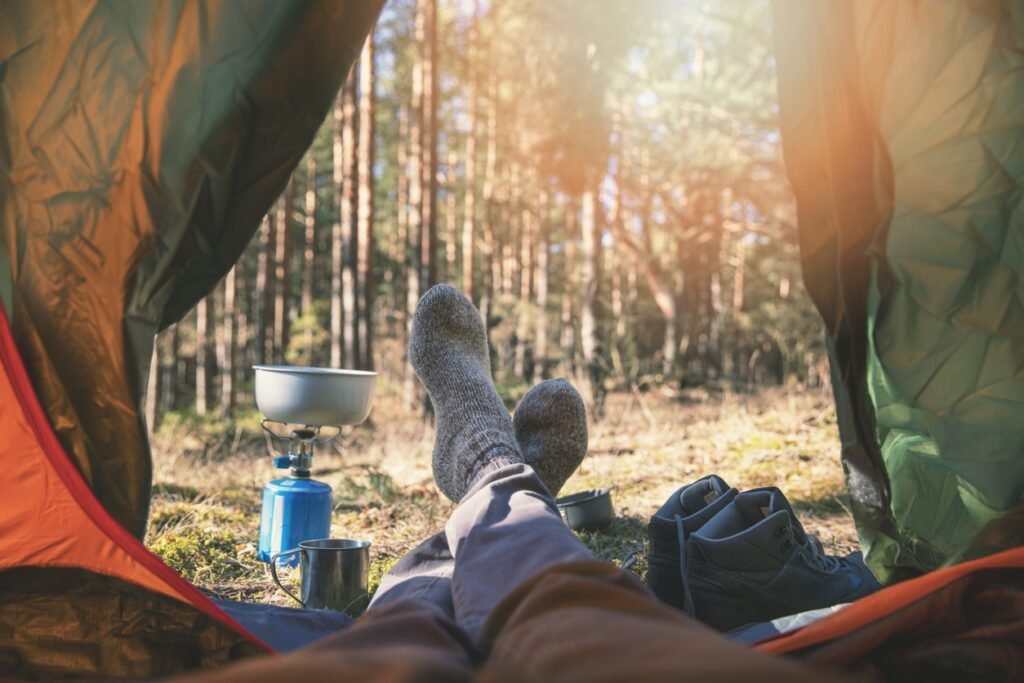 Even when no restrictions are in place, campfires still must be contained within a pit, be small in size, and not placed near vegetation that is a fire risk, or below overhanging branches. Furthermore some regions only allow campfires to be built in already existing fire pits – which you can find in dispersed camping areas.
When building a fire remember to only use dead wood that is no larger than wrist size, and to never leave a campfire or stove unattended – it is illegal to do so. You will know your campfire is out if you can stick your hand into the ashes and they are cool to the touch.
But we advise not taking a risk with a campfire even if it seems to be allowed in the region.
Instead of building campfires, you could use a storm cooker – but check local laws first. Then there is much less wildfire risk and you can cook knowing that the fire is contained. We believe the best ones on the market are Trangia storm cookers.
Recommended for your dispersed camping in Idaho adventure
*This article may contain affiliate links which allows Wandering our World to make a small commission on any sales made – and keep the coffee flowing! It involves no extra cost to yourself. As an Amazon Associate we earn from qualifying purchases, but only recommend products we believe in.