Wandering our World is reader supported! If you purchase anything through a link on our site, we may earn a commission at no extra cost to you.
Last updated on April 1, 2023 by Wandering our World
As well as boasting of some of Europe's prettiest cities, like Rome and Florence, Italy also has some of the most charming coastal towns in the world, like Portofino and the five lovely little villages of the Cinque Terre.
Both of these locations consist of cute, colorful buildings looking out over the sea and backing onto dense forests and towering cliffs, offering quaint, small town vibes, fine food, and authentic Italian experiences.
However, despite having plenty in common and being pretty close to one another – Portofino is only about 45 miles up the coast from Cinque Terre – these two destinations also have some key differences.
Firstly, Portofino is just one town, while the Cinque Terre consists of five little coastline villages all in a row, linked by a local railway line. This technically means that there's more ground to cover in the Cinque Terre, but Portofino still has plenty to see and do.
Portofino is also famed as quite a glamorous spot, with fancy yachts in the harbour, high-end hotels to rest your head at night, and upmarket boutiques of designer brands. In contrast, the Cinque Terre villages have retained much of their traditional simplicity and authenticity.
However that's just the beginning when it comes to how these two Italian destinations differ…
That's why right here we'll use our knowledge to show how they compare in key areas, like their beaches, activities, restaurants, average costs, and so on. All so you can make the right holiday decision!
CONTENTS:
A Quick Overview
Which Is Best For Activities?
Which Is Better For Beaches?
Which Is Better For Nightlife?
Which Is Better For Hiking?
Which Is Better For Shopping?
Which Is Better For Food?
Which Has the Best Accommodation?
Where To Stay According To Your Budget
Which Is Better For Families?
Which Is Better For Couples & Honeymoons?
Which Is Better For Backpackers?
Which Is Cheaper?
Which Is Easier To Get To?
Which Is Easier To Get Around?
Which Is The Better Choice?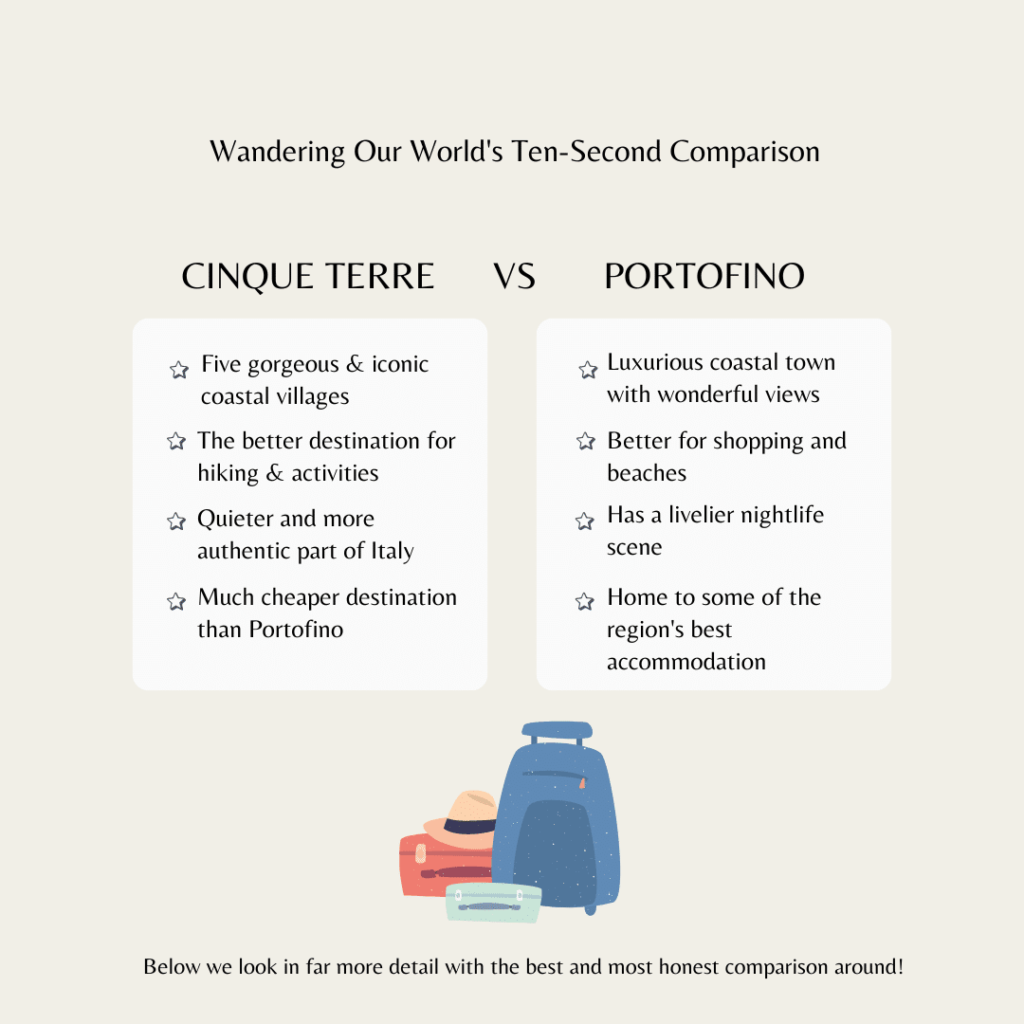 A Quick Overview: Portofino vs Cinque Terre
Portofino: A Quick Overview
Portofino is a small town, situated on the Italian Riviera to the east of Genoa. The town is technically classed as being part of the Metropolitan City of Genoa, although it's very much a separate entity to the city itself.
It's home to a small population of just a few hundred people and consists of colorful homes and hotels centered around a small harbor.
This little town has an interesting past, having been a part of the Republics of Genoa and Florence, as well as part of the Kingdom of Sardinia in the 19th century.
But it was in the late 19th century that various noble and wealthy travelers from around Europe discovered this charming spot and fell in love with it.
The town even drew in a few famous faces of the time, like the novelist, Elizabeth von Arnim, which helped to raise its reputation as a touristic haven.
And, by the mid-20th century, tourism was booming in the area, with the jet-set crowd flocking to Portofino from far and wide; this led to tourism becoming the driving force of the town's economy.
Nowadays, Portofino is one of Italy's most-visited coastal towns and has developed into a luxurious location where mega yachts can be spotted sailing into the harbor.
Lively beach parties continue into the early hours in the town, and travelers have an impressively wide range of high quality, high-end resorts and hotels to choose from, as well as beaches, shops, and more.
Cinque Terre: A Quick Overview
The Cinque Terre, or Five Lands, is a coastal region in north-west Italy, just a little further east along the coast from Genoa and Portofino.
A UNESCO World Heritage Site and National Park, the Cinque Terre is made up of five small villages – Monterosso al Mare, Vernazza, Corniglia, Manarola, and Riomaggiore.
Like Portofino, the Cinque Terre has a fascinating past, with the villages developing at different times and once being popular targets for would-be invaders – this led to the locals building a range of forts and defenses, and you can still see some of them to this day, like the medieval Castello di Riomaggiore.
Unlike Portofino, the Cinque Terre simply consisted of sleepy fishing villages throughout the 19th century and much of the 20th.
However, in the 1970s, the area began appearing in travel guidebooks and saw a big surge in popularity, transforming from a 'hidden gem' into one of Italy's best-known coastal travel destinations.
Now, these villages attract a lot of tourists each year, but they've still retained a lot of the unique charms and features that made them popular in the first place.
They're still quite sleepy and charming little places without any raucous nightlife or big brand stores, offering a great escape for couples, backpackers, and any other travelers looking for authentic Italian experiences.
Which Is Best For Activities?
So, what can you actually do in the Cinque Terre or Portofino?
Well, while both of these places are quite relaxing and quiet, in general, they also both offer a range of things to fill up your travel itinerary.
That includes some interesting local landmarks to visit, beaches to bask on, and even some good hiking trails for exercise.
Overall, the activities are reasonably similar between these two places, but Cinque Terre has more to see and do, thanks to the fact that it's larger. You may, therefore, wish to spend a little longer there than you would in Portofino in order to truly appreciate all five of the fabulous villages.
Below we look at the unique activities you can do in each, so you can see which destination suits your holiday preferences the most!
Portofino: The Activities
Despite being a pretty compact town, Portofino has an impressive list of local landmarks and interesting ways for travelers to spend their time.
You could start off by simply roaming the streets and admiring the picturesque beauty of this town's colorful homes, or take a seat somewhere around the harbor and watch the boats and yachts come in and out of port.
For something more active, travelers can take a tour of the Castello Brown, or Brown Castle.
Situated in a high spot, far above the town, this ancient castle enjoys fantastic views over Portofino and is one of the best places to snap some selfies and simply appreciate the scenic landscapes all around you.
If those lovely views aren't enough, you can also take a hike up to the church of San Giorgio, which looks out over the Bay of Portofino and dates all the way back to the 12th century – it's worth stepping inside to appreciate the architecture.
The Church of San Martino is also worth a visit, boasting amazing arches and gorgeous paintings on its ceilings.
There's also a lighthouse in Portofino, as well as a Park Sculpture Museum with some beautiful works from local and international artists.
Or, if outdoor activities are your sort of thing, the area boasts some great opportunities for kayaking, hiking, and even scuba diving – there's even a buried statue you can dive down and see off the coast near the Abbey of San Fruttuoso.
Cinque Terre: The Activities
Just like in Portofino, one of the best things to do in the Cinque Terre region is to simply wander around the villages at your own pace, following the narrow, winding streets between the colorful buildings. That's a great way to enjoy the truly unique and precious charm of this amazing place, far from the noise and lights of the big city.
You'll most likely want to visit all five of the villages, as each one has its own key features.
Monterosso a Mare is the place to be for the area's one and only sandy beach, for example, while Vernazza has some of the prettiest viewpoints in the area – you can also ride the train to see all five villages or hike between them along the trails of the National Park.
Speaking of hiking, it's by far one of the best things to do here.
The trails that connect the villages are a joy to walk along, with some truly jaw-dropping views along the way that will simply make you stop and stare.
You'll have plenty of photo opportunities, too, although it's worth noting that the trails can get a little busy during the peak summer months.
There are also some landmarks to visit in each village too.
Riomaggiore has a famous old fortress, for example, while Monterosso has the San Juan Bautista Church with its fabulous interiors.
Corniglia has a steep cliff staircase you can climb to enjoy some of the best views of the sea and surrounding landscapes.
Which Is Better For Beaches?
The beaches in north-west Italy aren't exactly famed for their golden sands and Caribbean-like waters.
Instead, they tend to be quite rocky and dramatic, with pristine scenery and small spaces where tourists can rest a while, read a book, soak up the sun, or dip their toes into the water.
So, how do the beaches of Cinque Terre and Portofino compare?
Well, let's begin with the Cinque Terre, as it only has one real beach, which you can find in Monterosso. A lot of the locals gather on this beach, and so do the tourists, making it a pretty busy place in the summer months.
It's a pleasant and pretty spot, but beach-goers might be a little disappointed by the lack of any other options.
In contrast, Portofino has a few beaches within easy reach. The most famous is Paraggi Bay. Situated between Portofino and Santa Margherita Ligure, this beach stands out as one of the best in the entire region – but it can get very busy.
Unlike many of the rocky and pebble-strewn beaches of the area, Paraggi has soft sands and crystal clear waters that are great for swimming.
Paraggi is definitely one of the top spots to visit in the area, but Portofino has a couple of other beaches within walking distance.
There's the Baia del Cannone, for instance, which tends to be a great spot for watching the big yachts sail across the waters, while Olivetta Beach is a small and romantic beach, made up entirely of pebbles and enjoying a very peaceful atmosphere.
Thanks to its greater range of beaches, Portofino wins this category and is definitely the more appealing destination for folks who want to spend time relaxing on the sands. However, the Cinque Terre still has plenty of rocky spots to rest, sunbathe, and admire the views.
Which Is Better For Nightlife?
When it comes to nightlife, there's only one real option for people who like bars, clubs, and parties: Portofino.
Portofino has a surprising amount to offer for those who enjoy staying out late, including several bars that stay open until the early hours.
Plus, there's even a famous nightclub – Covo di Nord-Est – built right into the rock beside the sea.
People also sometimes party on Paraggi Beach at Portofino, and this simply isn't the case over in the Cinque Terre.
You might find a few young travelers out and about after dark at a couple of small pubs and bars in Monterosso and Riomaggiore in Cinque Terre, but the area tends to be quite calm and peaceful in the evenings, without any club or party scene to speak of.
Which Is Better For Hiking?
Hiking is one of the best things to do along the Italian coast, as it's the perfect way to see the scenery from lots of different angles, and it's no surprise that there are plenty of trails to be found in places like Portofino and the Cinque Terre. But which one is best-suited for folks who like to hike?
Well, the Cinque Terre has to take the win in this category. It's well-known around Italy as one of the country's best hiking destinations, and people specifically travel here purely to hit up the trails, which run for around 75 miles throughout the Cinque Terre National Park and connect all five of the villages.
You can hike from one village to the next, taking in the magnificent views of the water, the cliffs, and the colorful, charming buildings of places like Vernazza and Corniglia.
Or, you can head off on one of the side paths to find secret viewpoints and peaceful little spots to sit and rest with your fellow travelers.
With that said, Portofino also has decent hiking opportunities.
There are many miles of trails to be found around the Portofino National Park, including coastal paths with sea views and green trails that wind between the shrubs and trees further inland.
You can also hike from Portofino to neighboring villages like Santa Margherita and Camogli.
Which Is Better For Shopping?
If you like to shop and want to pick up some nice souvenirs from your trip or fun gifts to give to people back home, you'll want to consider what kinds of shops, markets, and boutiques are available in both Portofino and the Cinque Terre.
When it comes to shopping, Portofino is the better option for those who love luxury. You'll find a range of up-market boutiques lining this town's cobbled streets, including designer brands like Louis Vuitton and Salvatore Ferragamo.
The Martiri dell'Olivetta Square is a great place to spend a few hours browsing local stores for clothing, jewelry, and shoes.
In Cinque Terre, shopping opportunities are a little more restricted. Monterosso is the best place to shop, but you won't find many fancy boutiques here.
Instead, Cinque Terre is a good place to find locally-made crafts, like ceramics, as well as picking up a bottle or two of some authentic limoncello or other delicious liquors.
The right choice for you will depend on what kind of shopping experience you're looking for; Portofino has more shops and lots of high-end boutiques, while the Cinque Terre offers more in terms of affordable and traditional stores.
Which Is Better For Food?
Both Portofino and the Cinque Terre villages have some great places to eat.
Since they're both situated on the coast, seafood is a big focus in both of these locations, with several highly-rated restaurants serving up freshly-caught fish, prepared in various traditional ways.
Portofino, in particular, has some particularly great mussels and cod dishes.
However, as the larger area, the Cinque Terre has even more excellent eateries.
Not only are there some fabulous seafood bars in Cinque Terre with views over the sea, but these villages also have some splendid little cafes and bakeries that produce flavorful focaccia with an array of toppings, as well as some delicious desserts made of locally-grown lemons.
Which Has the Best Accommodation?
As well as thinking about what you're going to eat, you'll also have to plan where you're going to stay during your visit to either Portofino and the Cinque Terre.
Accommodation is one area in which these two places differ quite a lot, with Portofino offering more diversity and much more luxury overall.
Since Portofino has been a jet-set destination for quite a while now, it's home to some very impressive resorts and 5-star hotels.
If you want to spend a few nights or even a full week in total comfort, this is the place to be, and there are also some cheaper and simpler guesthouses dotted around the area.
In contrast, the Cinque Terre doesn't have any boutique hotels or big resorts to speak of.
Instead, most visitors to this area choose to stay in locally-run B&Bs or even simply rent a room in the homes of local families. It's less luxurious, but it's also a more authentic option and usually much more affordable, too.
Where To Stay According To Your Budget
Cinque Terre
Budget: Situated in Corniglia inside the Cinque Terre National Park is Affittacamere Le Terrazze, a gorgeous accommodation that feels like it costs far more than its budget price point – especially as some rooms have balconies with sea views. See photos and rates!
Luxury: A stay at Affittacamere San Giorgio in Manarola is all about the view. These lovely rooms have balconies that look out – unobstructed – on the sea and coastal cliffs. You'll be waking up and going to sleep with the sound of the waves. Bliss. See photos and rates!
Portofino
Budget: Finding accommodation in Portofino with sea views that doesn't involve remortgaging your house can be hard, but Wanderlust by PortofinoHomes is a one-bed apartment that offers just that. It's affordable, stylish and the views are exceptional, but it also tends to sell out fast. See photos and rates!
Luxury: Sat right on the seafront in Portofino in a former historic villa nestled into the hillside, Hotel Piccolo Portofino is a four-star hotel with fantastic service, a private beach, and breathtaking views. It's luxury accomodation, but still cheaper than other similar properties in the area. See photos and rates!
Which Is Better For Families?
If you're planning a trip as a family, Portofino and the Cinque Terre can both be great locations to visit.
These two places are particularly well-suited to those with older kids who can have fun on the hiking trails and appreciate the beautiful scenery, as very young children might be a little bored by the lack of attractions.
You won't find water parks or theme parks in either of these areas, but there are still fun things to do with kids.
Portofino has the advantage of having more local beaches for kids to play games on the sand or splash in the sea, while the Cinque Terre is great for family walks and exploration.
Which Is Better For Couples & Honeymoons?
For couples, you can't really go wrong with either Portofino or the Cinque Terre, as both of these dreamy locations offer the perfect backdrop for romantic moments and happy memories.
You can have a fantastic time in either location with a special someone by your side, relaxing on the beach or walking through the streets.
In general though, Portofino is a super spot for couples who want to simply relax.
You can enjoy absolute indulgence at one of the area's highly-rated hotels, dine at seafood bars by the sea, and watch the world go by from the beach or harbor.
Plus, if you and your partner like to party, this town also has a dynamic nightlife scene.
The Cinque Terre region is arguably even more picturesque and romantic for couples of all ages, and it's got lots to offer for active couples who want to get out and about.
You can spend your time exploring the villages, hiking the trails, and enjoying the magical views, heading to a charming restaurant in the evening before sleeping peacefully in a local guesthouse.
Which Is Better For Backpackers?
If you're planning a backpacking trip to the Italian coast, the Cinque Terre is one of the best places to go.
Lots of backpackers come to Cinque Terre from around the world, and many people appreciate the area's relatively cheap accommodation, authentic vibes, and great hiking trails to help you get from place to place.
Portofino can also appeal to backpackers, but the more luxurious vibes and higher prices of this town make it less suitable overall.
It can be tricky to find cheap accommodation in Portofino, so budget-conscious travelers may struggle, and other things like food and transportation also cost more.
Which Is Cheaper?
Of course, there are many factors that can influence the cost of your trip, such as the type of accommodation you choose, which restaurants you eat at, and what kinds of tours or activities you do.
However, if we look at general costs, it's clear that the Cinque Terre is much cheaper.
Average accommodation costs are significantly lower in the Cinque Terre; you can usually find rooms there for less than half of what you would pay in Portofino.
Food also tends to cost far less, despite being of similar quality, and local tours and activities are also cheaper, making the Cinque Terre by far the better destination for anyone on a budget.
Which Is Easier To Get To?
Before you think about beaches and activities, it's important to consider how you're going to get to your destination.
And, since Portofino and the Cinque Terre are quite close to each other, the most common methods of arrival to either of these coastal havens are pretty similar, with most travelers flying into either Genoa or Milan.
Genoa has quite a small airport that doesn't have too many direct flights, but it is directly connected to the UK, France, Spain, and Germany, so European travelers or those who don't mind connecting in Europe shouldn't have a problem getting there.
Otherwise, you can opt to fly to the much larger Milan Malpensa Airport, which has direct links with the US and Canada.
Either way, once you arrive, you'll most likely need to rely on public transport to get to either Portofino or the Cinque Terre.
Since Portofino is right beside the city of Genoa, it's easier and faster to get to, especially for those who arrive at Genoa Airport. You'll typically have to spend an extra hour or two to get to the Cinque Terre.
Which Is Easier To Get Around?
You'll also need to consider how you're going to get around in Portofino or the Cinque Terre.
Both of these places are quite walkable, and Portofino has the benefit of being smaller and self-contained, while the villages of the Cinque Terre are spread out along the coast, so you won't need to spend as much time traveling in Portofino.
Interestingly, both Portofino and the villages of the Cinque Terre are car-free!
You can rent a car when visiting either of these locations, but you'll have to park it outside of the towns, and it's not really worth it for most travelers.
Instead, most people rely on public transport; Cinque Terre has its own railway line connecting the villages, and Portofino has boats, buses, and nearby trains.
Overall, both places are really easy to get around. You can hop on the train in the Cinque Terre and make your way to the next village in a matter of minutes, or take a boat out of Portofino to nearby towns like Rapallo.
Walking is also easy and convenient in both locations, giving you plenty of opportunities to stretch your legs and enjoy the fresh air.
Portofino vs Cinque Terre: Which Is The Better Choice?
It's clear to see that both Portofino and the Cinque Terre are wonderful places.
They're both beautiful and vibrant, with lots to see and plenty to appreciate, but they're also quite different in several distinct ways, from their average prices to their size, range of activities, beaches, and vibes.
The best choice for you will mostly depend on what sort of trip you're looking for.
They're both great for rest, relaxation, and escapes from the big city, but Portofino has the benefit of added luxury, while the Cinque Terre is one of the most truly unique and picturesque locations in all of Italy, with amazing hiking and so much small town charm.
Overall, the Cinque Terre takes the win in this comparison. Both places are great, but the Cinque Terre has more universal appeal, thanks to its wider range of activities, much cheaper prices, and authentic experiences.
It's a genuine 'bucket list' destination that every traveler to Italy should try to visit at least once.