Wandering our World is reader supported! If you purchase anything through a link on our site, we may earn a commission at no extra cost to you.
Last updated on October 29, 2023 by Wandering our World
If you're planning a trip to the fabulous country of Morocco, you might find yourself struggling to choose between two of its biggest and best-known cities: Casablanca and Marrakech. They're both wonderful places for those who want to dive into Moroccan food, culture, and history, but they also have plenty of big differences.
Marrakech, for instance, is known as a very touristic location, drawing in travelers from far and wide, with a deep dining scene and dynamic nightlife. It's got lots of famous attractions and landmarks to see, from its Jemaa El Fna market to its ancient red city walls and glamorous Bahia Palace.
In contrast, Casablanca, despite being well-known around the world due to the movie of the same name, isn't exactly the most tourist-friendly spot. It's much more of a business-oriented city, with one of the biggest ports on the planet. However, it's still got much to offer the curious traveler, with some stunning architecture and a growing arts and culture scene.
So, which one should you pick? Well, that all depends on what kind of experience you're looking for, and this guide is here to dig into the details and help you make up your mind. Below, we'll compare Marrakech and Casablanca in a range of key areas, including attractions, nightlife, food, and safety, to help you see which city is just right for you.
Contents:
A Quick Overview Of Casablanca vs Marrakech
Which Has The Best Weather?
Which Is Best For Activities?
Which Is Best For Day Trips?
Which Is Best For Nightlife?
Which Is Best For Shopping?
Which Is Best For Food?
Which Is Safest?
Which Is Best For Families?
Which Is Best For Couples?
Which Is Best For Backpackers?
Which Is Cheapest?
Casablanca vs Marrakech: Which Is Better?
A Quick Overview Of Casablanca vs Marrakech
Casablanca: A Quick Overview
Casablanca, also known to locals at Dar el-Beida, is the biggest city in Morocco. It's also the nation's main economic and business center, with a massive population of around 3.7 million people in the main urban area and over 4.2 million in the larger Greater Casablanca region. The city sits on Morocco's Atlantic coast in the central-western part of the nation.
Berbers settled the land around Casablanca thousands of years ago, in the seventh century BC. It became a useful port for various civilizations, including the Romans, and was later the site of great conflict, being destroyed by the Portuguese in the 15th century and bombarded by the French in the early 1900s.
In short, this city has been through a lot, but has always managed to build itself back stronger than before. Now, it's the home of Morocco's most important port, and also serves as the base for the country's Royal Navy. It's also one of the best-performing financial centers on the planet, and many major companies are based in this city.
From a touristic point of view, Casablanca is a little more rough and rugged than Marrakech or other Moroccan cities, like Fez. It's not quite as tourist-friendly, but still has some impressive landmarks, like the Hassan II Mosque and diverse architecture, with a mixture of styles including Art Deco, Art Nouveau, Neo-Moorish, and French Colonial.
Marrakech: A Quick Overview
Marrakech, which may also be written Marrakesh, is the fourth-biggest city in Morocco. It's one of the country's four "Imperial Cities" or historic capitals – this group also includes Fez, Meknes, and Rabat. It's situated just under 150 miles south of Casablanca in the Marrakesh-Safi region, due west of the Atlas Mountains, with a population of around a million people.
Just like in Casablanca, Berbers have inhabited the area around Marrakech throughout the ages, but the city itself wasn't founded until 1070. It started life as the capital of the Almoravid Empire, growing rapidly in the years that followed into a major center of both trade and culture for the entire Maghreb Region.
The city later went through some tougher times, but reemerged as one of the most significant cities in Africa – a status which it maintains in the modern era. It's also one of the most touristic cities not only in Morocco, but in all of Africa, drawing in millions of travelers each and every year from across Africa, Europe, and beyond.
Compared to Casablanca, Marrakech has much more of a touristic and tourist-friendly vibe. It also boasts a very long lineup of popular landmarks and attractions, from the Marrakech Museum to the Jardin Majorelle and 16th century Saadian Tombs. The city is also famed for its diverse cultural experiences, offering everything from cooking classes to hot air balloon rides.
Which Has The Best Weather?
Along with the other countries of Northern Africa, Morocco is famed for its warm temperatures which continue throughout the year. It never gets too frosty in this part of the world, but the conditions are a little different between Casablanca and Marrakech, as Casablanca is much further north and by the coast, while Marrakech has an inland location.
So, what does that all mean in weather terms? Well, it means that temperatures tend to be a little steadier and stabler in Casablanca, without too much deviation from one month to the next. Marrakech, meanwhile, enjoys much larger temperature swings, with far hotter summers and higher peaks than its northern counterpart.
In fact, summer in Marrakech can be almost unbearable, with many tourists preferring to visit during the shoulder seasons. If you're planning a summer trip, Casablanca will be much more comfortable, but for other times of year, Marrakech is consistently warmer and drier, too.
Which Is Best For Activities?
Casablanca and Marrakech certainly differ when it comes to sightseeing and typical touristic fun. You'll find more of the usual big city tourist attractions in Marrakech, but Casablanca also has its share of interesting activities and landmarks. Here's a quick breakdown of the best things to do in both of these cities.
Casablanca: The Activities
In terms of famous landmarks and sightseeing hotspots, Casablanca doesn't have quite as long a list as Marrakech. But there are still some iconic structures to see here, starting off with the awe-inspiring Hassan II Mosque – looking out across the ocean, this is the biggest mosque in all of Africa, boasting a retractable roof and exquisite hand-crafted marble features.
Casablanca is also famed for its architecture, with an eclectic mix of styles spanning Art Deco and French Colonial. If you're an appreciator of fine design, you'll love to roam the city streets, stopping off at decorative buildings and squares like the Marché Central, Villa des Arts, and Place des Nations Unies.
History fans will enjoy exploring Casablanca's Old Medina, with its fortified walls and old cannons. It's not as impressive as Marrakech's, but it's still a fascinating historical area in which to spend a few hours. Then, there's the New Medina, showcasing the city's more modern side, with excellent shopping and dining prospects.
Of course, Casablanca is also on the coast. That means visitors can enjoy waterfront walks along the scenic Ain Diab Corniche or spend time on one of the city's many sandy stretches, like the Plage Lalla Meryem or Ain Diab Beach. There are also nicely-maintained public gardens and parks dotted about, ideal for picnics or people-watching.
Marrakech: The Activities
Over in Marrakech, most tourists start off by exploring the historic Old Medina. Feeling almost like a vast open-air museum, this place is filled to the brim with beautiful old buildings, which are generally better-preserved than those in Casablanca. This is also where you'll find Marrakech's traditional souks, or markets, selling everything from spices and snacks to antiques and textiles.
With its narrow, winding streets and distinctive red walls, the Medina feels a little like a maze, but it's one you won't mind getting lost in – filled with decorative courtyards, charming gardens, and peaceful vibes, it's the kind of place that travelers can easily spend entire days wandering around, with hidden gems awaiting around each and every corner.
If you're seeking something a bit more grandiose, Marrakech is also home to multiple palaces. There's the gorgeous 19th century Bahia Palace, for instance, or 15th century El Badi Palace. Religious landmarks are also scattered across the city, like the grand Koutoubia Mosque or Ben Youssef Mosque, the oldest in the entire city.
For rest and relaxation, Marrakech has many traditional hammams, along with stunning gardens, like the Jardins Majorelle, dating back to the 1920s, or the significantly older Menara Gardens, first planted back in the 12th century. On the hottest days, you might prefer to take refuge in a local museum, like the Yves Saint Laurent Museum or Museum of African Contemporary Art.
Overall, there's much more to do in Marrakech compared to Casablanca. Marrakech has a much greater number of impressive historic buildings, along with galleries, museums, and majestic mosques to admire. Casablanca's list of attractions is notably smaller, but it does have beaches, which are sadly absent in Marrakech.
Which Is Best For Day Trips?
While Marrakech and Casablanca both offer plenty of fun-filled activities, you may like to spend a day or two exploring other parts of Morocco before you take your leave. So, which city is best-placed for exciting day trips?
Of the two, Casablanca has arguably the better location for diverse day trips, as it's within easy reach of three of the most significant Moroccan cities: Rabat, Fes, and Meknes. Long-distance buses can take you to all of these places, with plenty of towers, mosques, museums, and more to explore. There are also some lovely coastal resorts to see, like Bouznika and Skhirat.
Meanwhile, if you're based in Marrakech, the best day trips are more nature-oriented. You might like to explore the mighty Atlas Mountains, for example, where you can ski, climb, or explore little villages. Marrakech is also well-placed for camel treks into the desert – you could climb the famed dunes of Erg Chebbi, for example, or delve into the Agafa Desert.
Overall, the best option for you will depend on which types of day trips you like the most. For urban excursions and cultural depth, Casablanca is best. For adventures in nature, Marrakech is the place to be.
Which Is Best For Nightlife?
If you love staying out late, partying and drinking until the early hours or exploring the city after-dark, Marrakech is the place for you. In fact, it's widely regarded as one of the very best nightlife destinations in all of Africa, with a broad array of pubs, clubs, and bars to suit every kind of traveler.
Whether you're looking for upscale restaurants, fancy wine bars, thumping nightclubs, or traditional pubs, Marrakech has got you covered. Hivernage and Gueliz are the top two nightlife neighborhoods in the city, but there are plenty of other places to party, and this city generally feels safe and walkable, even in the middle of the night.
Casablanca also has a decent nightlife scene, with a fun mix of wine bars, dance clubs, and even themed Irish pubs throughout the Racine district and other areas, like Maarif and Gauthier. However, this city doesn't feel quite as safe or welcoming in the evenings, and most clubs will be filled with Moroccan locals, rather than the diverse mix of travelers you'd see in Marrakech.
Overall, Marrakech is definitely the better place to party and have fun in the evenings. It's safer, and its nightlife scene is larger, livelier, and more accessible than Casablanca's.
Which Is Best For Shopping?
Shopping is one of the best leisure activities in Morocco. This nation is famed for its lively markets and majestic crafts, offering everything from handwoven rugs and handcrafted pottery to jewelry, spice blends, clothing, and antiques. But which city offers the best shopping scene between Casablanca and Marrakech?
Well, if you head to Casablanca, you'll do most or all of your shopping in the Old or New Medinas. The Old Medina has a great range of traditional shops and stalls, while the New Medina offers an even wider range of stores, with very fair prices and a nice mix of items, like clothes, shoes, and décor.
Over in Marrakech, the souks are the best places to browse, with lots of textile stands, carpet shops, pottery ateliers, and craft stores to see. All of the typical Moroccan goods can be purchased here, and it's one of the best cities for stocking up on traditional souvenirs and gifts to take back home, like rugs and shawls.
Overall, both cities have pretty similar shopping scenes, but you'll find a bit more diversity and more English-speaking sellers in Marrakech.
Which Is Best For Food?
For many travelers, the food is one of the best aspects of visiting Morocco. A real melting pot of ideas and influences, Moroccan cuisine is often spicy and flavorful, with the likes of cumin, ginger, paprika, coriander, and cloves featuring heavily in the most popular and traditional dishes. But which city has the better dining scene between Casablanca and Marrakech?
Well, both cities have some terrific restaurants serving up all the main Moroccan classics, like couscous and tagine. So, no matter which one you decide to visit, you're guaranteed to get some fantastic meals and street food during your stay.
However, there are a couple of key differences. Casablanca, being by the sea, has much more seafood on offer compared to Marrakech, while Marrakech's restaurants are a little more varied, catering to the diverse tastes of the city's big tourist crowds. So, if you're looking for the wider range of food, head to Marrakech. If you're a massive seafood fan, opt for Casablanca.
Which Is Safest?
When planning a trip to a big Moroccan city like Casablanca or Marrakech, you may also want to take safety into account. While both of these cities are generally safe to travel to, there is a notable difference between the two.
Casablanca is widely-regarded as a little less hospitable to visitors. That doesn't mean that tourists will be treated badly here, or that the people are mean. There are still lots of friendly locals in Casablanca who will be happy to help you and show you around. However, this city does have a higher crime rate and a rougher feel than Marrakech.
In Marrakech, travelers largely feel safer and more at ease. The locals are, for the most part, very friendly, though tourists may be bothered by street performers or touts repeatedly asking them for money. Pickpockets also roam the touristic center of the city, so you have to keep your wits about you, but the crime rate is much lower than in Casablanca.
Which Is Best For Families?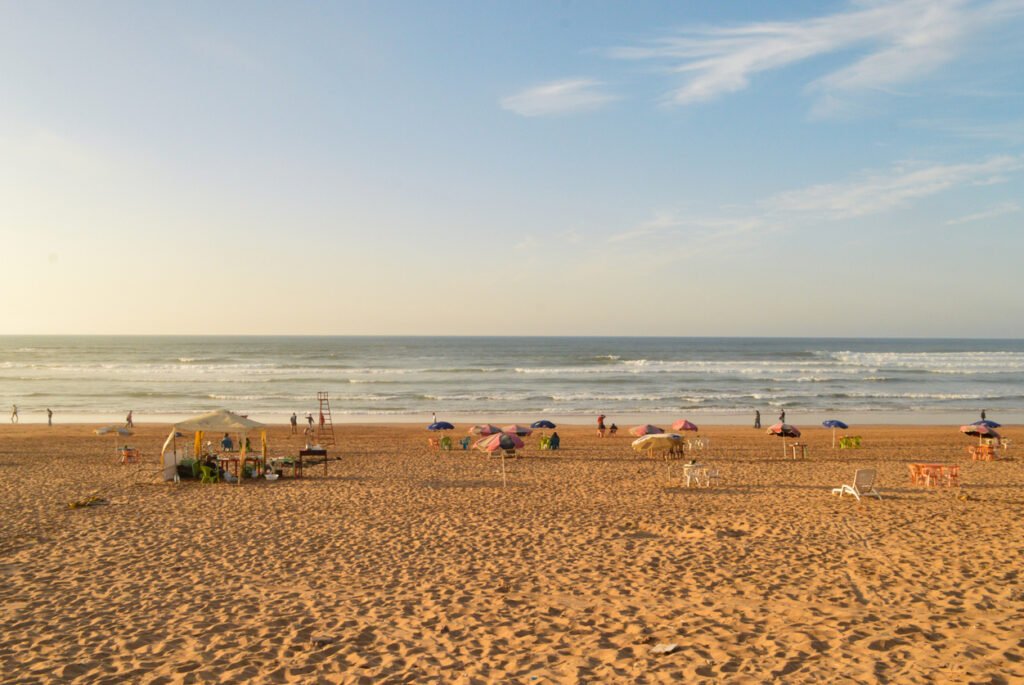 Both Casablanca and Marrakech can appeal to families, but for very different reasons. Casablanca, for example, has the benefit of being by the coast. There are several long sandy stretches to enjoy here, perfect for kids who like to splash in the sea or play games on the beach. However, the rest of the city isn't quite as family-friendly.
Over in Marrakech, you may not find any beaches, but there are still lots of swimming pools for kids to splash about in. Marrakech also has fun family activities, like cooking classes and guided tours of the Medina. Gardens, parks, mosques, and palaces give you even more ways to pass the time, making Marrakech the better of the two cities for the majority of families.
Which Is Best For Couples?
Couples can also have a magical Moroccan adventure in either Marrakech or Casablanca. Both cities have their benefits, and the right choice for you will depend on what kind of experience you and your partner are looking for.
Those who want an action-packed trip, filled with souks, palace tours, and magical museums, should definitely head to Marrakech. It's also arguably got the better shopping and dining scenes, along with more dynamic nightlife and a wider selection of comfortable, luxurious hotels.
However, if you and your partner are seeking more of a relaxing or off-the-beaten-path experience, far from the typical tourist traps, Casablanca is a fine place to be. It's got very interesting architecture, with lots of charming streets to roam along, hand-in-hand with your partner, as well as romantic beaches for sunbathing or watching the sunset.
Which Is Best For Backpackers?
Backpackers might also like to dive into a big Moroccan city, like Casablanca or Marrakech, and both cities have their own advantages for the average adventurer.
Casablanca is arguably better for day trips, so it's a good city to visit if you're planning to ride the buses and hop around from city to city, exploring a wide range of Moroccan destinations. It's also got more of an off-the-beaten-path feel compared to Marrakech, with fewer tourists and more eclectic, unusual sights to see.
With that said, Marrakech is also a fantastic backpacking destination, for several reasons. First, it's got lots of low-cost hostels and cozy, clean places to stay. It also boasts a super street food scene and crazy nightlife, sure to appeal to young backpackers in particular. There are lots of thrilling sights to see around Marrakech, and the markets are tons of fun to roam around.
Overall, most backpackers will probably prefer Marrakech, and it's a little safer and more accessible than Casablanca, too. However, if you're an experienced backpacker in search of something different, Casablanca might be more appealing to you.
Which Is Cheaper?
Price-wise, there's really not much of a difference between Casablanca and Marrakech. So, if you're traveling on a strict budget and want to make it count, you don't need to worry about spending way more in one city compared to the other.
Usually, accommodation rates are a little higher in Marrakech, especially for the nicest hotels in the city center. However, food and activities are a little cheaper in this city compared to Casablanca, so it all evens out, and the average trip price is more or less the same, no matter which city you choose.
Where to Stay According to your Budget
Casablanca
Budget: Best Western Plus Casablanca City Center is a modern oasis in the heart of the bustling city. The hotel boasts a stunning contemporary design, with sleek furnishings and luxurious amenities. Guests can enjoy exquisite dining options, a state-of-the-art fitness center, and breathtaking views of the cityscape from the rooftop terrace. The hotel is conveniently located near major attractions, offering the perfect blend of comfort and convenience for both business and leisure travelers.
Luxury: Four Seasons Hotel Casablanca sits majestically along the oceanfront, offering stunning views of the Atlantic waves. Its elegant architecture is a blend of modern and traditional Moroccan styles, creating an atmosphere of luxury and warmth. Guests can indulge in world-class cuisine, relax in the opulent spa, or take a stroll in the beautifully landscaped gardens. The hotel's prime location also provides easy access to the vibrant city life and rich culture of Casablanca.
Marrakech
Budget: Ari Boutique Hôtel is a charming retreat that combines traditional Moroccan craftsmanship with contemporary elegance. Its intimate setting is enhanced by exquisite decor featuring intricate mosaics, rich fabrics, and handcrafted furnishings. Guests can unwind in the stylish rooms, savor delicious cuisine at the restaurant, or relax in the serene courtyard. With its attentive service and beautiful surroundings, Ari Boutique Hôtel offers a unique and luxurious experience.
Luxury: Almaha Marrakech is a sanctuary of luxury nestled in the heart of the bustling city. The traditional Moroccan architecture, with its intricate carvings and vibrant mosaics, creates a rich and immersive atmosphere. Guests can indulge in gourmet cuisine, rejuvenate in the tranquil spa, and bask in the lush gardens that surround the property. This hidden gem offers a perfect blend of traditional charm and modern luxury, providing an unforgettable experience for all who visit.
Casablanca vs Marrakech: Which Is Better?
Overall, Casablanca and Marrakech are both worth considering if you're looking to dive right into Moroccan culture, cuisine, and history. Both cities have charming historic districts to explore, along with bustling traditional markets and excellent restaurants. But, if you've only got the time or budget to see one, which should you choose?
Well, if we look back over this guide, one city clearly emerges as the obvious choice. And that's Marrakech. Marrakech is simply superior to Casablanca in most of the key areas, with a wider range of attractions, better standards of safety, a more engaging nightlife scene, and plenty of fun things for families, couples, and backpackers all to enjoy.
At the same time, Casablanca is still worth considering. It can't quite keep up with Marrakech in terms of number of activities or touristic appeal, but it offers a different taste of Moroccan life that some would say is more authentic and intriguing. It's also got gentler weather and some lovely beaches for those who like spending time by the sea.