Wandering our World is reader supported! If you purchase anything through a link on our site, we may earn a commission at no extra cost to you.
Last updated on July 3, 2023 by Wandering our World
Known for some of the most majestic views in the UK, it's little surprise that camping in the Cairngorms is becoming more popular every year.
This enchanting region is home to the UK's largest national park, and also boasts four of Britain's five highest mountains! In essence, the Cairngorms combines many of the UK's geographical wonders into just one place.
Whether you are planning to hike, cycle, sleep under the stars, or are just looking for an inexpensive way to see as much of the Cairngorms as possible, camping can be a cost effective and fun way to do that.
It's also a truly unique opportunity to lose yourself in the quiet scenery that makes this place so special.
Wild camping in the Cairngorms is legal and is well tolerated thanks to Scotland's Right to Roam Act.
We talk more about that, as well as offer some tips and tell you some ideas for wild camping spots in the Cairngorms, further down in this article. We even have a free camping game for kids that's perfect for your trip to the Cairngorms!
But first, below are a few Cairngorm campsite recommendations in case you're looking for the perfect place to pitch you tent.
CONTENTS
Camping In The Cairngorms
The Best Cairngorms Campsites For Fun, Views & Adventure
Wild Camping In The Cairngorms
Ideas For Wild Camping Spots In The Cairngorms
Tips For Wild Camping
The Weather & Best Months To Visit
Free Scavenger Hunt Game
Camping In The Cairngorms: A Holiday You'll Never Forget!
There are some great campsites to choose from that are located close to some of the main walking, hiking and cycling routes in the Cairngorms – we give some of our favourites below.
A good quality walking in the Cairngorms book – like this one which has dozens of trails – can help you plan what area you may want to visit and walk in, and therefore what campsites may be of interest to you.
If wild camping, then we would highly recommend a map – like this one – which will be an invaluable resource for finding the perfect spot, away from roads and rural enough so you can enjoy the peace and quiet.
However if you're looking for some great campsite recommendations, below we share some of our favorite campsites in the Cairngorms, before looking at wild camping in the Cairngorms.
These Cairngorm campsites are guaranteed to bring you incredible views, fun, and plenty of adventure.
Some Of The Best Campsites In The Cairngorms For Fun, Views & Adventure
1. Glenmore Campsite
This campsite prides itself for its stunning river and lake-side location, making it a great attraction for visitors seeking to have the best of both worlds: An extensive network of nearby walking trails, as well as easy access to diverse water-sports and winter skiing.
Just a short walk will take you to the sandy beaches at the exquisite Loch Morlich in the heart of the Scottish Cairngorms, while from your pitch you can enjoy riverside and mountain views.
Glenmore Campsite has a wide range of well maintained facilities on site such as toilets, showers, dishwashing, laundry, and battery charging. It's also a pet friendly Cairngorm campsite too!
The bustling tourist town of Aviemore is just 15 minutes away from this Cairngorm campsite too. There you can find a great variety of restaurants, shops and pubs. (Recommended: A Local's Guide to the Best Restaurants in Aviemore).
If you're lucky, you may spot several native animals from your tent, such as golden eagles and red squirrels – or even elusive pine martens! All of which makes Glenmore a great base for outdoor enthusiasts!
Price: From £21 per night
Address: Glenmore Campsite, Aviemore PH22 1QU
2. Dalraddy Holiday Park
Established in 1968, the award-winning Dalraddy Holiday Park is a serene holiday park set on dozens of hectares of birch forest. We've found that this family and dog friendly campsite has incredibly helpful staff, which is always a big plus.
With such a setting, if you're on the look out for spectacular views of the Cairngorm Mountains, close to the beautiful Loch Insh and River Spey, and a camping pitch in the heart of nature then look no further. The tent pitches are also cheap – from £7 per night.
This holiday park is open all year-round (and is a real winter wonderland in winter) and offers various styles of accommodation to cater for all tastes – like hardstanding pitches, chalets, static caravans, as well as ample space to pitch your own tent.
Dalraddy Holiday Park also has Carter's Fish & Chip van that comes and visits between 17:00 – 19:00, making it an ideal base for exploring nature, wildlife watching and then indulging in Britain's favourite dish!
As an added bonus they have an on-site shop that sells delicious local produce, and due to the lack of light pollution this is a fantastic well known stargazing spot. In fact the Northern Lights have even been spotted at Dalraddy before!
Price: From £7 per night
Address: Kincraig, Kingussie PH22 1QB
3. The Lazy Duck
We love The Lazy Duck, not only for its quirky name, but also for its eco-friendly set up.
This six-acre off-grid campsite is home to eco huts, a bunkhouse hostel and a secluded campsite with only four pitches. All of which is situated in the heart of the Cairngorms.
Rustic, rural and surrounded by nature. It's not hard to see why this campsite is a magnet for outdoor and nature enthusiasts.
This organic eco-haven also offers fixed pitch safari style tents, as well as tent-only pitches for camping purists. With hammocks hanging from trees and chickens running around, this place is as unique as it is laid back.
And after a long day's hike in the Cairngorms, visitors can relax and enjoy a cup of tea in the wood-fired hot tub, infrared sauna or go for yoga and massage! Now that's a unique camping experience.
Address: Badanfhuarain, Nethy Bridge PH25 3ED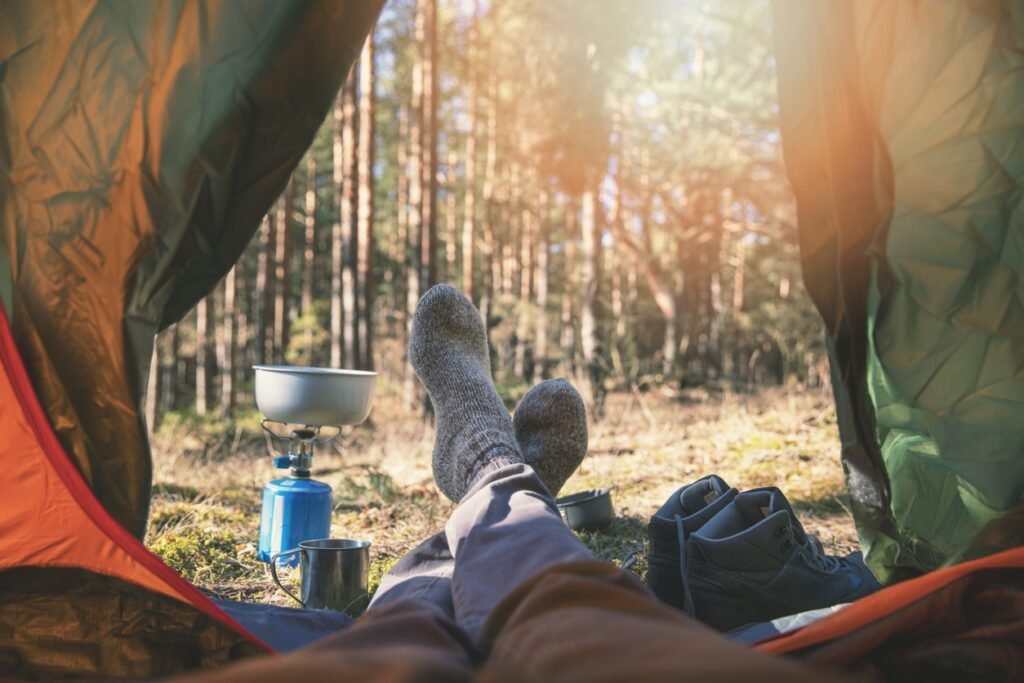 4. Rothiemurchus Camp & Caravan Park
Rothiemurchus Camp & Caravan Park is among the best locations in the Cairngorms to be immersed in indigenous Scottish woodland. This tranquil park provides sheltered camping and caravanning in a real wilderness setting.
This Cairngorm campsite also has various cycling and walking trails nearby, and we find it a great base for families who want to enjoy the outdoors and this stunning region.
Although the campsite doesn't accept dogs in the camping area, they allow a maximum of two dogs in motorvans and caravans. There's three "midge eaters" in the campground to help get rid of those pesky biting bugs too.
An unspoilt and pristine place in a breathtaking setting – our sort of place.
Price: From £12 per night
Address: Coylumbridge, Aviemore PH22 1QU
Wild Camping In The Cairngorms: Everything You Need To Know!
DISCLAIMER: Below we give general advice, but we always recommend staying in an official campsite. If you choose to go wild camping/dispersed camping, then make sure you do so with someone who already knows the area where you're planning on camping for your own safety.
With some of the most magnificent high and low level hiking and cycling trails in the UK, as well as kayaking, rock-climbing and wildlife watching opportunities, the Cairngorms is perfect for a multi-day wild camping adventure!
Thankfully wild camping is permitted and legal in the Cairngorms National Park thanks to Scotland's Right to Roam Act. However authorities ask campers to "tread lightly" and to respect a few guidelines:
You should camp away from enclosed fields, and pitch your tent away from buildings, roads, and historic structures.
Campers should be vigilant to avoid disturbing wildlife such as deer, capercaillie, and grouse.
When wild camping in the Cairngorms National Park, do not light fires as wild fires are a danger. Instead of building campfires, you could use a storm cooker – but check local laws first. Then there is much less wildfire risk and you can cook knowing that the fire is contained. We believe the best ones on the market are Trangia storm cookers.
Take any rubbish with you, and leave your camping spot exactly the way you found it.
The Right to Roam Act also gives access to most of Scotland's land and inland water, as long as it does not encroach on someone's privacy and private land.
Here is a list of what the Right to Roam Act doesn't give you access to, and therefore what you should avoid:
Where you must avoid:
Walking in and going through buildings. An exception would be bothies – small mountain and rural huts that can be used by walkers and hikers – see a list of bothies and where they are by clicking here.
Land clearly attached to a building (private garden, backyard).
Sports fields.
Schools and school land.
Building sites.
Quarries.
Now you know you're allowed to legally wild camp in the Cairngorms, and where to avoid, here's some of our favourite wild camping spots!
Some Ideas For Wild Camping Spots In The Cairngorms
DISCLAIMER: The below wild camping spots have been collected from anecdotal accounts, so proceed with caution. You should always be wary of any potential dangers in a region (quarries, bogs, dangerous paths and so on) and should wild camp with someone who knows that specific area well.
While the fun of wild camping is finding your own special spot, here are some potential spots. As always, if you are unfamiliar with an area – or it's your first time visiting – then be careful as peat bogs and other dangers exist.
When wild camping, we always recommend staying close to a known path and taking a camping friend who knows the area you plan on camping in very well. That's the best way to stay safe.
1. Glenfeshie
This romantic part of the Highlands is a must for its waterfalls and craggy mountain scenery. It's ideal for stargazing as Glenfeshie is famous for being the most northerly Dark Sky Park in the world.
2. Loch Etchachan
Set 927 metres above sea level, this stunning loch is deep in the Cairngorms and is the highest waterbody of its size in the UK. A truly memorable spot to spend the night. See a hiking trail here.
3. Ben Macdui
Wild camping on the UK's second highest mountain may be perfect for adrenaline junkies!
The 18.2 kilometer loop trail located near Aviemore is a highly challenging and long hike, but offers great opportunities to see wildlife.
4. Cairn Toul
For those looking for a trail with great sunset views, Cairn Toul is a perfect pick. We would recommend climbing from the west and starting from Achlean as this is a shorter route.
You can then choose to stay overnight in the bothy known as Corrour, or camp beside it.
Tips For Wild Camping In The Cairngorms:
As a matter of courtesy, it's best not to camp in the same place for longer than a night if camping beside a popular hiking route.
It's always best to camp quite far from buildings, both residential and farm. Although you have the "right to roam" and therefore wild camp, the odd grumpy local exists and if they look out their window and see someone – or a group – camping nearby, you might spend your relaxing countryside evening arguing that "right" to roam!
Keep an eye out for cow and sheep poo – if there's a lot, then that perfect camping spot you've found may end up being a sheep congregation at 6am in the morning.
There are many different water sources in Scotland, but try and make sure you pinpoint a few on your route before leaving. Take plenty of water, but remember to top up at any streams you find – a space-saving collapsible water bottle would be a good purchase.
Go to the toilet at least 30-50 meters away from water sources, such as rivers. Make sure to use a trowel (like this folding one) to bury any human waste – don't just leave it out in the open.
Make sure your tent is midge-proof. These tiny blood-sucking flies (much smaller than mosquitos) come in swarms. A mosquito-proof tent is not always a midge-proof tent – we can't emphasize that enough!
Camping In The Cairngorms: The Weather & Best Months To Visit
The temperature in the Cairngorms tends to be pleasant for campers from June through to the start of September. However even summer can be a bit chilly at night, and it is advisable for hikers, bikers, and campers to be prepared for all weather and eventualities.
June is a prime time for nature lovers as wildflowers are in bloom and birds such as eagles and Scottish crossbills can be spotted.
August is our preferred month for visiting the Cairngorms as you can experience the Highland Games in many of the towns around the region.
The colder months are great for a skiing holiday in the Cairngorms. However, visitors are advised to be careful due to potential winter storms and winds in excess of 100 mph!
Cairngorms Camping: Free Scavenger Hunt Game!
If you're looking to keep kids amused while camping in the Cairngorms – or you fancy having some fun for yourself – then we've created a printable scavenger hunt game!
Save the image and print it out, then tick off what you find and achieve during your camping holiday.
The game encourages players to get out and discover wildlife and nature, as well as make new friends and do fun camping activities. Enjoy!
Recommended For Your Camping in the Cairngorms Adventure
*This article may contain affiliate links which allows Wandering our World to make a small commission on any sales made – and keep the coffee flowing! It involves no extra cost to yourself. As an Amazon Associate we earn from qualifying purchases, but only recommend products we believe in.