Wandering our World is reader supported! If you purchase anything through a link on our site, we may earn a commission at no extra cost to you.
Last updated on October 4, 2022 by Wandering our World
Gloucester is dripping in history, picturesque surroundings, waterways, great shopping and even a nearby vineyard where you can go for an afternoon wine tasting session!
So there's no doubt this city is a fantastic place to visit. However there's another reason we love this place so much – the great selection of pubs in Gloucester!
Regardless of how you spend your time here, if you're like us then after a day of adventuring you'll be in the mood for some delicious food and a refreshing pint.
As we know this town so well, we've decided to put together a list of what we believe are the best pubs in Gloucester.
As you'll see there's plenty of seats in the sun, live entertainment, fantastic pub grub and some dog friendly places too. (Related: 50+ Budget-Friendly & Fun Things To Do In Gloucester!).
So sit back and relax while we guide you through Gloucester's pub culture.
The Seven Best Pubs In Gloucester For Beer, Food & Fun!
1. TANK
If you're looking for the best place in Gloucester to sample local beer then look no further than TANK.
In the centre of the Gloucester Dock area you will find this spacious, urban bar with a modern feel. Prior to becoming TANK, this building was used by Gloucester Brewery before their expansion (this pub is owned by the brewery), so it's only fitting their beer takes pride of place here.
For a cask ale there are five to choose from, including Gloucester Gold which was the first to be brewed in this building. From the kegs there's nine to choose from, ranging from pale ale and lager up to fruity cider which can be hard to resist on a sunny day.
If it's sunny during your visit then TANK have a lovely beer garden to enjoy, and as an added bonus your dog is welcome there too.
It's not all beer here too, as there's a fine selection of spirits including handcrafted gin. And when you get peckish there's some delicious food as well!
Stone baked pizzas are served everyday but if that's not your sort of thing then TANK also have some of the best burgers in Gloucester. Those go great alongside their variety of loaded fries. On top of that they also have some vegan options available.
It doesn't stop there though! As if you time your visit for a Monday you can take part in the popular pub quiz which starts at 19:30. It only costs £1 to enter and you can walk away with a cash prize!
Address: 12-14 Llanthony Road, Gloucester, GL1 2EH
2. Brewhouse & Kitchen
Brewhouse & Kitchen, located by the Sharpness Canal, are also big fans of selling local beer. And it doesn't get much more local than serving your own beer in house!
This fantastic microbrewery has a cosy and welcoming atmosphere where you can drink, eat and even pick up some brewing knowledge if you're interested. You can do that by joining them for an experience day where they offer experiences like beer tasting or spending the day helping with the actual brewing process!
Even if you don't book an experience day but just come for some food and beer then the way the seating is set up here you can have a view of the brewers at work – which is always interesting to watch.
And if you visit on a sunny day there's seating available outside right by the canal, so you can enjoy a pint right beside the water.
As for the beer, in our opinion you can't go wrong with trying any of them, but our favourite was the Shed Head IPA. If you aren't too sure where to start, feel free to ask any of the knowledgeable staff who are happy to give a recommendation.
Now how about that food? With 'Kitchen' in the name, you'd expect a lot of options and we were not disappointed. In fact it's hard to make a decision here with so many delicious sounding dishes. But if you want to try a few different things, be sure to go for three small plates for that tapas feel. We recommend grabbing the Chicken Wings, Nachos and Smoked Pork – for under 20 quid in total – for a flavour sensation.
The Beer Can Chicken is the speciality dish here, but if that's not for you there's a great selection of classic pub dishes like the IPA Battered Fish & Chips, Burgers, Mac & Cheese or Steak Pie. They've got a nice selection of vegetarian and vegan dishes as well.
With disabled access, as well as being a family & dog friendly pub, it's easy to see why this is such a popular place for both locals and visitors. There's no doubt in our mind that Brewhouse & Kitchen is one of the best pubs in Gloucester.
Address: Unit R1, St. Anne Walk, Gloucester Quay, Gloucester, GL1 5SH
3. The Fountain Inn
As always, we tried to find the oldest pub in town for you – and this is a particularly interesting one. From what we learned The Fountain Inn is a 17th century inn which sits on the site of an ale house, which can be dated back to 1216 with none other than King William III being a visitor back in the day! So grab a pint here and you'll be following in the beer drinking footsteps of royalty.
These days you'll spot a courtyard bursting with flowers, which is not only attractive on the eyes but also keeps the bees happy! The bar area inside is known as the 'Cathedral' and features a stone fireplace and wood panelling which only adds to the historical feel here.
But bringing things back into the contemporary, you can expect regular live music at this pub which makes The Fountain Inn a popular and lively place in the evening! Although during the day you can expect a family friendly vibe where kids and dogs are welcome.
The Fountain Inn also serves a range of pub classics, all in good portion sizes, so you certainly won't leave feeling hungry. Steak & Ale Pie, Veg Chilli, Steak or the Burgers are bound to set you up for the rest of the day.
As for drinks, on tap you'll regularly find Bristol Beer Factory Independence, Dartmoor Jail Ale and St Austell Tribute which we particularly enjoyed.
Great food, drinks and live music – this is a must visit venue, especially for those who get a kick out of soaking up some history.
Address: 53 Westgate Street, Gloucester, GL1 2NW
4. Robert Raikes' House
A historic building from the 16th century with wooden beams found throughout the multiple unique rooms; this feels like a special and beautiful pub as soon as you walk inside. But before walking in you'll probably have already taken a photo of the timber framed exterior – it's incredible.
The interior is cozy and photo-worthy too, but make use of the spacious beer garden if the weather is nice. It's walled so provides some privacy, and is an all round nice place to enjoy your drink.
If you fancy a bite to eat then the seating is extra comfortable which is handy as the meals are hearty and filling! Whether you opt for the Fish Pie, Chicken Tikka Masala or a Sunday Roast, the food feels as homely as the pub itself.
Address: 38 Southgate Street, Gloucester, GL1 2DR
5. New Inn Hotel
It's Friday night and you fancy some live music – the New Inn is the place to go! Every Friday a different act takes to the stage here. No genre is set but you can see who will be performing in advance on their Facebook page.
If you've made it this far down our list, you'll have noticed there are a lot of historic buildings in Gloucester and the New Inn is no different. The history of this building dates all the way back to 1350! But these days it's a great spot to recharge your batteries, have a fun night out, and/or stay the night as the New Inn has some historic rooms you can book.
If you do stop in for a pint, they will often have Sharp's Doom Bar as one of the four available taps, which goes very well with our recommended dishes – the Sausage and Mash, and the Scampi and Chips. And on Sundays there is a popular traditional roast served.
If you miss out on the Friday night fun, fear not! Each Saturday the New Inn has karaoke where you get the chance to let your hair down and belt out your favourites. Definitely one of the best pubs in Gloucester.
Address: 16 Northgate Street, Gloucester, GL1 1SF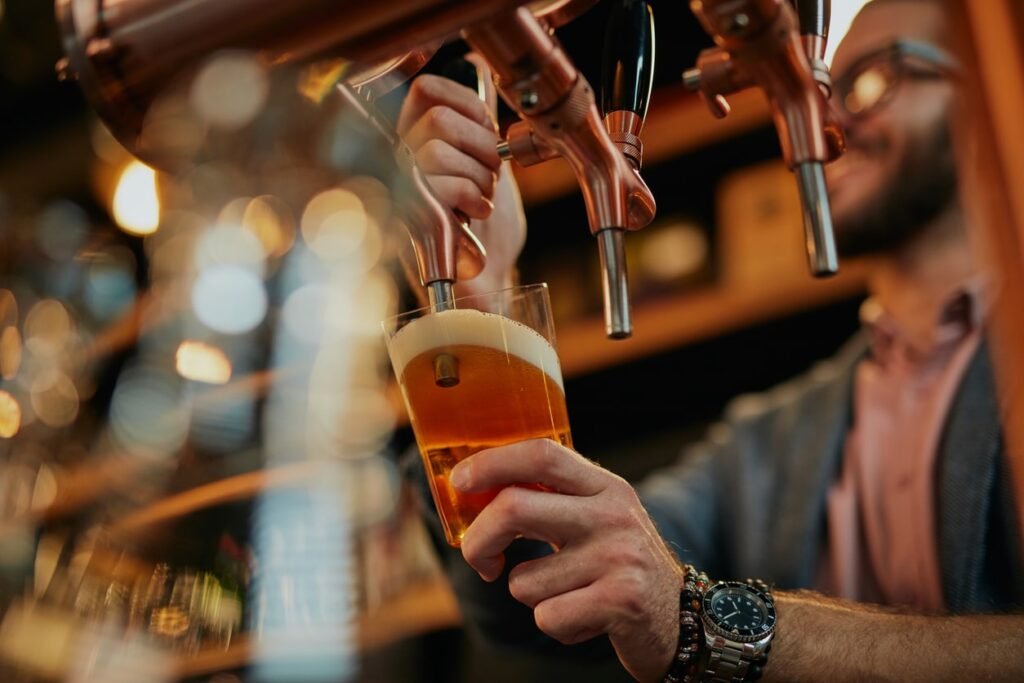 6. The Doctors
Don't head to this Doctors if you feel unwell! After all the world as a whole now largely realises that alcohol for medicinal purposes isn't a good idea…… But if you're feeling healthy and looking for a refreshing drink and a place to watch sports, then this is one of the best places in Gloucester to be.
The interior is spacious and modern, yet in keeping with the history of the city, parts of it have a traditional look too. There are plenty of TVs dotted around, including a very large one, so everyone can get a good view of any big matches shown live. And they've even got a TV in the beer garden so you can enjoy sports in the sun!
That garden is not only spacious but also has a covered, heated area for when the weather changes or the sun starts to settle so you don't need to rush inside.
If you're after some ale to go with the big game, there's five from cask available, with usually Greene King Abbot and Ruddles Best Bitter two of the options.
As with all good Gloucester pubs, if ale isn't for you the well stocked bar here has everything under the sun in terms of drinks, so you're likely to find your favourite drink.
While primarily a sports bar, every Wednesday and Friday The Doctors also have a DJ playing, and on Thursday and Sundays they have Karaoke! The live entertainment can start at 5pm and things can get lively, so for good fun and sports this is easily one of the best pubs in Gloucester.
Address: 61-63 Eastgate Street, Gloucester, GL1 1PN
7. The Abbey
The Abbey is another fantastic sports bar in Gloucester, but it's especially popular for the fairly priced tasty pub grub, great selection of drinks, and 2 hour bottomless brunch!
There are plenty of TVs here to catch a live game and relax with a drink. They've got a very good selection of craft beer, lager and ale too, with Draught Bass and Wye Valley Bitter being two regulars on tap.
If you opt for the bottomless brunch – which is available every day of the week – you can treat yourself to a full breakfast or pizza with unlimited prosecco, cocktails or even craft beer. Make sure you arrive with an empty stomach!
The main food menu has plenty of small plates available if you want to try a few different things, our recommendations would be to try the No-Chicken Nuggets, Nachos and Tacos!
There's plenty of 'game day' food available too, like the Fish & Chips, Burgers, Subs, and Pizza. If you opt for pizza make sure to take advantage of the pizza and a drink offer for £10.
On occasion they also plan fun events like karaoke so be sure to check their Facebook page before you visit to see if there's any activities planned for when you're in town. There's also a small beer garden too, and on top of that this is one of the most dog friendly pubs in Gloucester as well!
Address: 53 Northgate Street, Gloucester, GL1 2AJ