Wandering our World is reader supported! If you purchase anything through a link on our site, we may earn a commission at no extra cost to you.
Last updated on October 3, 2022 by Wandering our World
Tulsa, home of the 'Tulsa Sound', has a rich and vibrant music scene which is also incredibly varied. Whether it's a large concert at the award winning BOK Center or Cains Ballroom, or a local musician performing at a dive bar, something's always happening here.
But there's nothing quite like settling down in a local bar in Tulsa and nursing a nice cold one or having a trained mixologist work magic with some spirits.
It's a great way to relax and unwind, or party on late into the night – the choice is yours!
And luckily we have you covered with this list of the best bars in Tulsa.
Let's check them out!
CONTENTS:
The Three Best Cocktail Bars
The Four Best Bars For Live Events
The Two Best Bars For Activities
The Three Best Sports Bars
The Three Best Cocktail Bars
1. Valkyrie
Chic bar with a seasonal cocktail menu and expansive selection of spirits
The first thing you'll notice the moment you enter, is the massive wall behind the bar where the staggering amount spirits on offer is displayed – seriously, they need a ladder to reach the higher shelves!
This place has got a sleek design and an industrial aesthetic which combined with dim lighting, creates some great atmosphere. You could occupy a booth, but a much better option would be to pull up a chair by the bar, so you can watch the bartenders work their magic!
Two things really set this bar apart. One being the seasonal menu which is carefully curated along a central theme and offers some delectable, truly inspired cocktails. The other is a blessing if you don't know what you want – simply pick three descriptors from a list and the bartender will craft a drink specially for you based off of that!
The bartenders here are friendly, inventive and engaging. It's a great place to come with your mates, share a charcuterie board and just let the craftsman behind the bar showcase his or her skills.
Valkyrie is open from 4:00 p.m. to 2:00 a.m. all days except Sunday and Monday when it's closed.
Address – 13 E Reconciliation Way, Tulsa, OK 74103
2. MixCo
Basement bar that specializes in creative and craft cocktails
Now while the basement location may make this seem like a dive bar, the attention paid to the décor and the care and time put into creative cocktails, makes this a great cocktail bar option for a night out (even their name is MixCo!). The interiors are retro-chic and modern at the same time and there are plenty of tables spread out around the central bar.
This is one of the few cocktail bars in the area that also serves snacks, so you can expect to find everything from bar bites to sharing plates to fries by the pound. There's a good selection of cocktails here, from the house cocktails, to classics and even a special section for winter cocktails.
There's a rather decent selection of spirits on offer too along with a collection of local and regional brews.
The service here is exceptional and the mixologists are accommodating and knowledgeable. It's a great place to hit up before a concert for a pint and some fries.
Hours of operation are from 4:00 p.m. to 11:00 p.m. Tuesday through Thursday with closing hours extending to 2:00 a.m. on Friday and Saturday. They are closed on Sunday and Monday.
Address – 302 S Cheyenne Ave, Tulsa, OK 74103
3. Saturn Room
Casual Tiki lounge specializing in tropical drinks
The bamboo and thatch accents really make this place stand out as a true-blue tiki bar. Fairy lights hang from the ceiling along with paper lanterns adding a whimsical vibe to this already laid-back place. There's plenty of seating available, from booths and tables to a heated outdoor patio to, of course, seats by the bar.
The drinks here use only premium spirits, fresh juices and spirits and are handcrafted for each order out of respect for time honored traditions set by pioneer mixologists in the field.
Being a Tiki lounge, it's no surprise that rum is the star of the show and we've heard nothing but good things about the macadamia nut chi chi which comes with vodka, pineapple, macadamia nut liqueur and coconut cream. They have a decent selection of wines and beers as well.
Service here is great and if you arrive with a group, the staff is more than accommodating in making your experience memorable. For a fun kitschy evening out, we heartily recommend Saturn Room. The establishment is open from 4:00 p.m. to 2:00 a.m. all days.
Address – 209 N Boulder Ave, Tulsa, OK 74103
The Four Best Bars In Tulsa For Live Events
1. The Starlite Bar
Lively and cozy bar with plenty of events
Brick walls and varied lighting features give this place a dive bar feel. The bar is split into two with a seating area and a dance floor with a DJ. Booths and tables are available for seating at the bar area along with chairs set up on the patio outside.
What takes center stage, quite literally, is the stage that they use to host various events. Visit on Wednesdays for Comedy Night or Thursday for trivia night – check their socials for details. They even host a weekly goth dance night if that is your thing!
The cocktail menu here is maybe a little limited but does cover all the bases. There is a selection of classic cocktails and lively libations on offer, plus they also serve random specials – just talk to the bartender.
Rob and Lynn, the owners are super hospitable and really make your visit fun and enjoyable. Visit this place with a group of friends to enjoy the activities they have on offer – truly one of the best bars in Tulsa.
Starlite is open Tuesday through Saturday 5:00 p.m. to 2:00 a.m. and on Sunday from 2:00 p.m. to 2:00 a.m. They are closed on Monday.
Address – 1902 E 11th St, Tulsa, OK 74104
2. Soundpony Lounge
Lively bar with funky décor that hosts several events
Your eyes will be drawn every way here with all the frenetic activity on display – there's a cycle theme with a few of the vehicles displayed on the wall, there's an arcade machine covered in graffiti, flags, cycling jerseys and posters adorn the walls and bunting hangs from the ceiling.
Phew! It's a riot of color and movement and a great place to grab a few beers and really soak in the atmosphere whether its inside or on the outdoor patio.
There's almost always something happening at Soundpony and they are quite a quirky place to be. There's karaoke, comedy hours, live music, trivia, happy hour cookouts – the list goes on! Just check their socials to see what's happening.
There's a large selection of beer on offer – one of the amongst bars in Tulsa – and the bartenders know their way around mixing a drink or two. Its fun, its different, the people are great and the locals love it – that's Soundpony for you!
Visit them 3:00 p.m. to 2:00 a.m. all days except Saturday and Sunday when they are closed.
Address – 409 N Main St, Tulsa, OK 74103
3. The Hunt Club
Casual bar featuring simple eats and plenty of live music
This is one of the best places to be for live music in Tulsa – they have local acts performing almost every day of the week!
The interiors are bright and exciting with a corner bar and a stage at one end of the premises. Neon signs, license plates, hunting trophies, posters and flags give the place a lively feel. There's plenty of choice when it comes to seating too, with booths, tables and seating by the bar all available.
The kitchen here is run by Masa who specialize in empanadas and sandwiches if you feel like grabbing a bite.
Apart from live music, they also host open mic comedy nights, so you can head on down there for some good laughs and cold pints. They have a good selection of beers and spirits and the two bartenders behind the counter are lively and friendly.
This is a great place to visit with friends and enjoy some good music and you'll really dig the laid-back atmosphere of the place. The Hunt Club is open from 3:00 p.m. to 2:00 a.m. all days of the week.
Address – 224 N Main St, Tulsa, OK 74103
4. The Colony
Longstanding bar that hosts local musicians in a cozy setting
Established in 1958 as The Colony Inn, this is a place steeped in legend and has been a staple of the Tulsa music community for over 60 years. Rumors abound that legends Eric Clapton and Leon Russell even frequented the joint in the past. Safe to say, this is one of the most iconic bars in Tulsa.
It remains a haven for artists to hang out, play music and jam. The music takes center stage here, with the low stage being front and center of the room and there's an act playing all seven days of the week.
The Colony has a familiar, welcoming feel with its crackling fireplace and mood lighting. The bar is set up along one length of the wall and wooden tables and chairs occupy the dining space.
The beer and spirit selection is good, though it's the atmosphere and vibes that you should head here for. Visit The Colony once, and you'll want to be a regular!
Entry is free Thursday through Sunday with a nominal cover over Friday and Saturday.
The Colony is open 8:00 p.m. to 2:00 a.m. all days.
Address – 2809 S Harvard Ave, Tulsa, OK 74114
The Two Best Bars In Tulsa For Activities
1. The Max Retropub
1980's themed watering hole with arcade games and interesting cocktails
You'll be transported back to the 80's with this arcade themed bar and its funky setting. Disco balls hang from the ceiling, neon lights abound and characters from retro video games adorn the walls. Even the bar's tiled façade mimics a game of Tetris!
Finally, someone with ingenuity crossed an arcade parlor with a pub – the two things work together so well!
An entire wall of the establishment is dominated with games like pac-man, skee ball and pin ball, so you can challenge your friends to get the high score while nursing a few pints.
The cocktail menu is inventive and features several interesting flavor combinations. The beer list quite expansive and even features 9 beers on tap.
This is a great, fun place to be good drinks and even better games. Come for the nostalgia, stay for the beer. It's easily one of the best bars in Tulsa.
Max is open from 4:00 p.m. to 2:00 a.m. Monday through Saturday and noon to midnight on Sunday.
Address – 114 S Elgin Ave, Tulsa, OK 74120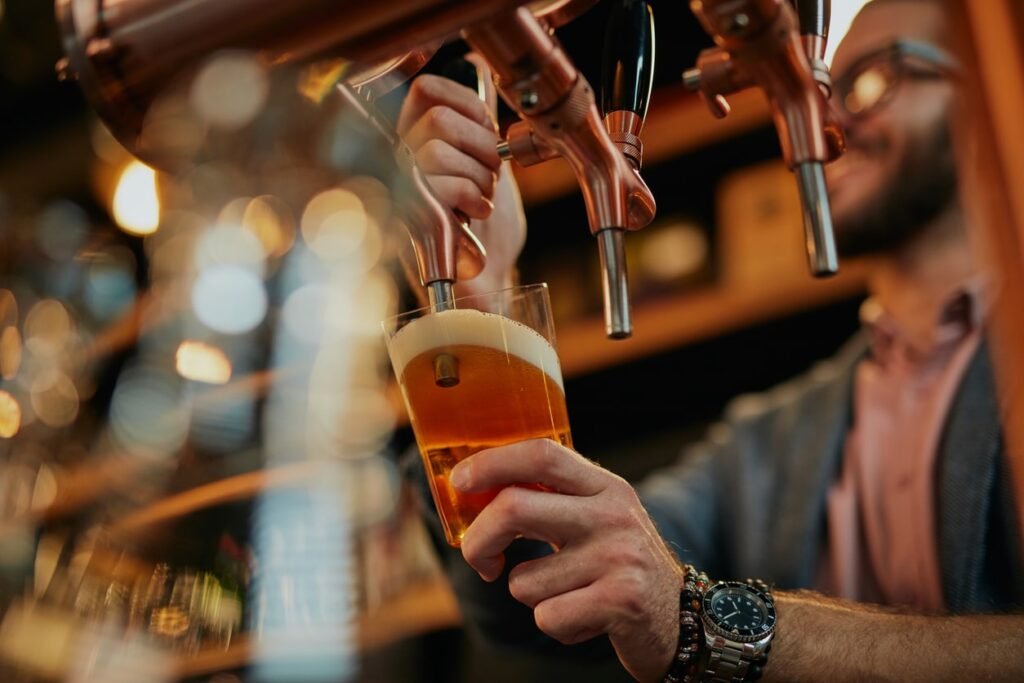 2. Pearl Beach Brew Pub
Microbrewery with beer and cocktails along with backyard, patio and volleyball
The bar here is simple and stylish without having too much going on. What they really have going for them is the multitude of seating areas, from the huge backyard, to the deck to the front patio.
The backyard is filled with sand volleyball courts, so if you fancy a game, visit with your friends and book one! You can even relax in the backyard and take in a game while nursing one of the several brews they have on tap.
There's a permanent taco truck outside if you're feeling peckish and they occasionally rotate the trucks so you'll have your choices when it comes to dining.
The beers here are fun and experimental in flavors featuring stuff like mango blonde ales and raspberry sour ales along with a decent selection of mixed drinks.
The staff here are friendly and attentive and the vibe is very relaxed. For a fun and interesting bar in Tulsa, visit Pearl Beach Brew Pub! They have a second location in Hefner.
Hours of operation are from 5:00 p.m. to midnight Monday through Wednesday, with closing hours extending to 1:00 a.m. Thursday and Friday. They are open over the weekend from 3:00 p.m. to midnight.
Address – 418 S Peoria Ave, Tulsa, OK 74120
The Three Best Sports Bars In Tulsa
1. Empire Bar
Humble bar with an emphasis on soccer
Empire Bar is a laidback sports bar which you'll love if you're a fan of soccer. Flags, scarves and jerseys of the top soccer teams across the world are displayed here with pride.
There's plenty of TV's here where they showcase soccer matches, covering all the top European Leagues and US National games and if you're a fan of the beautiful game, you will absolutely love it here. The establishment has plenty of seating options along with an outdoor patio too.
If soccer is not your thing, fret not! There are pool tables and a shuffleboard available for a quick game or two. There is a large selection of beers available here and a modest selection of spirits. It's a great place to visit, grab a few pints and cheer on your favorite team. There's a food truck that's parked outside from where you can order some quick eats or even stuff like pizza and paella.
The staff here are friendly and welcoming, really embodying the spirit of what is easily one of the funnest sports bars in Tulsa. Empire is open from 3:00 p.m. to 2:00 a.m. all days.
Address – 1516 S Peoria Ave, Tulsa, OK 74120
2. Bleacher Bums Sports Bar
Family-owned sports bar since 1993 with American sports on live TV and a variety of games
Bleacher Bums, as the name suggests, is a true-blue specialty sports bar, displaying games from golf to baseball and more on their flatscreen TVs. If there's a game on and you want to catch it, just talk to the bartender and he'll hook you up.
The place has good seating options around the bar and plenty of games on offer too, from darts, 3 pool tables and an N64.
Bleacher runs plenty of specials with a one on one for cocktails all day long and even prides itself on maintaining its draughts at a comfortable 35 degrees.
The bartenders are all really chill and go about their business in a professional way, always checking on customers. If you're feeling like it, you can even take advantage of the jukebox and play some of your favorite tunes!
This is a nice laid-back place to visit if you want to catch a game with your friends or just relax for a few rounds of pool. Hours of operation are from noon to 2:00 a.m. all days.
Address – 5073 E 51st St, Tulsa, OK 74135
3. Rooster's Sports Bar
Classic sports bar with beer on tap and good eats
Rooster's is your All-American sports bar. The interiors are spacious and you'll have plenty of options for seating to catch that NFL game on their multitude of flatscreen TVs. And we mean multitude – there are 2 to 3 screens visible no matter where you choose to sit. If there's no game on, you can even relax and play a few rounds of pool, or if you're there during the right time, partake in some karaoke.
They have a good selection of beers here which are always nice and chilled, though its their bourbon selection that stands out – plenty of great options! The food here is great too, with the fired pickles and chicken wings being particular stand-outs. They run specials too on steaks and hamburgers on specific days, just follow their socials to find out.
The place does fill up, especially if there's a game on, but that just adds to the atmosphere! Service is friendly and fast with both servers and bartenders being very efficient. Rooster's is open from 11:00 a.m. to 2:00 a.m. all days.
Address – 7875 E 71st St, Tulsa, OK 74133