Last Updated on October 7, 2022 by Wandering our World
If you're looking for white sand beaches, turquoise waters, and a laid-back vibe, then Aruba and the Bahamas are the answer.
However these islands have plenty of unique attributes, and they may even surprise you with their differences!
Choosing whether to visit Aruba or Bahamas for that once-in-a-lifetime holiday or honeymoon destination can therefore be difficult.
Having visited both, we compare them below, and show you what each has to offer.
So let's get exploring!
CONTENTS:
How The Beaches & Landscapes Compare
Explore The Sights & Experience The Tropics
A Taste of The Caribbean: How Does The Cuisine Compare
Which Should You Choose
How The Beaches & Landscapes Compare?
For tourists looking to sunbathe and swim, the Bahamas and its hundreds of beautiful islands seem the natural choice. The Bahamas is huge compared to Aruba, and there are countless islands and beaches to discover. Therefore if you're wanting a holiday where you can explore and island hop, then the Bahamas may suit you better than Aruba.
In fact Aruba has 43 miles of coastline in comparison to the Bahamas' 3,542! With that huge stretch of coastline comes a countless number of white sand beaches, spectacular cays and uninhabited islands. The Bahamas is the ultimate beach destination, so if beaches are your priority then the Bahamas may be the best choice.
Aruba is beautiful too, and has some gorgeous white sand beaches that are picture perfect. While you're not going to find uninhabited islands or swimming pigs (more on that later!) in Aruba, what you do have is accessibility. This island is tiny in comparison to the Bahamas, and that makes it easy and cheap to travel around and see the main tourist sights. That's not the case in the much larger Bahamas.
Aruba
For a fantastic swimming spot, and a long stretch of white sand, then head to Eagle Beach in the island's north. It's the picture perfect image of a Caribbean coastline. Palm Beach is another very popular spot and fantastic beach with lots of water sport activities.
What makes Aruba really stand out in the Caribbean is the colorful sealife you can see when snorkeling and diving. Head to Baby Beach in the very south of the island, and expect to be mesmerized. This is probably one of the best snorkeling spots in the world where you can watch numerous colorful reef fish, and swim with sea turtles. A great underwater camera – such as this one – is a must.
Malmok Beach is another great beach and snorkeling spot. The water is exceptionally clear – almost glass-like. In fact it's possible to even see the 400-foot SS Antilla – now a haven for sealife – from the surface. And that's despite the shipwreck being on the seabed!
Another wonderful spot for wildlife is De Palm Island, a small private island off the coast of Aruba. It's home to a friendly flock of flamingos!
Recommended Stay in Aruba:
Radisson Blu Aruba: This very reasonably priced resort places you within walking distance of the white sands of Palm Beach and all the snorkeling, diving, and swimming destinations that the island is famous for. Enjoy their infinity pool, separate adult and children's pools, a hot tub, and multiple pool bars. Click here for more info!
Bahamas
You're spoiled for choice when it comes to beaches in the Bahamas, which has countless sandy bays and coves across 655,000 square kilometers! That means if you're willing to go off the beaten track and explore, you can still find islands and beaches that can be all yours for the day! That's not so possible in much smaller Aruba.
One of our favorites is Greenwood Beach on Cat Island. This long sandy stretch is far less touristy than other beaches. Iconic beaches such as Pig Beach on Big Major Cay are a must visit too. It's famous not for the turquoise-hued waters, but the pigs that swim here! Visiting this uninhabited Bahamian island can be expensive though.
Recommended: The Best Island in the Bahamas For You
A more accessible, and equally iconic beach, is Gold Rock Beach in Grand Bahama. Regarded as one of the best swimming spots – and beaches in the Caribbean – the sunsets there are unparalleled. In fact it's the sunset reflecting off a nearby cay that gives this beach its name.
The Bahamas also have some of the world's best diving spots in arguably the world's clearest water. And with 340 days of sun a year, there's rarely a day when scuba diving and snorkeling isn't possible.
Exumas Cays Land and Sea Park is probably the best snorkeling experience in the country, where you can see a huge variety of colorful sea-life.
Although the Bahamas lacks mountains and rainforests, it's not all beaches and coral reefs. There are some forests to be explored in northern Bahamas, particularly on the islands of Grand Bahama and Andros. However this country is definitely suited more to a sun-seeker, than a hiker!
Recommended: Are There Snakes in the Bahamas?
The Bahamas is that picture-perfect Caribbean holiday many people are looking for, with upmarket hotels, and beach-side bars set on stunning coasts.
Explore The Sights & Experience The Tropics
Along with the natural scenery on offer, both Aruba and the Bahamas have a wealth of attractions and cultural experiences worth checking out.
Both have quite an 'Americanized' feel to them, as a result of booming tourist industries. What that does mean, however, is there's plenty of bars, restaurants, clubs and casinos for tourists to enjoy.
Aruba
Although officially part of the Netherlands, Aruba has been under Spanish and British control in recent centuries. All of that has left a mark on the island.
There was a small gold boom in the 19th century, and the ruins from that can be toured. The old gold smelters, Bushiribana and Balashi, are outside of Aruba's capital Oranjestad and give an interesting insight into the dash for Aruban gold.
Staying near the capital, the Butterfly Farm is well worth visiting. This is an opportunity to step into a lush forested area and enjoy the colors of thousands of exotic butterflies above your head.
Apart from the beaches, what Aruba is really known for is its nightlife! All major hotel resorts have casinos that are popular when the sun goes down, and Oranjestad has a fun nightlife and shopping scene.
Bahamas
The Bahamas is a fascinating mix of culture, with African, British and American influences. Yet with its close proximity to the U.S., there's no doubt there's a very 'American' feel to the tourist hot-spots.
However, the Bahamas still has much culture on offer.
The vibrant rhythmic national music of the Bahamas, Goombay, was created as a way for slaves to pass down traditions and customs. Goombay continues to this day, and is a staple of fun summer festivals in the country. The Heritage Museum of the Bahamas in Nassau is a good place to visit to find out more about the history of the Bahamas.
There's no doubt that the Bahamas is also a country synonymous with having a good time, so if you fancy a flutter then head to Paradise Island. Here you can try your hand at the casinos, and grab a beach-side cocktail at one of its high-market resorts.
For something a bit more historical then visit Fort Charlotte, which sits on a hill overlooking Nassau. The 18th century fort will introduce you to what the Bahamas was like when piracy was rampant a few centuries ago.
A Taste of The Caribbean: How Does The Cuisine Compare?
Both islands will provide a treat for your taste-buds, with cuisine focused around seafood.
Aruba
Aruban cuisine is a mix of Caribbean, Dutch, and Latin American influences. So as you can probably guess that makes it a good place to visit as a foodie!
Keshi Yena is regarded as the national dish of Aruba. This large ball of cheese is stuffed with chicken (but sometimes other types of meat too), and is a real comfort food.
Trying out the seafood is, of course, an absolute must. Common freshly caught fish here includes mahi-mahi, grouper and lionfish. Our recommendation is to try out the prawn starters that appear on menus up and down the island. Freshly caught and often cooked with coconut water, they're a real treat for the taste buds.
For desert, you must try Pan Bollo. This traditional Aruban delicacy is bread pudding often served with rum (what else!) and ice cream. It's delicious.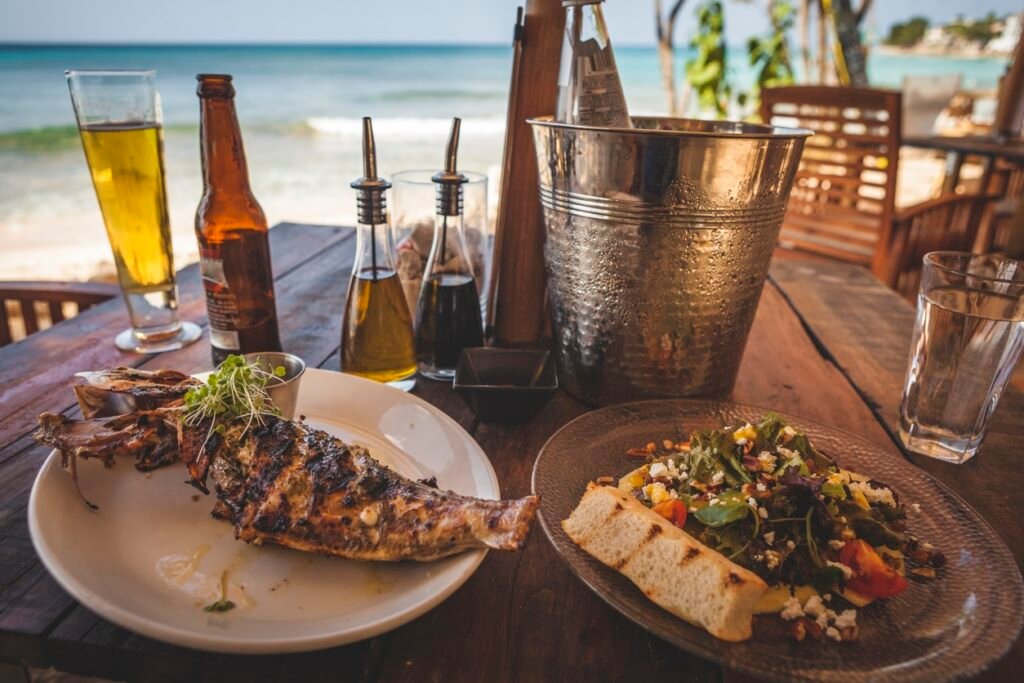 Bahamas
As a nation made up of numerous islands, it will come as no surprise that Bahamian cuisine is focused around seafood. So if you are a seafood lover, this is the country for you!
Fried conch (aka cracked conch) is a popular dish in the Bahamas and is served in a variety of ways. Baked crab is another dish that's very popular. It's made up of crab meat, bread crumbs and egg, all baked within the crab shell itself.
As for what to drink, coconut water in the Bahamas is a no brainer! You also have to try Switcha, which is a sort of lemonade, except it's made with limes.
Want something a little stronger? The beers made by the Bahamian Brewery are definitely worth trying, as are the delicious rum cocktails served up and down the archipelago. The Yellow Bird is a favorite rum cocktail of many Bahamians.
Aruba Or The Bahamas: Which Should You Choose?
Both the Bahamas and Aruba make excellent holiday destinations, and both have gorgeous beaches and stunning waters.
However, if you're looking for more of an adventure, the Bahamas offers plenty of options for island hopping and discovering secluded beaches.
Traveling around the Bahamas can be expensive though. Especially if you want to visit some of the most beautiful islands, many of which are uninhabited.
Being much smaller, Aruba is probably better suited to tourists who wish to have all the sights and tourist hot-spots in close reach.
Recommended For Your Trip To Aruba Or The Bahamas