Last updated on October 12, 2022 by Wandering our World
Valleys, fjords, lakes, mountains, beaches and sea as far as the eye can see. Norway has it all, and in abundance.
Simply put, the Nordic nation is a stunning example of nature at its finest.
And we're not just saying that, we have wild camped in Norway before and it's up there as one of the best places we've ever gone free camping. But if you're planning a walking and camping trip in the country, we recommend a lightweight, rain-proof tent like this one, or if you want something that will last for years, then this one is a great choice.
And the best thing about this nation, is that it's totally legal to go wild camping in Norway. Which is great news as the country is a wild camper's paradise.
That legal right is called allemannsretten, or 'right to roam' and has been an integral part of Norway for decades. It continues to exist in order to encourage people to get out into nature, to enjoy it, and to be active – as well as keep Norwegian outdoors traditions alive.
So if it's legal to wild camp in Norway – why do you need to read this article?
Because as with most things in life, there's always a few terms and conditions attached! And the same can be said about free camping in Norway.
Plus on top of the rules you need to know around camping, campfires, fishing and foraging, we also have some great tips to make your wild camping in Norway adventure unforgettable!
DISCLAIMER: Below we give general advice, but we always recommend staying in an official campsite. If you choose to go wild camping/dispersed camping, then make sure you do so with someone who already knows the area where you're planning on camping for your own safety.
What Are The Rules Around Wild Camping In Norway?
Thankfully the rules around wild camping in Norway are pretty simple and common sense.
You can pitch your tent and stay for two days in a row in the same place, but then you must move on – unless you seek out and ask permission from the landowner.
However if you happen to be camping in a very rural spot, then this rule is more relaxed and you can stay much longer. Basically, use your common sense. So if you are camping on a popular walking trail, near a urban center, or tourist hotspot, then don't stay long. But if you're in the Norwegian wilderness and there's no one around for miles, then you can probably stay as long as you like!
You can camp on both public and private property (within reason) – but you must be at least 150 meters away from any house or building that is being occupied or used.
That 150 meters rule also applies to camper vans and caravans.
Similarly, you cannot pitch your tent on areas that are being cultivated – such as farmland – or in private land that is clearly being used – for example a lawn. Basically use your common sense.
Be aware of deer hunting that could be going on. Different areas of the country will have deer hunting at different times of the year. You are not permitted to camp in these areas during those times.
Below are the rules on campfires, fishing, foraging and some top tips for wild camping in Norway!
The Rules For Campfires In Norway While Wild Camping
The rules around lighting fires while you camp can be a little complicated, but they are definitely important to know.
As the summer months can be hot and dry in Norway, there is a general ban on open fires (including disposable bbqs) from the dates of 15 April to 15 September.
However you are allowed to light an open fire if it's obvious there is no real fire hazard, and therefore a wild fire could not be started – for example on the beach if you are far from plants and forest. Or if it's rained heavily recently, or if there's snow lying on the ground.
However be aware that sometimes the local fire department will put a complete ban on open fires in a certain area.
Remember, if you light a fire, you are legally responsible under Norwegian law for anything that occurs due to that fire.
With all that in mind, we would recommend you invest in a storm cooker and avoid campfires altogether. They are incredibly safe, and can be used everywhere you camp in Norway. The best brand on the market, in our opinion, is the Swedish made Trangia storm cooker. These little stoves are virtually indestructible.
Or if you want to impress even the most experienced of wild campers, a solar cooker like this one can also work in the absence of a campfire. Plus, harnessing just the power of the sun to cook your breakfast is pretty damn cool.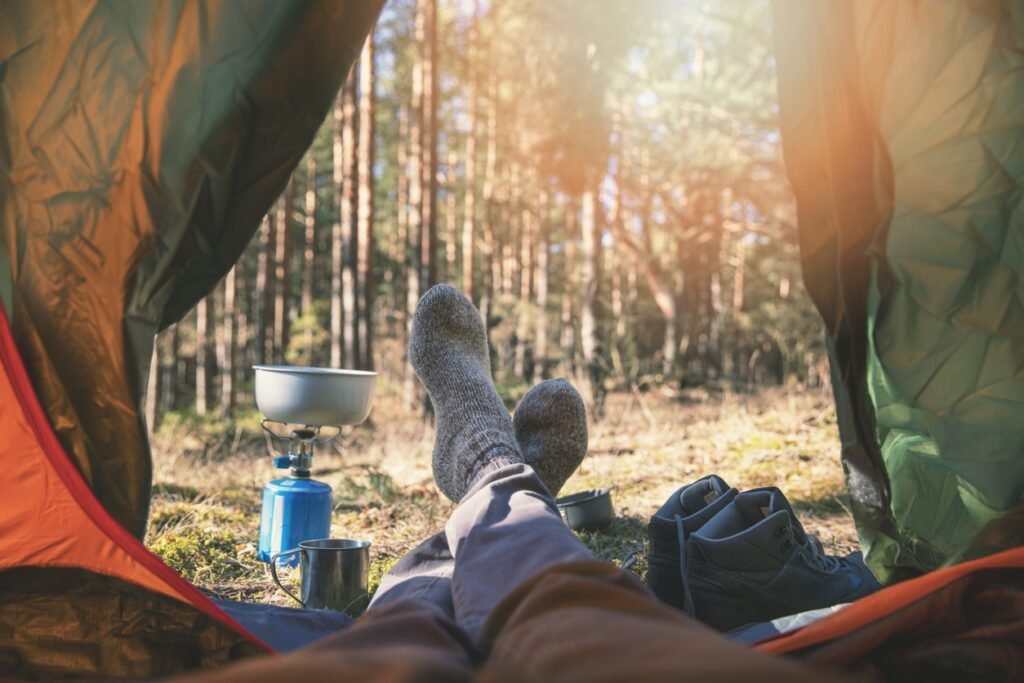 What About Fishing & Foraging?
The law also allows people wild camping in Norway to fish for saltwater fish – as long as it is only for your own consumption and not to sell.
You are also legally allowed to forage for berries, wildflowers and mushrooms – of course you must know exactly what you are picking and if it is edible or not.
However special rules and restrictions apply to foraging for cloudberries in Northern Norway, if in doubt, don't pick them.
Tips For Wild Camping In Norway
Keep an eye out for animal poo – if there's a lot near your perfect camping spot, you may end up being woken up by some enthusiastic sheep or deer in the middle of the night!
There are lots of different water sources in Norway, but do remember to take plenty of water with you if you're walking. Remember to top up at any rivers and streams you find along the way – Norwegian water is super tasty. A collapsible water bottle like this one could be a very useful purchase.
Make sure your tent is mosquito and midge proof. A mosquito proof tent isn't always a midge proof tent, and those tiny blood sucking flies are so much harder to kill than mosquitoes, and they will arrive at your tent in huge numbers!
When going to the toilet you should do it far from water sources, such as rivers and lakes. Make sure to use a trowel (such as this folding one) to bury any human waste, don't just leave it out in the open.
Recommended Reading For Your Trip To Norway
*This article may contain affiliate links which allows Wandering our World to make a small commission on any sales made – and keep the coffee flowing! It involves no extra cost to yourself. We only recommend products we believe in.