Wandering our World is reader supported! If you purchase anything through a link on our site, we may earn a commission at no extra cost to you.
Last updated on July 4, 2023 by Wandering our World
Wild camping in Finland is an experience everyone should have once in their lifetime.
The country is beautiful, relatively flat (which is great for walking and pitching a tent!), full of lakes and water sources, and is populated by some of the friendliest and more welcoming people in the world.
It is a nation that loves being outdoors and no wonder – the flora, fauna, scenery, it's all made to be seen and to be enjoyed.
And one of the best things about Finland, is that unlike many countries around the world, wild camping in Finland is legal!
Here, it's called 'everyman's right' – or the 'right to roam' and it is enshrined in the law. With that law, wild camping is officially seen as a legal right for citizens – and foreigners – to take part in, and enjoy Finland's nature by walking, hiking, and camping on land (public and private).
In fact you can even forage and fish in Finland, although some caveats apply – we will tell you more about that further down in this article.
So great, you can just grab your mosquito-proof tent and a lightweight backpack and go – right?
Well, sort of. This right to roam applies to around 90% of the country.
And there are certain rules to abide by, and things to do, and things you're not allowed to do, when wild camping in Finland.
DISCLAIMER: Below we give general advice, but we always recommend staying in an official campsite. If you choose to go wild camping/dispersed camping, then make sure you do so with someone who already knows the area where you're planning on camping for your own safety.
What Are The Rules Around Wild Camping In Finland?
Thankfully the rules around wild camping in Finland are common sense and pretty simple.
You can pitch your tent for a short period of time (one to a few days), but shouldn't stay in the same place for an extended duration.
You can camp on both public and private land, however:
It is not allowed to camp in private gardens, or land that is being clearly used – for example cultivated land such as crop fields.
When camping on someone's land (such as a private forest), the law says you must not cause "unreasonable disturbance" (i.e. be respectful and quiet), and you should not cause "damage". You don't need to ask permission though.
It's also off-limits to pitch your tent in urban areas, industrial areas, military zones, some nature reserves, and the narrow area along the Finnish-Russian border.
In general, lighting campfires in Finland is only permitted on private land if you have the landowner's permission.
As such, for cooking you may need a storm cooker as all flames are contained – just check local laws to see if they're allowed. In our opinion, the durable Swedish-made Trangia storm cookers are the best camping stoves on the market.
If you want to impress fellow campers though, pulling out a solar cooker (like this one) from your backpack could do the trick! After all, is there anything cooler than harnessing the sun to cook your breakfast?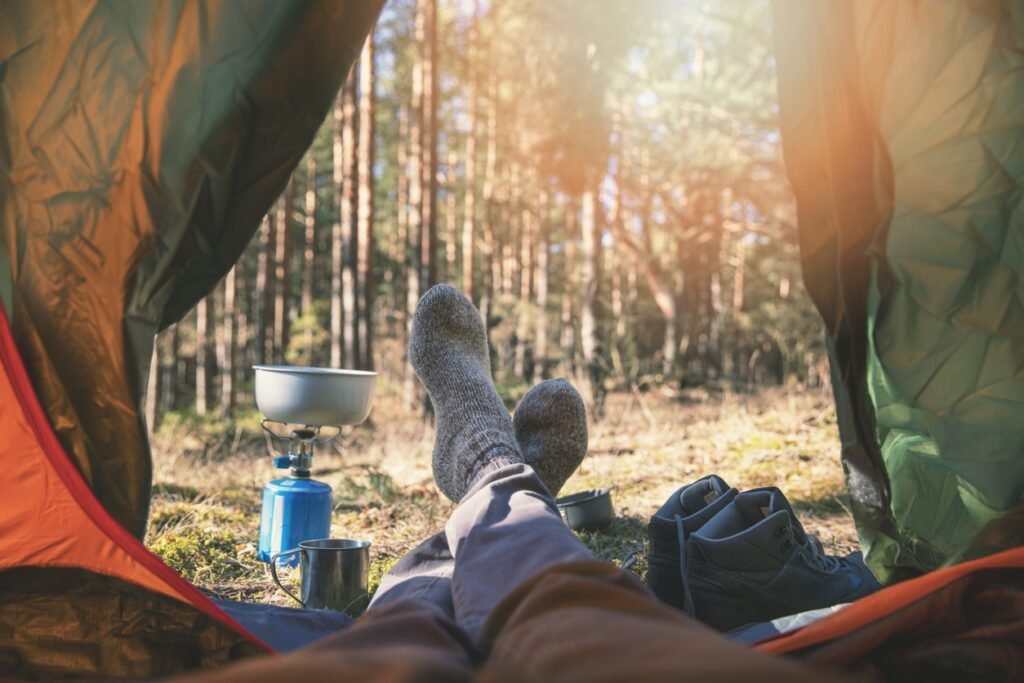 Other Things You Should Keep In Mind
While hiking and/or wild camping in Finland you must not:
Disturb animal habitats, such as bird nests.
You are not allowed to cut down or damage trees – if you need firewood use dead wood that is already on the ground (though technically collecting wood is also illegal).
You cannot collect soil, moss and lichen.
All rubbish must be taken with you, none is to be left.
A motor vehicle is not allowed to be driven off-road unless the landowner has given permission.
Hunting is prohibited without a permit.
What About Fishing & Foraging In Finland?
The 'everyman's right' doesn't just allow you to go free camping in Finland though, it also allows you to forage and fish!
Which means you can literally catch or pick your dinner as you walk and camp.
So what are the rules?
Well, you can go fishing in Finland as long as you use a simple hook and line set up – anything more complicated or professional and you must seek out a permit. That includes fishing with a line and reel, nets, or traps.
As for foraging, it is legal to forage for berries, wild flowers, and mushrooms. These should be for your own consumption.
Tips For Wild Camping In Finland:
Keep an eye out for animal poop – if there's a lot near your perfect camping spot, you may end up being woken up by some enthusiastic sheep or something else in the middle of the night!
There are lots of different water sources in Finland, but do remember to take plenty of water with you if you're walking. A space-saving collapsible water bottle would be a good purchase.
Make sure your tent is mosquito and midge proof. A mosquito proof tent isn't always a midge proof tent, and those tiny blood sucking flies are so much harder to kill than mosquitoes, and they will arrive at your tent in huge numbers!
When going to the toilet you should do it far from water sources, such as rivers and lakes. Make sure to use a trowel (like this folding one) to bury any human waste – don't just leave it out in the open.
Recommended Reading For Your Trip To Finland
Tempted to go wild camping elsewhere? Check out our guides to wild camping in, Estonia, Finland, Norway, Russia and many others!
*This article may contain affiliate links which allows Wandering our World to make a small commission on any sales made – and keep the coffee flowing! It involves no extra cost to yourself. We only recommend products we believe in.