Last updated on October 12, 2022 by Wandering our World
Jutting out into the Baltic Sea, Estonia has such a diverse variety of countryside that it seems tailor-made for hikers and wild campers. That's why wild camping in Estonia should be on your bucket list.
Miles upon miles of beaches, with over 1500 islands dotted up and down the coastline – the jewels on Estonia's crown. But go inland, and you can also find ancient woodland, stunning lakes, and centuries old castles.
It's no wonder so many people want to enjoy this country's wild and often rugged landscape, and that's why so many want to go wild camping here.
So what are the rules regarding wild camping – also known as free camping – in Estonia? Is it legal, illegal? Or are things a little less defined?
Wild Camping In Estonia – Is It Legal?
DISCLAIMER: Below we give general advice, but we always recommend staying in an official campsite. If you choose to go wild(free) camping/dispersed camping, then make sure you do so with someone who already knows the area where you're planning on camping for your own safety.
Thankfully, wild camping is legal in Estonia – and there's even some free campsites with facilities (see our section further down on free campsites). Wild camping is a recreational hobby enjoyed by many locals and tourists alike here, and it's growing in popularity.
In fact just like other European countries such as Finland, Norway, and Scotland, Estonia has a 'right to roam' enshrined in law, giving citizens and tourists the legal right to hike, camp, and enjoy the great outdoors. That includes camping on the beach, camping in forests, and beside lakes!
Like most of continental Europe, Estonia is prone to a summer thunderstorm so make sure you have a storm resistant and wind-proof tent. This BFull Tent, and this Hillman tent, are highly recommended and are – in our opinion – superb value for money.
Of course there's some places in Estonia you cannot camp – such as private land. So avoid clearly marked private gardens. Also it is best to avoid camping on cultivated land or near inhabited buildings.
However the good thing about Estonia is that unlike some European countries – such as Denmark or England – the countryside isn't dominated by farmland, so there are lots of places to pitch a tent as you walk and hike across the country.
There are several rules you need to abide by though. More on that below.
If you want to make sure you stay on the correct side of the law, then camp on government land only, as wild camping is legal on government land unless there is a clear restriction on it – for example a national park area or military zone. So make sure to find out if the area you are planning to pitch your tent falls into one of these categories, or similar, before you go.
Furthermore you should keep to rural areas (don't try and camp in the middle of Tallinn!), and only stay in one place for a short period of time (a night or two) – stick to this and you shouldn't have any problems from anyone.
In fact many Estonians living in rural areas are very welcoming towards campers, and will be happy to have a short chat. Some may offer the chance to top up water supplies from their well, or even offer a bed for the night.
Finally, the Estonian government agency in charge of forests asks for wild campers to abide by some simple common sense rules that respect the land. They are:
Leave no trace when camping.
Don't disturb the peace, i.e. camp quietly and don't make excessive noise.
Clean up all your trash and take it with you.
Wash yourself and your dirty dishes on dry land, not in water sources.
Use hiking trails and don't make your own paths – doing that could cause unnecessary erosion.
RMK Campsites – Free & With Infrastructure!
One of the great things about wild camping in Estonia is that there are already campsites that exist on some of the major hiking and walking routes. Even better – they are free to use and even have facilities! Those facilities can range from toilets to fire-pits and picnic tables – some even have electricity charging points.
These campsites can be used by anyone as long as they respect other wild campers, leave no trash, and stay for a short period of time.
There are dozens of these sites that are managed by the Estonian State Forest Management (RMK) organization, and they can be easily found on their website by clicking here.
Making Campfires In Estonia While Wild Camping
It is legal to make a campfire while wild camping in Estonia, but there are certain rules to abide by which fall under what the government calls making "campfires responsibly".
What they essentially mean by this, is to not start a fire when there is a risk of it starting wildfires.
Estonia has a 'fire hazard index' for different areas which can be checked at the Estonian Weather Service website. If the fire hazard index is 4/5, then you should avoid making a fire.
Furthermore, if you are in a forest then campfires are really only allowed in designated campfire spots – such as in fire-pits at RMK campsites.
However if you are wild camping on a beach, there are very few restrictions due to there being little to no wildfire risk.
Also the Estonian government asks that only fallen branches and dead wood can be used as fuel for fires. Taking live wood, or cutting down branches and trees is not allowed.
Finally, in some forests campfires are completely forbidden. If you are in a region and would like to find out if campfires are allowed or not, you can phone the Rescue Board information telephone number on 1524.
With so many restrictions, our recommendation would be to bring a storm cooker with you for cooking. They are incredibly safe, and can be used everywhere you camp in Estonia. The best brand on the market, in our opinion, is the Swedish made Trangia storm cookers. These little stoves are virtually indestructible.
If you want to impress people you meet whilst camping, you could also bring along a solar cooker. These nifty pieces of equipment require only sunlight to cook – and will have your meal ready a lot quicker than you think!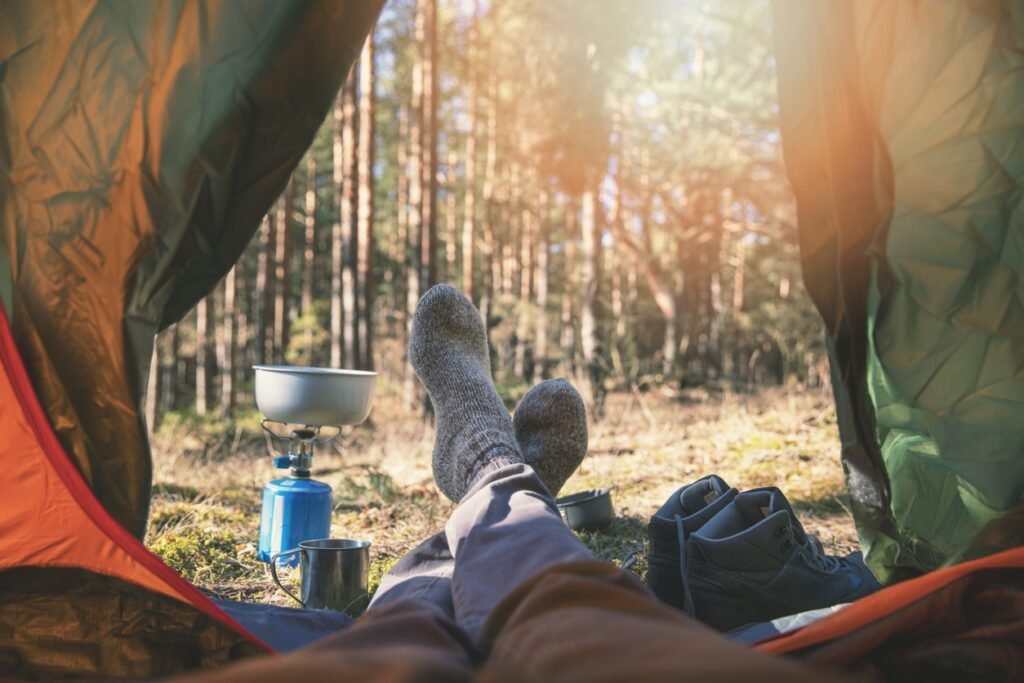 Tips For Wild Camping In Estonia
Like many rugged and wild rural areas around the world, there are flora and fauna to be wary of in Estonia – wild boar, wolves, and bears all live and roam in parts of the country. So read up and be aware of the region or area you are planning to wild camp in.
Keep an eye out for animal poop – if there's a lot near your perfect camping spot, you may end up being woken up by some enthusiastic sheep or something else in the middle of the night!
There are lots of different water sources in Estonia, but do remember to take plenty of water with you if you're walking. Purchasing a space-saving collapsible water bottle would be a good idea.
Make sure your tent is mosquito and midge proof. A mosquito proof tent isn't always a midge proof tent, and there can be many thousands of midges in and around lakes, forests and swamps!
When going to the toilet you should do it far from water sources, such as rivers and lakes. Make sure to use a trowel (like this folding one) to bury any human waste.
Recommended Reading For Your Trip To Estonia
Tempted to go wild camping elsewhere? Check out our guides to wild camping in, Finland, Norway, Russia, Latvia, Lithuania, Scotland and many more!
*This article may contain affiliate links which allows Wandering our World to make a small commission on any sales made – and keep the coffee flowing! It involves no extra cost to yourself. We only recommend products we believe in.