Wandering our World is reader supported! If you purchase anything through a link on our site, we may earn a commission at no extra cost to you.
Last updated on February 1, 2023 by Wandering our World
Southeast Asia is one of those regions of the world everyone wants to visit at some point in their lifetime.
The vibrant cultures, incredible food, breathtaking landscape and exotic wildlife sum up the lure of this part of the globe – and Thailand and Vietnam have it all.
However Thailand and Vietnam are actually very different. So making the right decision about which to visit for your once-in-a-lifetime holiday is important.
For example, if you're looking for breathtaking beaches, some adventure and a lively nightlife scene then Thailand will likely be a better choice than Vietnam.
But if your idea of a great vacation is a quieter country with authentic experiences and less travelled regions, then Vietnam with its unrivalled beauty and ethnic diversity could be the perfect choice for you.
However that's just the tip of the iceberg when it comes to how Thailand and Vietnam differ.
That's why we're here to help! Having visited both destinations we compare them below, showing you their differences, similarities and what to expect in each.
CONTENTS:
A Quick Overview & Comparison
How Do The Beaches & Landscape Compare?
How Does The Culture & Vibe Compare?
A Taste Of The East: How Does The Cuisine Compare?
Which Is The Better Choice?
A Quick Overview & Comparison: Thailand vs Vietnam
Which is the better holiday destination depends on what you want from your holiday.
But if beaches are the main priority then Thailand is a better choice than Vietnam. Thailand's coastline is packed with stunning beaches (we name some of our favorites later in this article), and with 1430 islands there are countless to choose from.
However the popular beaches, cities, and tourist hotpots in Thailand can get very busy. After all, Thailand is one of the most popular destinations in the world.
But that also means a holiday in Thailand is often 'easier' than one in Vietnam. That is, if you want all-inclusive resorts and tourist excursions on your doorstep, then the popular regions in Thailand like Krabi and Phuket have those in abundance.
Crowds is less of a problem in Vietnam, which has its own great beaches too but less tourists. To put the two countries in context, Vietnam welcomes around 8-10 million tourists a year. Thailand welcomes 30+ million.
That makes Vietnam a great choice if you're looking for less of the classic 'tourist' experience, and instead want to step away from chain hotels and into a country where tourists are far less in number and regions still feel very authentic.
Luckily, both countries have beautiful landscapes, mountains, jungles and waterfalls to explore too, so are great destinations for a sunseeker that's also looking for some adventure.
However as we said, Vietnam is definitely less commercialized than Thailand. What that means is that a Vietnam vacation often feels like more of a cultural, rustic, and less 'touristy' experience than one in Thailand.
Locals and tourists intermingle often in Vietnam – more than in Thailand – and there's a real enthusiasm for foreign visitors. Especially with the younger generation who love to try out their English skills on tourists!
The unfortunate reality is that in neighboring Thailand visitors are sometimes seen negatively. Therefore Thais are not always as friendly towards foreigners as Vietnamese are.
One of the reasons for that is the many party tourists who come to Thailand to drink, enjoy Full Moon parties, and visit Bangkok's Red Light District.
But that does mean if you're looking for a lively nightlife scene, Thailand is going to be a better destination than Vietnam.
In terms of expenses, Vietnam tends to be a cheaper country than Thailand for both accommodation and food.
Whilst in regards to crime, both countries have similar issues, and it's important to keep an eye out for petty crime such as pickpockets. Don't flash cash or expensive items, keep bags shut, and avoid badly lit areas at night.
Below we look at a some of our favorite areas in both countries, before comparing the culture and food in each. Stick around, because they're quite different!
How Do The Beaches & Landscape Compare?
Thailand: The Beaches & Landscape
This country is one of those rare destinations that has it all. Beaches for relaxing, a famous nightlife and party scene, and food that's known around the globe. It's also one of the most beautiful countries on the planet. So if you're looking for a destination that's a great 'all-rounder', Thailand is hard to beat.
For unbelievable beaches, head out into the islands. Phuket's famous beaches include Kata Beach, which offers a busy slice of paradise with street vendors, upmarket hotels, and beach activities such as surfing and snorkeling.
However Freedom Beach offers a more serene choice, whilst still providing convenient access to food vendors and beach chairs.
But in general, expect a livelier and busier beach experience than what you would get in Vietnam.
That said, if you travel away from Phuket there are more laid-back coastal options. One of our favorites is Sunrise Beach on Ko Lipe. This gorgeous long stretch of white sand has shallow warm water perfect for swimming. It's laid back, quiet by Thai standards, and the perfect place to unwind.
After a day's relaxing, head to the region of Krabi where you can go rock climbing, jungle trekking and sea kayaking. Its stunning natural beauty, jungle-covered interior and incredible cliffs and caves offer an array of activities for tourists who want more from their trip than just relaxing on the beach.
For those looking for a more wholesome time, Koh Tao (meaning Turtle Island) on Thailand's east coast is home to the country's most beautiful coral reefs. Which naturally makes it the top destination for scuba diving and snorkeling. A great underwater camera – such as this one – is a must.
But if you want to see jaw-dropping wildlife head to Isaan. This barely visited region of Thailand – as we've written about before – is home to breathtaking national parks, hiking trails, elephants, and even temples built on volcanoes!
Isaan is a region almost all tourists ignore, but it feels a bit like Thailand before tourism took over.
Vietnam: The Beaches & Landscape
This country reminds us a little of how Thailand used to be, before it became famous for Full Moon Parties, fun-filled Bangkok nights, and bucket list holidays. After all, Vietnam has exceptional beaches and dramatic scenery, but all with a rustic charm.
This less-traveled Asian destination also has loads of islands to explore. Many of which have secluded beaches that are breathtakingly beautiful.
One of our favorites is Sao Beach on the island of Phu Quoc. This stretch of soft white sand is serene, has calm swimming water, and there's even a small swing attached to a palm tree so you can relax in style.
For some underwater fun, head to the Cham Islands. This UNESCO World Biosphere Reserve is made up of eight islands and is ringed by tropical coral reefs. The traditional fishing villages on these islands will take you back in time, and the crystal clear water has the 'wow' factor.
It's probably the best snorkeling spot in Vietnam, and one of the best in the region. Our tip is to hire a kayak for the day and enjoy the serenity while spotting colorful reef fish beneath the surface.
Back on the mainland, head to the port city of Da Nang, home to the Marble Mountains. These dramatic slabs of rock jut out from the city and into the sky and look otherworldly.
The five peaks are full of small walking trails that allow you to explore caves, tunnels, and discover statues that lie throughout this pilgrimage site.
For jungle trekking, monkey spotting, and the world's largest cave – Hang Son Doong – visit Phong Nha Ke Bang National Park.
This spectacular area is a place where nature's still in charge, and the noises of the cicadas coupled with the gorgeous waterfalls gives a sense of what Vietnam was like before humans inhabited the earth. It's a wild and beautiful paradise.
Vietnam is also a country full of waterfalls, with many that are so big you must take a chartered raft to get up close to them! One of those is Ban Gioc Falls, a huge spectacular pair of gushing waterfalls on the China-Vietnam border. It's well worth visiting.
How Does The Culture & Vibe Compare?
Thailand and Vietnam are culture-packed countries where you're guaranteed to experience the incredible east.
As the less touristy of the two, Vietnam tends to offer a more authentic experience than Thailand. Although rural areas of Thailand, and regions like Isaan, also offer a look at this country before tourism took over.
However because Thailand has a much larger tourist sector there are many organized tours and excursion options available to visitors. Therefore it's an easy country to navigate if you want cultural experiences without having to go out of your way to find them.
Thailand also has a lively nightlife scene, especially in Koh Phangan (more on that below), Patong and Bangkok. So if you're looking for parties and fun past midnight, Thailand would be the best choice.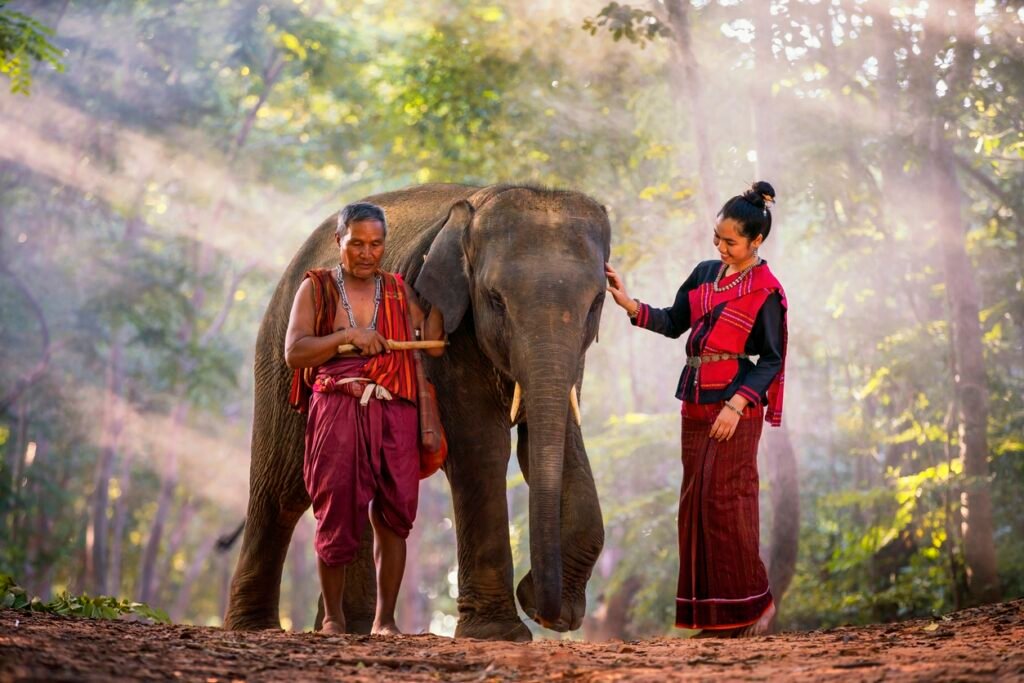 Thailand: The Culture & Vibe
Thailand is a country known for its food, culture, stunning scenery, and more recently a great party scene.
For those looking for a wild time, Bangla Road on Patong offers its own selection of bars, go-go clubs and neon-covered craziness. As well as the famous adult entertainment clubs that have become synonymous with Thailand.
Koh Phangan is most well-known for its Full Moon Parties. This small East Coast island is home to the most famous parties in Thailand and 10,000 to 30,000 people flock to them every month.
Around 90% of Thais identify as Buddhists, and there's also a significant Hindu influence in the country too. Therefore away from the parties and beaches, Thailand is a very spiritual place filled with spectacular temples.
One of our favorites – and one of the most serene – is situated in Phanom Rung Historical Park. A remnant of the Khmer Empire, Phanom Rung is a breathtaking temple built on the rim of an extinct volcano.
You could – and should – also have a go at Muay Thai, Thailand's national sport. Muay Thai (or Thai Boxing) can be traced back to 18th century Thailand, and has its roots deeply ingrained in Thai culture.
Gyms up and down the country offer training sessions (from a single day, to several months) for foreigners and it's a fantastic way to get to know this country and culture. In fact that's something we've even written about in the past.
Vietnam: The Culture & Vibe
Vietnam is a country where tradition and culture still holds significant sway, and one where ancestors are revered. It's also a country that still bears the scars of the Vietnam War.
To learn more about the war, a trip to the Cu Cui Tunnels near Ho Chi Minh City is a must. This huge sprawling network of underground tunnels was dug out by Viet Cong guerillas as they battled American troops. Now turned into a museum by the government, the tunnels give a brief insight into life during the war.
The ethnic diversity in Vietnam also means that throughout the country you will come across different groups with varying musical, cultural and culinary traditions.
A home-stay with one of those groups – such as the Red Dzao Hill tribe – is the best way to experience that first hand. They live in Vietnam's Sapa region alongside the Black Hmong people, both of which have different languages and belief systems from the Kinh people who make up the vast majority of Vietnam's population.
A trip to Vietnam shouldn't be complete without spending some time in its famous capital city Hanoi. The centuries-old architecture is impressive, but so are the sprawling and chaotic markets in the Old Quarter.
Hanoi Night Market is a fun experience which is lively during weekend nights. Enjoy the street food, hunt out a bargain, and listen to the street musicians. As always in capital cities, be wary of pickpockets – our guide to safety in Hanoi can be found here.
A Taste Of The East: How Does The Cuisine Compare?
Both countries will provide a treat for your tastebuds with unbeatable cuisine.
Thailand: The Cuisine
Thai food is famous around the world – and no wonder – so if you're a food lover, then Thailand is going to be a dream destination.
Make sure you try the iconic Pad Thai – a stir fry dish made with thin rice noodles, meat or shrimp.
For something a little less known, Thailand's remote and rarely visited northeast – Isaan – has a traditional dish called Laap which is delicious. It's made up of minced meat seasoned with fresh herbs, lime juice and fish sauce, and is served with sticky rice.
You must try Thailand's comfort food – Khao Phat – as well. This is good hearty fried rice that comes combined with a variety of ingredients. It's perfect for a long day exploring Thailand's sights.
Vietnam: The Cuisine
Vietnamese food rivals Thai when it comes to the taste test, so a holiday here won't disappoint on the culinary scale either.
The country's most famous dish is probably Pho – a noodle soup comprised of herbs and meat. Regarded as Vietnam's national dish, this is best eaten on the street for an authentic experience.
For something a bit more hearty try Banh mi. This simple comfort food is Vietnam's version of the submarine sandwich – a crusty baguette usually stuffed with pork and pickled vegetables.
If you have a sweet tooth then Vietnam will be just up your street too. One of the country's specialties is Chè Trôi Nước – a sticky rice ball lathered in ginger syrup!
Thailand Or Vietnam: Which Is The Better Choice?
A holiday to either Thailand or Vietnam is going to be an unforgettable experience with great food, scenery and culture. But both countries do provide very different vacations.
If you're looking for breathtaking beaches, some adventure and a lively nightlife scene then Thailand will be a better choice than Vietnam.
However if your idea of a great vacation is a quieter country with authentic experiences, then less-commercialized Vietnam with its unrivaled beauty and ethnic diversity could be the choice for you.
Recommended For Your Trip To Thailand Or Vietnam