Wandering our World is reader supported! If you purchase anything through a link on our site, we may earn a commission at no extra cost to you.
Last updated on April 12, 2023 by Wandering our World
Very few places on the globe call to mind the peaceful, romantic and exotic scenery of French Polynesia. Famous for its stunning nature and its friendly, warm and genuinely kind people, this secluded area of the world is particularly popular with honeymooners, couples and, inevitably, sea lovers and scuba diving enthusiasts like ourselves!
The island group of Bora Bora, in the South Pacific, just northwest from Tahiti, is a small gem in the Leeward Islands, Iles Sous le Vent in French.
It is located 260 km from Papeete, the major settlement in Tahiti, and comprises a main island surrounded by several motus, tiny elongated sandy islands, and an enchanting shallow lagoon of a bright and deep turquoise color – it's perfect for diving!
Being of volcanic origin, Bora Bora is characterized by a 727 mt tall mountain, Mount Otemanu, and a fringing reef delimiting its lagoon.
Three major bays occupy the lagoon, with Tuuraapuo Bay being the former main crater of the ancient, now inactive volcano that creates this island.
This beautiful lagoon is a true paradise for diver and snorkelers, as we explain below. (Recommended: The Bora Bora Culture & Customs Guide).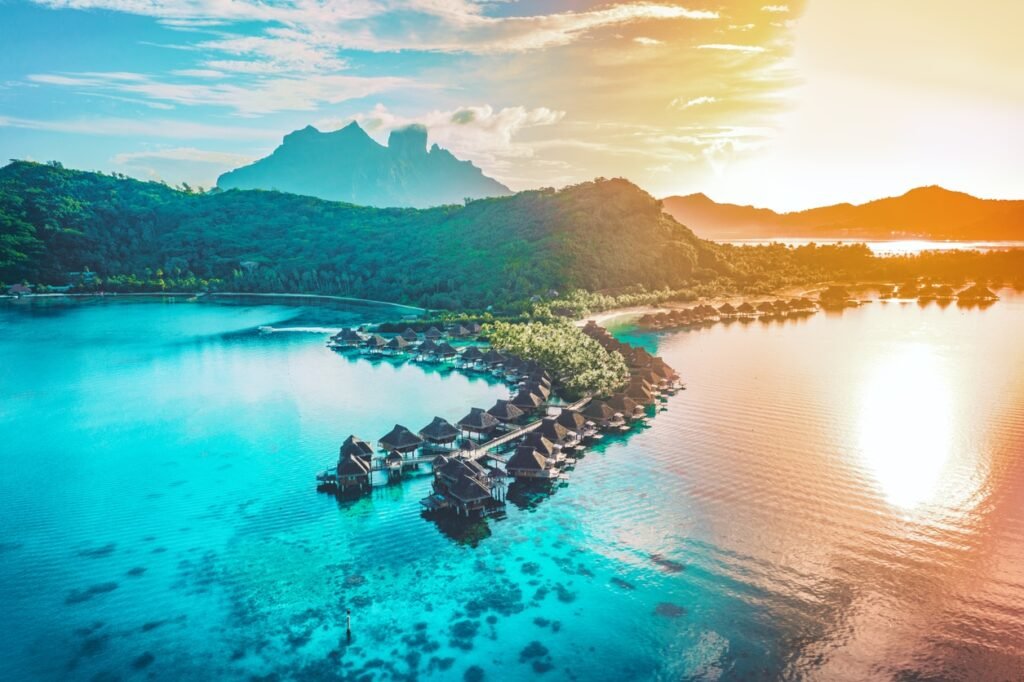 Scuba Diving in Bora Bora: Why it's Worth Doing
With spectacular visibility, nutrient rich waters and amazing biodiversity, the reefs surrounding the island of Bora Bora represent a true underwater paradise.
Both beginner and experienced divers can enjoy the best scuba diving in Bora Bora, where encounters with giant creatures such as manta rays, dolphins, whales or different exciting species of sharks, are extremely common.
The presence of good currents allows for adrenaline-filled drift dives, which are a diver's favorite as they translate to lazy dives with low air consumption, spectacular views and excellent photo and video footage opportunities.
The currents around the main island of Bora Bora, as a matter of fact, permit and encourage the presence of dramatic soft and hard coral sceneries, and invite gentle giants to feed and get cleaned on the reefs in its magnificent lagoon.
Experienced scuba divers chose Bora Bora for their dive vacation for many reasons.
First of all, as we've seen, Bora Bora is encased within one of the world's most famous and charming lagoons, which boasts a varied marine life (dolphins, eagle rays, blacktip reef sharks, nurse sharks, tiger sharks, manta rays etc.) that is sure to delight divers of all levels. The conditions in the lagoon make it a perfect spot for sailing aficionados, too.
The extensive reef surrounding the volcanic island is under the protection of local conservation plans, which include the zonation of the lagoon and special marine area regulations.
This all contributes to the maintenance and preservation of the radiant lagoon with its so-called 50 shades of blue, where shoals of colorful fish can swim through coral gardens and spectacular walls. It's a spectacular and diverse water wonderland.
Now where's the best place to see it all? Below are our top ten dive sites in Bora Bora – each is unique and special for diving. (Related: Exceptional Restaurants in Bora Bora).
Top 10 Scuba Dive Sites in Bora Bora: Prepare To Be Amazed!
Known for its unique underwater environment, its stunning lagoon and its extreme biodiversity, scuba diving in Bora Bora is an experience not to be missed, whether you are an experienced or a novice diver.
Among the many interesting scuba dive sites in and around the lagoon, here is our top 10:
1. Muri Muri: ­
The anchoring point is only 10 meters – 33 feet deep – making it a perfect spot for newbies. However it also slopes down to a maximum depth of 45 meters – 150 feet.
Napoleon wrasses, barracudas, giant shoals of trevally, turtles, grey and black tip reef sharks are all common inhabitants of this dive site, which is covered in Montipora corals giving it the nickname of "Roses".
2. Tupitipiti
This is an enormous reef filled with caves, canyons, swim-throughs and overhangs, where nurse sharks and black or white tip reef sharks find shelter.
The wall at the end of the dive is the perfect environment for giant Napoleon wrasses – a truly exciting encounter! – and the colorful corals and sponges make it the perfect underwater photography spot.
3. Anau
Possibly the most famous dive site in Bora Bora, Anau is the top manta ray dive around the island.
This spectacular garden in the lagoon slopes down to an exceptional coral wall and offer mantas a multitude of cleaning stations allowing these exceptional animals to relax, get cleaned and feed as well.
It is important to keep in mind that, due to strict environmental protection regulations, this dive site requires special permissions and is open to divers only in the morning hours.
It's well worth planning though as this is a wonderful Bora Bora scuba diving site.
4. Tapu
This is the perfect spot for shark diving in Bora Bora, and this coral reef ranges from a depth of 10 meters – 33 feet at the anchor to a maximum of 40 meters – 120 feet.
Here, divers can swim with lemon sharks, black tip, white tip and gray reef sharks, but also turtles, napoleon wrasses and the feared titan triggerfish.
5. Haapiti
A gentle slope covered in numerous tunnels and canyons offering protection to all sorts of marine life, such as moray eels and octopuses.
Different species of sharks can be seen swimming along this reef, including lemon, black tip and grey reef sharks.
6. Toopua
Famous for the giant anemones that hide gorgeous clown fish and colorful tropical fish, this dive site is located in the lagoon and ends in a spectacular multi colored coral garden!
On the sand surrounding the reef, leopard rays, scorpion fish and stingrays can be found sleeping or resting during the day.
7. Tupai
Situated at around a 1 hour boat ride from the lush island of Bora Bora, this is one truly spectacular dive where, from August to November, encounters with humpback whales are far from being rare.
In this season, these gorgeous animals come to this bay to breed in the calm and peaceful waters of Polynesia, making Tupai one of the absolute best diving sites in Bora Bora.
8. Teavanui Pass
This is one of the best scuba diving in Bora Bora sites, and is an exciting and thrilling oceanic pass dive.
The only pass of Bora Bora, Teavanui offers sightings of barracudas, tunas, shoals of trevallies, white tip sharks, tiger sharks and manta rays.
9. Aquarium Bora Bora
This is the perfect spot for snorkelers and for beginner divers, especially for Discover Scuba Diving programs, due to its average depth of 4 to 5 meters, about 13 to 16 feet.
Despite the shallow depth, this dive site has an amazing density of tropical fish, explaining the origin of its name. Divers can come face to face with moray eels, stingrays and all sorts of colorful tropical fish.
10. Grand Canyon
Another shallow dive in one of the planet's most beautiful lagoons, Grand Canyon ranges from a depth of 7 to 17 meters, 23 to 55 feet.
Here, open water divers can observe giant lemon sharks and eagle rays, and swim through tunnels and narrow passages in the reef.
Vacationing in Bora Bora
Reaching Bora Bora from the United States is not that difficult! You will just have to fly first to Faa'a International Airport in Tahiti, and from there, after clearing customs, you'll get a 45 minute flight to Bora Bora Airport.
On average, there are four flights a day from Tahiti to Bora Bora, which explains why getting there will require proper preparation and a timely reservation.
A valid passport is all that is needed when entering Bora Bora, as United States travelers can enter for 90 days for tourist purposes, without any visa.
Compared to other dreamlike destinations, such as the Maldives for example, Bora Bora is easier to reach and takes less flight time from the US. Although the Maldives might represent a better and more convenient option from Europe, UK or Africa, given the shorter distance and better connections.
Plenty of accommodation options are available for travelers heading to Bora Bora. However, most of them are exclusive, luxurious and therefore, quite expensive.
It has been calculated that a week in Bora Bora costs on an average around 3,000 USD for a solo traveler, and a little short of 6,000 USD for a couple. The so-called Pearl of the Pacific is by far the most expensive island in French Polynesia, but we believe it is definitely worth the money.
The ultimate vacation accommodation in Bora Bora is certainly the exclusive overwater bungalow, offering peace, isolation and total relaxation: the level of privacy that these buildings offer is second to none, with everything a tourist might need thanks to dedicated butler services.
With their private pools, spectacular views and intimate atmosphere, there is no doubt as to why these overwater bungalows are the most popular and sought-after accommodation on this peaceful, yet high-end island.
What To Do In Bora Bora
Most of the best activities to do in Bora Bora have something to do with its beautiful lagoon and rich, stunning waters. From catamaran cruises, sailing, snorkeling, jet skis tours, there's something for everyone. Bora Bora's nearby sister island of Moorea has excellent diving too. (Recommended: Scuba Diving in Moorea).
The most adventurous nature lovers will enjoy reef discovery activities during snorkeling and scuba diving trips, while the party lovers will enjoy the floating bar experiences and entertainment bar boats loaded with drinks and good music that sail across Bora Bora's enchanting lagoon.
ATV and Quad tours are provided on the island, offering magnificent views from the top of the two major mountains of Bora Bora, and the same views can be obtained while on an open-air 4WD truck tour.
They can also take you to numerous interesting and spectacular lookout spots such as East Matira or Faanui Canon, where US military artifacts left behind after WWII can be observed.
While exploring the island, tourists can learn about the Polynesian culture and traditions and see how locals make sarongs and coconut oil. Fresh exotic fruits can be enjoyed during land trips which are kindly offered by local vendors on tour paths.
That also gives an exciting and refreshing opportunity to get a great insight into their culture and family habits.
Recommended For Your Trip To Bora Bora