Wandering our World is reader supported! If you purchase anything through a link on our site, we may earn a commission at no extra cost to you.
Last updated on December 1, 2022 by Wandering our World
It's known for its gorgeous waterfront, buildings and history, but recently the eateries and restaurants in Pickering have started to put this Canadian city on the map too.
That's because Ontario's Pickering, with its numerous cafes, restaurants and bars, is creating a reputation for itself as a city with a burgeoning cuisine culture. So if you're visiting, or passing through, it's well worth enjoying the food here as well as the sunsets and history.
We're not going to give you with every eatery that is out there (like some websites that say 'best restaurant' but include every restaurant in the area!), but instead share with you our five favorite Pickering restaurants, our five favorite bars for food, and then our favorite cafes.
All so you have a choice for whatever mood you're in. Enjoy!
The Five Best Restaurants In Pickering
1. Amici Trattoria
Amici's menu of authentic traditional Italian dishes can be traced back through the owner's ancestry, as this is a family operated restaurant. Their philosophy centers around creating great memories around 'the table', which is easy to do when the food is so memorable.
The wooden floors and decor give this place a warm yet slick look with a casual atmosphere perfect for business lunches or family dinners. The patio during the warmer seasons is ideal for romantic dates and brunches with friends. Easily one of the best restaurants in Pickering.
We recommend: The Arancini, which is stuffed tasty risotto rice balls with spicy arrabbiata sauce, mozzarella and Parmigiano Reggiano cheeses; The Gnocchi Ai Formaggi which is flavorful aged provolone with gorgonzola and parmigiana, topped with heated red pepper cream; The Ravioli Di Aragosta, which is stuffed with a delicious blend of lobster, shrimp, butternut squash cream, bell peppers, cherry tomato, parsley and nutmeg.
2. PORT
Expect an elevated supper experience with great food and comfort, where you are guaranteed to have that "can't wait to return" feeing by the end of your meal. Along with great food you'll also have superb waterfront bay views. For us, this is easily one of our favorite Pickering restaurants when looking for a great seat to watch the sunset.
PORT proudly serve dishes made with local ingredients that are natural and healthy, and Chefs Mather Rowe and Stephane Renaux ethically source their menu which changes with the seasons depending on product availability. They also offer some wonderful international craft beer options.
We recommend: The fresh Agnolotti with mushrooms, oregano, cherry tomatoes, thyme and lemon; The Fogo Island Cod with king oyster mushrooms and sweet peas over leek soubise sauce; Their Truffle Mushroom pizza made up of roasted mushrooms, caramelized onions and truffled béchamel sauce; and their Shrimp Roll made of white wine poached shrimp, pickled onion, dill-tarragon aioli and romaine.
3. Sakura Sushi
This casual Japanese restaurant has become so popular due to the delicious authentic Japanese food they serve. They prepare all menu items with the freshest ingredients, maintaining a high quality standard and the result is exceptional taste.
Sakura's goal is to provide a unique experience to their dining customers with their delicious sushi and relaxed Casula atmosphere. We think they've achieved that.
We recommend: The Sashimi appetizer plate which comes with two salmon, two red tuna, two white tuna, two red snapper and one crabmeat sashimi assortment; The Sweet Potato Noodles, made in ocean glass noodle style and paired with veggies; The Dancing Rock & Roll which is eight pieces of deep fried salmon, white tuna, cucumber, avocado and caviar topped with spicy mayo.
4. Angelique's Family Restaurant
Since opening its doors in 2003, Angelique's has become known for its inviting homestyle cooking that come in generous servings and can be enjoyed in a pleasant, family-oriented environment. Consistency good service and large portions of delicious food has made this eatery a favorite of locals. Angelique's easily makes out list of the best restaurants in Pickering, mainly due to the hearty portions, tasty grub and affordability.
We recommend: The Vodka Atlantic Smoke Salmon, which is smoked salmon thinly sliced with hollandaise sauce and potatoes on an English muffin topped with 3 sunny side-up eggs; The Chicken Caesar Wrap which is seasoned chicken cut into thin strips with lettuce and caesar salad dressing, wrapped in a tortilla served with soup or fries. We also recommend their filling Club Sandwich which is prepared with Lettuce, tomato, bacon, ham, chicken, cheese and mayo.
5. Halibut House Fish and Chips
Created out of passion and hard work, this restaurant was originally founded by refugees Julie and Ken. Their dishes are sourced from quality local providers with protein-packed Canadian potatoes and chemical-free sustainably-caught fish which is then seasoned or battered and then fried, for a satisfying, mouth-watering flavor and crunch!
We recommend: The Black Tiger Shrimp which is eight pieces that are lightly battered and fried, served with a cocktail sauce, paired with either chips, onion rings, sweet potato fries, or a salad; The Halibut which is a 5oz signature cut Alaskan halibut in a homemade light batter served with chips, California style veggies, onion rings or a salad; The Chicken Souvlaki which is homemade marinated souvlaki chicken paired with tzatziki sauce, rice and salad.
The Five Best Bars In Pickering
1. Bollocks Pub and Kitchen
This award-winning gastropub has a menu with inventive grub made in-house form scratch. From artisan sandwiches, seasonal soups and salads, freshly made pastas, in-house made burgers, stone-baked hand-pulled pizzas and succulent award-wining wings with many options for sides and desserts, they have it all. Similarly, their beer tap has over 20 options that range from imported, domestic and local craft beers. A great pub and one of our favorite restaurants in Pickering!
We recommend: The Cajun Steak Bites, which are steak pieces cooked in cajun butter with caramelized onions, green onions and BBQ sauce; The Tuna Poke Bowl which is Ahi sesame tuna served with avocado, red onion, kale, cucumber, carrots, watermelon radish, basmati rice and a Goma dressing; The Messy Fish Sandwich, which is a beer-battered Halibut paired with coleslaw, tomatoes, pickles, lettuce and a malt sauce.
2. The Fox Goes Free
This traditional-style pub has a cozy and warm atmosphere. Their culinary team is passionate about the menu and they've created tasty pub food with a modern twist. Opened in 1993, the staff is reliable and friendly and the skilled kitchen staff have great culinary approaches.
We suggest: The Montrealer Burger, which has caramelized onions, mushroom, cheddar cheese, Montreal sauce and is topped with two strips of smoked bacon; The Steak and Mushroom Guinness Pie which is made up of tender pieces of steak and mushrooms in a splendid Guinness gravy baked inside a buttery pie pastry paired with mashed potatoes or chips.
3. Harp and Crown Pub
The definition of a great sports fan experience. There are over 20 large flat TV screens at the Harp and Crown covering the wall of the pub, allowing everyone to be accommodated during game time. The menu is full of classic mouth-watering pub dishes to enjoy while you enjoy the game, karaoke, live DJs, or any of the local events that this pub hosts. They are especially well known for their steak, ribs and wings, plus a diverse selection of beers, wines and spirits.
We suggest: The South Indian Beef Devil, which is 8oz steak strips covered in a chilli sauce served with vegetables and pita; The Steak and Kidney Pie which is made up of meaty chunks with mushrooms, covered with puff pastry and served with mashed potatoes and veggies; The Shrimp Curry with Mango Chutney, which is served with rice and can be either mild, medium or hot.
4. Tudor Arms Pub
A staple since opening its doors in 1993, the Tudor Arms offers a broad buffet and drink menu, excellent service and live music. They recently had a big makeover and renovation and the pub is looking great!
We suggest: The Stir Fry Chicken which is tossed in teriyaki sauce and served with vegetables and rice; The Toasted Western Sandwich which comes with two eggs, sweat peppers, smoked ham and onions; The Tudor Arms Club which is grilled chicken breast, lettuce, cheese, tomato and bacon.
5. The Stonecorner Pub
This watering hole's atmosphere is a nice blend of original pub aesthetic with a modern slick look. They cater to all ages, have delicious pub fare, affordable prices and a friendly atmosphere. It's a cliche, but Stonecorner feels like a home away from home.
We suggest: The Irish Nachos, which are crispy waffle fries layered with mixed cheese, green onions, bacon and bell peppers with side salsa and sour cream; The Special Chicken Curry which is made up of chicken, onions and potatoes cooked slowly in a mild coconut milk curry sauce with a portion of basmati rice; The Jambalaya which is grilled chicken with pan-fried tiger shrimp, Italian sausages mixed together with sweet bell peppers, cajun spices and tomato sauce served atop basmati rice.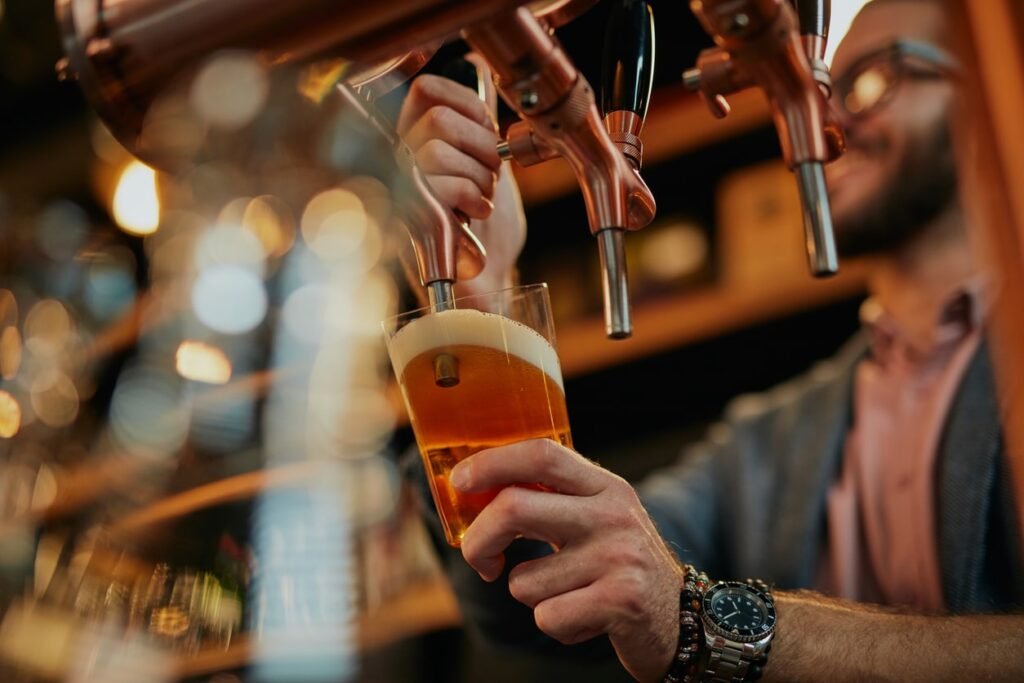 The Four Best Cafes In Pickering
1. Open Studio Art Cafe
Created to accommodate lovers of coffee, art and music, Open Studio opened its doors in 2015. Artists of all kinds are encouraged to join the community here, practice their skills and showcase their talents for all patrons to see. Drink your latte while enjoying the intimate gallery setting, or be bold and join in an art session or music event!
We recommend: Their specialty dirty chai espresso paired with a dulce de leche steamer; The all day breakfast frittata on a bagel with their gourmet Mac and cheese; And any of their homemade tahini brownies and energy slouches!
2. Heaffles
This coffee and waffle shop combines scrumptious Scandinavian heart-shaped waffles with Brazilian rich decadent coffee – what a combination! Their coffee has caramel and tangerine hints that leaves a lingering sweet and herbal aftertaste. The waffles can be in any form imaginable and are paired with many sauces and toppings.
We recommend: The Rainbow Party Waffles which are made up of kiwi, strawberry, blueberries and mango drizzled with chocolate sauce and whipped cream; The Chocolate Temptation Waffles, which include chocolate sauce-covered strawberries, bananas and Oreos topped with whipped cream.
3. Trebilcock Coffee Roastery
Trebilcock import from boutique coffee importers in Central and Southern America where numerous micro-lot coffees are grown by talented cultivators from around the country. The owner personally supervises all the bean picking and sorting. The coffee beans arrive green and dense, ready to be roasted and enhanced with aromas of vanilla, berries, caramel and much more. The roastery is open for viewing and tastings throughout the week.
We recommend: The Chalo's Colombia, which is a medium roast with a sweet cocoa taffy tinge that is grown in nutrient-rich soils in the Colombian valleys; La Esperanza which is a Nicaraguan, smooth and sweet medium roast grown in the Coco Region which is known for it's flavorful coffee.
4. Second Cup Coffee
What started out as a small coffee kiosk at a shopping mall has become a large retailer in Canada for specialty coffees. Their philosophy is "Clean. Green. Beans" and the focus is on ethical, fair and sustainable coffee. They only obtain beans from toxic free growers, the farmers are fairly compensated for their work, and Second Cup always use environmentally-friendly practices.
We recommend: The Banana Loaf, which is a sweet caky loaf baked with ripe bananas; The Pecan Square, which is a decadent caramel pecan topping with a buttery crust which goes well when paired with a vanilla bean latte; The Wild Blueberry Scone which is baked with fresh blueberries, sprinkled lightly with sugar and goes well when coupled with an ice mocha latte to balance the flavors.