Wandering our World is reader supported! If you purchase anything through a link on our site, we may earn a commission at no extra cost to you.
Last updated on October 7, 2022 by Wandering our World
Located in the heart of Cumbria's Lake District, Windermere is home to the largest lake in England and has been a magnet for visitors since Victorian times. The scenery here is wonderful, as are the activities on the lake. But one of our favourite aspects of visiting is enjoying the fun and vibrant pubs in Windermere!
The amazing combination of gastro-pubs and centuries-old historic pubs within such a unique setting here, makes this lake an absolute must visit when it comes to traditional English pub culture.
With many Windermere pubs to choose from, including some lakeside pubs boasting scenic views of England's largest lake, it can be overwhelming deciding which ones to choose.
However that's where we can help! We know this area well, and so below we share with you what we believe are the most lively, quirky and best pubs in Windermere. (Related: Camping in Lake Windermere).
The best Windermere pubs you have to try
1. The Albert
Situated just a stone's throw away from Lake Windermere, this gastropub boasts a very cosy and beautiful outside seating area and offers a great choice of wine, ales and beer, including beers by some of our favourite brewers – Robinsons!
Famous for their scrumptious Sunday roast, it isn't hard to see why people are willing to wait – their roast silverside of beef, accompanied with veggies, mashed potatoes or crispy roasted potatoes, as well as the obligatory Yorkshire pudding never disappoints.
This is our favourite Windermere pub for Sunday roast!
Address: Queens Square, Bowness-on-Windermere
2. The Ship Inn
This Windermere lakeside pub is in a great location with unbeatable views of the water and marina. With its friendly atmosphere, great service and an outside seating area, this traditional pub is ideal for dinners and catching up with your favourite people.
The Ship Inn offers a nice selection of beer and traditional keg ales, and has some great hearty pub grub.
We highly recommend trying their Gammon & Rump Steak, and if you have a sweet tooth like us, the Sticky Toffee Pudding is fantastic. If you're a fan of full bodied, dry beer, then get a pint of Theakston when visiting.
Address: Glebe Road, Bowness-on-Windermere
3. Tower Bank Arms
We had to mention this quirky 17th century inn, which was even featured in Beatrix Potter's The Tale of Jemima Puddle-Duck! Which isn't much surprise as it's situated just a few minutes of Potter's farmhouse.
It's a ferry journey across Windermere lake to Ambleside, but the scenic journey is well worth it.
This relaxed pub is known locally for their fantastic selection of award winning local Cumbrian ale. This historic classic English pub, with good food and great ale, was always going to make our list of best Windermere pubs.
Address: Near Sawrey, Ambleside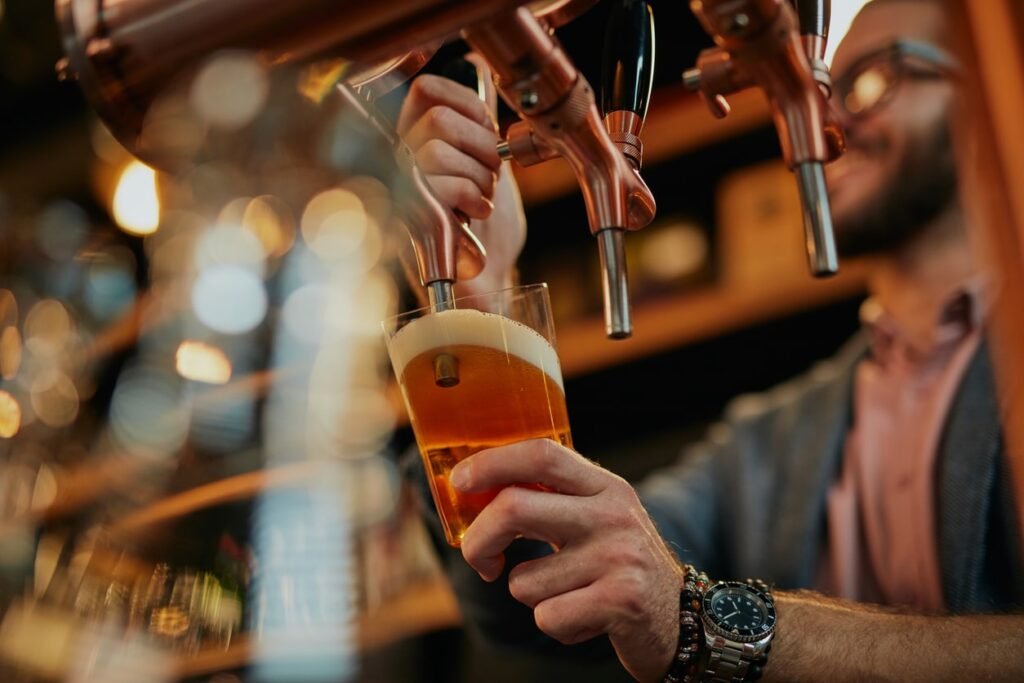 4. Brookside Inn
This pub is a well-known laid-back spot for many local residents thanks to its great choice of real British ales and international lagers.
Understandably then, this is a great pub for grabbing a pint, watching live sports events and socialising. In fact they organise interactive quiz nights on Thursdays, which are always lively and fun.
Famous around Windermere for their delicious pizzas and affordable drinks, Brookside Inn offers classic pub grub, a good service and relaxed atmosphere to kick back and sip on your favourite drink.
It's dog-friendly Windermere pub too, and also boasts a beer garden.
Address: Brookside, Lake Road, Windermere
5. The Flying Pig
If you are looking for good quality, hearty food at an affordable price, then the Flying Pig is a great option. The great fish and chips, as well as the juicy burgers, are big hits here. Both of which go down very well with a refreshing pint!
There's a fantastic selection of wine, gin, beer and real ale here, as well as good gluten-free options. It's a dog-friendly Windermere pub too.
The Flying Pig is many tourists go-to spot after a long day at the Beatrix Potter Experience. Definitely one of our favourite Windermere pubs.
Address: Rayrigg Road, Bowness-on-Windermere
6. The Elleray
Located in the heart of the village of Windermere, this traditional pub with a contemporary touch is also a 4-star inn – ideal for your weekend Lake District getaway!
The relaxed atmosphere, great home cooked food and excellent service add to the character of this cosy spot.
Many love their fun and entertaining quiz nights and live music. In fact if you are a fan of open mic sessions, this pub is the place to be on the first Tuesday of every month.
We recommend trying their delicious pizza, and there's some good vegan options on the menu too. Plus if you love real ale, do try the Cumberland Golden Beer that's available on tap.
Address: 2-6 Cross Street, Bowness-on-Windermere
7. The Queens
This award-winning British pub with a great international menu is the place to be for a fun atmosphere, amazing good-value food, and a great drinks selection.
With their drink deals, delicious sharing snacks and drinks selection, it's become a go-to place for locals and visitors on the hunt for a bargain!
We love their two outdoor areas which are perfect during the warm weather as well as the colder months thanks to their open firepit. With the friendly service here, why not grab their hearty and delicious Sunday lunch?
Address: Victoria Street, Windermere
8. Hole in t' Wall
We love this pub, not only for the wide variety of drinks, but also for its quirky local name.
Originally named the New Hall Inn, it became famous as The Hole in t' Wall due to a gap in the brick that was knocked through so they could continue serving beer to blacksmith while they were working!
The wide array of cask ales, nice rum and over 20 gins – as well as good pub grub – make this a great place to end your evening after a full day exploring this stunning area.
With a heated beer garden, you can also enjoy the colder evenings with a glass of mulled cider. Easily one of our favourite Windermere pubs.
Address: Robinson Place, Bowness-on-Windermere
9. The Old John Peel Inn
This cosy pub situated in central Windermere boasts nice interior decor with dark coloured woodwork and serves hearty meals served all day alongside a nice variety of drinks.
This pub is a popular stop after visiting the World of Beatrix Potter, which is located right beside it.
There's often fun and lively quiz and music evenings here, so if you're staying in the area pop round one evening. We also recommend trying their delicious Fish & Chips which is known as being one of the best in the area.
So if you love generous portions at an affordable price, The Old John Peel Inn is the ideal pub in Windermere.
Address: Rayrigg Road, Bowness-on-Windermere
10. Baha
This quirky bar with a trendy interior serves Pacific-style street food in a bustling atmosphere, giving you an experience that's unlike any other pub in Windermere.
Along with regular live music evenings, they do cocktail making classes, yoga disco and private pod karaoke – this is probably the most energetic Windermere pub!
We love their Sunday lunch menu, and recommend the Flamed Pork Belly. As for what to drink, try the Pacific cocktail which contains lychee puree giving it a real tropical taste.
Address: 18 Ash Street, Bowness-on-Windermere
11. Churchill's Tavern
Tucked away from the hustle and bustle of the busier streets, Churchill's Tavern is home to a large beer garden and serves a nice selection of drinks at a very reasonable price.
The staff are welcoming and friendly, and are quick with their service – that's one way to keep hungry and thirsty customers happy.
Situated close to the lake, this dog-friendly pub is a great stop for affordable food and drinks in a classic Cumbria pub setting. If you're looking for something to do in the evening, this pub regularly hosts live bands, adding to the ambience.
Address: Robinson Place, Bowness-on-Windermere
12. The Crafty Baa
Situated in the heart of Windermere, this award-winning pub with its eclectic décor of recycled and upcycled material is worth the visit for the quirky look alone.
However it's far more than that, with outstanding food, service and a great selection of over 100 craft beer from around the world.
You can enjoy those beers by taking up a snug spot on the patio. If you're getting peckish then this pub serves charcuterie, cheese and grilled sarnies that are exceptionally good. There's lots of live music too.
Address: 21 Victoria Street, Windermere
13. The Pie and Pint
Known as the Lake District's smallest pub, this quirky place is an offshoot of the Crafty Baa and is brimming with character and fun vibes.
It's a snug space just downstairs from the Crafty Baa and serves an amazing choice of cask ales, beers and when you arrive you even get a mini pork pie!
We recommend trying their craft beers alongside the Cheese Pie, which is served with mushy peas, red cabbage and gravy. For a carnivore's choice, try their delicious Scotch Egg – perfect drinking food.
Address: 19 Victoria Street
14. Beresford's Restaurant & Pub
If you love your drinks accompanied with amazing seafood, then Beresford's Restaurant & Pub could be ideal as they have the best mussels in the area!
There's also a great variety of wines, cocktails, fizzy champagnes and draught beers that won't disappoint.
To top it all off, they hold a 1am drinks license, so this Windermere pub is perfect for a late night catch up with mates as well as evening sports on TV.
The dishes aren't stagnant either, and the menu changes depending on the season and the inventions of the kitchen staff.
Address: Beresford Road, Windermere
Recommended for your trip to Windermere