Wandering our World is reader supported! If you purchase anything through a link on our site, we may earn a commission at no extra cost to you.
Last updated on December 1, 2022 by Wandering our World
Known as the birthplace of William Shakespeare, this famous Elizabethan market town is as beautiful as the rural Warwickshire countryside it's set in.
The scenery here is wonderful, as is the stunning Tudor architecture which is brimming with rich history and heritage. But one of our favourite aspects of visiting this town is enjoying the fun and historic pubs in Stratford-upon-Avon!
The amazing combination of gastro-pubs and centuries-old historic pubs within such a unique setting, makes this ancient town an absolute must visit when it comes to traditional English pub culture.
However, with many Stratford-upon-Avon pubs to choose from, including some riverside pubs boasting scenic views of the tranquil River Avon, it can be difficult deciding which ones to choose.
But that's where we can help! We know this area well, and so below we share with you what we believe are the most lively, quirky and best pubs in Stratford-upon-Avon.
The Best Stratford-Upon-Avon Pubs You Have To Try!
1. The One Elm
Situated just a stone's throw away from Shakespeare's birthplace, The One Elm is a great gastropub serving quality seasonal dishes using the finest British ingredients. This pub has a very good choice of lagers, gins, wines and excellent ales on tap too.
They're famous in town for their scrumptious Sunday Roast – the tender beef, veggies cooked to perfection and crispy potatoes paired with a nice wine – which is the ideal family meal.
However if you are a fan of seafood, we recommend trying their scrumptious Salmon Risotto and the Eton Mess for dessert.
You can also soak in the sun and enjoy a craft ale or cocktail in their secluded courtyard.
Address: 1 Guild Street
2. Dirty Duck
This popular traditional style British pub is beautifully located on Waterside in Stratford-upon-Avon and serves great food, a nice variety of drinks, excellent service and attentive staff.
We love spending a summer's evening in the beer garden here, enjoying a drink while overlooking the River Avon. It's recommended to book in advance though, as this spot is popular.
This cozy pub has a fantastic beer and ale choice, as well as a wide variety of food options, including pub classics like burgers, steaks and sharing plates. We also loved their signature classics menu which has a fantastic slow-cooked lamb shoulder. There's good vegetarian and vegan dishes too.
Address: Waterside, Stratford-Upon-Avon
3. The Bear
Famous for their stunning riverside location and wide variety of real ales on tap (which you can sample too), we've found this traditional British pub to be the ideal place to watch football and enjoy some classic pub food.
The staff are accommodating and polite, and there's a variety of gluten free and vegan options on the menu.
Recognized by CAMRA's campaign for real ale, The Bear is the place to go for a selection of real ales. Some of our favourites include Stratford Gold, Old Hooky, Butty Ranch and CAMRA's Champion Beer of Warwickshire 2012 – The Bear Best Bitter!
If you fancy drinks other than ale, you will love the The Bear's Fizz Friday – excellent French sparkling wine at a very affordable price and if you are feeling peckish, you can opt for their selection of tapas. This is easily one of the best pubs in Stratford-upon-Avon.
Address: Swans Nest
4. Cox's Yard
This Stratford-upon-Avon riverside pub is in a great location with unbeatable views of the river. With its friendly atmosphere, great service and an outside seating area, this gastropub is ideal for dinner and catching up with your favourite people.
Their nice selection of draught beer and ales, along with food prepared with quality ingredients, has made this the place to be for locals.
Plus, the QR code based table service here means you can eat here without the fuss of waiting in line for payments and orders.
Address: Bridgefoot, Stratford-Upon-Avon
5. The Old Thatch Tavern
Known as the oldest pub in Stratford-Upon-Avon, The Old Thatch Tavern is a dog-friendly spot, great for catching up with friends over drinks.
The variety of food, pleasant atmosphere and generous portions has made this historic pub a locals' favourite too.
Expect classic homemade English pub grub, quick service, seasonal dishes, real ale and crisp lager. We highly recommend their Sunday Roast, which includes an option of beef, pork or turkey, as well as delicious Yorkshire puddings and all the trimmings.
Address: Greenhill Street
6. The Keys
If you are looking for a traditional pub with a twist, The Keys will be a great choice!
This pub is known for its live music, varying in genre from rock to acoustic. The spacious beer garden, attentive staff and reasonable prices make this pub a fun and budget-friendly place to socialise in Stratford-upon-Avon.
You can enjoy a large array of lagers, beers, wines, ales and spirits here while listening to the live music on Fridays and Saturdays, or taking part in the pub quiz on Mondays.
There's vegan, vegetarian and gluten free options too (including gluten free beer), but what we recommend is their lamb shank or roast beef. Both were exceptional. Definitely one of the best Stratford-upon-Avon pubs.
Address: 6 Ely Street
7. Windmill
If you're looking for a traditional pub filled with character and low wooden beams then this is the place! This quaint spot has a relaxed atmosphere, the food is flavourful and seasonal, and there's a good selection of kid options too.
The Windmill doesn't disappoint in the drink department either, and has a nice variety of lagers, beers, ales and spirits.
We recommend trying their Vegan Slider Burgers and the Pulled Pork Nachos, along with their raspberry and rhubarb gins. This is a great place for watching sports too.
Address: Church Street
8. Garrick
Situated along Stratford's Historic Spine, this quaint pub serves generous portions, hearty dishes and great drinks.
This dog-friendly spot is great for grabbing lunch and a cold pint in their sunny beer garden, or enjoying dinner with a glass of wine in their comfortable and relaxed interior.
The British cuisine here tastes great, and the staff are polite and attentive. It's a place with a real laid back vibe, and one where it's easy to have a good time with friends and family.
We highly recommend trying their Shakesbeer on draught. It's light and full of flavour, and pairs nicely with the Steak and Ale Pie.
Address: 25 High Street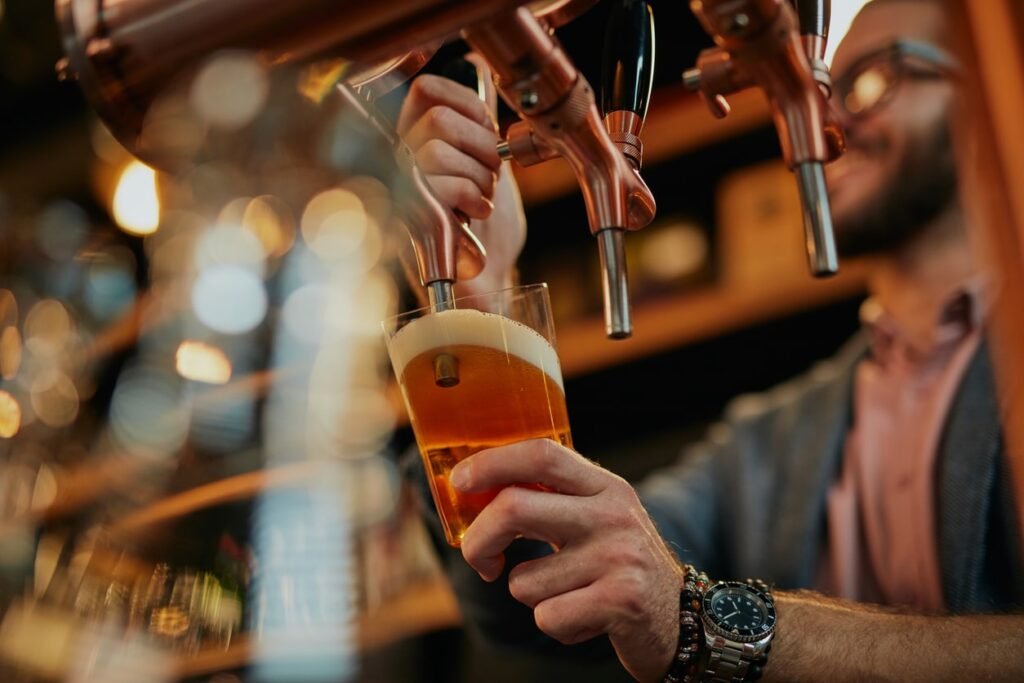 9. The Encore
Situated in the heart of Stratford-upon-Avon, this great waterside gastropub boasts contemporary interior décor and excellent meals.
You'll find pub classics on the menu, as well as delectable seasonal dishes, so you're guaranteed to find something to suit all tastes. The Sunday Roast is one of the best in the region too.
We love the relaxed atmosphere here, as well as the courtyard which is a great place to unwind outside.
The excellent location, amazing food and unrivaled service make this Stratford-upon-Avon pub stand out, and we've also found the staff to be very accommodating when it comes to food allergies.
Address: 1 Bridge Street
10. The Red Lion
This historic 18th century building, and its spacious beer garden, is a must-visit for the variety of freshly prepared pub food, and great selection of beers and ciders.
The Red Lion is a tourist favourite after a trip to visit Shakespeare's birthplace, although its ideal location next to the canal is why locals keep coming back.
What we really love are the options here. You can choose to be cozy inside while tucking into a classic fish and chips, or enjoy their large outside beer garden.
Address: 1 Warwick Road
11. The Shakespeare Inn
This cozy pub boasts a beer garden and serves amazing traditional pub grub alongside a very good variety of ales, beers, wines and spirits.
Located in the picturesque village of Welford-on-Avon, you can enjoy some locally sourced food next to their roaring open fire.
In our opinion, this dog-friendly pub serves some of the best fish and chips in the area. They host special events most weeks too, so keep an eye on their website to see what's happening when you're in the area!
Address: Chapel Street, Welford-on-Avon
12. The Stratford Alehouse
If you are looking for a wide array of the finest real ale and cider, The Stratford Alehouse could be ideal. Located just a 3 minute walk from Shakespeare's birthplace, you can enjoy different craft beers in a relaxed atmosphere after a full day of exploring.
We recommend trying the Plum Porter from Titanic Brewery, and the Stratford Mosaic by Stratford upon Avon Brewery. There's also a great selection of beer, chilled cider and some unusual, but pleasantly surprising tonics to mix with gin.
Address: 12B Greenhill Street