Wandering our World is reader supported! If you purchase anything through a link on our site, we may earn a commission at no extra cost to you.
Last updated on May 26, 2023 by Wandering our World
Pemberton is an outdoor playground at all times of the year! It's located just past Whistler and is only 2 ½ hours from the major BC metro hub Vancouver, making it easily accessible and a great spot to get away from the city or big tourism spots.
If you're looking for adventure in the real BC wild, then the small town of Pemberton and the surrounding area is the perfect place to set up your campsite, start exploring, and enjoy nature.
And if you're thinking about camping in Pemberton and the surrounding area, then you're in the right place!
That's because we know this place like the back of our hand. So right here we share with your our favorite campgrounds in Pemberton and the surrounding region. We then look at backcountry camping in Pemberton, share some of the events that happen in the town and more.
So read on to begin your Pemberton camping adventure!
CONTENTS:
The Best Campgrounds For Fun, Views & Adventure
Backcountry Camping in Pemberton
Bear Safety Tips
The Best Time to Camp in Pemberton
Time Your Trip Right & Enjoy These Pemberton Events!
Our Favorite Scenic Walks
Free Scavenger Hunt Game
The Best Campgrounds In Pemberton For Fun, Views & Adventure
Almost all of the campgrounds in and around Pemberton are public lands like provincial park campgrounds, so the amenities at many of them are limited.
But that just enhances the rugged and real backcountry adventure while you're camping.
1. Nairn Falls Campground
Nairn Falls Campground is located in Nairn Falls Provincial Park, which is located just 5 minutes from Pemberton town center.
The falls themselves are 60 meters high, and you can follow a 1.5-kilometer trail to the base and top of the falls to watch the water crashing down.
The Nairn Falls Provincial Park is 170 hectares of protected forest and is often a good stopover when you're traveling in the region. So this is the perfect Pemberton campground for any outdoor enthusiast.
The park has one very special inhabitant that you may see while you're camping too – the Rubber Boa, an extremely cold-tolerant snake species! Outside of that, you'll also see squirrels, raccoons, and a big variety of birds if you want to go birdwatching.
Amenities and Facilities
This Pemberton campground and the surrounding area are not maintained during winter, so you need to be wary of getting trapped by the snow. However, there are no fees to camp here during winter so it's free then!
The bathrooms are pit toilets but they do provide wheelchair access. There is clean drinking water available from two hand pumps, but you'll need containers to carry the water to your campsite.
Campfire rings are provided at each campsite, and firewood can be purchased at the campground. There are also two shared picnic tables for anybody to use.
What's Close By
Staying at this Pemberton camping option gives you easy access to the Nairn Falls Provincial Park, and the jewel of the park is the 60-meter-high waterfall which has an easy hiking trail to get to.
There are a range of posted hiking trails in the park, including:
Nairn Falls Trail which is 3 km long and takes around 1 hour to complete. Though if you stop off at the falls, it may take you longer.
One Mile Lake Trail is 2 km long and drops you off at the One Mile Lake which provides swimming if you're brave enough to get in!
Coudre Point Trail is variable in length and tracks you along the Green River, which is a fast-flowing river running through the park.
If you've purchased a fishing license, then Green River is known for being a great fishing spot, where you can find rainbow trout, bull trout, and sockeye salmon
The Important Info
Rates: $11 – $22 per night
Address: Nairn Falls Park Rd, Pemberton, BC V0N 2L0
2. Owl Creek Recreation Site
Owl Creek Recreation Site is a smaller location in an open dry forest with the Birkenhead River on one side and Owl Creek on the other. Historically it was private land, and there is an apple orchard on-site, which can attract hungry bears.
The campground provides 15 campsites for either tents or RVs. The sites are large and scattered around the campground, so privacy is a big benefit here. But there are no hookups for RVs.
It's a perfect location to camp with friends and enjoy all the easily accessible activities in the area without being too cramped in with a lot of other campers.
Amenities and Facilities
Owl Creek Campground is self-servicing; register yourself, pay the fee in cash, and once in a while, a site operator will come to check the campground and sell firewood.
Amenities and facilities are limited here; but you'll have access to pit toilets, picnic tables, fire rings, and garbage bins.
What's Close By
Owl Creek Recreation Site provides a number of easily accessible activities without leaving the area, including hiking and fishing.
If you've purchased a fishing license, Owl Creek and Birkenhead River intersect at the campground, and you'll be able to fish for Kokanee salmon, Coho salmon, Rainbow trout, and a range of other fish.
There are multiple hiking trails that leave off from Owl Creek Recreation Site, including:
Owl Lake Trail, which is an easy 2.6-mile hike
Cool Creek Canyon Trail, which is an easy 1.3-mile hike
Owl Creek Forest Service Road Trail is a moderate 5.5-mile hike that doesn't turn around, so you will need to turn and come back. You can hike it or take your mountain bike along the road.
British Columbia Hike is a moderate 4.1-mile hike
The Important Info
Rates: $15 per night
Address: Squamish-Lillooet C, BC V0N 2K0
3. Birkenhead Lake Campground
Birkenhead Lake Campground is located in Birkenhead Lake Provincial Park, which is 10,439 hectares of protected forests and lakes!
The campground is situated right on the shore of one of the lakes, providing unparalleled access to all lake activities and fantastic views across the water.
There are 78 campsites available for booking; all are close to the lakeshore.
In the park and near the campground are a wide variety of animals you may encounter while camping here. Typically you may see spotted owls, mountain goats, black and grizzly bears who are very active in the park, and a range of other animals that call the park home.
Amenities and Facilities
Amenities and facilities are very limited at this campground, and access to other areas for food, showers, and other supplies will require a significant drive. So bring everything you need with you.
Available are drinking water stations, pit toilets, picnic tables, and firewood is available for purchase at certain times.
A concrete boat launch is available to get your boat into the lake; you can leave it attached to a floating platform during your stay rather than pulling it out each day.
What's Close By
You are surrounded by an enormous and amazing provincial park with a range of lakes close by and many opportunities for outdoor adventure.
Canoeing or kayaking are popular activities, and you can rent one from the local operator rather than having to lug your own up to the lake.
Birkenhead Lake Trail is an 8.5-mile moderate hiking and mountain biking trail accessible from the southern corner of the campground. Some tour operators will also take you horseback riding along the trail.
Fishing is another extremely popular activity at the lake. You will need a fishing license, but you'll be able to catch Kokanee and Rainbow trout. There are also learn to fish programs available for anybody under 16.
The Important Info
Rates: $22 per night
Address: Squamish-Lillooet C, BC V0N 1L0
4. Lizzie Bay Campground
Lizzie Bay Campground is located on the edge of Lillooet Lake. It's a basic campground providing minimal facilities but fantastic rustic camping, with all 15 campsites sitting beside this pretty jade-colored lake.
The entire campground is heavily forested for excellent privacy, and you'll find the remnants of an old First Nations village here.
You may also be visited by the local deer that are known to frequent the area and even drink out of the lake.
Amenities and Facilities
Amenities and facilities are minimal at Lizzie Bay Campground; but you will have access to pit toilets and picnic tables.
Located by the campground is a boat launch to get your boat into the lake too.
The site operator will come by during the open season to collect payment and sell firewood for the fire rings.
What's Close By
The primary reason to stay at the campground is for access to Lillooet Lake, which provides a range of activities for the whole family.
One of the reasons for visiting this campground is the fantastic fishing, especially if you've got a boat to take out. You'll find a range of fish to catch, including Chinook salmon, Rainbow trout, Cutthroat trout, Dolly Varden trout, and many more.
The Important Info
Rates: $15 per night
Address: Lillooet Lake, BC
5. Driftwood Bay Campground
Driftwood Bay Campground provides ten sites on the shore of Lake Lillooet in a lightly treed area with a sandy beach covered in driftwood for a beautiful rustic experience.
The views across the lake are spectacular, and all campsites sit right on the lake.
Lake Lillooet is a glacier-fed lake, so during summer, it's fantastic to swim in. But when the temperature is anything other than extremely high, you need to be brave to swim in it!
Amenities and Facilities
Amenities and facilities are limited at this campground; but you will have access to picnic tables, pit toilets, and fire rings.
The site operator will come around during the open season to collect payment and to sell firewood as needed. It's not recommended to try and burn the driftwood as it can impact the ecosystem.
What's Close By
Lake Lillooet is your primary reason for camping at Driftwood Bay; you are reasonably close to three other campgrounds with similar facilities around the lake.
If you have a fishing license already, you can fish in Lake Lillooet for a range of salmon and trout. While there is no boat ramp at Driftwood Bay, the nearby (3 minutes) Lizzie Bay campground has a boat ramp to get you into the water.
While not incredibly close, if you're willing to drive for an hour to Sloquet Hot Springs, you'll be able to experience a relaxing soak in rustic tubs, and if you don't feel like going back, there are campgrounds at the hot springs as well.
The Important Info
Rates: $15 per night
Address: Squamish-Lillooet C, BC V0N 2K0
6. Joffre Lakes Campground
Joffre Lakes Campground provides 26 backcountry tent campsites; however, the campground is walk-in only and is located at Upper Joffre Lake, which is a 3.4-mile medium to difficult hike.
Your ascent up the different levels of Joffre Lakes will take you to three different lakes with different vantage points, but the incredible blue color of the lakes is the real talking point, and the lakes get more intense as you go higher.
There are a range of wild animals that you may encounter as you attempt to reach the campground or explore the area. You may run into black or grizzly bears, so ensure you have bear spray. On your hike, you may also find deer, mountain goats, and small pikas.
Amenities and Facilities
You will find minimal amenities and facilities at the campground, but you do have access to basic toilets at varying levels, with two at the campground. You will need your own toilet paper.
There is no water available, though if you decide to drink lake water, it must be boiled for two minutes at least. Campfires or fires of any kind are prohibited at all times, so cooking will be a challenge.
Whatever you need for your camping must be packed in, and nothing can be left at the campground as there are no bins in the entire park.
What's Close By
Your primary reason for camping at Joffee Lakes campground will be to explore Joffre Lakes Provincial Park and have a chance to see the deep blue lakes as you ascend the peak.
For experienced climbers, there are opportunities for mountaineering, though you will need to bring your own equipment and handle your own safety.
Part of the mountaineering experience will be stepping out on the glaciers and snow fields. The hikes overall are easy up to the first lake but become significantly more challenging going to the second and third lake, so be prepared for a challenging hike.
The Important Info
Rates: $35 – $72 per night
Address: Duffey Lake Rd, Mount Currie, BC V0N 2K0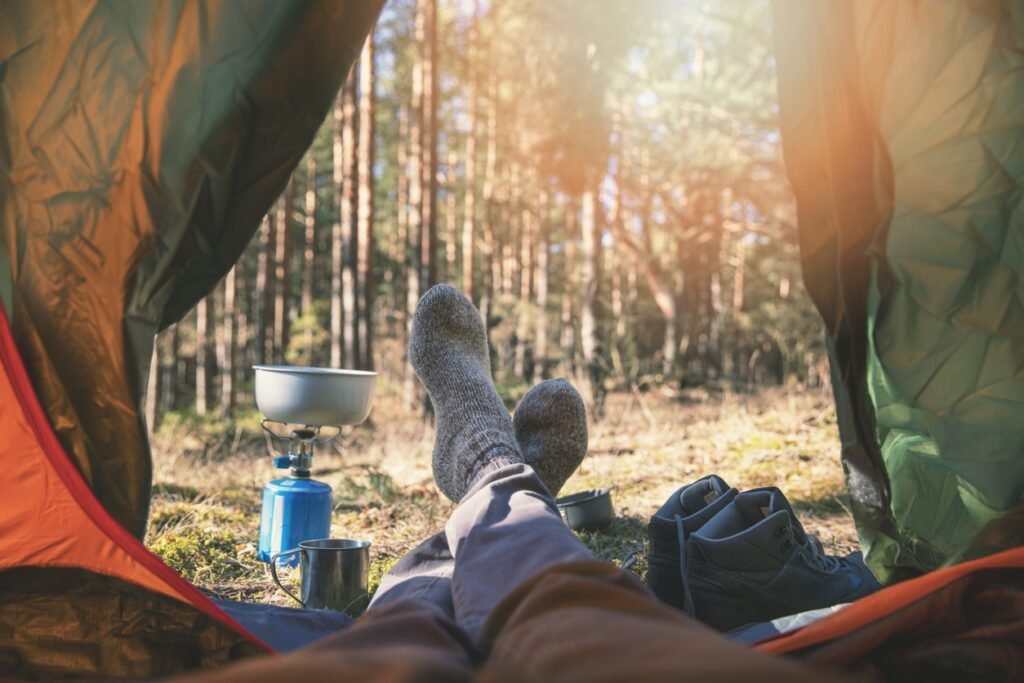 Backcountry Camping In Pemberton & In Canada
DISCLAIMER: Below we give general advice, but we always recommend staying in an official campsite. If you choose to go backcountry camping/dispersed camping, then make sure you do so with someone who already knows the area where you're planning on camping for your own safety.
Backcountry camping, also known as wild camping, is generally tolerated in Canada. Although there are certain areas you are prohibited from camping in. These include:
National Parks
Cities
Provincial Parks
It's worth mentioning that rangers and conservation officers do patrol regularly and will hand out hefty fines to people backcountry camping in these prohibited areas.
As that's the case, it's better to just find a campground in the park you wish to camp in – not only will there be a few facilities but it will also be cheap to camp.
Sometimes it is possible to purchase a 'backcountry' camping permit too. That would then allow you to camp in a park outside of a campground. Not all parks offer them – and they're not widely advertised. If there's somewhere you wish to camp, then get in contact with local authorities to see if these are available.
In British Columbia, there is also the possibility to camp at 'Recreation Sites'. While you would still be limited to camping in a specific spot, it is free to camp on these sites.
As for where you are allowed to camp, Canadian residents can camp for free on Crown Land – which is publicly owned land. Thankfully 89% of land in Canada is classed as 'Crown Land'. However much of that is still off limits – National Parks, for example, are also Crown Land.
In general: If land is publicly owned, it's not one of the prohibited areas that we listed above, and you are far from settlements – you're likely to be on Crown Land that can be camped on for free. However, keep an eye on local maps for confirmation, and obey any signs that say camping is prohibited
There are rules for backcountry camping on Crown Land, however:
You may camp in the same place for 21 days only in one calendar year.
After 21 days you must move to a place at least 100m away if you wish to continue camping.
While free for citizens and Canadian residents, non-residents must obtain a permit to wild camp on Crown Land.
Camping At Pemberton: Bear Safety
Like many areas of Canada, there are bears roaming around the Pemberton area. While encounters are rare, you must take steps to avoid attracting them to your campsite.
With that being the case we advise:
If you have a vehicle nearby, store food there rather than in a tent.
Use a bear box or bear canister to store food, rubbish, and anything with a scent.
Don't pitch your tent near where food is being stored.
Never approach any bear, regardless of its size.
Don't spray anything with a scent – that can attract bears.
Best Time To Camp In Pemberton
Pemberton is great to visit year-round, depending on what outdoor activities you want to be part of as there are excellent adventure options for all seasons.
One big issue for camping in Pemberton is that it's likely to snow at certain times of the year, so camping isn't ideal unless you're prepared for the cold at those times. Most campsites are closed, but if needed, you can park outside and walk into the campground.
The warmest months to visit Pemberton are June – August, when the temperature can range from 10 – 30 degrees Celsius.
The peak snow season for Pemberton is December – March, though mid-January and February are the best months for snow activities in the area.
Time Your Pemberton Camping Trip Right and Enjoy These Events!
Pemberton is a small community but it brings in a high number of tourists each year. As such there's a range of events to keep everyone entertained and enjoying the town.
1. Arrival Music Festival
The Arrival Music Festival is a yearly music experience for EDM lovers, featuring over 30 house and bass acts.
It's held towards the end of August each year over two days and brings in around 400-500 music enthusiasts.
2. Slow Food Cycle Sunday
The Slow Food Cycle Sunday is a 1-day event towards the end of August. It allows anybody to grab a bike and cycle to multiple farms or food-producing areas where local chefs prepare something unique from that specific location while bands keep you entertained.
You'll eat and be informed of what has been created and how it was made, and then get back on your bike to cycle to the next destination.
The overall cycle is 25 miles, but that is broken up throughout the day with food and drink in between each ride.
3. Pemberton Winterfest
The Pemberton Winterfest is a multi-month festival that is mostly free to attend and helps showcase Pemberton as a family-friendly destination and gives the local community a boost during the colder months.
Events are all during January and February and range from games, singing, eating, and educational workshops.
There is even a 2-day backcountry experience that will help people learn to backcountry ski, snowboard, or even snowshoe, and teaches you how to stay safe.
Our Favorite Scenic Walks Around Pemberton
Some of the local hiking trails we've mentioned with our featured campgrounds, but the top hiking trails around Pemberton will require you to visit different locations.
These trails are typically harder but provide better hiking experiences.
1. Nairn Falls Trail
This easy hike will take you 1.6 miles and around 45 minutes to complete.
It's a great area for an easy hike and provides good bird watching opportunities and a 60-meter waterfall at the end.
2. Mount Currie Trail
This is a hard hike that will take you 14.4 miles and around 10 hours to complete. You can camp at the summit or along the way in a designated camping area, but amenities are very limited, including water sources.
3. Semaphore Lakes Trail
This is a moderate hike that will take you 3.6 miles and around 2 hours to complete. You can hike this trail in summer or snowshoe the trail during the snow season.
You'll find a beautiful lake at the end of the hike, with a waterfall behind it.
4. Semaphore Lakes, Locomotive Mountain Trail
This hard hike will take you 8.8 miles and around 6 hours to complete. You're going to head up to an elevation of 1,139 m with amazing views from the top.
You'll find a variety of lakes and waterfalls on your hike up, but the trail is not maintained, so make sure you have a map.
5. Tenquille Lake Trail
This moderate hike will take you 14.4 miles and around 8 hours to complete. This is grizzly bear territory, so you should bring bear spray when hiking this trail.
You'll end up at the beautiful lake with fantastic views at a higher elevation, and if you don't want to turn back, camping is permitted at the lake.
Camping In Pemberton: Scavenger Hunt Game!
If you're looking to keep kids amused while camping in Pemberton – or you fancy having some fun for yourself – then we've created a printable scavenger hunt game!
Save the image and print it out, then tick off what you find and achieve during your camping holiday.
The game encourages players to get out and discover wildlife and nature, as well as make new friends and do fun camping activities. Enjoy!