Wandering our World is reader supported! If you purchase anything through a link on our site, we may earn a commission at no extra cost to you.
Last updated on July 4, 2023 by Wandering our World
Padstow is the archetypal North Cornwall fishing village. It's a place where you can enjoy fish and chips on the quay, watch boats bobbing in the harbour, and there's a collection of sandy beaches within easy reach. It's a place where time seems to move a little slower, and the natural beauty of Cornwall is on full display.
Because of that, Padstow has long been recognised as one of Cornwall's premier holiday destinations. It has everything you need for a memorable family vacation, which is why camping in Padstow happens to be one of our favourite holidays.
And we never get bored of camping in Padstow either, thanks to its stunning traditional English harbour, spectacular Camel Trail, seven nearby beaches and bays, panoramic views of the Cornish countryside, impressive coastlines, fantastic seafood, and local dishes!
If you're reading this, the chances are your planning your own Padstow camping adventure.
If so, you're in the right place. Below we share with you a few of our favourite Padstow campsites for views, fun and adventure.
We also explain the rules around wild camping in Padstow, let you know what you can see and do at certain times of the year here, and share our favourite things to do in Padstow too.
And if you're travelling with kids (or you're a fun adult!), we have our very own 'scavenger hunt' game that's perfect for camping in Padstow which you can print out for free. That's right at the bottom of this article.
So read on to begin your Padstow camping adventure!
Camping In Padstow: A Holiday You'll Never Forget
Sleeping under the stars, barbeques, and reconnecting with nature – sounds idyllic, doesn't it? Camping in Padstow provides just that. You can enjoy the simple pleasures of being in the great outdoors, spending time with friends or family, and sleeping under canvas.
There are numerous campsites in Padstow that can accommodate a relaxing family vacation or an action-packed getaway, as well as serve as a base to explore the surrounding areas!
Below are a few of our favourite Padstow campsites and information on what makes them unique. As well as what's close by to each.
The Best Padstow Campsites For Fun, Views & Adventure
1. Dennis Cove Campground
With fantastic amenities, views and a friendly atmosphere, this is one of the best Padstow campsites for families. It's also the closest campsite to Padstow too.
Dennis Cove has stunning views of the Camel Estuary and is very close to the Camel Trail, which is a picturesque cycling and hiking trail. Beautiful beaches are only a short walk away from this campsite, and Padstow Harbour is just a 10-minute pushchair friendly walk away.
This Padstow campsite is ideal for exploring nature and the surrounding areas. Whilst just a short walk from the site you can rent bikes.
Yet as you're so close to Padstow still, staying here means you can enjoy the peace and quiet of nature one minute, and ten minutes later be enjoying the shops and pubs of Padstow!
Straight from the campsite, you can enjoy a lovely safe bike ride along the Camel Trail which will take you to Padstow or Wadebridge.
Dennis Cove is also dog friendly, the pitches are well-kept and spacious, there's fantastic shower rooms, electric hook-ups, and immaculate shared facilities. It's easily one of our favourite Padstow campsites.
What's Close By
There are plenty of activities and attractions close by for visitors staying at this campsite.
These include some of the best surfing beaches in the UK, kayaking, paddle-boarding, sailing, hiking and biking trails, and foodie hotspots.
And as Padstow is just a ten minute walk away, you have everything the town has to offer right on your doorstep.
Price: From £28.50 per night (for two people)
Address: Dennis Ln, Padstow, Cornwall, PL28 8DR
2. Trewithen Touring and Camping
Trewithen Caravan and Camping is, in our opinion, one of the best places for family camping in Padstow if you're looking for a peaceful basic campsite with immaculately clean facilities. On top of that it's very good value for money.
Great size pitches, electric hook-ups, lots of open space, and a new accessible family wet room with a nappy changing unit can be found here.
This location also has a small play park with a sandpit for children, as well as a large dog-walking area. So every member of the family is catered for!
What's Close By
The St. Merryn village where this campsite is located is right beside Padstow. It's a close-knit, friendly community.
There are a few pubs and restaurants in the village, as well as a surf shop. The fantastic Camel Trail is also nearby.
Additionally, there are plenty of things to see and do in the surrounding area, such as swimming, golfing, and boat trips.
Price: From £20 per night (for two adults). Children are an extra £3 per night.
Address: St Merryn Church, Nr. Padstow, Cornwall, PL28 8LZ
3. Mother Ivey's Bay Holiday Park
This award-winning park, located on Trevose Headland with stunning seascapes and easy access to a wonderful private beach, is committed to sustainability and protecting the beautiful Cornish environment. That's why there are no on-site clubs, bars, or restaurants to disrupt the tranquillity of this park.
Instead, they encourage you and your family to enjoy the spectacular natural environment. And you can do just that on their 5-acre Nature Reserve, which is dedicated to the preservation of the Cornish Coast's flora and fauna!
Mother Ivey's also recycles and uses low-energy lighting to reduce energy consumption and have as little impact on the environment as possible.
As a result, we think this park is the best Padstow camping option if you want to experience the traditional Cornish atmosphere and beautiful flora and fauna, while also protecting the environment.
It also happens to be one of the cheapest campsites in Padstow too. A small tent and two people can camp for as little as £10 a night here depending on the season, and you can get a touring pitch from £18.
What's Close By
Mother Ivey's Bay is right beside the campsite and is sheltered and framed by stunning coastal scenery. It's a good place for summer sandcastles as well as winter walks.
The lack of facilities in the bay keeps it from getting too crowded, unlike other beaches near Padstow.
Price: From £10 per night
Address: Trevose Head, Padstow, Cornwall, PL28 8SL
4. Atlantic Bays Holiday Park
This five-pennant, AA-award-winning holiday park for camping, touring, and glamping has something for everyone! With excellent shared facilities and a variety of options for lodging, you can find one that meets your needs and fits your budget.
Why not try your luck at bingo or listen to local bands with your family? You can do just that as live entertainment is available day and night here! There's even an on-site bar and restaurant to enjoy as well.
You can also keep your kids entertained by allowing them to play at the kid's club, the on-site play park, or the campsite's classic arcade games room!
Or let them play football or fly kites on the designated open field for outdoor activities.
If you're looking for a Padstow camping option with lots of activities and entertainment on site, then Atlantic Bays is hard to beat. The one downside is they require a three-day minimum booking.
What's Close By
This campsite is close to many attractions, including Porthcothan Beach, Mother Ivey's Bay, and the long-distance walking trail, the South West Coast Path.
The park is also conveniently located for the Camel Trail and TV show landmarks that have featured in the likes of Poldark and Doc Martin.
Visitors can enjoy boat rides on the Camel Estuary, Rick Stein's famous Fish and Chips restaurant in Padstow, and the Eden Project.
Price: From £90 for three nights
Address: St Merryn, Tregolds, Padstow, Cornwall, PL28 8PY
5. Padstow Holiday Village
This Padstow camping option is a 5-star award-winning park. It's wonderfully located as it's just a short stroll through farm fields into Padstow Harbour.
Expect breath-taking views if staying here, mouth-watering food, generous camping pitches, and immaculate facilities.
Pick up freshly baked croissants, baguettes, or scones from the on-site coffee shop and indulge in the pop-up gourmet food at this site.
This is another dog friendly Padstow campsite too, and you can even spoil your dog with a selection of treats and doggy ice cream which they sell on-site. Why not give them that after they complete the on-site dog agility course!
What's Close By
Nearby attractions to the campsite include Padstow of course, with its beautiful fishing harbour and views of the countryside.
There's also cycling and walking trails nearby, plenty of birdwatching opportunities and many sandy beaches.
There are also some great restaurants in the area, plus the Eden Project, Camel Trail, South West Coast Path, and Prideaux Place.
Address: Padstow Holiday Village, Trerethern, Padstow, Cornwall, PL28 8LE
6. Harlyn Sands Holiday Park
This family-owned park, located on Trevose Headland overlooking the stunning Harlyn Bay and surrounded by outstanding natural beauty, is dedicated to family holidays with loads of kid-friendly activities available.
They have fantastic shared facilities including an indoor swimming pool perfect for kids. But what we love about Harlyn Sands is the very active children's club they have which is always organising fun activities.
That club runs colouring contests, scavenger hunts, games, sandcastle competitions, crab races, a last duck standing competition, and dancing contests. And there's more too!
If you have kids, this is one Padstow campsite to seriously consider.
Plus you can expect beautiful views if staying here. Especially if you choose their beachfield site, which sits right beside the beach.
What's Close By
For a fun day out, you can visit many nearby attractions. Those include the Lost Gardens of Heligan, Pendennis Castle, The Eden Project, St Michael's Mount, Museum of Witchcraft and Magic, Camel Creek Adventure Park or Lappa Valley Steam Railway.
Alternatively explore North Cornwall, Newquay and mid-Cornwall or West Cornwall.
Price: From £15 per night
Address: Lighthouse Road, Trevose Head, Padstow, Cornwall, PL28 8SQ
7. Yonder Green Caravan Park
Yonder Green, nestled deep in the Cornish countryside, is one of the best caravan sites near Padstow simply due to its locations close to many things to do. They also have camping pitches too.
This peaceful and secluded location has low light pollution and is ideal for stargazing with your family. What a wonderful way to reconnect as a family and create a memorable holiday moment!
Guests can organise a BBQ night with the provided equipment here. And that's alongside the other excellent amenities such as spacious grass pitches, electric hook-ups (16 amp), washing up facilities, toilets, a washing machine, and free showers.
On top of that, the beaches near the park are some of the most beautiful in all of Cornwall. Porthcothan, Mawgan Porth, Treyarnon, Constantine, Hawkers Cove, Trevone Bay and many more are all within a five-mile radius, so you can take your pick of the stunning sands.
What's Close By
If you're looking to really soak up the local atmosphere, Padstow is a great place to visit, or for some fantastic surfing head to Newquay.
The campsite is situated in a beautiful location, close to the A39 which makes it easy to explore all of Cornwall. The iconic Eden Project is only a short drive away, and animal lovers will adore Screech Owl Sanctuary which is also close by. Camel Creek and Tides Climbing Centre are both just minutes away.
If you're looking for some family fun, Newquay is just a short drive away with attractions such as Newquay Zoo, Blue Reef Aquarium, and plenty of shops and restaurants to choose from.
Don't forget to visit St Michaels Mount and Lands End – both must-sees when in Cornwall. And of course there's those five beaches all close by too.
Price: From £21 per night (for two adults)
Address: Yonder Green Caravan Park, St Ervan, Padstow, Cornwall, PL27 7SY
Camping In Padstow: The Best Time To Visit
Padstow is a great place to visit at any time of the year, but we find it to be especially peaceful in January when the tourists have gone home. The beaches are deserted, the walking opportunities are endless, and the restaurants are quiet. Although it can get a little cold, though not like the rest of the UK.
However the campsites do tend to be closed during winter, although there are a few static caravans and cottages you can choose from.
You'll have great weather during summer, and the town comes alive during this season too, thanks to a range of events and activities taking place including the Padstow Obby Oss festival, live music at some restaurants, and much more.
For wildlife lovers, minke whales can be seen off the coast of Padstow and Cornwall from April to September. The spring and autumn months are also good times to hike and walk around Padstow as the temperatures are pleasant for walking. You just have to be careful as some trails can be slippery during these seasons.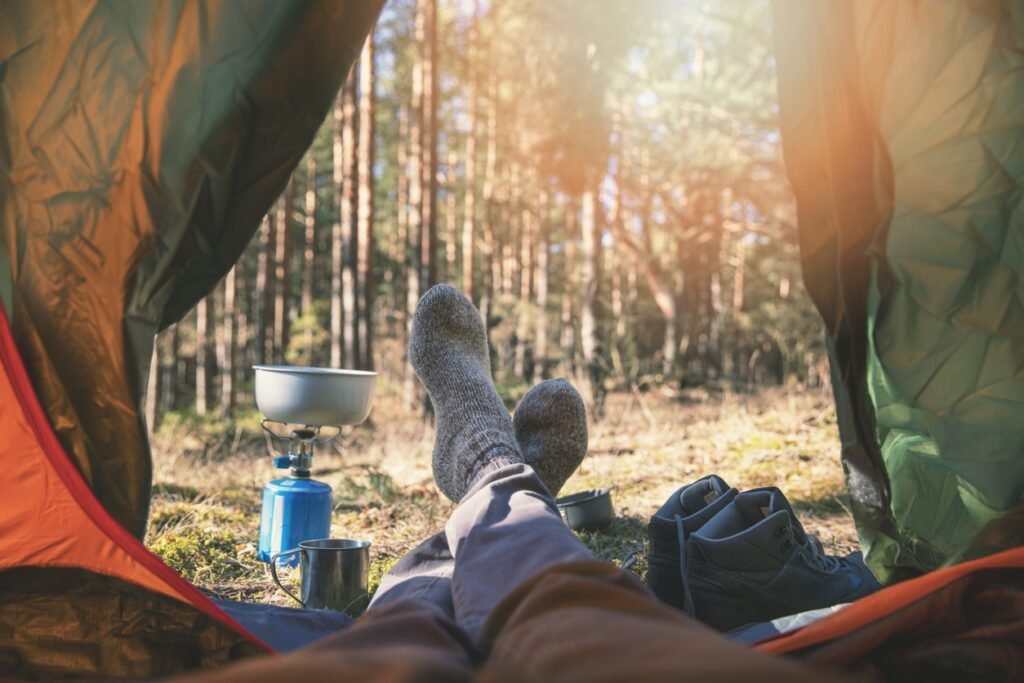 Wild Camping In Padstow: Everything You Need To Know
DISCLAIMER: Below we give general advice, but we always recommend staying in an official campsite. If you choose to go wild camping/dispersed camping, then make sure you do so with someone who already knows the area where you're planning on camping for your own safety.
The bad news is that wild camping in Padstow, and England in general, is illegal. However, it is sometimes tolerated by locals if you are not camping in a group, and you are camping far from settlements and people's homes.
Furthermore, sometimes people will wild camp when walking long-distance routes – like the South Coast Path. In general wild camping while hiking here is sometimes tolerated if done in a considerate manner.
Although we always advise choosing a campsite, if you do decide to go wild camping in Padstow and the surrounding region, then make sure you camp discreetly.
Be careful not to damage the ground where you pitch your tent and if you think you're on private land (like a farmer's field) then you should always seek out the permission of the land owner. They may ask for a small fee.
If wild camping in Padstow, we'd advise sticking to the following guidelines in order to be as considerate as possible:
You should camp in the same place for one night only, and pitch your tent discretely and in a remote place. Therefore don't camp in or near settlements, someone's farm or on cultivated land. If you think you're on private land, always seek out the landowner and ask permission.
Campers should set up their tent at dusk, and take it down at dawn. A tent that is discreet and pitches quickly is best. Therefore a lightweight walking and hiking tent like this one would be a great investment for someone planning to walk and camp in Padstow and the surrounding area.
If you are walking a main hiking trail you should camp away from the path as a matter of courtesy.
When wild camping in Padstow and the surrounding area you must never make a campfire. Instead it may be worth looking at using a stove or storm cooker – but check local laws first to see if they're allowed. The Swedish brand Trangia make great camping storm cookers that are safe and virtually indestructible.
When going to the toilet you should do it far from water sources, such as rivers and lakes. Make sure to use a trowel (like this folding one) to bury any human waste – don't just leave it out in the open.
Things You Should Do When Camping in Padstow
While Padstow and the surrounding region provides visitors with a plethora of things to do, for those considering camping, here is a list of attractions and activities in and around Padstow you should visit and do!
This is not an exhaustive list, but it should give you enough ideas for a few days. (Related: Unique and Free Cornwall Day Trips You'll Love).
1. Explore the Beaches
While Padstow isn't considered a 'beach town,' this isn't entirely accurate. A large expanse of golden sand is less than a ten-minute walk from the harbour along the coast path!
St George's Cove, Tregirls, and Hawker's Cove are excellent family beaches, and if that isn't enough, the beaches of Rock are only a 5-minute ferry ride across the river.
2. Visit the National Lobster Hatchery
While the name is self-explanatory, few people realise how vulnerable lobster populations are along the Cornish coast and beyond.
Through a breeding programme and educational exhibits, the National Lobster Hatchery aims to address and raise awareness of this issue. The visitor centre displays young lobsters being reared for release, as well as the resident giant lobster and various crabs.
3. Take Boat Trips
From Padstow Harbour, there are boats of all shapes and sizes that take visitors up and down the coast.
Activities include spotting wildlife, fishing, and simply messing around on the water.
Wildlife trips are the most popular, with seals, dolphins, puffins, and basking sharks regularly sighted depending on the time of year.
4. Take a Ferry Trip to Rock
Rock, just across the water from Padstow, is a painfully upmarket resort village! There is a regular service ferrying the hoi-polloi back and forth across the River Camel, which is a favourite haunt of holidaying royals, the rich, and the famous.
The Black Tor passenger ferry crosses the river in about 5 to 10 minutes and operates all year.
5. Eat at Rick Stein Restaurant
Mr Stein is quite common in Padstow, and the celebrity chef has so many restaurants here that some people have nicknamed the town Padstein!
With no fewer than four restaurants, as many shops, a cooking school, and a variety of lodging options, Rick Stein is everywhere.
His seafood restaurant is admittedly a little pricey, and the fish and chips there are a little more sophisticated than the average chippy.
Rick Stein's Cafe, on the other hand, isn't outrageously priced for tea and cake or a cooked breakfast.
6. Hike The Camel Trail
This is without a doubt the most well-known of Cornwall's recreational trails. There are no steep inclines along the 17-mile route, which follows the route of the former North Cornwall Railway. That makes it perfect for walkers of all ages.
The trail begins in Padstow and continues through Wadebridge, Bodmin, and the village of Blisland on Bodmin Moor. The scenery is stunning as you follow the course of the Camel River. Plus there's plenty of wildlife to see.
Camping In Padstow: Scavenger Hunt Game!
If you're looking to keep kids amused while camping in Padstow – or you fancy having some fun for yourself – then we've created a printable scavenger hunt game!
Save the image and print it out, then tick off what you find and achieve during your camping holiday.
The game encourages players to get out and discover wildlife and nature, as well as make new friends and do fun camping activities. Enjoy!