Wandering our World is reader supported! If you purchase anything through a link on our site, we may earn a commission at no extra cost to you.
Last updated on May 25, 2023 by Wandering our World
White sandy beaches, shimmering blue seas, mangrove islands, mesmerizing sunsets with the odd craft cocktail thrown in-between. Yes, you're in Marco Island! Marco Island can be found along Florida's Paradise Coast between Naples and the Everglades and is the largest of the Ten Thousand Islands. It's a gorgeous location, but one that's as much fun during the day as at night.
After a day of sunbathing on Tigertail Beach or Sand Dollar Island, scavenging for seashells, kayaking, golfing or exploring the mangrove islands between the oyster beds, Marco Island nightlife awaits.
Nightlife on Marco Island equals island vibes. Enjoy a glass of wine whilst watching the sunset, sip on a craft cocktail and watch fire dancers, or have your tastebuds tantalized by the local cuisine whilst listening to live music deep into the night.
Marco Island is famous for its beach bars and some of the happiest happy hours around. Get prepared for a sea-to-table experience like never before, unique hand-crafted cocktails, and epic sunsets, all with those soft sandy beaches a short walk away.
We know this place well, so we're about to show you everything you need for the best Marco Island nightlife experience possible. From where you can watch live music, to the best happy hours, late night food and party spots.
Marco Island Nightlife: Our Favorite Picks for Sundowners
It doesn't matter where you are in the world, there is only one way to transition from day to night and that's with an obligatory sundowner.
Here are our top picks to grab a drink and watch those bold, spectacular, and truly breath-taking Marco Island sunsets.
1. Kane's Tiki Bar & Grill
If you thought this was going to be your traditional sundowner experience, then you are in for a big surprise. As the sun begins to set, the island comes alive to the sounds of beating drums during a spectacular sunset celebration and fire dancing show! What a way to start any Marco Island nightlife adventure.
This open-air thatched beach bar is a favorite amongst locals and tourists alike. Kane's is named after the Polynesian God of Creation and Growth, and we love the combination of the tiki bar ambiance, Indonesian street food, and massive rum bar.
Cocktail after cocktail – sit at the bar or grab a table on the beach and sink your toes into the sand as you enjoy that transitional drink.
Kane's is open 7 days a week until 9:00 pm.
Address: 400 S Collier Blvd, Marco Island, FL 34145
2. Admiral's Sunset Dinner Cruise
Watching the sunset from a boat is always a fabulous option, especially if you catch sight of a sea turtle or a pod of dolphins frolicking in the water. With that the case, the Admiral's Sunset Dinner Cruise on the Marco Island Princess is definitely worth booking.
With two full-service bars and a double entrée buffet featuring their chef carved prime rib and a second entrée of poultry or seafood complemented with an array of sides, this will be a sunset extravaganza to remember.
Marco Island Nightlife: The Top Party Spots, Nightclubs & Bars on Marco Island
No matter your mood, whether you feel like listening to live entertainment, want to try a new cocktail, have a quick bite, or just catch up with friends, the nightlife on Marco Island will have something for you.
As every local knows, there is no shortage of bars and fun here on Marco Island. If your key to a great night out is a festive atmosphere combined with the perfect drink, then you've come to the right place.
Get ready for an island-style night out at our top picks, you won't be disappointed!
1. The Boardroom Tavern
The Boardroom Tavern has been described as an eclectic, laid-back, bohemian bar and it's one place that certainly knows how to party past midnight!
It must be the Key West style ambiance, but this is the type of place that you leave having more friends than you came with. This is a favorite with locals and once you've been you will understand why. The Boardroom has a festive atmosphere which is complemented by the friendly and efficient staff.
We love the outdoor patio with its lush tropical feel where you can sit back relax or dance the night away to local musicians who are on stage six nights a week at what has become the top live music venue on the island.
The Boardroom has a fabulous selection of fresh cocktails and craft beers too, and if you're feeling hungry take advantage of their daily catch of the day specials.
The Boardroom Tavern is open Tuesday through to Sunday and closes at 2:00 am except for Sundays where they close at midnight.
Address: 174 Royal Palm Dr, Marco Island, FL 34145
2. CJ's on the Bay
CJ's relaxed atmosphere and incredible views of the ocean from their large outdoor area make this the perfect spot to relax over a hand-crafted cocktail or ice-cold beer.
Their inside bar is air-conditioned if you need to cool down and is the ideal spot to catch up on the NFL on one of their many flat-screen TVs. If you're feeling peckish, we highly recommend their lobster fries.
CJ's is open Monday to Sunday and the outside bar closes at around 10:00 pm, with Happy Hour from 4:30 pm to 6:30 pm.
Their inside bar features live entertainment from Thursday through to Saturday until after 11:30 pm!
Address: 740 N Collier Blvd #105, Marco Island, FL 34145
3. Dolphin Tiki Bar and Grill
This open-air bar and grill has fabulous views over the marina and is a popular local hang-out – that may have something to do with its fabulous Happy Hour! That runs between 4:00 pm and 6:00 pm and you get 30% off all drinks.
The easy-going atmosphere will find you ordering one too many cocktails but with a menu like theirs, you really have no other option.
They are renowned for the Rum Runners, sushi, and crab towers. We love the Dolphin Rum Runner made with Bacardi Light, Myers Rum, Banana & Blackberry liquor, Fresh Orange and Pineapple Juice, and a splash of Grenadine. But we recommend you start with the Specialty Drink of the Day – we've yet to be disappointed.
On a side note, they serve some of the best Key Lime Pie and cheesecake around!
The Dolphin Tiki Bar is open 7 nights a week and closes at 10:00 pm.
Address: 1021 Anglers Cove, Marco Island, FL 34145
4. Jack's Lookout
This fabulous dive bar is one of Marco Island nightlife's best-kept secrets.
This unassuming quaint bar is a favorite with locals for relaxing drinks after a day on the water. They only serve beer and wine and it's the perfect place for hotdogs and chili or clam chowder.
So place your order and sit back and watch the boats go by, and you may be lucky enough to catch sight of the pelicans waiting in anticipation for the fishing charters to return.
Jacks is open 7 days a week and closes between 8:30 and 9:00 pm. Their Happy Hour is early from 2:00 pm to 4:00 pm. Definitely one of most authentic Marco Island nightlife institutions out there.
Address: 951 Bald Eagle Dr, Marco Island, FL 34145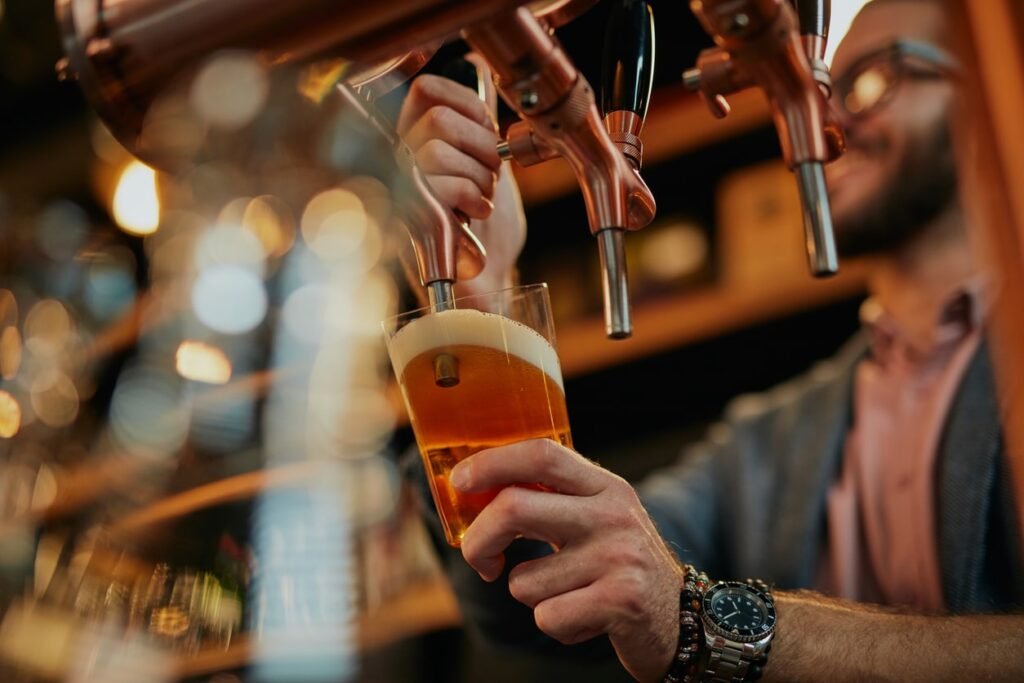 5. Marco Island Brewery
Calling all beer lovers… Marco Island Brewery has the largest selection of draft beer on the island with over 50 to choose from.
We love the casual atmosphere and fabulous food and if you're looking for a place to catch the latest game, look no further as they have around 40 HD TVs.
We recommend the "Marco's Best Beer Flight" option which lets you choose four drafts from their list. Our favorites included their House Dirty Sanchez Pale, Panama Red Ale, and Acapulco Gold to name a few.
They serve a wide array of ciders, ales, lagers, and stouts too, and many are limited releases. And if you're looking for something a little different, give the Rubeaus with its unique raspberry taste a try.
This locally owned bar is open 7 days a week from 11:00 am until 1:00 am. And let's not forget their Happy Hour from 3:00 pm to 6:00 pm.
Address: 1089 N Collier Blvd, Marco Island, FL 34145
6. Snook Inn
As they say, "Come by boat. Come by car. Watch the dolphins from the chickee bar."
This legendary rustic waterfront restaurant with its thatched roof is one of Marco Island's most popular seafood venues, having been around for over 35 years. The atmosphere is relaxed and casual and they are renowned for their incredible island specialties with an innovative twist.
We love the Snook Inn Platter – grouper, mahi, scallops, shrimp, crab cakes, and more! Don't worry if you are "seafooded" out as they also have some juicy steaks and ribs on offer, all cooked on their oak wood grill.
And what beach holiday meal would be complete without a handcrafted cocktail? We found ourselves having more than one and who can blame us when faced with choices between their spiced grapefruit jalapeño margarita, raspberry mojitos, a tiki rum punch, and mai tais?
And last but not least, all this eating and drinking can be done along to their live music, 7 days a week. And please don't forget their Happy Hour sessions – yes, sessions!!! Monday to Friday from 4:00 pm to 6:00 pm and a second session from 10:00 pm until closing.
Whilst Saturday and Sundays, Happy Hour kicks off at 10:00 pm until closing which is normally around midnight.
Strictly speaking, the Snook Inn should be under our top picks to eat (see that section further below) but Snooks is one of those typical island restaurants which combines a great meal with an even better party. Snook Inn is also a great late-night food option – have a peek at the Snook Inn Late menu which is available from 10:00 pm through to midnight.
Address: 1215 Bald Eagle Dr, Marco Island, FL 34145
7. Sandbar
Oh, the joy of Happy Hour Sessions – and the Sandbar has three! Who knew you needed a happy hour from 7:00 am to 10:00 am, but the Sandbar have exactly that, and we're starting to have a bit more appreciation for the concept.
The next session is from 2:00 pm to 6:00 pm and the last session is from 9:00 pm to closing. You have to got to love this place. Basically the Happy Hour deals exist for most of the day.
When it comes to entertainment, Karaoke Thursdays are the way to go and after those happy hours, we all know how talented you are going to feel.
The Sandbar has a festive, fun atmosphere, delicious cocktails (give the chocolate martini a bash for something different), and great food like their Fingers and Toes aka fish and chips. We also loved the mini-burgers and tacos, and if you're in the mood, fresh local oysters are always in supply.
The Sandbar is open 7 days a week and closes around 2:00 am. The perfect place to party until the early hours.
Address: 826 E Elkcam Cir, Marco Island, FL 34145
8. Stilts Beachside Bar & Grill
As the name suggests, this elevated upmarket outdoor bar and grill has spectacular views out over the ocean and is another great place to watch those incredible Florida sunsets and unwind after a day on the beach.
Their full bar has everything from a variety of ice-cold beers and wine to specialty cocktails. We loved their Calusa Colada made with dark rum and coconut flakes.
With live entertainment available Thursday through to Saturday, this is the perfect place to kick-start your evening.
Stilts is open daily until 9:00 pm and Happy Hour is from 2:00 pm until 5:00 pm
Address: 600 S Collier Blvd, Marco Island, FL 34145
Marco Island Nightlife: Our Favorite Places to Eat
Welcome to foodie-heaven!
Marco Island is renowned for its fresh local seafood, so put your eating boots on because you are in for a treat – oysters, lobster, crab, and grouper, just to mention a few.
Not in the mood for a seafood night? From freshly made pasta to perfectly grilled steak; casual all the way through to fine dining, Marco Island has something for everyone.
And for those of you looking for late-night food options, Marco Island has a wide choice with some restaurants having special late-night menus on offer from 10:00 pm through until midnight.
Here are our top restaurant picks that will keep your tastebuds tantalized and have you going back for more!
1. Fin Bistro
Fin Bistro prides itself on serving the freshest fish around, so much so, that they are closed on Sundays and Mondays when the fishermen take some time off!
When it comes to seafood, everything on the menu was caught that morning. So it's little wonder this is a place we think is a must visit to start any Marco Island nightlife off.
The menu shouts out Marco Island cuisine at its finest and meals are vibrant and packed with flavor. For starters, we highly recommend the pan-roasted prawns served with saffron-petite vegetable relish, bruschetta, aioli, and shellfish butter. When it comes to mains you won't be disappointed with their seared yellowfin tuna complemented by a sweet potato or goat cheese taco, miso portobello, grilled green onion topped off with ancho chili-ginger sauce. And for dessert lovers? You have to try the dark chocolate truffle cake, vanilla ice cream, and raspberry coulis.
Be sure to check out their wine list as there are many specialty wines you won't find anywhere else on the island.
Fins is open from Tuesday through to Saturday and closes at 9:00 pm.
Address: 657 S Collier Blvd, Marco Island, FL 34145
2. Marco Prime
At Marco's, they believe the memory of a great meal stays with you long after the table's been cleared. That's why they never compromise on quality and ensure they source the freshest fish, shellfish and only serve premium cuts like American Black Angus and Australian Wagyu beef – this is a steak-lover's heaven.
Get prepared for the most succulent steaks in town. Our favorite is the MP Grilled Meat Board with a combination of prime cuts, their special hometown potatoes, and vegetables with a blue cheese sauce on the side.
Marco's also has a fabulous bar which is the perfect place for pre or post-dinner drinks – or just drinks in general. This welcoming full-service upmarket bar has an extensive array of wines served by the glass, signature cocktails, single malts, and premium blends which can be paired with small bites or platters to share.
If you plan on kicking off your Marco Island nightlife adventure here, then make sure you arrive in time for their daily Happy Hour from 4:30 pm to 6:00.
But if we're not eating our dinner at Marco's, then we love splitting our meal up and having starters at Marcos before heading off for mains at one of our other favorites. If you plan on doing that, then order their small bits of crab cakes or Wagyu Beef Sliders whilst enjoying a glass of wine.
Marco Prime is open Sunday to Thursday until 10:00 pm and closes at 10:30 pm on Friday and Saturday nights. The bar stays open later dependent on the crowd.
Address: 599 S Collier Blvd, Marco Island, FL 34145
3. The Oyster Society
We love this 1920s themed restaurant with its art deco wallpaper, huge bar, and wall of gold-framed mirrors. And you know you are in an upmarket venue when they refer to Happy Hour as Social Hour – it sounds so much more respectable.
At The Oyster Society, sustainability is key, and they source seasonal and organic ingredients whenever possible. No guesses as to their signature dishes and we thoroughly enjoyed their baked oyster platter. If you're not into oysters, you can't go wrong with the pistachio seabass or their lobster thermidor. The wine list is first class, and you won't battle to find the perfect pairing for your meal.
Weekends are the perfect nights to visit The Oyster Society as they offer live jazz on Friday, Saturday, and Sunday nights. The perfect environment to sip on one of the many craft cocktails whilst your tastebuds are treated to some of the freshest seafood around.
The Society is open 7 days a week and closes at 10:00 pm except on Friday and Saturdays when they close at 10:30 pm. Social Hour is from 4:30 pm to 6:00 pm.
Address: 599 S Collier Blvd #218, Marco Island, FL 34145
4. Quinn's on the Beach
This beachside restaurant has a relaxed atmosphere and exceptional views across the ocean. Quinn's specializes in Caribbean-style cuisine taking advantage of the locally sourced seafood and regional flavors.
Their outside area right on the beach is the ideal location for those warm island evenings and the nightly live entertainment they have only adds to the ambiance. Quinn's also has live fire-dancer shows each night!
As for the food. The mango-citrus marinaded gulf fish ceviche is a firm favorite, especially when paired with one of their signature cocktails aka 'Beach Potions' like the Spicy Mango Margarita.
Quinn's on the Beach is open 7 days a week until midnight. The kitchen closes at 10:00 pm so make sure you get your order in before then if you're looking to grab a late-night bite.
Address: 400 S Collier Blvd, Marco Island, FL 34145
5. Sale e Pepe
This authentic Italian restaurant has managed to create a relaxed, yet sophisticated dining experience. Freshly pressed white tablecloths and candlelit tables add to the atmosphere.
Dine alfresco on the terrace or in their magnificent, yet intimate dining room with its marble floors and hand-painted frescoes.
At Sale e Pepe you eat with your eyes first as each dish is beautifully presented, we highly recommend the Risotto made with Maine Lobster, Amalfi Lemon, and Mascarpone or their Salsiccia, a perfect combination of housemade fresh tagliatelle served with Italian Sausage Ragù and Burrata.
As any Italian knows, no meal is complete without the perfect glass of wine and at Sale e Pepe with their extensive wine list, you won't struggle to find the perfect pairing.
And when we say extensive, we aren't exaggerating.
Sale e Pepe won the prestigious Best of Award of Excellence from Wine Spectator Magazine – "This award recognizes those restaurants offering a wine list of 350 or more selections, consistently providing a superior presentation, and with significant vintage depth or superior breadth across several major wine regions." It's a wine connoisseur paradise!
Sale e Pepe is open 7 days a week until 9:00 pm.
Address: 480 S Collier Blvd, Marco Island, FL 34145
6. Zaza
Looking for an authentic Mexican taqueria? Then look no further than Zaza! We love the consistency and their dedication to sourcing the freshest ingredients around.
The Zazarita is just what you need to start your evening on the right note – go with the original lime flavor or switch it for strawberry or mango. The strawberry Zazarita with the salted rim is our favorite. Their Street Tacos are delicious, and we recommend giving the Vampire Taco a bash – a grilled flour tortilla served with cheese, guacamole, and their secret spiced steak.
As you know we love Happy Hour and Zaza's is daily from 4:00 pm to 6:00 pm where you can get local and Mexican beers as well as their house wines at fabulous prices.
When it comes to specials make sure you take advantage of Taco Tuesdays and Fajita Fridays for additional discounts. Zaza's is open Monday to Saturday from 4:00 pm to 9:00 pm.
Address: 1095 Bald Eagle Dr unit 8, Marco Island, FL 34145
And For Something a Little Different…
Every place has those out-of-the-ordinary experiences and Marco Island is no different.
Who doesn't love a festival involving food and music? But we think turtle nesting is one of those once-in-a-lifetime moments you will never forget.
1. Marco Island Seafood and Music Festival
Every March, during the height of the season, is the annual Marco Island Seafood and Music Festival, a weekend of guaranteed fun, food, live entertainment.
This festival celebrates all the fresh local seafood Marco Island has to offer with all of our favorites in huge supply – fresh fish, crab cakes, stone crab claws, shrimp, chowder and so much more. And obviously, cocktails flow in abundance.
2. Sea Turtle Nesting
Sea Turtle nesting season kicks off from the beginning of May through to the end of October. Marco Island has roughly 80 Loggerhead Sea Turtles that nest there every year, and as we said, it's a once-in-a-lifetime experience to see this wildlife wonder in action.
Marco Island takes its nesting season seriously and no torches/flashlights etc are allowed to be used when watching these incredible creatures as the lights cause hatchling disorientation. We recommend you buy yourself an FWC approved flashlight which emits a red light and doesn't impact the hatchlings.
What a way to add something a little different and unique to any Marco Island nightlife experience.
Marco Island Nightlife: Our Final Thoughts
Aside from its unsurpassed natural beauty, Marco Island is one of those places which has something for everyone, from things to do, to restaurants to try and bars to party in.
It's a place where we celebrate all the good things life has to offer – beautiful tropical sunsets, fresh local cuisine, handcrafted cocktails, and all the drinks in between.
So enjoy the beaches during the day and the laid-back Marco Island nightlife experience in the evening. What are you waiting for!