Wandering our World is reader supported! If you purchase anything through a link on our site, we may earn a commission at no extra cost to you.
Last updated on October 8, 2022 by Wandering our World
Located in Lake Huron, Ontario, Manitoulin Island is known for its rich indigenous culture and gorgeous sunset scenery. This is the world's largest freshwater island, and has over 100 inland lakes – some of which even have their own islands! Simply put, this is a nature lover's paradise, and that's exactly why camping at Manitoulin Island is such a wonderful vacation.
This friendly place has more to offer than just nature too, with traditional cuisine, and enlightening cultural and adventurous activities all possible on this beautiful island. Alongside lots of water sport activities and hiking trails of course.
As we know this place so well, we share with you our favorite Manitoulin Island campgrounds. We show you what makes each worth visiting, what's nearby and more.
Every campground we feature is great fun, unique in its own way, and has breathtaking views. Perfect for your upcoming adventure!
We then look at backcountry camping in Manitoulin Island, and give you some bear safety tips.
Manitoulin Island Camping: Ten Manitoulin Island Campgrounds You Must Visit
Manitoulin is a natural beauty, and camping – either in a tent or RV – is one of the best ways to experience this area. And at a very affordable price too.
Camping and RV owners will love this island. It's huge, has breathtaking sea views, an expansive ancient forestland, and there's fantastic opportunities to learn from and celebrate local indigenous groups.
Looking for peace, quiet, and a chance to get away from everyday life? Then camping at Manitoulin Island may just be the getaway you need.
1. Gordon's Park Campground
Gordon's Park was recognized as a Dark Sky Preserve in 2009 – which means it's one of the best places in the world for stargazing.
In fact because of that, there's even an observation platform where you can admire the night sky and be enchanted. The park's policy of no lighting at night makes stargazing here even more special and immensely beautiful.
The campground in this park is an excellent Manitoulin Island camping spot, and is an eco-friendly campground with a variety of camping options.
There are numerous accommodation choices available, including forest camping, lodges, tipis, and tent campsites.
Because it's an eco-park, almost all of the campsites are off grid. But don't worry there are charging stations to keep your devices charged and ready to go.
The campsites feel private and secluded – perfect for stargazing with that special someone. There's all the facilities you'd hope for like toilets, showers, and a dish-washing station. Plus there's a heated swimming pool, a mini-golf course, WiFi, and lots more! They're also a pet friendly campground.
There's a great nearby trail – Bebamikawe Memorial Trail – to try out. There's a few local dogs that tend to hang around the trail and may join you for the walk! They're very friendly and help to scare away any bears.
This is easily one of our favorite Manitoulin Island campgrounds. Not just for the facilities but for the stargazing too.
Things You'll Enjoy at Gordon's Park
Dark Sky Reserve
Swimming Pool
Mini-golf Course & Hiking Trail
Pet-Friendly Campground
Various Accommodation Options
Wifi
The Important Info:
Location: 18777 ON-6, Tehkummah, ON P0P 2C0, Canada
Rates: From $43 per night.
Opening: It opens from May to September.
2. Batman's Cottages and Campground
The family-owned Batman's Cottage and Campground is located on 74 acres of forest and shoreline, and has room for both tents and RVs. It's situated right on the water beside a beach so you have access to water activities as well as wonderful views.
There are 142 tent and RV campsites, as well as four cottages. There's also free WiFi, varying kinds of boat rentals, a laundromat, and a playground. Electricity (30 and 50 amp) is on offer on all sites, and pull-through sites are also available.
This campground is also pet friendly! And there's even an off-leash area where dogs can run freely.
As this Manitoulin Island campground is right by the water you can enjoy fishing, water sports, or simply having fun at the beach and playing beach games. There's some lovely hikes nearby too, and it's also possible to go on a cultural tour to learn about the native people from the island.
Another bonus is that the quaint town of Little Current is close by. There you can walk past waterfront businesses, sip coffee and enjoy local chocolate at shops like Loco Beanz, or try artisan brews at the Manitoulin Brewing Co. Tasty!
Things You'll Enjoy at Batman's Cottage And Campground
4 Cottage Options
Beach Games and Boat Rentals
Fishing, Water Sports and Hiking Opportunities
Pet-Friendly & their Leash-Free Area
Free WiFi
Close to Shopping and Restaurants
The Important Info:
Location: 11408 ON-6, Sheguiandah, ON P0P 1W0, Canada.
Rates: From $42 per night.
Opening: You can visit from May to September.
3. Idyll-Glen Camping
If you are looking for a great RV park, then you should consider Idyll Glen Camp. This campground is in wonderful surroundings, sitting on the shores of the pretty Lake Mindemoya right by a sandy beach in the middle of Manitoulin Island!
This kid friendly campground also allows pets, and boasts that it's virtually mosquito-free. Something that has been a big bonus for campers and is one of the reasons why many return.
Water and 30 amp electricity are available on the sites. And there are facilities like hot showers, washrooms, a playground, a club house, laundry facilities, a boat launch and dock, and even a candy store!
As this campground is right by the lake, you can enjoy many activities like fishing, sailing, swimming, kayaking, surfing, and hiking. There's also several nature trails and waterfalls to explore nearby as well. This is definitely one of the best Manitoulin Island campgrounds for families.
Things You'll Enjoy at Idyll Glen Camping
Stunning Lakeside Views
Great Facilities and Kid-Friendly Services
Fun Activities like Fishing, Sailing, Swimming, Kayaking, Surfing, and Hiking
Safe For Kids and Pets
Mosquito-Free Area
The Important Info:
Location: 280 Hill Rd, Mindemoya, ON P0P 1S0, Canada.
Rates: Prices start around $49 per day.
Opening: It is open from July to September.
4. Meldrum Bay Marina's Breakwater Campground
Are you looking for an escape from the modern world? If yes, then Meldrum Bay Marina and Campground could be the perfect Manitoulin Island camping option for you. It's situated in pretty Meldrum Bay, which is a former mill and forestry village at the tip of the western coast of Manitoulin Island.
The Breakwater Campground is situated on a natural rocky outcrop overlooking Meldrum Bay. It has breathtaking water views and consists of 18 campsites, with 12 of those boasting wonderful views of the water. The campsites feel private, 14 have electricity, and there are showers and a laundry room for all guests.
Of course one of the big advantages to staying here is you're right in the village of Meldrum Bay, so there's things to do away from the water and campground. Including places to eat!
Do visit Meldrum Bay Inn & Restaurant to get a real sense of Manitoulin cuisine. It is a historic restaurant established in 1876 that's located right across from the campsite. Grab a plate of locally caught smoked trout or giant shrimp. You won't regret it!
Mississagi Lighthouse is only a few minutes away, where you can capture great pictures & enjoy the sunset. Built in 1873, this is one of Manitoulin's ten lighthouses!
Things You'll Enjoy at Meldrum Bay Marina And Campground
Traditional Setting
Camping Options by Meldrum Bay
Great Waterside Views
Chance to Enjoy Traditional Cuisine at Meldrum Bay & Inn Restaurant
Deep Water Access at the Marina's Modern Docks
The Important Info:
Location: 25932, ON-540, Meldrum Bay, ON P0P 1R0
Rates: Prices start at $35 per night.
Opening: It is open from May to October.
5. Norm's Tent and Trailer Park
The best way we can describe Norm's Tent and Trailer Park is that it's a very peaceful friendly place. The area where it's located – Lake Kagawong – is famous for its fishing activities, and really is the dream place for anyone who likes to get out their rod and reel.
This campground has both sunny and shaded campsites, lots of room for tents and RVs, and has modern clean showers, laundry, and central washrooms. It also has fully equipped HK cabins. Boat launch, dockage, and motorboat rentals are also available.
Situated on the shores of Lake Kagawong there's a live bait shop here with various options for anglers. Expect to catch the likes of bass, pike, perch and pickerel if you end up visiting. This is easily one of the best Manitoulin Island campgrounds for fishing opportunities.
If you want to get away from fishing, then just a short distance away from the campground is Bridal Veil Falls! The 35-foot-tall waterfall is free to visit and has a wonderful natural swimming pool perfect for taking a dip in.
Gore Bay is only 15 minutes away by car too. This small community of 900 has places to eat, a brewery and shopping options.
Things You'll Enjoy at Norm's Tent & Trailer Park
Peaceful Surroundings
Fantastic Fishing Location
HK Cabins & Live Bait Shop
Close to Bridal Veil Falls
Boat Launch, Dockage, and Motorboat Rentals
Modern Facilities
The Important Info:
Location: 1125 Lakeshore Rd, Kagawong, ON P0P 1J0
Fees: There's a varied range of pricing options. It's best to get in touch directly with the park to ask for current rates.
Opening: It is open from May to September.
6. Mindemoya Court Cottages & Campground
Mindemoya Court Cottages and Campground is easily one of our favorite Manitoulin Island camping options. Right by the waterside it's perfect for swimming and has some of the best sunset views on the island.
This 18-acre campground set on the beaches of Lake Mindemoya is the perfect place for sports enthusiasts and kids as they have a baseball diamond, volleyball court, a playground and on-site hiking and biking trails.
The Cup and Saucer Trail is amongst the most well-known hiking routes, and it takes you along cliffs that stretch for more than 2 kilometres. While the nearby Great Spirit Circle Trail is ideal for anyone interested in learning about Aboriginal culture.
Despite being sat in 18 acres, there's only 15 camping sites available, making this place quiet, private and peaceful. All of those sites have 20/30 amp power connections, fire pits, free WiFi, and picnic tables.
On-site boat rentals are available for those who want to take a relaxing cruise, go fishing, or watch the sunset on Lake Mindemoya. The nearby Centennial Museum of Sheguiandah is a must-visit for history lovers too as Manitoulin's history is on display.
Things You'll Enjoy at Mindemoya Court Cottages And Campground
Wonderful Waterside and Sunset Views
Lots of Sport Activities
Great Place for Hiking and Biking Trails
Close to The Centennial Museum of Sheguiandah
Near to The Cup and Saucer Trail & The Great Spirit Circle Trail
Close to Mindemoya town where there's restaurants, shopping and golf.
The Important Info:
Location: 604 Ketchankookem Trail, Mindemoya, ON P0P 1S0
Rates: From $55 per night
Opening: It is open from May to October.
7. Mac's Camp
Mac's Camp is located in Spring Bay and overlooks Lake Kagawong's southern shore. The campsites – which are for RVs, trailers, or tents – have good privacy, and there's 15 with electricity and water. They have seven campsites in their forest area that don't have power as well – perfect for a completely 'unplugged' vacation.
They also have three two-bedroom cottages which have modern bathrooms, a self contained kitchen and free WiFi.
The waters at Lake Kagawong are suitable for swimming and perfect for fishing. So this is a great Manitoulin Island camping option for those looking to relax, fish, and enjoy the water!
You can hire kayaks, paddleboards and boats directly from the campground, so you can explore the lake and surrounding area! With bass perch, walleye and pike all being caught here, any fishers are going to love this Manitoulin Island campground.
Things You'll Enjoy at Mac's Camp
Boat Rental Facilities
Swimming at Lake Kagawong
Accommodation Options Like Cottages
Free Wifi as well as Campsites to 'Unplug"
Excellent Fishing Opportunities
The Important Info:
Location: 720 Perivale Rd W, Spring Bay, ON P0P 2B0
Rates: From $47
Opening: It is open from May to September.
8. Stanley Park Campgrounds
Stanley Park is in the centre of Manitoulin Island, located on Spring Bay, and has many tent and trailer campsites – some right on the water! Due to its location, this place is a great base for anyone who wants to vacation and explore Manitoulin Island.
The pretty surroundings are a fantastic reason to stay, but so is the friendly and welcoming atmosphere. This campground is kid friendly and children can play in the well-equipped playground that has slides and many fun things to climb! Basketball, pool, and table tennis are all available to visitors as well.
Amenities include good toilet facilities, Wifi, a general store, private showers, a laundromat, portable sewage pump-out, dump station, a fitness room, and electricity and water hookups.
As it's right on the water's edge, people also enjoy boating and fishing here. Paddle boats and canoes are available for rent from the campground too. So you've no excuse to not get out on the lake and explore!
Activities that are popular here include water skiing, kayaking, swimming and boating. In fact Stanley Park even have their own private marina.
Things You'll Enjoy at Stanley Park
Tent & RV Options
Kid-Friendly With a Great Playground and Sports Options
Mindemoya Lakeside View
Enjoy Water Skiing, Surfing, Kayaking, and Other Water Activities
Facilities like General Store, Laundromat, and More
The Important Info:
Location: 1702 Monument Rd, Spring Bay, ON P0P 2B0
Rates: From $34 per night
Opening: They are open all-year round.
9. Lake Wolsey Cabins
Located in Gore Bay, Ontario, Lake Wolsey Cabins is situated amongst 34 acres of quiet forest. Not only are the surroundings beautiful, but as it's located in Gore Bay there's plenty of things to do nearby, as well as restaurants and shops to visit.
Situated close to the beach and marina, this site is open all-year round – so perfect for winter!
There are twelve heated cabins on the property. A two-piece bathroom, seating area, eating area, and kitchen are all included in each cabin. Showers are conveniently located centrally in the campground. Pets are also welcome as long as they are kept on a leash.
Visitors can indulge in various waterside activities like boating as well as fishing. In fact this area is known for its fishing and there's a variety of species you can find here including muskie, whitefish, trout, salmon, perch, pike, and burbot.
You can also visit the neighbouring areas like Sheshegwaning Village, Misery Bay Provincial Nature Reserve, and Mississagi Lighthouse. Each one of these places has something unique about them.
This may be glamping rather than camping, but it's a great all-year round option in an area with lots to do.
Things You'll Enjoy at Lake Wolsey Cabins
Heated Cabins
Enjoy Activities like Fishing and Boating
Near to the Beach and Water Activities
Close to Sheshegwaning Village & Misery Bay Provincial Nature Reserve
Close to Mississagi Lighthouse
Open All-Year Round
The Important Info:
Location: 225 Lake Wolsey Rd, Gore Bay, ON P0P 1H0
Rates: From $150 per night.
Opening: They are open all-year round.
10. Mountain View Resort
For a very special Manitoulin Island camping experience, you should definitely consider staying at Mountain View Resort on Lake Manitou.
Despite the name, this collection of cottages is based on the waterfront so you have direct access to the rugged beauty of Lake Manitou. It's the perfect place to chill and have fun with your family away from the hustle and bustle of 21st century life.
The Mountain View Resort consists of several cottages set amongst trees with an immensely beautiful view of Lake Manitou ahead of them. It's not quite camping, but if you want to treat yourself, you will get to stay in a cabin with all the amenities of a small modern home.
It's just a short journey to see some of the island's sights and treasures. As well as activities like fishing, boating, swimming or sunbathing. Mountain View also offers fishing and hunting excursions, and you can rent canoes and kayaks from them too.
On top of all that, you can also visit restaurants located in the nearby area like Grill N Chill, 1890 Restaurant, The Anchor Grill, Mum's Restaurant, and Main Street Cafe.
There's some great hiking trails nearby as well, including Cup and Saucer, Bridal Veil Falls, and Gore Bay Bluffs.
Things You'll Enjoy In Mountain View Resort
Wonderful Views
Accommodation With Modern Amenities But Still in Nature
Access to Fun Activities like ATVing, Mountain Biking, Fishing, and Swimming
Close to Great Restaurants Like Grill N Chill & Mum's Restaurant.
The Important Info:
Location: 187 Nighswander Rd Mindemoya, ON P0P 1S0
Rates: From $145 per night.
Opening: They are open all-year round.
Backcountry Camping At Manitoulin Island & In Canada
DISCLAIMER: Below we give general advice, but we always recommend staying in an official campsite. If you choose to go backcountry camping/dispersed camping, then make sure you do so with someone who already knows the area where you're planning on camping for your own safety.
Wild camping, also known as backcountry camping, is generally tolerated in Canada. Although there are certain areas you are prohibited from camping in. Rather you must stay in a designated campsite. These include:
National Parks
Cities
Provincial Parks
Ontario also prohibits camping in nature reserves. It's worth mentioning that rangers and conservation officers do patrol regularly and will hand out hefty fines to people wild camping in these prohibited areas.
Sometimes it is possible to purchase a 'backcountry' camping permit. That would then allow you to camp in a park outside of a campground. Not all parks offer them – and they're not widely advertised. If there's somewhere you wish to camp, then get in contact with local authorities to see if these are available.
As for where you are allowed to camp, Canadian residents can camp for free on Crown Land – which is publicly owned land. Thankfully 89% of land in Canada is classed as 'Crown Land'. However much of that is still off limits – National Parks, for example, are also Crown Land.
In general: If land is publicly owned, it's not one of the prohibited areas that we listed above, and you are far from settlements – you're likely to be on Crown Land that can be camped on for free. However, keep an eye on local maps for confirmation, and obey any signs that say camping is prohibited
There are rules for free camping on Crown Land, however:
You may camp in the same place for 21 days only in one calendar year.
After 21 days you must move to a place at least 100m away if you wish to continue camping.
While free for citizens and Canadian residents, non-residents must obtain a permit to wild camp on Crown Land.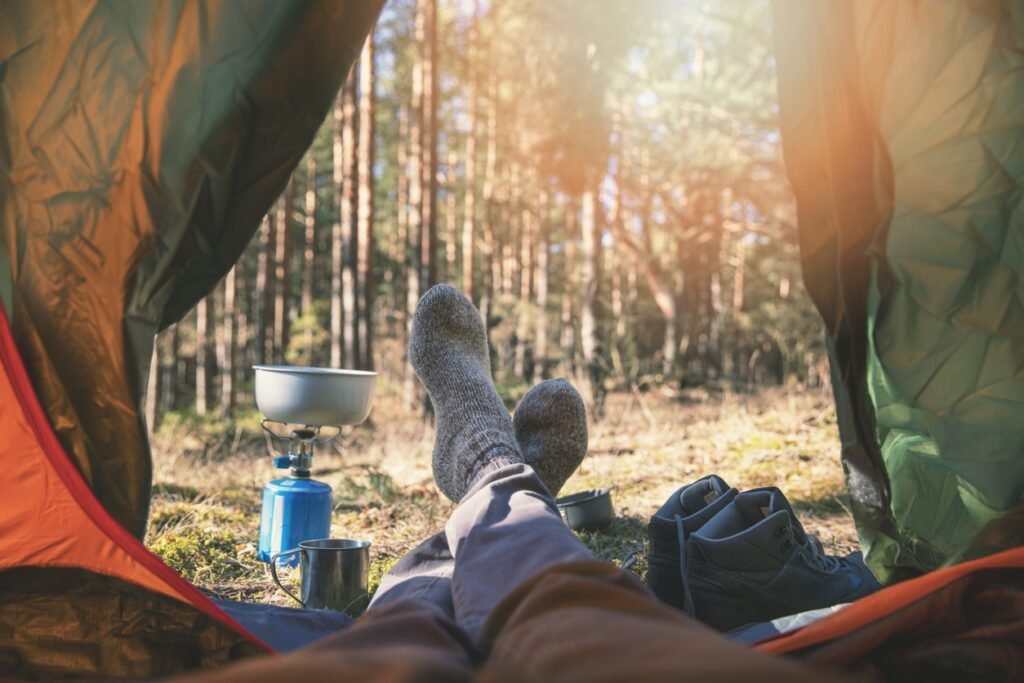 Camping In Manitoulin Island: Bear Safety
Like many areas of Canada, there are bears roaming around Manitoulin Island. You must take steps to avoid attracting them to your campsite.
With that being the case we advise:
If you have a vehicle nearby, store food there rather than in a tent.
Use a bear box or bear canister to store food, rubbish, and anything with a scent.
Don't pitch your tent near where food is being stored.
Never approach any bear, regardless of its size.
Don't spray anything with a scent – that can attract bears.
Manitoulin Island Camping: How To Get There?
In general there are two routes to the island. One is from central/northern Ontario, while the other is from southwest Ontario.
If you're travelling from the north, you'll pass via Espanola and the Wawaskina Whitefish River First Nation before arriving at Little Current's famous Swing Bridge. If you're closer to the latter, you'll be able to catch the ferry from Tobermory to South Baymouth.
There are a few roads that run the length of the island, connecting one location to the next, so the island itself is easy to navigate, even in RVs.