Wandering our World is reader supported! If you purchase anything through a link on our site, we may earn a commission at no extra cost to you.
Last updated on May 26, 2023 by Wandering our World
Lake Wenatchee is located only two hours by car from Seattle, so it's easy to reach yet still provides an outdoor playground for adventurers and a welcome escape from big city life. And luckily camping at Lake Wenatchee is possible at multiple locations next to the water and in the surrounding area, making a trip to the region very affordable too.
During summer, you have a range of activities for the entire family to enjoy here. Including scenic hiking through forests, ATV or horseback riding through trails, or jumping on two wheels for fantastic mountain biking. You'll also find excellent fishing in Lake Wenatchee as well.
Winter provides more excitement with snowmobiling, skiing, snowboarding, or snowshoeing across the lake and into the hiking trails nearby. Many Lake Wenatchee campgrounds are open during winter too, which is a big bonus in terms of affording a winter vacation here.
Regardless on when you plan to visit, if you're thinking about a Lake Wenatchee camping adventure then you're in the right place!
We know this place like the back of our hand, so right here we will share everything you need to know.
We share our favorite campgrounds that sit directly beside Lake Wenatchee and then show you a few in the surrounding area that we think are worth checking out too.
After that we also give information on hiking, fishing, biking and more in the area. There's even a free camping game perfect for kids (and fun adults!) at the bottom of this article too.
So read on to begin your Lake Wenatchee camping adventure!
CONTENTS:
Lakeside Campgrounds at Lake Wenatchee
The Best Campgrounds Near Lake Wenatchee
The Best Time to Camp at Lake Wenatchee
Festivals & Events to Keep in Mind
Fishing at Lake Wenatchee
Scenic Hiking Around Lake Wenatchee
Riding Around Lake Wenatchee
Winter Activities at Lake Wenatchee
Bear Safety Tips
Free Scavenger Hunt Game
Lakeside Campgrounds At Lake Wenatchee: Enjoying Nature At The Water's Edge
There are a number of excellent campgrounds surrounding Lake Wenatchee with a huge range of amenities and activities that'll make your vacation immensely enjoyable for every member of the family.
Below are the Lake Wenatchee campgrounds that are sat directly on the lake. They're perfect for a camping adventure right on the water's edge:
1. Lake Wenatchee State Park Campgrounds
Lake Wenatchee State Park has two great campgrounds to choose from, both set right beside the lake so you can expect knockout views and a fantastic location.
Combined there are 155 sites for RV or tent camping, as well as 42 full hookup sites available for RVs for those that want water and power.
The North Campground is less developed but provides larger areas for bigger RVs and is open year-round for camping. The South Campground is generally open from May to September but can only accommodate RVs up to 40 feet in length.
The entire campground is close to or on the shore of the lake, with stunning views and a huge range of hiking trails situated around the campground, as well as biking and horse trails. So staying here means you'll never be far from an outdoor adventure.
You can also park your boat and launch it into the lake from the campground, rent a kayak and take it on the lake, or just enjoy a swim in what is one of the state's best spots.
Amenities and Facilities
There are two unpowered cooking areas that provide shelter, grills and picnic tables. Near those are fire pits and unsheltered picnic tables.
The campground has drinkable water, seven flush toilets, and 16 hot showers. During winter, the restrooms are heated, and there are even warm shelters available for campers.
There is also a campground store that sells firewood, propane, and white gas. It also sells a range of camping supplies, including snacks and drinks.
And if you're bringing a horse, there are even stables available to keep your horse in! If you don't have a horse but like the idea of riding one, then there are also guided 1-2 hour tours through the park on horseback.
What's Close By
Lake Wenatchee is right at your doorstep and is one of the main reasons for staying here; you can go fishing, boating, kayaking, swimming, or anything else you want to do in the water.
If staying here you will be located right inside Lake Wenatchee State Park, which also offers a range of summer activities such as horseback riding, multiple hiking trails that range from 5-10 miles long, and many bird watching opportunities.
During winter the park stays open and provides excellent opportunities for skiing, snowboarding, snowshoeing, and even sledding down the hills!
The Important Info
Rates: $12 – $50 per night
Address: 21588 WA-207, Leavenworth, WA 98826,
2. Glacier View Campground
Glacier View Campground is tucked away on the south shore of Lake Wenatchee. It has 23 campsites, 16 of which are walk-in campsites. The maximum size for an RV is just 15 feet long.
It's not a heavily used campground but the space between sites is good, so privacy at this campsite is excellent compared to others. However it's lacking many of the features that other campgrounds in the area have, which is why it's not as popular.
But if you're looking for seclusion and basic camping requirements, then Glacier View Campground is one of the best in the area. And you're only 4 miles down the road from larger campgrounds which have more activities available if you want to venture out.
Amenities and Facilities
Access to water is available, along with four pit toilets.
There is a boat launch too that can accommodate small powered boats and kayaks.
What's Close By
Right from the campground you can hike up to Hidden Lake, which is an even more secluded location but still a relatively easy hike. The lake is surrounded by tall trees and has some excellent secluded spots to relax and birdwatch. It's bliss.
The lake also features a number of waterfalls and is part of the Washington State Birding Trail. So it has excellent bird watching opportunities if you bring your binoculars.
The Important Info
Rates: $18 per night
Address: Cedar Brae Rd, Leavenworth, WA 98826
The Best Campgrounds Near Lake Wenatchee For Fun, Views & Adventure
Located only a few miles away from Lake Wenatchee are a number of other great campgrounds that provide more seclusion and different hiking adventures, as well as access to different wildlife viewing opportunities.
You can visit these areas from your Lake Wenatchee campground or move around to different campgrounds to get the best of everything throughout your trip to the area.
1. Nason Creek Campground
Nason Creek Campground is just 1 mile south of Lake Wenatchee and is located in Okanogan-Wenatchee National Forest. You won't get lake view campsites, but you will be surrounded by an old-growth forest. It's a popular campground, so it isn't as secluded as some other campgrounds in the areas.
You can reserve 1 of 70 single sites or 3 double sites spread over a reasonably sized area. If you're bringing an RV, there are no hookups so you'll need to be self-sufficient.
The area surrounding the campground is filled with streams, diverse forestry, and a range of wildlife including deer, porcupines, fish, birds such as the Northern Bald Eagle and the Northern Spotted Owl.
You might also stumble upon grey wolves and grizzly bears, so watch out when you're hiking. It's a wild but beautiful place to stay.
Amenities and Facilities
Each campsite comes with a picnic table, fire ring, and grill.
There are flush toilets, and drinking water is available. Picnic tables are available throughout the campground for everyone to use.
What's Close By
You're right inside Okanogan-Wenatchee National Forest, which is a fantastic place to hike, fish, swim, go horseback riding, or go mountain biking in the summer and spring.
During the winter, you can snowshoe, ski, or even go snowmobiling if you bring your own.
If you're looking for further adventure, you're only a short walking distance from Lake Wenatchee, which has a range of other activities, including fishing for rainbow trout, cutthroat trout, and kokanee salmon.
The Important Info
Rates: $24 per night
Address: 62 Cedar Brae Rd, Leavenworth, WA 98826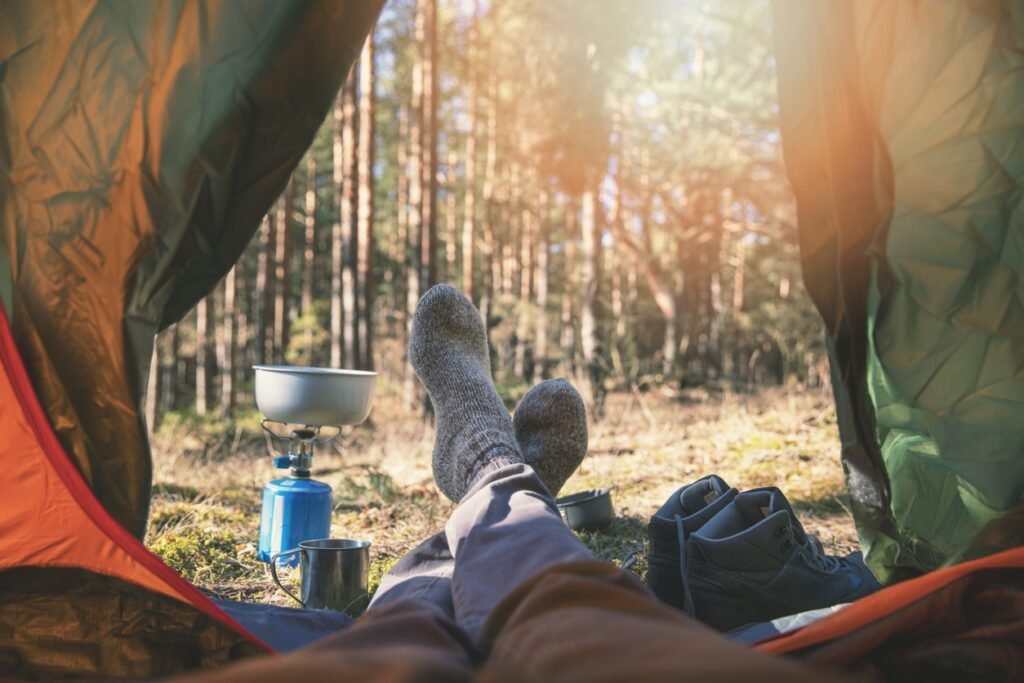 2. Goose Creek Campground
Goose Creek Campground is located 6 miles from Lake Wenatchee by the Chiwawa River and has 26 single sites and 3 double sites. The tent sites are right on the waterside, while the RV sites are located further back in slightly more spacious areas.
One of the biggest features, and what this campground is known for locally, is its accessibility to multiple motocross trails. So expect to see bikes or other ATVs screaming through the trails and back to the campsites.
That's great if you're a biker, but not so great if you're looking for peace and quiet!
Amenities and Facilities
Minimal amenities and facilities are available at this campground, but you do have access to drinking water and 3 pit toilets.
There are picnic tables available for everyone to use as well.
What's Close By
Goose Creek is a prime location to take your motorbike or ATV through a range of trails and enjoy some seclusion with no complaints about the noise.
Located up the road is the Alder Creek Horse Camp if you prefer to go horseback riding through trails rather than using an ATV.
There's also Fish Lake nearby, which provides some fantastic fishing opportunities. There you can catch Rainbow Trout, Brown Trout, Largemouth Bass, or Perch.
The Important Info
Rates: $14 per night
Address: NF-6100, Leavenworth, WA 98826
3. White River Falls Campground
White River Falls Campground is a rustic and secluded campground 11 miles from Lake Wenatchee that has five campsites, so you won't have many neighbors! It's the perfect spot to enjoy the waterfall and explore the river there. And best of all – camping is free!
You will be sheltered under giant Douglas firs, and the campsites sit right on the edge of the river, so you'll be able to enjoy the sound of flowing water as you sleep at night.
As one note, this campground is better suited for tents, as the roads and turning ways can be very narrow and tough to navigate for RVs.
Amenities and Facilities
This campground provides minimal facilities, but you do have access to two pit toilets, picnic tables, and grills.
What's Close By
The idea behind White River Falls campground is seclusion, so not a lot is nearby. But up the road you do have two additional free campgrounds if White River Falls is full.
You can also access a popular hiking trail; the White River Trail. This trek is a 38.6 km trail that will take you around 10 hours to complete. It's considered very challenging and is often unmarked or has fallen trees or heavy bush to get through.
The Important Info
Rates: Free
Address: Leavenworth, WA 98826
The Best Time To Camp At Lake Wenatchee
Camping by Lake Wenatchee can be done throughout the year, but summer and spring are the most comfortable times to camp in a tent. Summer camping can be done from May – October, but July – August are the optimal warm months.
For winter camping, the best months are January and February, though December and March can also provide a good amount of snow to enjoy. You must be comfortable and prepared to handle a lot of snow, but the area provides a lot of great winter activities.
There is no time of year that you can't visit Lake Wenatchee; just be prepared for the season you're visiting and bring the supplies you need.
However it's not just the weather that can dictate when you decide to go camping. What events and activities that are available can be a factor too.
So below are some of the main annual events and festivals that you may want to know about when planning your Lake Wenatchee camping adventure:
Lake Wenatchee Festivals & Events You Don't Want to Miss
Lake Wenatchee and the surrounding area is filled with festivals and exciting events throughout the year.
Some of our favorite festivals and events include:
Leavenworth Spring Bird Fest is at the end of May and provides guided tours to seek out a range of birds in the area, including hummingbirds, woodpeckers, ducks, osprey, and all kinds of songbirds. There are a range of other native activities to enjoy when not out birdwatching.
Wenatchee River Salmon Festival is at the start of September and provides a huge range of activities centered around education and experiencing nature, as well as interacting with Native Americans through cultural exchange.
Leavenworth Oktoberfest is at the start of October and is a well-known opportunity to drink beer and enjoy german style festivities!
Fishing At Lake Wenatchee
Fishing at Lake Wenatchee can be done from the shore, or you can take a boat out into the water to get better access to the fish.
If you're not local, you will need to get a license for fishing which is required before you arrive. You can get that here.
The lake provides multiple ramps to get your boat into the water or you can book one of the many fishing charter operations that can take you out with all the gear you need and help you catch the biggest fish possible.
The most common fish you'll find include trout, salmon, steelhead, and whitefish. But you're sure to find and catch a variety of others while on the lake.
Scenic Hiking Around Lake Wenatchee
Lake Wenatchee provides a number of fantastic hiking trails. Highlights include a 12-mile hike around the lake, and a shorter 8-mile hike in the surrounding forested area.
Some of our favorite hiking trails in the area include:
Dirtyface Peak Trail, which takes you from Lake Wenatchee up to Dirtyface Peak. This is a 13.7 km trail with high difficulty. It'll take you around 5 ½ hours to complete but provides a fantastic view at the end and great birdwatching along the way.
Hidden Lake Trail is an easy 3.1 km trail, but to get to the trail you need to go to the west side of the lake, which provides a short hike by itself. It's an excellent hike to find the secluded Hidden Lake, which is perfect for birdwatching or just enjoying a relaxing rest at the end as you listen to the waterfalls there.
Nason Ridge Trail is a 9.7 km trail that requires moderate fitness to complete. It should take you around 3 hours or less to complete and ends with a fantastic view from Nason Ridge.
Many of the trails can be done during winter, but instead of hiking, you will likely be snowshoeing.
Riding Around Lake Wenatchee
Lake Wenatchee has a stable of horses and dedicated staff available that can take you on a five-mile guided horseback ride. That gives a fantastic opportunity to see the scenery from a different angle, and you may even see some of the wildlife in the area, including deer, moose, bears, or at a minimum, some of the local birds.
Many of the same trails in the area can be used for mountain biking, so it's a great opportunity to get out your bike and go for a ride.
Some of the best trails that leave from Lake Wenatchee include:
Middle Tommy Trail is short and sweet at only 1 mile long and can be completed in ten minutes.
Billy Ridge Trail is a 12.4 km long trail with a big descent down.
Lookout Trail is only 387 meters of steep descent that should be completed in a few minutes.
Lake Creek Trail is a 15.6 km long trail that can connect to other trails to loop back down to the start.
Pyramid Mountain Trail is 22.2 km long with varying elevations along the way. It's slightly further away, which makes it less busy but it still provides fantastic views from the peak.
Almost all of the trails in the area which are used by mountain bikes can be hiked, or you may take your horse up the same trails or even an ATV if it fits.
So be wary of others as some trails are very busy with a wide variety of different transport methods being used.
Winter Activities At Lake Wenatchee
Lake Wenatchee is a popular winter destination, and many of the campgrounds can accommodate you during that time, even providing warming stations if you get a little cold. You may even find the bathrooms and shower facilities are heated as well!
Around Lake Wenatchee are 30 miles of groomed cross country skiing trails, snowshoe trails, and even dedicated snowmobile trails for some motorized fun during winter.
One of the more interesting activities is dog sledding, and there is one tour operator that will take you out in the area on dog sleds to experience this fantastic ride.
If you're a skilled climber, you can also join some of the more adventurous climbers and summit the local peaks in winter, including Dirtyface Trail Peak, which can be an incredible challenge.
Camping At Lake Wenatchee: Bear Safety
Like many areas of the U.S, there are bears roaming around the Lake Wenatchee area. While encounters are rare, you must take steps to avoid attracting them to your campsite.
With that being the case we advise:
If you have a vehicle nearby, store food there rather than in a tent.
Use a bear box or bear canister to store food, rubbish, and anything with a scent.
Don't pitch your tent near where food is being stored.
Never approach any bear, regardless of its size.
Don't spray anything with a scent – that can attract bears.
Camping At Lake Wenatchee: Free Scavenger Hunt Game!
If you're looking to keep kids amused while camping at Lake Wenatchee – or you fancy having some fun for yourself – then we've created a printable scavenger hunt game!
Save the image and print it out, then tick off what you find and achieve during your camping holiday.
The game encourages players to get out and discover wildlife and nature, as well as make new friends and do fun camping activities. Enjoy!