Wandering our World is reader supported! If you purchase anything through a link on our site, we may earn a commission at no extra cost to you.
Last updated on October 9, 2022 by Wandering our World
Lake Elsinore is a fantastic destination thanks to its beaches, water-sports, hiking trails and superb weather. The many RV resorts and campgrounds around the lake offer great places to stay for people on vacation too, as well as those looking for a long-term stay.
While Lake Elsinore is considering a resort town and has many attractions for holiday makers, the surrounding area has terrific campgrounds that allow you to immerse yourself in nature. Whether you are sleeping in a tent or an RV, Lake Elsinore has a wide range of camping experiences on offer.
As we know this area well, we share with you some of the best campgrounds at Lake Elsinore below. We then look at dispersed camping at Lake Elsinore, and after that give even more information to help you with your stay at this wonderful lakeside destination!
Camping At Lake Elsinore: The 12 Best Campgrounds In The Area
1. Weekend Paradise Campground and RV Park
Weekend Paradise RV Park offers a wide array of RV hookups and tent camping amenities, and is right up there as one of our favorite Lake Elsinore camping options.
Why? Well this campground is right beside the lake – a rarity for tent camping in the area. The atmosphere is super welcoming and friendly too, and you're even welcome to bring your pets along! It's also by far one of the most affordable lakeside options throughout the Lake Elsinore area.
It's a small campground, but the advantage to that is Wade the owner goes out of his way to make sure you have a special stay. The facilities are good, with showers, toilets, wifi, and water hookups available. But it's the proximity to the lake and the beach – and all the water-sport activities you can do as a result – that really make this place stand out.
If you're looking for a safe, family-friendly Lake Elsinore campground right by the water, this is a fantastic choice.
Fees: Prices start at around $20 per tent.
2. Blue Jay Campground
Several RV resorts are situated close to the lake at Lake Elsinore. But there are limited opportunities for people to camp in a tent under the stars on the lakeside.
However, if you want to enjoy the freedom of tented camping and feel really in nature, you can head 30 minutes outside Lake Elsinore to Blue Jay Campground. There are 50 available sites on a first-come, first-serve basis here, offering a true "wilderness" feel to camping.
Staying at this campground will also give you easy access to many hiking trails, as well as horseback riding and mountain bike trails too.
The campground is 4 miles off Highway 74 and offers amenities like grills, fire pits, and vaulted toilets. The Cleveland Forest Service operates the site, s this truly is camping in nature!
Fees: $20/night for single unit. $5/night for any extra vehicle.
3. Wildomar Campground
Wildomar Campground is another Cleveland National Forest Service operation which has just 11 sites! Approximately 30 minutes from the central part of Lake Elsinore, this campsite is another opportunity to immerse yourself in the wilderness.
There is a vaulted toilet and well water on site, although be aware that sometimes the well isn't working. The campground can host most camping accommodation, from tents to RVs, so you're not limited by any means here.
This Lake Elsinore camping option is probably the best choice for adventure lovers who enjoy off-road driving as it's actually located on the Los Alamos Truck Trail. But this campground has a lot more to offer for the adventurous camper too. From horseback riding nearby, plenty of wildlife spotting opportunities, and the chance to swim in the nearby natural swimming holes.
The campsite is small, cheap and secluded. And it makes for a spontaneous camping experience, as you can't make a reservation in advance.
Fees: $15/night for single unit. $5/night for extra vehicle.
4. Crane Lakeside Mobile Home Park and RV Resort
RV living is a lifestyle choice that more and more people are making. All so they can have the freedom to roam across the country and visit exciting places. Lake Elsinore has become a hub for this alternative lifestyle and Crane Lakeside Park is one of the best places to stay if you come in your RV as it sits right on the lake's waterfront.
There are terrace and waterfront sites at this park, with views of the Santa Ana Mountains and the scenic lake. Located on the lake's southeast shore, this family-friendly resort offers a prime spot to tour the entirety of Lake Elsinore. The facilities are good, with the likes of a laundry service, showers, and toilets. But the real draw are the lakeside sites where you can park up.
This resort offers long-term accommodation for people who wish to live in this vacation paradise too. Being right on the lakeside means you can wake up and go fishing, sailing, jet skiing, windsurfing, motor boating, and kayaking straight away. Perfect!
5. Falcon Group Campground
Falcon Group Campground is another campsite located in the beautiful Cleveland National Forest. It offers a great outdoor experience that is easy to share with friends. This campground, as the name suggests, has actually been designed for group camping so that large groups of friends or families can enjoy the outdoors together.
There are three individual campsites named Lupine, Sage, and Yarrow. And unlike some of the other Lake Elsinore camping options, they can be reserved in advance.
At this campground you reserve one of those three campsites, so the price ranges from $60-$120 a night depending on which one you choose. You can make a reservation by clicking here. If you're traveling and camping in a big group, this could be a much cheaper option than other Lake Elsinore campgrounds.
So what's special about this location? Well it has mountain biking trails and hiking trails running close by. It's an excellent place for stargazing and photography thanks to the low light pollution and scenic views and trails too.
The camp is also just 30 minutes from Lake Elsinore and offers an excellent opportunity to enjoy both the wonders of nature and the bustle of town.
Fees: Around $60-120 per night depending on which campsite you book.
6. Coyote Cove Lakeside Camping
If you are looking for a camping spot near the lake, Coyote Cove Lakeside Camping could be just for you! They have RV and tent camping options within close proximity to the lake.
This Lake Elsinore camping option has good but basic facilities with laundry facilities, on-site showers, and restrooms. The campsites are shaded, and the campground itself has its own private beach on the lakeshore! There is a small boat launch on-site too, and some of the campsites have a fantastic view of the lake.
This site is open all year round for tent camping, group camping, and RV camp spots. It can get loud at times as big groups like to camp here. So if you're looking for a tranquil campground this may not be it.
But the staff are friendly and the proximity to the lake is fantastic. It's also close to fast food restaurants and shops, which makes it a convenient spot.
Fees: Prices start around $50-60 per night.
7. Upper San Juan Campground
The San Juan Trail is one of the many attractions at Lake Elsinore. And this campground sits on the upper end of that scenic 31km looped trail at an elevation of 1800 feet!
It's a popular spot for hikers as you can stay at the campground overnight while tackling the trail. The site has very few amenities, but it does have potable water and vaulted toilets available. It's the perfect destination for any outdoor lovers, and operates on a first-come, first-serve basis.
The San Juan Hiking Trail is a challenging long loop, but has breathtaking views of the incredible wilderness. You'll come across lots of wildlife spotting opportunities if staying at this campground too, alongside the chance to camp under the stars and feel truly in nature.
If you wish to skip the hike but still want to camp in this special location, then this campground can be reached by vehicle as its adjacent to the Ortega Highway.
Fees: $18/night for single unit. $30/night for double unit. $5/night for any extra vehicle.
8. Zephyr Mountain Grove Camp
Zephyr Mountain Grove is a family-operated avocado and citrus farm that is on its way to becoming a Regenerative Organic Farm. It is filled with a wide variety of fruit groves and animals on the 21-acre property. Trust us when we say it's as nice as it sounds!
The Grove has several campsites but you will need a vehicle that can handle off-road driving to get there. However the reward is getting to experience a tranquil stay with views of the valley below, making this campground an excellent getaway from the city. The property is full of wildlife which the owners state is an integral part of the Regenerative Farming process.
This is truly a rustic experience, but a toilet is available, and you can bring pets with you on the adventure! If you do decide to camp here you will be able to enjoy nature in a secluded setting that has magnificent views and wildlife. Plus Lake Elsinore remains just a few minutes drive away!
Fees: Starts at $55 per night.
9. Ortega Oaks RV Park and Campground
As the name suggests, Ortega Oaks is located amidst the magnificent ancient oaks of the Cleveland National Forest and San Mateo Wilderness Area.
This spacious 35-acre park offers RV sites with full hookup and dry tent camping. The site has some of the best facilities of any Lake Elsinore camping options around, with hot showers, laundry facilities, group camping offerings, and a swimming pool!
There's also miles of equestrian and hiking trails close by. And the park is home to the famous Ortega Falls Trail – which leads to a stunning waterfall.
The camping area can accommodate 75 campers and sits in a shady wooded area with picnic tables and fire rings.
If you fancy living in the mountains for an extended time, this park also offers short-term and long-term rentals for RV camping. Best of all, this campground is just a short car ride away from many of the amazing attractions that Lake Elsinore offers.
Fees: This park asks campers to get in contact in advance to ask for rates and to make reservations.
10. Launch Pointe Recreation Destination and RV Park
Launch Pointe is an excellent place for vacationers to stay as it sits right beside the lake. That means you're close to water-sport activities, the beach, swimming and more.
There are many exceptional amenities to enjoy at this park too. Such as a splash pool, restrooms, showers, electricity, and access to a huge beach.
The splash pool, playground and multitude of kids' activities make this a great place to stay if you have children. Launch Pointe also has a wide array of views as the park is large, so you can choose what site will best suit your stay.
Launch Pointe also has opportunities to book a stay in their Vintage Trailer Village or enjoy the unique experience of staying in one of their themed yurts. While they don't have room set aside for tented camping, it's possible to ask in advance if tent and vehicle can be accommodated.
Fees: Between $60 to $140 per night for two people depending on the site.
11. Elsinore Hills RV Park
Many of the campsites and RV parks on the waterfront are stuck amidst the town's action and nightlife. But Elsinore Hills RV Park is under a 10-minute drive from the lake and offers campers the opportunity to go into town to enjoy the fun on Lake Elsinore and then retreat to the serenity of the campsite.
There are fantastic amenities like a swimming pool, tennis court, jacuzzi and fitness center, and campers can bring up to three pets along for the adventure! This site is used mostly by permanent residents but you can stay here on a month by month basis. That's made it a popular vacation spot for month long stays, especially with people escaping the colder weather further north.
Fees: Starts at $750 per month.
12. Casa De Moble RV Park
Casa De Moble was recently refurbished and offers short-term and long-term stays in their tree-lined lot. With 66 RV or trailer spaces there's plenty of spots for a picturesque stay in this quiet Lake Elsinore neighborhood which is only a few minutes from the lake.
They have a full array of amenities that make a longer stay appealing too. So if you do stay for longer, you can even bring your four-legged friends along, but it's worth knowing that small dogs only are allowed on site. This secluded area is perfect for anyone looking for a peaceful camping setting out of town, but close enough to the lake to easily enjoy all of the fun!
Dispersed Camping At Lake Elsinore
DISCLAIMER: Below we give general advice, but we always recommend staying in an official campsite. If you choose to go wild camping/dispersed camping, then make sure you do so with someone who already knows the area where you're planning on camping for your own safety.
Dispersed camping, or remote camping, is for those individuals who prefer not to set up camp in an official campground. If you relish the outdoors and like to be immersed in nature, this is a fun option to experience the area's wilderness.
Lake Elsinore is better known as a destination filled with RV resorts than dispersed camping. But the Cleveland National Forest allows campers to remote camp in the forest for 14 days out of every 30. However you are required to have a Dispersed Camping Wilderness Permit when dispersed camping at Lake Elsinore. You can get a permit by clicking here.
You cannot light fires outside of developed campgrounds. But may use portable stoves or lanterns depending on whether fire restrictions have been put in place due to the weather. (Recommended: Dispersed Camping in California).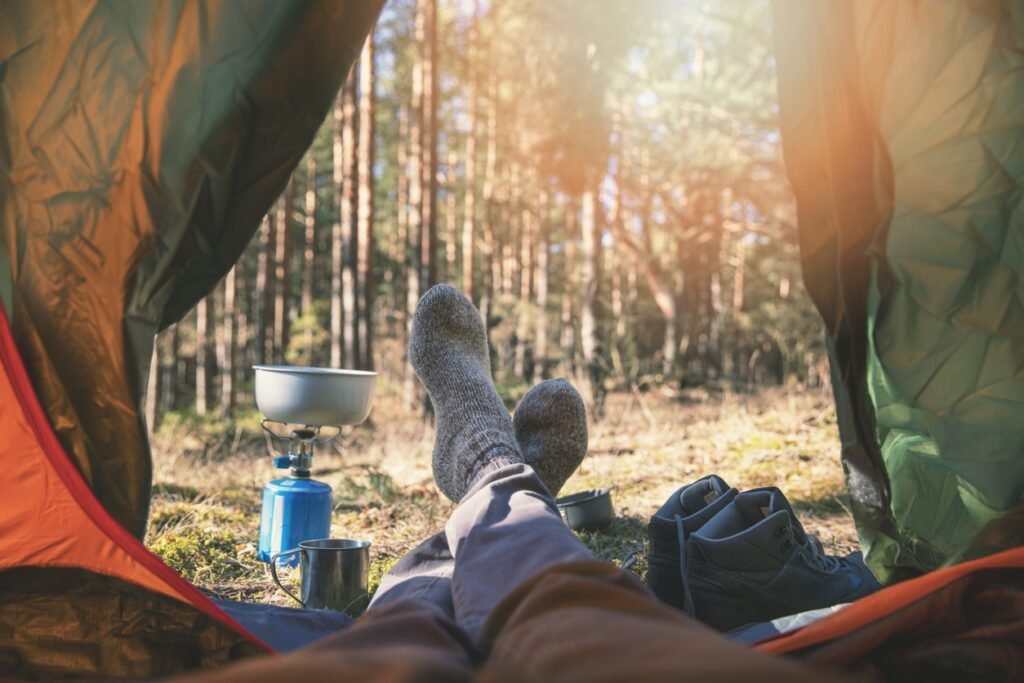 Other Than Camping, What Else Is There To Do At Lake Elsinore?
Besides the shopping, museums, and endless fun on the lake, Lake Elsinore also has wonderful hikes to Ortega Falls and the San Juan Trail.
In this area you can also go skydiving, off-road driving, dirt biking at the Lake Elsinore Motorsports Park, rock climbing, and mountain biking.
There are plenty of parks surrounding Lake Elsinore where you can enjoy a picnic and spend time in the sun too.
Personal safety is something to keep in mind whenever you are in a place that is a hub of activity. Lake Elsinore is a wonderful spot to vacation and live, but it does have a high crime rate compared to other areas of California.
The Conditions At Lake Elsinore
The weather is excellent year-round in the area. However, an important thing to note about the freshwater lake is that recent higher than average temperatures and drought has damaged the lake's health.
All freshwater bodies are teaming with micro-organisms like bacteria, algae, and viruses, but these can sometimes be harmful to humans. Take precautions not to be exposed to any bacteria by showering after swimming in the lake, and exiting the water if you get a wound. Avoid areas on the lake that have any surface green algae bloom.
Lake Elsinore Camping: Our Final Thoughts
Lake Elsinore offers something for everyone. Whether you want to escape the big city for some lakeside adventure, or just want to settle into California's bountiful wilderness.
From rustic camping in the Cleveland National Forest to RV living on the waterfront, Lake Elsinore is a little piece of Californian paradise that everyone can take advantage of.