Wandering our World is reader supported! If you purchase anything through a link on our site, we may earn a commission at no extra cost to you.
Last updated on May 24, 2023 by Wandering our World
If you thought Key West was fun during the day, it's even better after sunset! As the sun goes down over the horizon, this city comes alive for a night of revelry as the streets and establishments light up and travellers step out of their hotels to enjoy the night of their lives.
From the best bars on the beach, to casual restaurants for dinner, catch the latest happy hours and spectacular discounts thanks to our local's guide to Key West nightlife. With some research done in advance, you might even get a chance to catch some of the many events and festivals that add spice to Key West throughout the year.
Duval Street, which stretches from the Atlantic Ocean to the Gulf of Mexico, is the hub of nightlife in Key West. We show you the best of what this street has to offer, as well as the rest of Key West right here!
We also share with you the best bars, best nightclubs, evening entertainment spots, places to grab late night food and more. This is the only guide to Key West nightlife you will ever need.
But first: From legendary dive bars to back-room gambling, here's our run down of the best bars in Key West:
The Top Ten Bars in Key West
1. Captain Tony's Saloon
This watering hole is where author Ernest Hemingway's used to hang out, and he pretty much occupied a bar stool on the grounds here up until 1938!
Captain Tony's Saloon is a dive bar covered with thousands of bras hanging from its ceiling, alongside business cards, license plates and the usual dive bar decor of dollar bills mixed in between.
With music playing on all seven days of the week, Key West's oldest bar is the first spot you must visit! Down some delicious draft beer, rum or ale and dig into some good bar snacks all at reasonable prices.
Captain Tony's Saloon was once a morgue and later an ice-house, before changing hands as a drinking establishment – it's a historic Key West nightlife spot you really can't miss.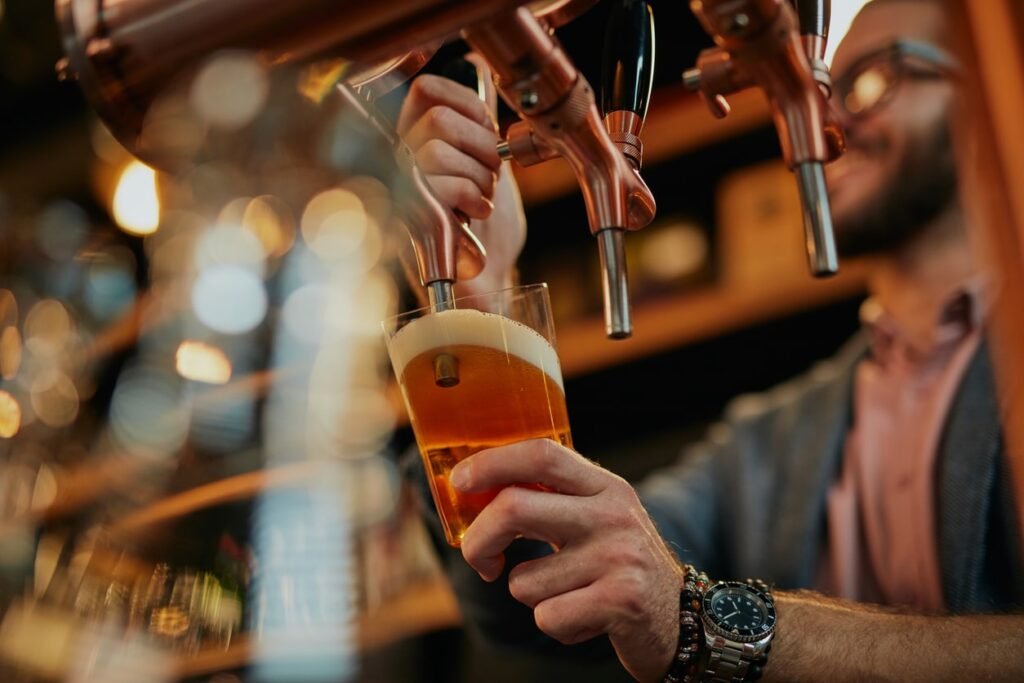 2. Sunset Pier
A classy waterfront extravaganza, this colourful and vibrant pier off Ocean Key Resort and Spa is an amazing place to enjoy some mouth-watering tropical cuisines, dance to live music and experience stellar sunsets from a front row seat. You'll be dining and drinking directly on the pier with the best waterfront views you can imagine.
Sunset Pier is one of Duval Street's many attractions and serves many Key West seafood classics like conch fritters and crab cakes, alongside Cuban cuisine.
The extravagant cocktail menu is a real draw as well, with a staggering six types of margaritas, four caipirinha flavours alongside frozen drinks topped with an extra shot of Cruzan dark rum. Go knock yourself out and party on the pier!
3. Green Parrot Bar
If you want to avoid the crowds of Duval Street, tucked away on Whitehead Street is Green Parrot Bar. This local favourite is a much-loved dive spot with a jukebox playing blues, zydeco and reggae, setting the mood for a lively night out.
A drinks-only establishment, Green Parrot has pool tables and darts for daytime fun as well as free popcorn. At night, bands from across the country play the latest tunes as the sun begins to set. Listed as one of the World's 50 Greatest Bars, the Green Parrot is one of the city's oldest bars and one of Key West nightlife's must iconic spots.
4. The Rum Bar at The Speakeasy Inn
A Duval Street favourite, The Rum Bar at the Speakeasy Inn is the best place to go to if you are looking for the best cocktails in town. The talented mixologists here toss together unique combinations, creating some exotic concoctions.
From mojitos with mint and lime juice, to rum based mixes, get ready to settle here for a while as you sample everything on offer. The Rum Bar also boasts over 230 bottles of rum and the friendly staff are more than happy to help you select which one to try.
At this quiet and cosy bar, specialty drinks such as the Rum Runner, Goombay Smash, and Dark & Stormy, are some of the best mixes to try if you love rum. This is one of our favorite bars to start any Key West nightlife adventure!
5. Sloppy Joe's Bar
Another of Key West's infamous bars – get sloppy at Sloppy Joe's Bar! Taste the several craft beers on tap, and then get ready to party as when the day comes to an end this place gets busy and rowdy as tables are moved away and space is made for dancing.
Open right through the year, live bands provide nighttime entertainment, while hamburgers, salads and the like provide the sustenance you need to dance the night away.
With gambling and billiards happening in the back room, Sloppy Joe's Bar also boasts the longest bar in town. Its excessive food and beverage menu will have you reeling at what to choose, but as a local favourite, everything is a must try at Sloppy Joe's Bar.
6. The Bull and Whistle Bar
Another of the Duval Street favourites, if you are looking for an authentic old-school bar experience at Key West, you have to head over to The Bull and Whistle.
Accompanied by an open-air seating area, this pub is popular amongst locals and tourists alike. The rooftop restaurant turned bar makes a great place for parties and it also hosts holiday celebrations that always gather crowds.
Technically three bars in one, The Bull on the ground floor is an open-air bar, while The Whistle Bar, located on the second floor, is a quieter one.
Then there's the rooftop Garden of Eden, a clothing-optional rooftop bar that has become quite famous in recent years. No phones allowed though, considering this is a place where people drink sans clothes…..
7. Alonzo's Oyster Bar
Alonzo's Oyster Bar is a casual waterfront restaurant found in the seaport of Key West. Offering some stellar happy hours along with amazing views, and an exciting mix of seafood, from shrimps to clams and fish. In fact there's a wide selection of menu items like Peel and Eat Shrimp, Spinach Parmesan Oysters, Key Lime Garlic Oysters and Steamed Clams. Tasty!
But if you want to catch a table, make sure you head over early. Once happy hour is wrapped up, stay for dinner and sample the Mango Lobster Salad, Coconut Fried Grouper, or Snapper in a spicy Cajun cream sauce. A must-try at Alonzo's Oyster Bar is their Key Lime martini. Post-dinner enjoy a cigar in one of the cosy leather chairs at the Berlin Bar.
8. Schooner Wharf Bar
The Schooner Wharf Bar is a prime spot in Key West to watch the sunset over the historic waters here. For a drink in hand, try their rum runners, daiquiris and the Schooner Breeze, a heady concoction of four flavours of rum with cranberry and pineapple juice.
For a meal, try out their gorgeous fresh seafood menu featuring Fresh Shucked Oysters, Pick and Peel Shrimp or Stone Crab Claws. Once the sun takes its leave, head over to the bar for some amazing live music and entertaining magic shows. Drink, dine and dance at the Schooner Wharf Bar!
9. Hog's Breath Saloon
Right across Mallory Dock is one of Key West's drinking hotspots, the Hog's Breath Saloon which serves strong drinks and classic local snacks such as conch fritters and fish nuggets.
But the main attraction at Hog's Breath Saloon are the epic annual events such as the Homemade Bikini Contest and the Hair of the Hog Leather and Lace Contest. Raunchy!
Dig into some fresh seafood from their raw menu when there, or try their specialities such as Hogs Breath Garlic Shrimp Dip, Whole Hog BBQ Nachos and The Hog Chili Dog. With indoor and outdoor dining, enjoy a cold drink and good food alongside some epic entertainment and music. Complete your visit to the Hog's Breath Saloon by purchasing their iconic Hog's Breath t-shirt or other merchandise at their store.
10. Bourbon St. Pub
One of Key West's most popular gay bars, the Bourbon St. Pub was opened in 1995 but later morphed into a watering hole complex consisting of four bars! That includes an outdoor Garden Bar theatre, tiki bar and pool area, which is men-only and clothing-optional.
This popular gay pub is Key West's only video music bar and is home to the island's largest television screen. VJs showcase exclusive videos, and at 10:00 p.m. the Men of Bourbon St. Pub take to the stage for go-go dancing and more X-Rated entertainment.
If you don't feel like leaving this establishment, you can even book a room at the New Orleans House, an all-male guesthouse attached to Bourbon St. Pub. The rooms at the New Orleans House overlook the pool area. Hosting entertainment and events every night, including male go-go dancers, pool parties and an annual Mr. Pride contest, Bourbon St. Pub might just be the hottest gay bar in Key West.
The Four Best Nightclubs in Key West
1. Virgilio's
Let's start off with something low-key before going full on party! Virgilio's is a classy martini bar and club with live music seven days a week and a dancefloor perfect for getting up and enjoying live Latin music.
If you're looking for a bargain then head here on a Monday where martinis are just $7. This place gets packed quickly, but no wonder – the music, bartenders and martinis are all some of the best in Key West.
2. Aqua Bar and Nightclub
For something a little more rowdy, head down to Aqua on Duval Street. Expect drag shows, DJs every night, plenty of opportunities to dance and space to do so, and very affordable drinks.
The drag shows here are very interactive and high energy, as are the DJs and the friendly bar staff. This is probably one of the most fun Key West nightlife spots you can get!
3. Sidebar Key West
Sidebar is the biggest nightclub in Key West (and probably the only 'proper' one too), and with live DJs, themed parties, a late night dance floor, fantastic bartenders, and open until 4am, this venue is arguably the best Key West nightlife spot too.
Expect great music, a fun atmosphere, superb lights and effects. It's gay friendly and has affordable drinks, plus as it's in the Aqua complex it's easy to come here directly after a drag show!
4. Durty Harry's & Rick's Bar
This Key West nightlife venue appears to have it all. Durty Harry's is a compound made up of multiple bars, a strip club, a pizza joint, live music every day, and a high energy atmosphere.
There are outside and inside areas to dance and drink the night away, reasonably priced drinks, and fair and safe security. Head up to Rick's Bar which is attached to the complex for more of a nightclub feel. Open until 3am, this is a must visit place in Key West and one that guarantees fun.
Key West Nightlife: The Top Five Things to Do After Sundown
1. Go on a Sunset Cruise
Sightseeing and cocktails! Set sail into the sunset as you live life off the coast of this amazing place by taking a sunset drinks cruise.
Nothing is better than a drink in hand as you gaze into the receding sun. Enjoy some amazing island-style dinners on the bigger cruise boats as they offer a buffet, giving you the energy you need to party the night away when you dock.
2. Bar Crawl on Duval Street
Duval Street stretches from the Atlantic Ocean to the Gulf of Mexico and is the hub of party life in Key West. In this bar-lined stretch of street, pull up a bar stool and order a drink and then move on to the next bar. Home to legendary bars, live music and chilled drinks, you must experience a Duval Street bar crawl once in your life,
3. Visit the Key West Theatre
A stunning performing arts centre, the Key West Theatre and Community Stage was built in 1848 but was first used as a Baptist Church. It then transitioned from a church to a dance club, and then a concert venue over the years, before finally turning into a fully functioning performing arts centre. Featuring music, concerts, comedy and variety specials, it adds to the fun of Key West!
4. Discover the Key West Ghost Tour
We dare you to go on one of Key West's famous ghost tours! Take a macabre voyage through the haunted streets of the Old Town as your host narrates tales of murder, disease and misfortune that has shrouded Key West's history. The tour will have you visiting the city's morbid past with visits to lost tombs, and areas where ghosts have been sighted before.
5. Drop by Tropic Cinema
For visitors who love classic films more than the latest box office blockbusters, Key West Tropic Cinema is a must visit. Get your ticket to see unique documentaries, independent films, foreign films and classics.
Tropic Cinema boasts four screens with state-of-the-art digital projection and plush seating, and has an intimate ambience. The Stanley and Judith Zabar Concession Bar serves popular beers and wines and an array of popcorn slathered in a variety of tasty flavours.
The Top Ten Restaurants in Key West
Every great Key West nightlife adventure starts with exceptional food, cocktails and a special atmosphere. These restaurants and bars have just that, while some also offer great late night grub to keep energy levels up!
1. Smokin' Tuna Saloon
One of Key West's many open bars, Smokin' Tuna Saloon is one of the best places to head for some stellar live entertainment, food and drinks. While it may not be located near the beach, Smokin' Tuna makes for a great after hours hangout spot thanks to its chilled vibe and good music.
Dig into some of the amazing dishes that this place serves up, from Tuna Dips, Tuna Chili, Tuna Melt to the Rare-cooked Tuna in Soy-Ginger-Wasabi Sauce, which is their signature special. Located on Charles Street, the Smokin' Tuna store right next door sells classic Smokin' Tuna tees, hats and hoodies it's a great place to snatch a souvenir!
2. The Lobster Shack Key West
If lobster is your favourite, head over to The Lobster Shack Key West. Found close to the beach, this restaurant is open for lunch and early dinner.
Serving some mouth-watering variations on fresh lobster, just don't forget to try the Key West-style Lobster with Butter and Key Lime juice! Round up your meal with a decadent Key Lime Pie that will awaken your taste buds.
Have your fill at The Lobster Shack Key West and store the calories and energy for a crazy night out in Key West.
3. Better Than Sex
Looking for the best desserts in town? Better Than Sex is the place to go as this self-named 'dessert restaurant' whips up some sinful delicacies that will have you craving more.
Choose from Kinky Key West Cream Pie, Banana Bazooka, Slip It In, Fork-You Fondue and Cookie Nookie Pie and Between My Red Velvet Sheets Cheesecake, to dig your fork into.
Besides desserts they also serve a selection of cocktail wines and beers such as the Choco-Cab cocktail – a cabernet served in a chocolate-rimmed wine glass – it's heaven. Another must-try is the Kiss Me, Carolyn, which is a combination of Ayala champagne in a soft caramel dipped wine glass rimmed in bruleed raw sugar.
The cosy and intimate setting here makes this a great place for a romantic after-dinner sweet treat, and sets the mood for an amazing Key West nightlife adventure.
4. Jack Flats
A great watering hole for sports fans, Jack Flats is the go-to bar if you want to catch the latest in the sports world courtesy of their 19 big screen TVs.
A popular lunch spot for sports fanatics and locals, this spot is also known for its generous food portions and reasonable prices. Their celebrated home-style cooking creates some scrumptious pot roasts, tater tots and meatloaves. The Shrimp and Bacon Club and monster hamburgers have their own set of fans as well.
When its game day, try the Pretzel Bread appetizer with gooey cheese followed by the Mahi Sliders which are perfect for sharing. Take a seat at a booth or the bar, relax and catch the game while enjoying the extensive beer selection.
5. The Waterfront Brewery
This craft brewery is also a restaurant and entertainment center! Waterfront is an all-in-one spot with a pub area consisting of 18 TVs and two big screens and an upstairs deck area which is an ambient space for fresh seafood dining.
They have a changing draft menu from beers brewed in-house, but signature brews like the Crazy Lady Honey Blonde Ale, made with local honey from Keez Beez is one of the all-time favourites.
One of the biggest breweries in Key West, The Waterfront Brewery serves customers a wide range of beer such as their signature Crazy Lady, Truman Double IPA and Pallina, all brewed on-site. Grab a beer, some food and enjoy Key West life!
6. Mr. Z's
If you are on the hunt for some of the best pizza in town, Mr. Z's is the place to be. It's also the best spot to stop for a quick slice on the way home after a night of partying, as Mr. Z's is open till 4.00 AM!
With reasonable prices, a slice of pizza from Mr. Z's is easy on the wallet after a heavy night. Serving New York style pizza, you can also try their authentic Cheese Steak Sandwiches served with their famous American cheese sauce. The Roast Pork Italiano with spicy broccoli rabe and sharp provolone is a perfect bite to sink your teeth into at the crack of dawn too!
7. Sandy's Café
A perfect place to refuel on your night out, Sandy's Café is a small Cuban restaurant where you can order Piña Coladas, an espresso-style brew to share, or a café con leche – a Latin latte with steamed milk.
The Midnight (Medianoche) Sandwich, which got its name from being a staple served in Havana's night clubs around midnight, makes a great dish to sustain you for further partying. It's similar to the traditional Cuban sandwich, but with roast pork, ham, mustard, Swiss cheese, and dill pickles pressed between warm slices of soft, sweet egg dough bread similar to Challah. What more can you ask for! Snack in hand, head over to whatever's next on your Key West nightlife wish list.
8. Azur
Just neighbouring Duval Street, you can find Azur, a restaurant that serves brunch and dinner. For brunch the menu is filled with sweet and savoury delights such as the appealing Key Lime French toast with wild berry compote, and mouth-watering Crab Cake Benedict with grilled tomatoes and hollandaise.
Come dinner time, the menu takes a more exotic theme with some amazing seafood dishes such as the Seafood Risotto which is filled with mussels, clams, scallops, shrimp, fish, and chorizo, and then topped off with garden fresh veggies.
9. El Siboney Restaurant
It's easy to miss this post-office looking restaurant, but the food served at El Siboney is a must-try and has to be added to any Key West travel itinerary.
They specialise in Cuban food, paella, and local seafood classics with dishes like Ropa Vieja, Lightly Breaded Grouper, and delectable bowls of the Classic Conch Chowder. There's also weekly specials like Red Bean Soup and Chicken Enchiladas on Tuesday.
This family-friendly Cuban restaurant offers the best in authentic Cuban dishes for budget conscious travellers. If you want to try their famous Paella Valenciana, make sure to call ahead and place an order. To complete any tantalizing meal here, down everything with a pitcher of their homemade sangria. Delicious.
10. Thirsty Mermaid
This raw bar and restaurant is known for its rotating menu of East and West Coast oysters and local seafood. It's great for groups as the appetizers are a real crowd pleaser.
Try the Steamed Little Neck Clams served with leeks and smoked bacon, Fried oysters with chipotle remoulade, or Sautéed Bahamian Conch with marinated artichoke salad. If you aren't a fan of seafood, worry not, their homemade Gnocchi with Spicy Short Rib Ragu, and burgers that are piled high with all types of toppings, are as good as you can get.