Wandering our World is reader supported! If you purchase anything through a link on our site, we may earn a commission at no extra cost to you.
Last updated on March 1, 2023 by Wandering our World
Kelowna (pronounced ku-low-nu) sits in the Okanagan Valley, on the east shore of the pretty Okanagan Lake. As part of British Columbia's wine country, Kelowna is known for its easygoing atmosphere, food and drink scene, and outdoor activities. That's what drives nearly half of all visitors to Kelowna in the first place!
Even if you're in Kelowna to experience the great outdoors, when you're done exploring the lake or hiking the trails, you'll want to check out Kelowna's nightlife!
CONTENTS:
Getting to Know Kelowna and its Nightlife Scene
The Best Eight Places For Drinks, Music, and Entertainment
The Four Best Places For Patios and Views
The Five Best Places For Sports, Events, Games & Shows
Kelowna Nightlife: Final Thoughts
Getting to Know Kelowna and its Nightlife Scene
The Okanagan Valley sits in southern British Columbia, roughly halfway between Vancouver, BC, and Calgary, AB. The Valley is a top-producing wine region, and between that and its lakeside location, the cities and towns in the valley are known for their relaxing atmosphere.
Kelowna is no exception!
The weather in Kelowna (and the entire valley!) has ensured that Kelowna has become famous for its food scene, in addition to its wineries. Fresh local ingredients dominate the menus of Kelowna's restaurants and the city has also become known for craft beers and local ciders over the last few years, making it a food and drink enthusiast's dream destination.
Kelowna is a friendly city for the LBTQ+ community too and visitors with mobility concerns, with accessibility guides available.
Downtown Kelowna is the city's heartbeat, and the six-block Cultural District is home to Kelowna's artistic and creative endeavors.
The Kelowna nightlife scene is as laidback as the rest of the city! Still, whether your idea of a fun night out is a high-energy nightclub full of dancing, casual bars filled with live music, or relaxing drinks overlooking the lake and mountains, Kelowna has you covered.
Keep reading to explore the many options Kelowna nightlife has to offer you!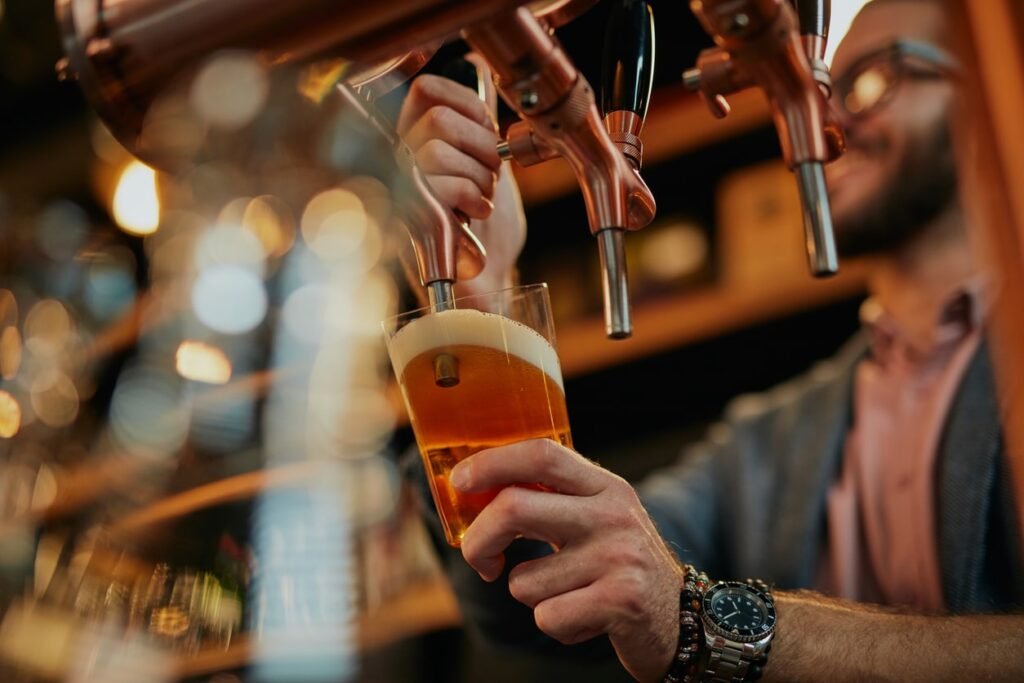 The Best Eight Places For Drinks, Music & Entertainment
The beautiful weather, vineyards, and orchards of Kelowna make it the perfect place for unique, local drinks!
Once known chiefly for its wineries, Kelowna has begun to make its name among craft beer brewers and cideries. That means your nights out will never be without a fun drink in hand!
Your options are numerous when looking for the perfect place to go for drinks. And you're also sure to find entertainment to go along with your drinks, whether it's live music, a DJ and dancing, or even games! (Related: Cheap & Free Things To Do In Kelowna).
That said, here are our favorite Kelowna nightlife spots for drinks, music and entertainment:
1. Upside Cider
Upside Cider was founded by an organic farmer named Isaac, whose family is responsible for the biggest organic fruit-packing house in Canada, making Upside Cider super special. Their ciders are made with organic apples from their own farm and fruit from other local farmers.
If you're not into cider, you can also get local craft beer and local wine, as well as charcuterie, wood-fired pizza, and a variety of vegan plates. All of this from a laidback location on their farm!
Upside Cider looks unassuming with its concrete, boxy exterior. And if you head inside the lounge, the industrial vibes continue with concrete, exposed brick, and wooden accents. But the cidery's personality really shines on the patio! Hang out under the upside-down, bright red tractor on the picnic tables and couches that overlook the apple orchard while you sip your local brew. It's a great spot to start any Kelowna nightlife adventure.
Upside Cider is located at 2555 Gale Road, Kelowna, BC.
Hours
Monday—Thursday: 11 am-9 pm
Friday—Saturday: 11 am-11 pm
Sunday: 11 am-10 pm
Kitchen: Monday—Sunday: 12 pm-8 pm
2. Forbidden Spirits
For another take on orchard-grown apples, visit Forbidden Spirits. They serve vodka, gin, brandy, whisky, and more made with locally grown apples that are distilled an incredible 25 times!
Visit the distillery, located on their orchard, and check out their events schedule for live music on Forbidden Fridays and Sinful Saturdays. Their angular building stands out from its orchard location, with tables on the grass and mountains on the horizon. And large windows ensure you can take in the scenery whether you're inside or out!
Forbidden Spirits is the perfect place to soak in delicious local drinks, beautiful scenery, and exciting entertainment.
Forbidden Spirits' tasting room is located at 4400 Wallace Road, Kelowna, BC.
Hours
Sunday—Thursday: 12 pm-6 pm
Friday—Saturday: 11 am-8 pm
3. Barn Owl Brewing
Barn Owl Brewing is located inside the historic Surtees Barn. Using a system called Brewha, Barn Owl can make a variety of craft beers within their small space and participate in environmental sustainability at the same time by using less water, chemical, and energy and feeding spent grains to cows at a local cattle farm.
Their beers include porters, pilsners, stouts, IPAs, and more, and they host a variety of local food trucks outside. Live music every Wednesday night makes them a great stop for some weeknight Kelowna nightlife too!
However the most defining feature of Barn Owl Brewing is, of course, the barn! The brick-red building has a small patio for outdoor seating, but it's the loft that's really something special! Its décor features everything from barrels to velvet armchairs to an eclectic mixture of lamps and light fixtures, and the high heritage ceilings are a real showstopper! It's the perfect cozy spot for a drink and music.
Barn Owl Brewing is located at 102-4629 Lakeshore Road, Kelowna, BC
Hours
Monday—Wednesday: 3 pm-10 pm
Thursday: 12 pm-1 0pm
Friday–Saturday: 12 pm-11 pm
Sunday: 12 pm-9 pm
4. Jack Knife Brewing
Jack Knife Brewing is a quirky space for beer, pizza, and good vibes. They're committed to inclusivity, designating themselves as a BIPOC LGBTQ2S+ safe space and partnering with the Diversity in Brewing Scholarship Program at Kwantlen Polytechnic University to ensure communities with less access to brewing opportunities can learn the trade.
Their beers rotate but include pale ales, IPAs, stouts, and more. They also serve classic pizzas and a few specialty pizzas that change weekly. And with regularly-scheduled live music, a tasting room, and a patio, Jack Knife Brewing is a sure place to have a good time!
They pride themselves on weird beer, and their location shows it! Their simple concrete and tin building boasts a large, well-lit patio in the alleyway with shipping containers and a mural. And inside, chalkboard signs, graphic art, and uniquely styled glasses and cans keep the weird wizard vibe strong.
Jack Knife Brewing is located at 727 Baillie Avenue, Kelowna, BC
Hours
Tuesday—Saturday: 12 pm-10 pm
Sunday: 12 pm-9 pm
Closed Monday
5. Gotham Nightclub
Gotham Nightclub is a club and concert venue in Downtown Kelowna. So if dancing is your vibe, you're going to love Gotham! Be sure to check their website for updated entry requirements, which in the past have included two forms of identification, a cover charge, and following Gotham's dress code.
Get there around 9 pm or be prepared to wait because dancing at Gotham is popular! That's because they boast three in-house DJs playing everything from popular hits to unreleased new music. If you love to drink and dance in an exciting atmosphere, get to Gotham and be ready for high energy and a classic nightclub experience.
Gotham Nightclub is located at 272 Leon Avenue, Kelowna, BC
Hours
Thursday—Saturday: 9 pm-2 am
Doors open at 9 pm, last call at 1:30 am
6. The Blue Gator
The Blue Gator calls itself the Home of Live Music in Kelowna. And for a good reason! They have been hosting live music for over 20 years, and they want you to feel comfortable dancing in a relaxed atmosphere.
Offering classic beers like Pilsner, Coors Light, and Rickard's Red, The Blue Gator is sticking with tradition—because it serves them well. More of a classic blues bar than a nightclub, The Blue Gator is designed for fans of live bands with a stage for performances and plenty of room to dance—but they also have plenty of tables for those who'd rather sit and listen.
Check out their event's calendar to find out when the next live show will be (most often on Thursdays, Fridays, and Saturdays), and get down to The Blue Gator for a relaxing night of drinking and dancing.
The Blue Gator is located at 441 Lawrence Avenue, Kelowna, BC
Hours
Monday—Saturday: 10:30 pm-6 pm
Friday and Saturday nights: 8 pm-1 am
7. BNA Brewing
BNA Brewing is a one-stop-shop for local craft beer, good eats, and entertainment. They are located in the cultural district and have a tasting room, full-service restaurant, bowling alley, arcade games, and even board games! You can also keep an eye on their social for live events, including concerts and comedy shows!
Inside, you'll find a cozy, pub-like atmosphere with exposed beams, long tables, and even taxidermy on the walls. You can also hang out on the concrete patio under string lights or in their stylish, art deco bowling alley.
BNA brews its beers on-site and keeps an updated, rotating list of what's on tap. Their brews include lagers, pilsners, sours, pale ales, IPAs, stouts, and more. And while beer is king at BNA, they also serve custom cocktails and local wines in their eatery. It's all happening at BNA Brewing!
BNA Brewing is located at 1250 Ellis Street, Kelowna, BC
Hours
Tasting Room Monday—Sunday: 11 am-until midnight
8. Friends of Dorothy
Friends of Dorothy is the first LGBT2Q+ cocktail lounge in the Okanagan Valley. Its Wizard of Oz-themed cocktails and wide range of wines, beers, and ciders will have you ready for the dance floor!
And when you need sustenance, the menu of entrees and shareable eats is sure to have something that satisfies. Not to mention, the calendar at Dorothy's is always packed with regular late-night karaoke, drag shows, game nights, and burlesque shows.
Dorothy's is an eclectic mix of Marie Antoinette and The Wizard of Oz in a lounge atmosphere. It's for sure worth a visit.
Friends of Dorothy is located at 315 Lawrence Avenue, Kelowna, BC
Hours
Monday—Friday: 4 pm-1 am
Saturday: 12:30 am-1 am
Sunday: 11 am-1 am
Happy Hours:
Daily 4 pm-6 pm
The Four Best Places For Patios and Views
One of the main attractions of Kelowna is its beautiful location alongside Lake Okanagan with the mountains in the distance. And if you're looking for a more relaxing night out, finding a lakeside patio to enjoy the view with dinner and drinks is the perfect option.
The good news is that there are plenty of options for just that! You will get lovely views and drinks from the many local wineries, breweries, and cideries in the city, and you'll also experience meals from excellent chefs made with local produce.
Here's our favorite Kelowna nightlife spots for patios and views!
1. Earls on Top
The patio at Earl's on Top overlooks Lake Okanagan and includes a rooftop bar and indoor and lounge seating. Don't worry if you can't sit on the roof, as their floor-to-ceiling windows ensure a view of the lake and mountains even when dining indoors!
Earl's serves a wide variety of delicious food—everything from sushi to burgers to plant-based entrees to ribs. They also offer up a massive variety of drinks, including an assortment of alcohol-free cocktails!
With a daily late-night happy hour that features food and tipples, Earl's is a great place to head for a midnight snack and a nightcap—or a pick me up before you head out dancing!
Earls is located at 211 Bernard Avenue, Kelowna, BC
Hours:
Monday—Thursday: 11am-11pm
Friday: 11am-12am
Saturday: 10am-12am
Sunday: 10am-11pm
Happy Hours:
Daily 2-5 pm and Sunday—Thursday 9 pm-close
2. Craft Beer Market Kelowna
Craft has many locations around Canada, but their Kelowna outlet is an excellent spot for patio dining thanks to the beautiful views of Lake Okanagan.
Situated in the former Paramount Theatre, which opened in 1949, the building Craft sits in just adds to the vibe and feel of its historic location. The large patio has both covered and uncovered tables with direct views of the lake and mountains in the distance.
Inside, Craft has a modern, industrial vibe with exposed wooden beams and steel draft lines running along the ceiling to the bar.
You can take advantage of Okanagan's largest draft beer selection at Craft's daily happy hour, which includes a late-night happy hour Sunday through Thursday. You can also enjoy a variety of foods from Craft's menu, which they kindly label as plant-based or sustainable. Craft is an excellent spot for food and drinks with incredible night-time views and late-night happy hours.
Craft is located at 258 Bernard Avenue, Kelowna, BC
Hours
Sunday—Wednesday: 11 am-12 am
Thursday—Saturday: 11 am-1 am
Happy Hours:
Monday—Friday 2 pm-5 pm and Sunday—Thursday 9 pm-close
3. Cactus Club Café
Cactus Club Café has two locations in Kelowna, one at the Kelowna Yacht Club and the other on Banks Road.
The waterfront café overlooks the lake at night with beautiful sunset and evening views. The building itself is striking, with two levels and floor-to-ceiling windows, and outdoor seating on each level.
Both locations offer a variety of cocktails, seasonal drinks, wines, beer, and spirits, in addition to fine-dining menu options. You can take advantage of their daily happy hour too, which includes a late-night happy hour Sunday through Thursday.
You can also take advantage of half-price bottles of wine every Tuesday. This is the ideal place for great views and great drinks!
Cactus Club Café's waterfront location is at 1-1370 Water Street, Kelowna, BC.
Hours
Sunday—Wednesday: 11am-12am
Thursday—Saturday: 11am-12:30am
Happy Hours:
Daily 2 pm-5 pm and Sunday—Thursday 9 pm-close
4. Hotel Eldorado
If you're looking for a European-inspired, relaxing night out, look no further than Hotel Eldorado! You'll feel like you've been transported to a European resort town at The El, which strongly contrasts the modern, industrial style of many of Kelowna's other bars and restaurants. In fact its peach and white exterior, traditional awning, and long boardwalk and pier are like a step back in time.
Hotel Eldorado features several different restaurants, each with its own vibe: Lakeside Dining, Boardwalk Dining, Eldorado Lounge, and The Whisky Room. Whichever you choose, the head chef offers a classically inspired menu featuring local, seasonal, and organic foods.
You'll get to choose from a wide variety of drinks, but The El is known for its wine menus and whisky. Take advantage of their late-night menu and enjoy a drink overlooking the gorgeous Lake Okanagan at the weekend.
Hotel Eldorado is located at 500 Cook Road, Kelowna, BC
Hours
Sunday—Thursday: 7 am-10 pm
Friday—Saturday: 7 am – 12 pm
Late Night Menu: 9 pm-10:45 pm
*Hours vary at different locations within the hotel
The Five Best Places For Sports, Events, Games & Shows
1. Dakoda's Sports Bar and Grill
If you're into food and drinks but want something other than live music or dancing to entertain you, you should check out Dakoda's Sports Bar.
There you'll find a familiar, old-school sports bar atmosphere, and Dakoda's has enough screens to help you catch all the NFL, NHL, NBA, MLB, UFC, and CFL games.
There's classic pub food and drinks as well, and at the time of writing on wednesdays you can get 49-cent wings until 11 pm – perfect for those late-night munchies!
Dakoda's is also the home of Kelowna Comedy, the spot to watch some of the best comedians from Canada and the US. And why not show up on Thursday nights for open mic night! Get there early, though, or call to reserve, because seating is limited.
Dakoda's is located at 1574 Harvey Avenue, Kelowna, BC
Hours
Daily 11am-close
2. Rusty's Sports Lounge
Rusty's Sports Lounge is another excellent spot if you want sports and games to accompany eating and drinking! They have 14 pool tables, and 24 TVs to keep you active or caught up with the game.
You'll get access to all MLB, NFL, NHL, NBA, CFL, and UFC games and matches. So why not grab a chair and enjoy their classic pub fare, beer, a glass of wine, or a cider in a simple, darkly lit atmosphere.
Rusty's is located at 1525 Dilworth Drive, Kelowna, BC
Hours
Sunday—Monday: 12 pm-8 pm
Tuesday—11:30 am-10 pm
Wednesday: 11:30 am-11 pm
Thursday: 11:30 am-10 pm
Friday—Saturday: 11:30 am-12 am
3. Playtime Casino
If you want to leave your Kelowna nightlife to chance, you should check out Playtime Casino! This is your stop for slots, table games, poker, delicious food, and drinks.
Take your chance at over 450 slot machines, and check out table games like EZ Baccarat, Blackjack, Roulette, and Texas Hold 'em, or try your hand at Friday and Saturday night poker.
When you need a break, you can grab food and drink at either Match Eatery and Public House for modern but classic favorites or Arcade Bar for beer and small bites.
Playtime Casino is located at 1300 Water Street, Kelowna, BC
Hours
Sunday—Tuesday: 10 am-1 am
Wednesday—Saturday: 10 am-2 am
Tables open at noon daily
4. Prospera Palace
Prospera Place is a hockey arena and event venue hosting a wide variety of entertainment like Cirque de Soleil, Monster Trucks, and Professional Bull Riders, as well as musical acts, including Bryan Adams and Styx, and comedy shows!
You can dine at Manhattan Point before events and, of course, grab concessions. And being only a short walk from the lovely Waterfront Park, Prospera Place is the perfect place to spend an evening out!
Prospera Place is located at 1223 Water Street, Kelowna, BC.
5. Kelowna Community Theatre
Kelowna Community Theatre is located in the city's Cultural District and began as a small community theatre but has grown into a vast entertainment hub.
Regular performances include ballet, dance, theatre, musicals, improv comedy, and concerts.
The theatre lobby boasts a cash-only bar and cash-only concession area where you can buy beer, wine, cider, highballs, coffee, tea, chips, candies, and chocolates.
The theatre also recently converted its lobby into a professional exhibition space featuring art from local artists. It's a wonderful place for a relaxing night of entertainment.
Kelowna Community Theatre is located at 1375 Water Street, Kelowna, BC.
Showtimes vary. Check events for details.
Kelowna Nightlife: Final Thoughts
Although known for its outdoor adventures and wineries, Kelowna is a great place for nightlife too.
Whether you're into dancing, live music, shows, or sports, the Kelowna nightlife scene has something for you. Take advantage of the relaxing vibes and local drinks on your night out while watching live music, dancing, or catching a live show or game. Have fun!