Wandering our World is reader supported! If you purchase anything through a link on our site, we may earn a commission at no extra cost to you.
Last updated on January 10, 2023 by Wandering our World
Southeast Asia is one of those regions of the world everyone wants to visit at some point in their lifetime. The vibrant cultures, incredible food, breathtaking landscape and exotic wildlife sum up the lure of this part of the globe – Thailand and Indonesia are no exception.
However Indonesia and Thailand are very different, so making the right decision about which to visit for your once-in-a-lifetime holiday is important.
For example, Thailand is busy, has livelier nightlife, is well set-up for tourists and has many excursion options. But if you want more of an adventure away from the tourist crowds, then the beaches and natural scenery in Indonesia is arguably more beautiful than Thailand.
But that's just the beginning when it comes to how these two countries differ. That's where we can help! Having visited both destinations we compare them below, showing you their differences, similarities and what to expect in each.
We show you which one has the better beaches, which is cheaper, what the excursions and food are like, how the nightlife compares and lots more. All so you can make the right decision.
So read on to begin your Southeast Asian adventure!
CONTENTS:
A Quick Overview Of Indonesia vs Thailand
How Do The Beaches & Landscape Compare
How Does The Culture & Vibe Compare
A Taste Of The East: How Does The Cuisine Compare
Which Should You Choose
A Quick Overview Of Indonesia vs Thailand
Both countries have beautiful landscapes, mountains, jungles and waterfalls to explore, so are perfect destinations for a sunseeker that's also looking for some adventure.
However if beaches are your main priority, then we think Indonesia could be a better choice than Thailand.
The pristine beaches in this country – and the thousands of Indonesian islands – are spectacular. We recommend some of our favorite beaches later on in this article.
Although the problem with Indonesia is that due to its geography, access to the best beaches can be much harder than in Thailand.
However Thailand with its thriving tourist sector is actually better catered for visitors, and you'll find countless stunning beaches there with facilities for tourists and many hotels with beachside views.
The beaches in this country are also great – albeit the most popular ones tend to get busy – and there are many excursion options geared towards tourists.
In Thailand it's much easier to get between the main tourist sights too, simply because infrastructure has been set up to help the tourist sector. That's not the case in Indonesia, which is why you often need to be an adventurous tourist to visit this country.
That said, Indonesia is also home to the world-famous island of Bali, which has many tourist excursions, upmarket hotels and some fun beaches. And a trip to Bali can easily be a two-week holiday in itself.
However away from Bali, because Indonesia receives less than 20 million tourists a year, while Thailand receives close to 40 million, you will find that most of Indonesia is far less commercialized than Thailand.
What that means is that an Indonesian vacation often feels more cultural, rustic, and less 'touristy' than one in Thailand.
In essence, Indonesia is a country with raw natural beauty, but it needs an adventurous traveler to discover it. The reward though, is finding stunning places and having them all to yourself.
Thailand's beauty is more easy to find – resorts are set up on the best beaches, and excursions are in place due to its much bigger tourist sector.
The downside in Thailand is you have to share the most beautiful spots with many tourists. That's not always the case in Indonesia where some of the best spots can be completely devoid of tourists!
Expect a friendly welcome in Indonesia too, where locals are more than happy to see tourists! That's not always the case in Thailand, where tourists are sometimes seen negatively.
One of the reasons for that is the many party tourists who come to Thailand to drink, enjoy Full Moon parties, and visit the red light districts in major cities.
But that Thai party scene and wild side does mean that if you're looking for a lively nightlife scene, Thailand is likely going to be a better destination for you than Indonesia.
And in terms of expenses, Indonesia tends to be a cheaper country than Thailand in regards to food, drinks, and accommodation too.
Below we look at some of the sights to see in each country and then compare the culture. By doing so, you will see in more depth what sets these countries apart from each other, and what excursions are available if you visit!
How Do The Beaches & Landscape Compare?
Indonesia: Beaches & Landscape
Indonesia's stunning coral reefs and sandy beaches give way to a forested volcano-sculpted inland. It's the perfect place to sunbathe, discover exotic wildlife, and go jungle trekking.
If you want to stick with sand but avoid the crowds, Nusa Dua is a little-known beach in Bali that has miles of golden coastline, and is perfect for swimming, sunbathing and kayaking. In fact head to Bali's north coast for great diving, but the south coast for superb surfing.
Staying in Bali, you have to visit some of the island's spectacular waterfalls! One of our favorites, Sekumpul Waterfalls, is in the mountainous north.
Known as being the most beautiful waterfall on the island, take the Wanagiri Hidden Hills road to this lush rainforest swimming spot that has lots of little hiking trails around it.
For the more adventurous traveler, scuba diving around Indonesia can also be a remarkable experience with a vast variety of wildlife on show.
The Bunaken National Marine Park, in the Bay of Manado, is a great spot to see tuna, sharks, sea snakes, and swim alongside manta rays and turtles!
Going even more remote, head to the breathtaking Gili islands. This group of three tiny islands are ringed by stunning turquoise sea and white sandy beaches. It's our favourite place to swim and snorkel throughout Indonesia. We think somewhere like this would be swamped with tourists if it was in Thailand, but as it's in Indonesia there's hardly any tourists in sight!
There's also an underwater sculpture made up of 48 human figures in a circle. This sculpture was build by Jason deCaires Taylor, a famous underwater sculptor, with the aim of rejuvenating the coral life at Gili Meno. Coral has now attached itself to the sculpture to create a stunningly haunting view.
Staying outside of the main tourist areas of Indonesia, head to one of the most significant islands in the country for wildlife. That's Komodo Island, where you can find the famous Komodo Dragons.
These beautiful scaly creatures are the largest lizards in the world, some growing to about the size of an alligator. They carry venom capable of killing humans, and can hunt everything, from other lizards to buffaloes to each other.
If you're a fan of the hairy animal variety, the island of Sumatra has you covered with its majestic orangutan. These human like orange-haired primates are some of the most incredible animals on Earth, and share 96.4% of our DNA. In fact we've written about Indonesia's stunning wildlife before – see here!
With the likes of Komodo Island, Sumatra, Bali, and some of the best scuba diving in the region, we think Indonesia is arguably the better wildlife destination than Thailand.
Thailand: Beaches & Landscape
Thailand is one of those rare destinations that has it all. Beaches for relaxing, a famous nightlife and party scene, and food that's known around the globe. It's also one of the most beautiful countries on the planet.
For fantastic beaches, head out into the islands. Phuket's famous beaches include Kata Beach, which offers a busy slice of paradise with street vendors, upmarket hotels, and beach activities such as surfing and snorkeling.
However Freedom Beach offers a more serene choice, whilst still providing convenient access to food vendors and beach chairs. In general, expect a livelier and busier beach experience than what you would get in Indonesia, but also far more choices for beach hotels too.
That said, if you travel away from Phuket there are more laid-back coastal options. One of our favorites is Sunrise Beach on Ko Lipe.
This gorgeous long stretch of white sand has shallow warm water perfect for swimming. It's laid back, quiet by Thai standards, and the perfect place to unwind.
After a day's relaxing, head to the region of Krabi where you can go rock climbing, jungle trekking, and sea kayaking.
Krabi's stunning natural beauty, jungle-covered interior and incredible cliffs and caves offer an array of activities for tourists who want more from their trip than just relaxing on the beach.
For those looking for a more wholesome time, Koh Tao (meaning Turtle Island) on Thailand's east coast is home to the country's most beautiful coral reefs. Which naturally makes it A top destination for scuba diving and snorkeling.
Whilst if you want to see jaw-dropping wildlife head to Isaan. This barely visited region of Thailand – as we've written about before – is home to breathtaking national parks, hiking trails, elephants, and even temples built on volcanoes! It's a region almost all tourists ignore, but it feels like Thailand before tourism took over.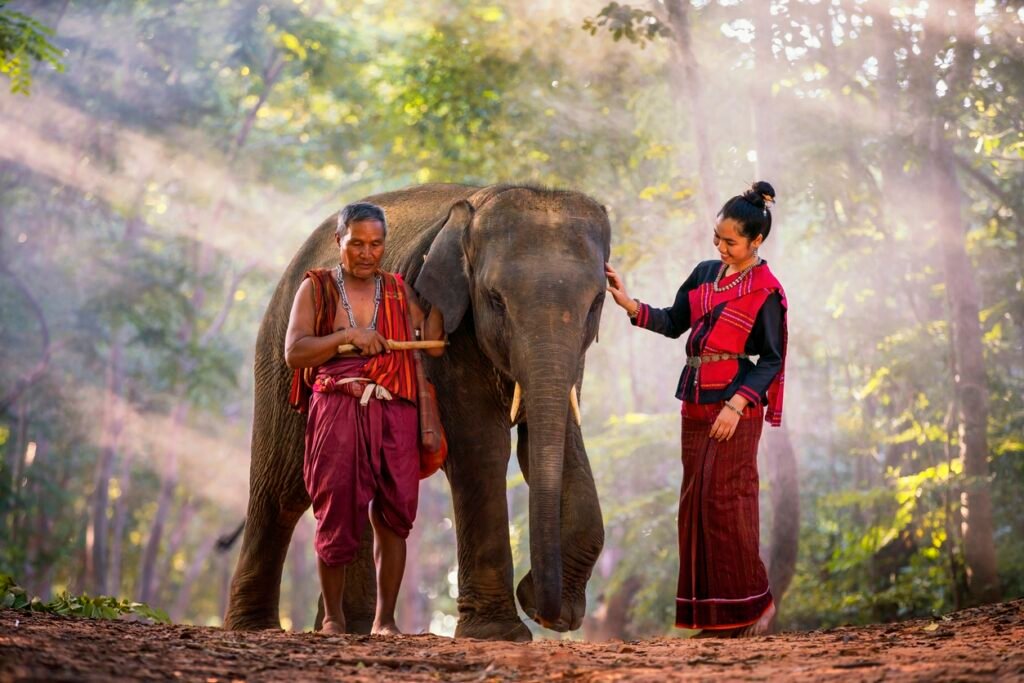 How Does The Culture & Vibe Compare?
Both are culture-packed countries where you're guaranteed to experience the incredible east.
Indonesia: Culture & Vibe
Indonesia is a land of many islands, but also many temples – you can combine both at Tanah Lot! This rock formation off the coast of Bali houses an ancient pilgrimage site called Pura Tanah Lot. Visit at high tide and you will experience waves crashing off the mystic temple – it's quite a sight.
In fact the majority Hindu island of Bali has a plethora of stunning temples. From exotic beachside sanctuaries, to houses of worship hidden deep in the jungle interior.
Go temple hopping around the island for a cultural experience, and a way to see Bali in its full glory. Tirta Empul Temple – with its holy water that you can bathe in which is said to clean you of your sins – is an unforgettable experience.
Rice has been cultivated on Bali for generations, and the gorgeous rice paddies that rise up into the clouds across the island are as iconic as they are important.
Head to Tegalalang to see some of the most beautiful tropical rice terraces on the planet. Speak to the friendly locals in the villages about their life and work when there.
For a bustling shopping experience head to Jalan Malioboro in Yogyakarta. During the day this street is perfect to pick up souvenirs at the small stalls that pop up each day. But this street also comes alive in a different way at night, with street musicians, performers, and many open-air restaurants to try out.
If you're looking for a very cultural experience then visiting Maimun Palace in Northern Sumatra is a must. Serving as a museum, the building itself is a trip back in time too. There's often traditional music performances here, while you can rent out traditional costumes for photos as well!
Thailand: Culture & Vibe
Thailand is a country known for its food, culture, stunning scenery, and more recently a great party scene – a much wilder nightlife scene than you'll find in Indonesia.
For those looking for a wild time, Bangla Road on Patong offers its own selection of bars, go-go clubs and neon-covered craziness. As well as the famous adult entertainment clubs that have become synonymous with Thailand.
Koh Phangan is most well-known for its Full Moon Parties. This small East Coast island is home to the most famous parties in Thailand and 10,000 to 30,000 people flock to them every month.
It's not all parties though. Around 90% of Thais identify as Buddhists, and there's also a significant Hindu influence in the country too. Therefore away from the parties and beaches, Thailand is a very spiritual place filled with spectacular temples and history-filled cities like Bangkok.
One of our favorites – and one of the most serene – is situated in Phanom Rung Historical Park. A remnant of the Khmer Empire, Phanom Rung is a breathtaking temple built on the rim of an extinct volcano.
You could – and should – also have a go at Muay Thai, Thailand's national sport. Muay Thai (or Thai Boxing) can be traced back to 18th century Thailand, and has its roots deeply ingrained in Thai culture.
Gyms up and down the country offer training sessions (from a single day, to several months!) for foreigners and it's a fantastic way to get to know this country and culture. In fact that's something we've even written about in the past.
A Taste Of The East: How Does The Cuisine Compare?
While Thai cuisine is more famous, both countries will provide a treat for your tastebuds!
Indonesia: The Food
Indonesian cuisine is a melting pot of different influences, and typically food varies from region to region within the country.
One dish you can get throughout is Bakso – which is a moreish noodle soup containing meatballs. Expect to see this delicacy sold on street carts up and down the country.
Another popular dish is pecel lele – fried catfish. The fish is prepared in a simple manner usually rubbed with salt and a spice or two, then fried. It's a popular evening snack.
In Bali the food is pork and chicken dominated. Order lawar, a dish that is made up of coconut, garlic, chili, and either chicken or pork meat and blood.
Another traditional meaty dish is Bebek betutu, which is duck cooked with coconut inside banana leaves.
Thailand: The Food
Thai food is famous around the world, and no wonder. Simply put if you're a food lover, Thailand is going to be a dream destination. Especially if you like spicy food, as the cuisine in Thailand tends to be spicier than Indonesia.`
Make sure you try the iconic Pad Thai – a stir fry dish made with thin rice noodles, meat or shrimp.
For something a little less known, Thailand's remote and rarely visited northeast – Isaan – has a traditional dish called Laap which is delicious. It's made up of minced meat seasoned with fresh herbs, lime juice and fish sauce, and is served with sticky rice.
You must try Thailand's comfort food – Khao Phat – as well. This is good hearty fried rice that comes combined with a variety of ingredients. It's perfect for a long day exploring Thailand's sights.
Let's be honest though, go to any street market or street food seller in Thailand and prepare to be impressed by how good the food is. For foodies, Thailand is a hard destination to beat.
Thailand vs Indonesia: Which Should You Choose?
A holiday to either Thailand or Indonesia is going to be an unforgettable experience with great food, scenery and culture. But both countries do provide very different vacations.
If you're looking for a holiday where there's easy access to beaches, tourist hotspots, and excursion options – as well as a lively nightlife and shopping scene – then Thailand is going to be a better choice than Indonesia.
However the beaches in Indonesia and its natural scenery is arguably better than Thailand. So if you're adventurous and want a holiday away from the crowds, this nation will provide a truly unique vacation.
Recommended For Your Trip To Thailand Or Indonesia