Wandering our World is reader supported! If you purchase anything through a link on our site, we may earn a commission at no extra cost to you.
Last updated on July 4, 2023 by Wandering our World
Hayling Island is a fantastic place to travel to if you're looking for a relaxing and enjoyable vacation. The island is well-known for its lovely beaches which offer plenty of opportunities for swimming, sunbathing, and simply relaxing and taking in the stunning views.
There are many restaurants and bars on Hayling Island too where you can enjoy a delicious meal or refreshing drink. And if you're looking for some activities to keep you entertained, there's loads of options available, including golf, tennis, fishing, and more!
After spending years going back and forth to this beautiful region of the UK, we're now here to help you with your own Hayling Island camping holiday.
Below we share our favourite Hayling Island campsites, before looking at the rules around wild camping on Hayling Island. We even have a free camping game perfect for kids (and fun adults!) at the end of this article too.
So read on to begin your own Hayling Island camping adventure!
CONTENTS:
The Best Campsites On Hayling Island
Wild Camping On Hayling Island
Best Time To Visit Hayling Island
Six Fun Things To Do In Hayling Island
Free Scavenger Hunt Game
Camping on Hayling Island: Our Final Thoughts
The Best Campsites On Hayling Island For Fun, Views & Adventure
Camping on Hayling Island is a great way to get back to nature and enjoy all that the island has to offer. There are plenty of campsites available too, so we're sure you will find one that's perfect for you.
To help you along, we've included our favourite Hayling Island campsites below. Not only do we explain why each is unique, but we also show you what's close by to each too. All so you can make the right decision about where to stay!
1. Fishery Creek Touring Park
Fishery Creek Touring Park is the perfect seaside campsite for anyone looking to enjoy the stunning Langstone and Chichester Harbours.
The park is situated on a tidal creek, meaning there are plenty of opportunities for walks and exploring the area. And, if you fancy a trip to the beach, Hayling Island's award-winning Blue Flag Beach is only a short stroll away. This award-winning park really is a fantastic place to enjoy nature and relax.
There's a variety of well-maintained grassland and shingle pitches for tents, caravans and motorhomes, and luckily many have stunning views of the creek and lake too. Every pitch comes with electric hookups as well as easy access to nearby water points, making it a great spot to be in nature yet still with the conveniences of modern life. There's even pitches directly beside the water, so you can enjoy your morning coffee with the sound of water flowing by.
With two motorhome service points, multiple water and grey waste disposal points, and free Wi-Fi, everything you need is right here. You'll also appreciate the accessible toilet and shower facilities, as well as the laundry room with washers, dryers, and ironing boards.
And on top of all that, they've got a large play area with climbing frames, and a large grassy area that's perfect for picnics and games. And if you need any essentials, just head to the small shop at the reception.
Lastly, for those who are passionate about minimising environmental impact, this is the place for you too as Fishery Creek are committed to preserving the unique location and thriving biodiversity of this location for future generations.
What's Close By
The beautiful Hayling Island has stunning Blue Flag beaches perfect for swimming, windsurfing, and other water sports – one of which is within walking distance of the campsite.
Kids will also love spending a day at the nearby Funland Amusement Park, whilst the whole family can enjoy a ride on the Hayling Seaside Railway.
For a more active adventure, hike along the historic Hayling Billy Trail that's near to this campsite. That trail will bring you stunning views of Langstone Harbour.
Price: From £23.50 per night
Address: Fishery Creek Caravan & Camping Park, 100 Fishery Ln, Hayling Island, PO11 9NR
2. Croft Lane Green Camping
Croft Lane Green Camping is a peaceful campsite situated in a stunning location on Hayling Island, with pitches set up in the paddocks of a nearby stable. It's a campsite perfect for those who want to get away from it all and experience nature at its finest, but still be close to plenty of activities.
Just a ten-minute walk from the campsite is the Billy Trail which is perfect for nature lovers, while West Beach is just a 10-minute drive away too, so you're near seaside activities.
This off-grid site is more rustic camping, but there is a farm shop and pub within walking distance. That makes it the perfect place to relax and enjoy the countryside, but still near enough to essentials and a refreshing pint and pub meal!
Amenities wise, Croft Lane is located in tree-lined fields and has simple facilities, such as a water supply, composting loo, cold shower and cold water sink. However, this is an off-grid site so you will need to bring your own gear, including portable chargers and a torch. You are also welcome to bring your dog, as long as you keep them under control and on a leash at all times.
Definitely one of the most nature orientated Hayling Island camping options, as well as one of the most affordable too.
What's Close By
Although off-grid, Croft Lane Green Camping is actually in a great location for those looking to be close to local amenities.
A farm shop selling local produce from Hayling Island and the Isle of Wight is located half a mile away, while a small supermarket and garage are available just ten minutes walk down the road.
The Billy Trail and Hayling Island Nature Reserve are both within walking distance too, while West beach is only a 10-minute drive away.
Emsworth, Chichester and Portsmouth Historic Dockyard are all within 20 minutes, and Arundel Castle is just 35 minutes away. You'll never be bored with so much to see and do nearby!
Price: From £20 per night
Address: Croft Lane, Hayling Island, Hampshire, PO11 0LT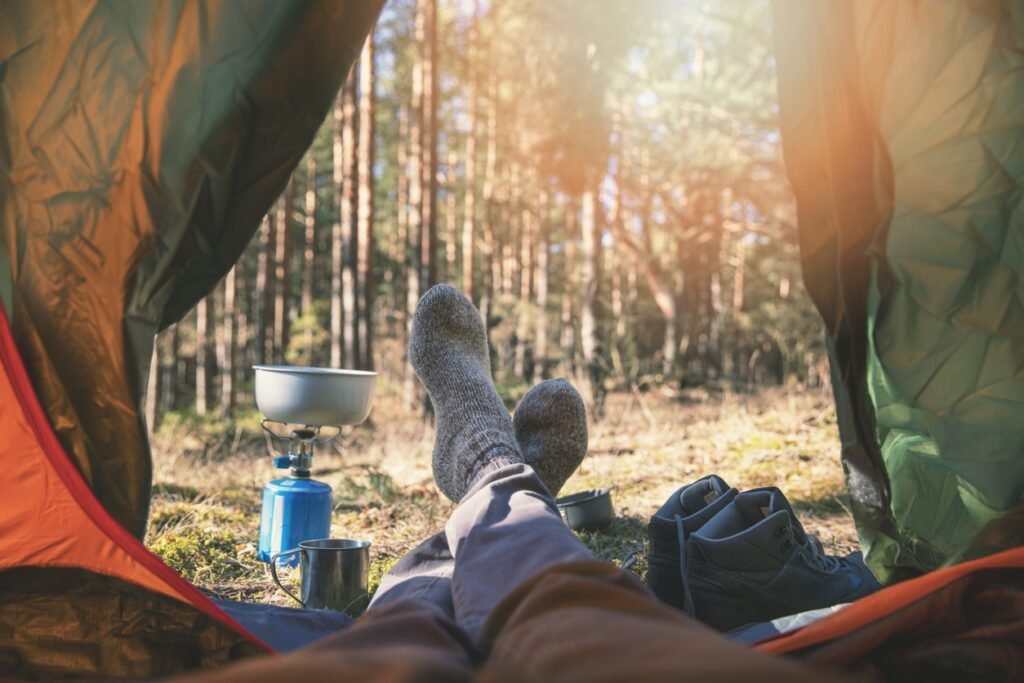 3. Hayling Island Holiday Park
At Hayling Island Holiday Park, you can enjoy a fun family holiday with lots of facilities while being just minutes away from award-winning Blue Flag beaches. This holiday caravan park is also close to the bustling city of Portsmouth, making it the perfect base for exploring everything this vibrant area has to offer.
The park has plenty of activities to keep the family entertained, such as heated indoor and outdoor pools, a dog-friendly field, an adventure playground, and even archery! You can also enjoy the great outdoors with cycling and walking trails. It's the sort of place where there's so much going on you may find it hard to leave!
There's plenty to do at Hayling Island Holiday Park, from enjoying the beach and on-site activities during the day, to heading to their Palms Bar & Restaurant or Chip Shop Takeaway for a bite to eat – both of which have affordable meals. In the evening, you can also enjoy a drink at their Showbar while listening and watching live entertainment.
You'll be spoilt for choice with the huge range of different caravans available to stay in, including brand new models! And if you're bringing your furry friend along, no problem – there are plenty of pet-friendly options too.
There's a reason why this place has been awarded the 4 Star Excellent Award from the English Tourist Board, and the Gold David Bellamy Conservation Award, so you know you're making a great choice if choosing to stay here.
For an array of facilities, on-site activities and convenient access to Portsmouth and food options, this is one of the best Hayling Island options out there. But it does come at a price.
What's Close By
The beautiful blue flag beaches of Hayling Island are just a short three miles away from this holiday park, making it the perfect place to enjoy a day out with the family.
With Funland only a short walk away too, there is plenty to keep kids entertained there from rollercoasters to dodgems.
For any Peppa Pig fans out there, a trip to nearby Peppa Pig World is a must, where kids can enjoy a helicopter ride with Mrs Rabbit and a car ride with Daddy Pig. They will love meeting Peppa Pig and her friends too!
Price: From £190 for two nights
Address: Manor Rd, Hayling Island, PO11 0QS
4. Scotts Farm Camping Site
Although not on Hayling Island but beside it, Scotts Farm Camping Site is a great base for a seaside vacation. Sitting within close walking distance to both a stunning pristine beach that stretches for miles, and the traditional seaside villages of East Wittering and West Wittering, it offers the best of both worlds.
The far-reaching camping fields here are perfect for creating fond memories of summer barbecues with friends and family, while the nearby beach provides a wonderful spot to watch the sunset. Local fish and chips from the village make the perfect accompaniment to a perfect evening.
The park has large grassy fields for having fun in, and a play area for kids. Dogs are welcome, and there is a walking area provided for them. There are also over 250 electric pitches and over 350 non-electric pitches available for tents, touring caravans, and camper vans.
Facilities wise the campsite has a modern toilet and shower blocks, as well as a wash and laundry room and disabled facilities. There is also a small site shop that supplies camping gas, ice packs, and other camping sundries.
What's Close By
Scotts Farm Camping Site is located near many award-winning attractions, including West Wittering Beach and Chichester Gate.
Goodwood Racecourse and Fontwell Racecourse are also nearby, making it the perfect location for those who enjoy horse racing and a little flutter.
Portsmouth is also about 15 miles from this Hayling Island campsite and has a variety of interesting museums, including the Submarine museum, HMS Warrior, and the D-Day War Museum. The Blue Reef Aquarium and Spinnaker Tower are also popular tourist destinations in Portsmouth.
Price: From £30 per night
Address: Cakeham Rd, East Wittering, West Wittering, Chichester PO20 8ED
Wild Camping On Hayling Island: Everything You Need To Know!
DISCLAIMER: Below we give general advice, but we always recommend staying in an official campsite. If you choose to go wild camping/dispersed camping, then make sure you do so with someone who already knows the area where you're planning on camping for your own safety.
Wild camping on Hayling Island, and England in general is illegal. However the reality is that many people still do it. But if you are camping on private land in the area and you have permission from the landowner, it is legal.
There is a long tradition of wild camping in Hampshire though and it is sometimes tolerated when campers treat the land well, stay out of sight, and set up their tent at dusk and take it down at dawn. Although that said, we would discourage wild camping on Hayling Island due to the fragile ecosystem there.
If you can't be swayed to stay in a campsite and are determined to wild camp, then we would advise sticking to the following guidelines in order to be as considerate as possible:
You should camp in the same place for one night only, and pitch your tent discretely and in a remote place. Therefore don't camp in or near settlements, someone's farm or on cultivated land. If you think you're on private land, always seek out the landowner and ask permission.
Campers should set up their tent at dusk, and take it down at dawn. A tent that is discreet, blends in with the landscape, and pitches quickly is best. Therefore a lightweight walking and hiking tent like this one would be a great investment for someone planning to wild camp.
If you are walking a main trail, make sure you choose to camp in a place that won't be in any other hiker's or walker's way.
When wild camping you must never make a campfire as it can damage the environment and create fires. Instead it may be worth looking at using a stove or storm cooker – but check local laws first to see if they're allowed. The Swedish brand Trangia make great camping storm cookers that are safe and virtually indestructible. Portable solar ovens, like this one by GoSun, are also a good fuel-less option.
Take any rubbish with you, and leave your camping spot the way you found it.
Best Time To Visit Hayling Island
The four seasons in Hayling Island offer different experiences for travellers and campers. Spring is a time when the weather is moderately cold and there is the potential for rain. However, there are still many things to do on the island and it's still possible to camp in spring and avoid the peak tourist season and crowds.
Summer is the busiest time of year but also has warm weather and less rain. Autumn, on the other hand, sees cooler temperatures and more precipitation. Winter is very cold with potential snowfall. Despite this, there is still beauty to be found on the island.
Picking the right time to visit Hayling Island will depend on what you are looking for in a camping vacation. If you want to experience all that the island has to offer, the summertime is ideal. However, if you are looking for a more relaxed and quiet atmosphere, the spring or fall might be better suited for you.
And if you're looking to spot Grey seal pups, the best time to visit is during the breeding season from November to January.
Six Fun Things To Do In Hayling Island
This island is renowned for its unspoiled beaches and really is the perfect place to enjoy some water sports or simply relax in the sun. It also has a variety of shops, cafes and restaurants as well as a number of historic attractions.
Some of the things we enjoy when camping here include:
1. Walk/Bike the Hayling Billy
The Hayling Billy Trail is a fantastic track for walkers, cyclists and horse riders, providing amazing seaside views across to Portsmouth.
The trail is a great way to spend a day, and there's plenty of opportunities to picnic or grab a bite to eat and drink along the route.
2. Visit Funland Adventure Park
Funland is a great place for kids, with plenty of rides and amusements to keep them entertained for hours.
Located by the seafront, it's a great stop on a day out exploring Hayling Island. Thrilling rides like the Beaver Creek log flume and Wild Billy's Runaway Mine Train are sure to get the adrenaline pumping, whilst the arcade and adventure golf provide more sedate fun.
There's also a range of catering and shopping options, making it a great place to spend a day out with the family.
3. Play a Round of Golf
Hayling Island Golf Club is a championship Links course and one of the oldest in England. It's also situated on the seafront and has stunning views across Langstone Harbour.
The course has hosted a number of prestigious tournaments over the years, including the British Ladies Open Amateur Strokeplay Championship.
4. Visit the Beaches
There are three main beaches on Hayling Island; West Beach, Beachlands Central and Eastoke. All three offer stunning views, while Sandy Point is another particular highlight due to its nature reserve status. The beaches are perfect for swimming, sunbathing, windsurfing, kitesurfing and paddleboarding.
5. Explore the Heritage
Hayling Island was a hotspot for secret reconnaissance missions during World War II. So if you're interested in history, or just want to explore some of the island's hidden gems, then follow the WWII trail along the coast.
This route takes in key sites including the famous Mulberry Harbour and the COPP memorial to the brave covert service personnel. Who knows, you might even uncover some new stories along the way.
6. Go Boating in Langstone Harbour
Langstone Harbour is a beautiful place to explore by boat and there are a number of companies offering boats for hire.
This is a great way to see the harbour's diverse wildlife, including seals, porpoises and a variety of birdlife. There are also a number of moorings if you wish to stop off and explore one of the many pubs or restaurants along the water's edge.
Camping On Hayling Island: Scavenger Hunt Game!
If you're looking to keep children amused while camping on Hayling Island – or you want to have a go for yourself – then we've created a printable scavenger hunt game!
Save the image and print it out, then tick off what you find and achieve during your camping holiday.
The game encourages players to get out and discover wildlife and nature, as well as make new friends and do fun camping activities. Enjoy!
Camping On Hayling Island: Our Final Thoughts
Camping on Hayling Island is a great way to enjoy the outdoors and get away from the hustle and bustle of everyday life.
There are plenty of things to do in the area, including hiking, fishing, swimming and enjoying those incredible beaches. The island is also home to a number of interesting historical sites.
With that being the case, whether you're looking for a relaxing getaway or an adventure-filled vacation, Hayling Island is sure to have something for you. So pack up your camping gear and head to the island for an unforgettable experience.