Wandering our World is reader supported! If you purchase anything through a link on our site, we may earn a commission at no extra cost to you.
Last updated on July 4, 2023 by Wandering our World
Glencoe in Scotland is considered one of the most picturesque spots in the country, and no wonder. This spectacular valley is a popular destination for mountaineers and adventure sports enthusiasts, and draws many visitors during the summer months.
This place is known for its stunning mountain scenery and many opportunities for outdoor activities, which of course includes camping in Glencoe!
Nestled below the towering peaks of the Ben Nevis and Glencoe mountains, this is the place to be if you're into hiking, biking, skiing, or simply enjoying knockout scenery. And if you're thinking of enjoying all of that in a camping trip, then you're in the right place!
That's because we know this place like the back of our hand, so below we share with you our five favourite Glencoe campsites.
We then look at the rules around wild camping in Glencoe (it's legal) and share some ideas for wild camping spots in Glencoe too.
And if you're travelling with kids (or you're a fun adult!), we have our very own 'scavenger hunt' game that's perfect for camping in Glencoe which you can print out for free. That's right at the bottom of this article.
CONTENTS
The Best Campsites In Glencoe
Wild Camping In Glencoe
Some Ideas For Wild Camping Spots In Glencoe
Unique Things To Do In Glencoe
Free Scavenger Hunt Camping Game
Camping In Glencoe: The Best Campgrounds For Fun, Views & Adventure
Camping in Glencoe is a great way to enjoy the natural beauty of the Scottish Highlands, especially as Glencoe is home to some of the most spectacular mountains in the area. It's perfect for outdoor enthusiasts who want to ski, snowboard, hike and wander the hills.
There are plenty of activities to keep visitors busy during the summer months. So whether you're looking to try kayaking or stand-up paddle boarding or just want to go hiking, then camping in Glencoe is one of the best ways to enjoy this area and all the activities on offer.
To help you out, here are some of our favourite campsites in and around Glencoe. Each will bring you incredible views, lots of fun and plenty of opportunities for adventure.
1. Glencoe Camping and Caravanning Club Site
The Glencoe Camping and Caravanning Club Site is located in a beautiful area with knockout mountain views.
Situated near the Glencoe National Trust Visitor Centre, this is an amazing campsite for nature lovers as there are plenty of wonderful walking opportunities nearby, including the West Highland Way, which is just nine miles away.
If you're looking for something a bit more challenging, eight Munros (Scottish mountains over 3,000 feet) are also in the area. And of course, the scenery is some of the most beautiful in Europe.
The facilities at the campsite include laundry, showers, toilets, and a shop. There is also a children's play area. The best part is that they allow dogs too!
What's Close By
Glencoe Camping and Caravanning Club Site is situated in a beautiful location surrounded by stunning Scottish scenery.
The site is near Loch Leven, Sgorr na Ciche, and Glencoe Lochan, all excellent places for hiking and wild camping.
Address: Glencoe, Ballachulish, PH49 4LA
2. Red Squirrel Campsite
Red Squirrel Campsite provides a wild and rustic experience for campers. The site was created for camping back in 1914, and has been home to campers ever since!
It is located in a beautiful area home to a variety of wildlife – including red squirrels of course. The site is quiet and nestled away alongside the river.
Guests can enjoy views of the mountains, grasslands, and forests all from the comfort of their tent. The pitches don't have electricity, but there are clean and modern shared facilities for guests.
We think Red Squirrel is best for camping with a tent, but it also accepts motorhomes and caravans on all dates except holidays.
Red Squirrel facilities include men's and women's toilets, complete with showers. There is also a washing area for campers in the shared kitchen and WiFi near the kiosk, as well as in the WiFi hut.
What's Close By
Red Squirrel Campsite is located near a river where you can enjoy fishing. There's also lots of wild swimming spots available in the area too.
If you're looking to tour some beautiful Highland countryside, the nearby Glencoe Visitor Centre offers guided walks.
Ben Nevis, Fort William, and some legendary local inns are all within reach too. So relax around your campfire or head to the pub for a drink. But whichever you choose you're going to be in scenic surroundings.
Address: Glencoe, Argyll PH49 4HX
3. Glencoe Mountain Resort
Glencoe Mountain Resort is located in a place of special scientific significance for Golden Eagles, and is set in an area of breathtaking natural beauty. It's a very special place to stay with plenty of activities to enjoy as the resort specialises in outdoor adventures.
They have micro lodges as well as four caravan/campervan pitches with hookups, and 20 camping spots available for tents on the property.
The micro lodges are well-insulated and equipped with a kettle, heater, and charging outlets, and can accommodate a family.
But what we prefer is camping, so you can wake up to some of the most stunning landscape in the country from your tent pitch thanks to spectacular views of iconic Rannoch Moor and Buchaille Etive Mor.
At the bottom of the facility, there is a dedicated toilet and shower building and a dishwashing station. While at the other end of the site, there is a second shower block with drying rooms and additional dishwashing stations.
What's Close By
This campsite offers a range of activities in the summer, including mountain biking, tubing, hill walking, climbing and chairlift rides. There is skiing, snowboarding, sledging, and avalanche rescue training in the winter too.
The resort really is a great place to enjoy the outdoors all year round, with something for everyone to enjoy.
Address: Glencoe, PH49 4HZ
4. Lagnaha Farms
Looking for a campsite for tents and campervans that's close to nature? Well Lagnaha Farms could be perfect as it has direct access to the National Cycle Track and Duror Forest Tracks.
That means you can explore, walk or cycle directly from this campsite. You might also want to visit the nearby village of Glencoe, home to an outdoor centre dedicated to exploring the Highlands.
Or, follow one of the many paths beside the campsite that will guide you through the outstanding scenery. Either way, you're sure to have a memorable experience.
The facilities at this campsite are excellent too! There is a toilet and hot shower block, complete with a hairdryer. There's even a whirly drying line outside and a bad weather shelter for cooking food, complete with a gas hob, table and benches.
And if you need it, firewood is available to buy on site. There's free WiFi too, so you can stay connected even while roughing it!
What's Close By
The Glencoe area is full of amazing hiking trails that will take you through some of the most beautiful scenery in the Highlands. Hike your way through the Ballachulish Slate Quarries and Loch Leven, or explore Signal Rock and An Torr.
If you're looking for a more peaceful hike, check out the Glencoe Lochan trails or the Brecklet trail. No matter which trail you choose, you're sure to be blown away by the natural beauty of Glencoe.
Address: Lagnaha Farm Certificated Site, Duror, A828, Glencoe, Appin, Argyll, PA38 4BS
5. Caolasnacon Caravan and Camping Park
Caolasnacon Caravan and Camping Park is a beautiful site surrounded by mountains overlooking Loch Leven. It features level grassy camping pitches with wonderful views of the loch. There are several 16-amp electric hook-ups available on a first-come, first-served basis. Campfires are also allowed on the loch shore, but not on the grass.
While you can camp here, you can also rent one of the static caravans at Caolasnacon which are extremely spacious, well-equipped and comfortable. They can sleep up to six people, with a double bedroom, twin room and pull-out double bed in the living area.
The well-appointed shared campig facilities include free hot showers, flushing toilets, and washbasins. There is also a separate dishwashing area and coin-operated laundry. Calor and Camping gas are available onsite, and you can buy essentials from the surrounding villages (3-4 miles away).
With great facilities and set amongst wonderful loch views, this is a special Glencoe camping option. And if you're lucky, you might even spot some local wildlife, such as the majestic Golden Eagle!
What's Close By
Caolasnacon Caravan and Camping Park is a great place to stay if you want to explore the Glencoe area. The park is situated just three miles away from Glencoe and close to Fort William and the Caledonian Canal.
That makes it the perfect base for those who want to enjoy some of the area's many outdoor activities, such as hill walking, mountain biking and climbing. The Ice Factor, located nearby, is also a great option for trying something new, such as climbing an ice wall.
Watersports are also popular in the area, with many visitors enjoying boating, fishing and waterskiing on the loch. Windsurfing is also a popular activity.
Address: Caolasnacon, Kinlochleven PH50 4RJ
Wild Camping In Glencoe: Everything You Need To Know!
DISCLAIMER: Below we give general advice, but we always recommend staying in an official campsite. If you choose to go wild camping/dispersed camping, then make sure you do so with someone who already knows the area where you're planning on camping for your own safety.
Thankfully wild camping is permitted and legal in Glencoe and the surrounding area thanks to Scotland's Right to Roam Act. However authorities ask campers to "tread lightly" and to respect a few guidelines:
You should camp away from enclosed fields, and pitch your tent away from buildings, roads, and historic structures.
Campers should be vigilant to avoid disturbing wildlife such as deer, grouse and others.
When wild camping at Glencoe, do not light fires as wild fires are a danger. Instead it may be worth looking at using a stove or storm cooker – but check local laws first to see if they're allowed. The Swedish brand Trangia make great camping storm cookers that are safe and virtually indestructible.
Take any rubbish with you, and leave your camping spot exactly the way you found it.
The Right to Roam Act also gives access to most of Scotland's land and inland water, as long as it does not encroach on someone's privacy and private land.
Here is a list of what the Right to Roam Act doesn't give you access to, and therefore what you should avoid:
Where You Must Avoid:
Walking in and going through buildings. An exception would be bothies – small mountain and rural huts that can be used by walkers and hikers – see a list of bothies and where they are by clicking here.
Land clearly attached to a building (private garden, backyard).
Sports fields.
Schools and school land.
Building sites.
Quarries,
Now you know you're legally allowed to wild camp in Glencoe, and where to avoid, here's some of our favourite wild camping spots!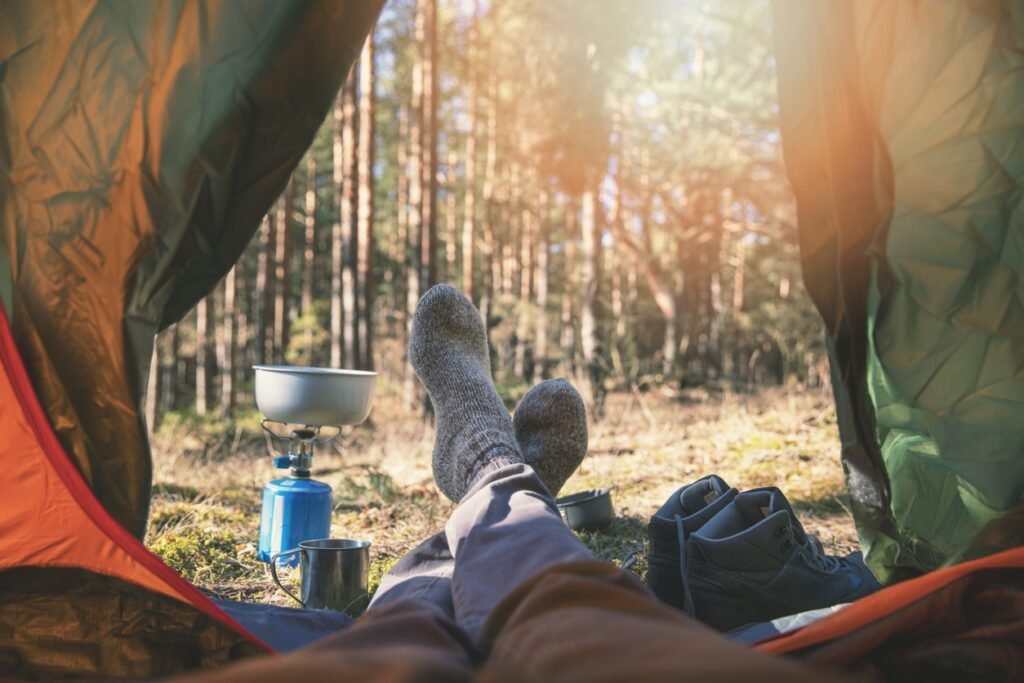 Some Ideas For Wild Camping Spots In Glencoe
DISCLAIMER: The below wild camping spots have been collected from anecdotal accounts, so proceed with caution. You should always be wary of any potential dangers in a region (quarries, bogs, dangerous paths and so on) and should wild camp with someone who knows that specific area well.
Of course one of the best parts about wild camping in Glencoe is finding your own special spot to pitch your tent for the night.
However, if you're looking for inspiration, then below are a few potential wild camping spots in Glencoe. Just make sure your tent is midge proof as these little biting flies can be a real menace.
As always, if you are unfamiliar with an area – or it's your first time visiting – then be careful as peat bogs and other dangers exist.
When wild camping, we always recommend using known paths and sticking to them. We also recommend taking a camping friend who knows the area you plan on camping in very well. That's the best way to stay safe.
1. Glencoe Lochan
Glencoe Lochan is a beautiful place, with views of the loch, mountains and forest. The loch is also home to several different bird species, making it a great spot for birdwatching.
There's an easy circular walk at the lochan, and some nice wild camping spots near the trail. If you do choose to camp, then set up your tent and take it down at dawn.
2. Three Sisters
The Three Sisters is a series of three road facing peaks that are unmissable as you drive Glencoe's iconic valley road. This is a popular hiking route and so you can park in the Three Sisters Car Park.
From there walk up the trail through Hidden Valley and select your camping spot away from the main trail for the night. The views are unbeatable.
3. Rannoch Moor Bridge
This bridge, which is officially known as Ba Bridge, is right on Rannoch Moor – an area known for its atmospheric views. The bridge is situated on the popular West Highland Way walk, so it's easy to reach.
It's wild and rural so do camp with care, especially as there's bogland here, but the ever-changing scenery is very special. However this is also a well-known spot amongst walkers for having a huge number of midges! So take repellent, a midge net, and make sure you have a midge proof tent.
Camping In Glencoe: Unique Things To Do
There is no shortage of things to do in Glencoe! And the area is renowned for its outdoor activities, such as hiking, mountain biking and climbing.
Here's a few of our favourite things to do when camping in Glencoe:
1. Explore Signal Point and An Torr
The Signal Point and An Torr hike is a must-do when visiting Glencoe.
The trail takes you through some of the most stunning scenery in the area, with views of the valley, lochs and mountains.
The hike is challenging but rewarding, and your effort will be rewarded with some truly breathtaking views.
2. Go Fishing at Loch Leven
Loch Leven is a popular spot for fishing, with several different species of fish to be found in the loch.
The loch is also home to the ruins of Castle Island, which can be reached by boat. Visitors can explore the island and learn about its history.
3. Visit the Ballachulish Slate Quarries
The Ballachulish Slate Quarries are a must-visit for any history buff.
The quarry was once the largest producer of slate globally and played a major role in the construction of some of Scotland's most iconic buildings.
Today, the quarry is a popular tourist attraction, with visitors coming to explore the abandoned buildings and learn about the quarry's history.
4. Take a Boat Trip on Loch Linnhe
Loch Linnhe is one of Scotland's most beautiful lochs, and a boat trip is the best way to see it. Many different boat trips are available, ranging from short cruises to longer excursions. You can also go kayaking on the loch.
5. Climb at Ice Factor
The Ice Factor is a must-visit for any adrenaline junkie! The centre offers various activities, such as ice climbing, abseiling and rock climbing.
There is also an indoor climbing wall, which is perfect for those days when the weather isn't suitable for outdoor activities.
6. Visit Glencoe Folk Museum
The Glencoe Folk Museum is the perfect place to learn about the area's rich history.
The museum is home to many different exhibits, including a replica croft house and a schoolhouse. There is also a café on-site, which sells traditional Scottish food.
Camping In Glencoe: Scavenger Hunt Game!
If you're looking to keep kids amused while camping in Glencoe – or you fancy having some fun for yourself – then we've created a printable scavenger hunt game!
Save the image and print it out, then tick off what you find and achieve during your camping holiday.
The game encourages players to get out and discover wildlife and waterfalls, as well as make new friends and do fun camping activities. Enjoy!