Wandering our World is reader supported! If you purchase anything through a link on our site, we may earn a commission at no extra cost to you.
Last updated on May 24, 2023 by Wandering our World
Fort Myers is a gorgeous location on the South Western side of Florida, just off the Caloosahatchee River. This Floridian city was established in the 1850s as a military fort, but much has changed in 170 years. Fort Myers is now known for its white sand beaches and historical locations and is home to fabulous recreational locations like the Pier at Fort Myers Beach, Times Square, and the bustling River District.
When the day ends that's when Fort Myers nightlife starts. There are bars, pubs, concert venues, and nightclubs unlike any other location in the world, and Fort Myers will keep you entertained until the sun comes up. We should know too – the nightlife in Fort Myers has us coming back year after year!
Below we show you the best bars in Fort Myers, where to find late-night food and live music, the best nightclubs in Fort Myers, and even where the best happy hour deals are in the city.
Here is your ultimate guide to Fort Myers nightlife.
The Best Fort Myers Bars & Pubs
Want to get a few drinks and take in the nightlife? You're in luck. There are so many watering holes to choose from in Fort Myers, like trendy pubs, breweries, saloons, and tiki bars.
These are a few of the best places to get your night started, but our sections further below on live music and happy hours also have many other great bar options.
1. Indigo Room
The Indigo Room has been named the longest-running bar and nightclub in Fort Myers, and it's stuck around this long for a reason!
This location is known for its talented bartenders, great music, and a bar/club atmosphere that you just can't beat. Here you can catch some live music and munch down on some tacos from Taco-O-Rama. Smart dress code required.
2. Sky Bar
Anyone who goes to the Sky Bar will get the true taste of downtown Fort Myers nightlife. This exciting, premier bar is located in the Hotel Indigo, eight floors above Broadway, and is known for its scenic views. They also have a grill room and a Martini bar!
The Sky Bar becomes even more special when the sun goes down, and Downtown Fort Myers lights up the night. Cocktails from above anyone? That's a classy way to start any evening adventure.
3. Beacon Social Drinkery
If you're looking for a wide variety of alcohol choices, the Beacon Social Drinkery is for you! Their menu includes ten unique cocktails, eight draft beers, ten bottle beer options, and many bubbly, white, and red wines.
This classy rooftop bar also offers mocktails, alongside stunning views.
4. Ford's Garage
Ever wanted to drink in a prohibition-era speakeasy? Fort Myers has one (sort of)! Head to Ford's Garage, named after Gerald Ford himself, that dedicates itself to a 1920's aesthetic.
With old Ford vehicles, gas pumps, and extra long bar tops, Ford's Garage really does has an interior that makes you want to take picture after picture. The drinks are reasonably priced too, and they make some of the best burgers in the city. A great way to start any Fort Myers nightlife adventure.
5. Cowboy Up Saloon
The Cowboy Up Saloon is known for its country theme with a longhorn skull and dollar bill centerpiece. This watering hole is perfect for someone who enjoys good beer and good food – and that's the reasons locals frequent this place.
Cowboy Up serves delicious meals, has great live shows, and is always a dang good time! It's definitely one of the best Fort Myers nightlife hotspots.
The Best Waterfront Bars in Fort Myers
You're in Florida, so you might as well embrace the beach aspect of Fort Myers, right? Catch some waves and enjoy the salty sea air by visiting some of the best beachside bars.
1. Lighthouse Tiki Bar and Grill
The Tiki Bar, at Lighthouse Resorts, offers a beach atmosphere right by the waterfront, outdoor seating, and of course, alcohol. There's even a pool!
This is the place to go if you're looking to make new friends and have some fun. It's a popular place for visitors and locals alike, and often has live music and entertainment at the weekends.
2. Boathouse Tiki Bar & Grill
The Boathouse Tiki Bar & Grill has a wonderful waterfront location and is open all year round. With great views, tons of seating, two full-service bars, Florida-famous cuisine, and live music everyday, it's understandable why the Travel Channel featured the Boathouse in the show "Food Paradise."
The Best Nightclubs in Fort Myers
While many restaurants, pubs, and bars on this list also double as a nightclub, we've listed the locations where you will find a total nightclub-esque experience.
1. Celsius Nightclub
Celsius Nightclub is one of the top nightclubs that downtown Fort Myers nightlife offers. You can dance all night at Celsius nightclub on either of their two levels, but it can get a little wild, so this location is ideal for the younger crowd and college students who want to shake it to some hip hop.
2. Viva La Mirage
Located on Winkler Rd., Viva La Mirage is perfect for anyone who wants to dance the night away to latin music and hip hop.
At night, Viva La Mirage offers loud music, refreshing drinks, and live entertainment. During the day, Viva La Mirage operates as a restaurant that serves Caribbean, South American, and Central American food.
3. Scarlet Gentleman's Club
The Scarlet Gentleman's Club is on this list for people looking for a more raunchy night out. This location also includes bottle service, VIP table reservations, and a delicious dinner menu paired with excellent entertainment.
4. Space 39 Art & Martini Bar
Space 39 Art & Martini Bar is an upscale venue that offers eclectic art and live entertainment. It's known for its full bar service, talented bartenders, and a wide variety of drinks, including their signature martinis.
Although open until 2am, this place is more of a bar than club, but it does have that clubby vibe. Some nights they have live bands – check their website to see if anyone is playing when you're in the city!
Live Music & Entertainment in Fort Myers
Nothing beats the thrill of some live music or entertainment. Whether you want to see musicians or visit a comedy club, the Fort Myers nightlife scene has many options for you.
1. The Barrel Room
Located on Bay St., just two streets away from the Caloosahatchee River, is The Barrel Room. The owners placed this location just next to the Twisted Vine Bistro, but unlike the original location, the Barrel Room offers hard-to-find whiskey, scotch, and bourbon options. Expect fantastic live blues music on the weekends.
2. The Ranch Concert Hall
The Ranch Concert Hall & Saloon is a ranch-themed venue that offers live country and rock music as well as dancing lessons. If you want to throw back a few beers and make friends with people who love music as much as you do, this place is well worth visiting.
3. Buckingham Blues Bar
This Florida-famous location is known for two things: the blues and beer. Buckingham Blues Bar used to be quite the dive bar, but locals deeply love it.
People love this place so much that even renovations couldn't stop the regulars from congregating in the parking lot for a few drinks. Any place that is this well-loved is definitely worth the visit.
4. Millennial Brewing Co.
A former US Marine with a deep love of beer founded the pet-friendly Fort Myers Millennial Brewing Co. He named the place after an innovative and creative generation and stays true to its name by keeping things interesting.
Since Millennial Brewing Company was established, it has provided Fort Myers with some great entertainment and even better brews. They have tons of events on, from silent discos to live music.
5. City Tavern
City Tavern is an award-winning tavern that is proud to be locally owned and operated. This location stays open until 2 am and offers a comfortable, relaxed environment that really can't be beaten in Florida. Paired with live music and dancing, this is one of our favorite downtown Fort Myers nightlife spots.
6. Ter-Tini
Established in 2013, Ter-Tini's is a relatively new place but has made a name for itself in the Fort Myers nightlife scene. This location has talented mixologists, upscale drinks, dancing, and the best entertainment in Fort Myers. Expect live music, comedy shows and more.
Plus, Ter-Tini's is a massive location that can hold over 500 people, making it a perfect location for singles looking to mingle.
The Best Spots For Late-Night Food in Fort Myers
1. United Ale House
The United Ale House can be found in the Downtown Fort Myers Historic District, on the corner of First St. and Hendry.
They serve delicious dinner and breakfast food that will hit the spot late at night. Their menu includes Belgian waffles, fresh vegetable omelets, bangers and mash, and so much more.
2. Rondao's Pizzeria and Sports Bar
With over 50 television screens, Rondao's Pizzeria is the best place in Fort Myers to enjoy sports. When the game is over, you can stick around for delicious pizza and a fun beer drinking atmosphere. The best part about Rondao's Pizzeria and Sports Bar is that it stays open until midnight!
3. Nick & Stella's Pizza Perfecto & Sports Bar
Located on Mcgregor Blvd., this Fort Myers nightlife location is family-run and operated. Nick & Stella's menu offers delicious foods such as pizza, burgers, wings, spaghetti, calzones, strombolis, and varieties of french fries. This place opens early and closes late, making it a great place to go after a long day.
4. Shuckers at the Gulf Shore
Shuckers at the Gulf Shore of Fort Myers Beach is one of the best – if not THE best – seafood restaurant in town. The shuckers menu includes everything from fresh seafood to tasty burgers and everything in between. This beachside location offers an outside patio, restaurant, and bar, and they close at 11pm!
The Best Happy Hours in Fort Myers
What's better than getting some drinks? Drinks at a discounted rate! Below we've included restaurants and bars that have a killer happy hour.
1. Nervous Nellies
This restaurant and bar at Fort Myers Beach offers weekly specials, fresh seafood, and large tropical cocktails. Nervous Nellies' menu includes unique items like mega-loaded nachos and a colossal seafood tower. Tasty!
The casual beachfront location will have you feeling wild and free as you enjoy their live music and happy hour deals from 2-5pm Monday-Friday.
2. House of Pasta
Let's be honest, why wouldn't you go to a place named the House of Pasta? This location has delicious pasta and Italian food that will have you itching to come back. The House of Pasta also has vegan options! Happy hour lasts from 4 – 7 pm and offers great drink specials.
3. Shamrock Sports Lounge & Liquor
Once known as Moran's Bar, the Shamrock Sports Lounge & Liquor has us returning again and again, and we're not the only ones.
Why? Because while most bars in Fort Myers can be pretty pricey, this location offers drinks at very affordable prices – especially during there many happy hour periods during the week. Such as $1 Bloody Marys and Screwdrivers from 11am to 2pm every Sunday, and $8 draft pitchers every Monday!
4. Parrot Key
Happy hour is 3-6pm Monday to Friday at Parrot Key, a fun Caribbean bar and grill right on the waterfront. That makes it perfect for enjoying discounted drinks and tropical cocktails with some of the best views in the city. Stay on after happy hour and you'll be rewarded with a wonderful waterside sunset.
5. Ford's Garage
It's one of our favorite bars, but also one of our favorite Fort Myers Happy Hour locations too! This quirky bar has $2 off drinks and drafts every Monday-Friday from 2-6pm. That means more money for drinks, or one of their delicious burgers.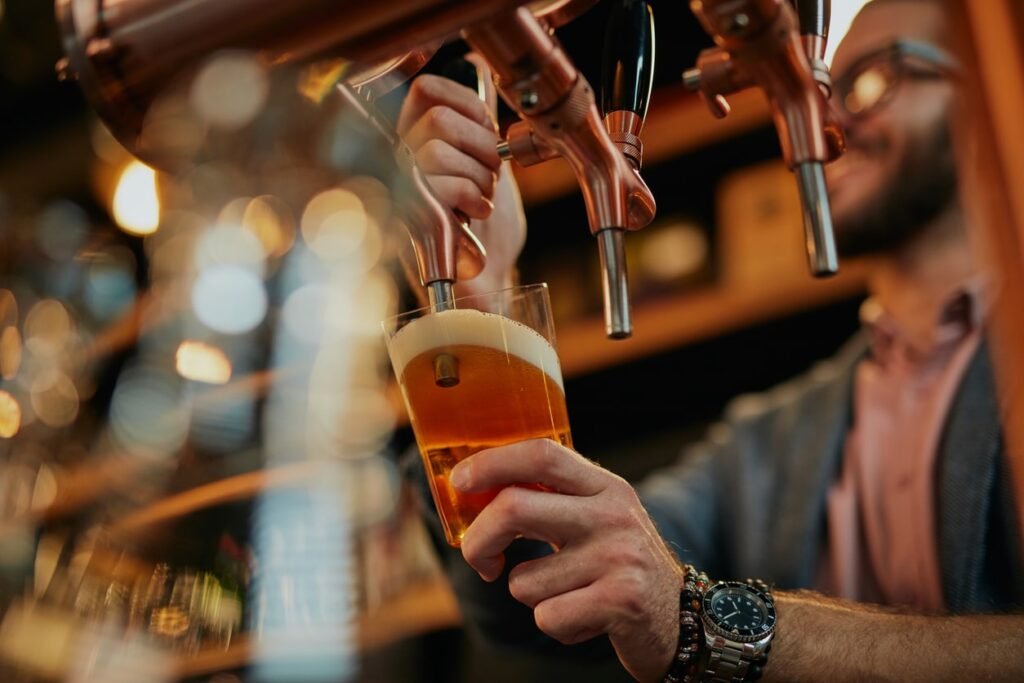 6. The Boathouse
Want a Happy Hour experience but with a waterfront view? Then the Boathouse could be your best choice! Expect $4 Wells and house wine, as well as $1 off drafts. Runs from 11am-6pm, Monday-Friday.
How To Stay Safe In Fort Myers
Fort Myers is a safe location and walking around in the daytime is pretty much risk-free. However you do need to be a little more cautious of your surroundings at night.
But don't worry! As long as you stay in a safe area, far away from bad neighborhoods, your trip to Fort Myers will be perfectly safe.
Here are some extra tips on how to stay safe in Fort Myers:
Take caution when in neighborhoods in east and southeast Fort Myers.
Take caution in the area near Martin Luther King, Shoemaker Blvd., and Canal Street. This location has been known for a few break-ins, robberies, and crimes.
Do not purchase anything on the street.
Do not walk alone at night.
Taxis are preferable – be cautious of Uber and Lyft drivers.
Our Final Thoughts
Fort Myers is a wonderful travel location with beautiful beaches and fun recreational activities.
When you're not strolling on the pier or lounging on the riverside beaches, you should definitely take in the exciting Fort Myers nightlife. This city has it all, from concert halls to gastropubs, art bars to high-class whiskey dispensaries, casual watering holes, and so much more. Go have fun and enjoy!