Wandering our World is reader supported! If you purchase anything through a link on our site, we may earn a commission at no extra cost to you.
Last updated on February 17, 2023 by Wandering our World
When it comes to tropical island paradises, you can't get much better than Fiji or Hawaii. However other than their sun-kissed beaches, these islands are very different.
So making the right decision between Hawaii or Fiji for your dream getaway is vitally important.
For example, if you're seeking more time on the beach with a cocktail in your hand than anything else, then Fiji will probably be the better choice. Fiji has better beaches than Hawaii for sunbathing and swimming, and even has a few overwater bungalows that are perfect for honeymoons and romantic holidays.
However if you want a more active holiday, and have more than a week to spare, then Hawaii would be perfect. This destination has volcanoes, iconic road trips, great surf, exciting cities and some of the world's best hiking trails.
But that's just the beginning when it comes to how different these destinations are.
Luckily after spending time in both, we compare Fiji vs Hawaii below. We show you which has the better beaches, what excursions are available, compare the culture, food and more!
CONTENTS:
A Quick Overview & Comparison
The Beaches & Landscape
Explore the Sights & Experience The Culture
Where You Should Stay According To Your Budget
A Taste Of Island Life
Which Is The Better Choice?
A Quick Overview & Comparison
Both Hawaii and Fiji have some fantastic beaches, but without a doubt Fiji has the better beaches of the two. The island has gorgeous white sandy stretches of coastline, and crystal clear warm water (much warmer than Hawaii) with some of the best snorkeling in the world.
With around 300 islands and cays, it's still possible to find beaches in Fiji that feel secluded and cut off from the rest of the world.
But if you're looking for a beach buzz, with beachside bars, clubs, and a great nightlife, then Hawaii's coastline offers far better opportunities for that than Fiji.
Hawaii is home to the surfer-haven of Waikiki Beach, which is backed by Honolulu – a city of 350,000. It's a great place to go for shopping, fine dining and partying.
In terms of the landscape, Fiji has a lush hilly interior, but Hawaii is more of an adventure-lovers paradise thanks to its dramatic jungle-covered mountains, active volcanoes and superb surfing.
In fact Hawaii's highest peak is a massive 4207 meters, compared to Fiji's highest mountain which stands at 1324 meters.
Therefore Fiji may be the better holiday choice if you're looking to relax, island hop, and really experience life on a tropical island. In contrast, Hawaii should be your choice if you want sun, surf, and spectacular hikes.
Regarding which is cheaper, both can be done on a budget. However Fiji is probably slightly cheaper in terms of accommodation and food.
But Fiji also has several upmarket resorts with stunning romantic overwater bungalows. They are expensive, but much cheaper than in other popular honeymoon destinations like Bora Bora or the Maldives.
Hawaii has a whole range of accommodations too, from all-inclusive luxury hotels to places fit for backpackers – as we've written about before.
Below we look at some of our favorite spots in both, before comparing the culture in each. Spoiler alert – they're very different!
The Beaches and Landscape
Fiji: The Beaches and Landscape
As a general rule, the more remote you go in Fiji, the more spectacular the beach. And in that sense, if you're looking for that deserted tropical island vibe that've you've seen on your laptop screensaver, Fiji won't disappoint.
Some of our favorite beaches in Fiji are on the dreamy Mamanuca Islands. This group of 20 outlying islands has a real castaway feel to them, and no wonder – it's here that the U.S. television series Castaway was filmed. Just be careful, as seven of the islands are covered by water at high tide!
There are beautiful beaches on the main island too, like the one at Natadola Bay. The crystal clear water here lapping against the sun-kissed sand makes it the perfect spot to relax and enjoy a beer.
The snorkeling is fantastic in Fiji too, and we believe it's better than in Hawaii. Though part of why we think it's better is the fact the sea is calmer and warmer in Fiji.
One of our favorite snorkeling spots is Rainbow Reef at Taveuni. As the name suggests, expect multi-colored coral to go with the colorful reef fish you will see! A great underwater camera – such as this one – is a must.
However Fiji is also a vacation destination where there are many things to do away from the beach too. This volcanic island nation is full of mountains, hills and rainforests that are begging to be explored.
Recommended: Are There Snakes in Fiji
On Taveuni, hike through the rainforest at Bouma National Park and head to the towering Tavoro Falls. This group of three waterfalls have pools that are perfect for swimming, all within a spectacular forest backdrop. While there, keep an eye on the trees – Fiji is home to many colorful species of parrot.
Feeling energetic after a few days resting on the beach? Then tackle Fiji's highest peak Mount Tomanivi on Viti Levu. The hike can be tough going, but the panoramic views across Fiji and the Pacific from the top are just breathtaking.
While the mountains and landscape of Fiji are nowhere near as dramatic as in Hawaii, there's still plenty to keep you entertained if you're looking to do more than just sunbathe and swim.
Hawaii: The Beaches and Landscape
Like Fiji, Hawaii is a place which has an abundance to offer away from the coast too. However for travelers leaning towards a Hawaiian holiday, there's still many great beaches where you can enjoy that famous laid-back surfer vibe.
Some of our favorites include the less well-known Waimea Bay Beach on Oahu, and the stunning Hanalei Bay on Kauai island. For great snorkeling and the chance to see turtles, then visit Hanauma Bay on Oahu.
For a more fun-fueled beach adventure, pick up a cocktail and enjoy the fun nightlife at the famous Waikiki Beach where you can hang around with surfers or even take your first lessons on catching a wave.
Then after that, if you're feeling energetic, a hike up Hawaii's Diamond Head – which looms over Waikiki – will give you spectacular panoramic views of Honolulu and Oahu.
But it's the landscape of Hawaii that is really worth exploring.
Hawaii is home to active volcanoes where you can see lava flows, it has spectacular road trips like the 'Road to Hana', has some of the world's best hikes and is home to incredible wildlife, birdlife and plenty of whale watching too.
All in all, if you like to get out into nature, this may be the best destination in the world for you – better than Fiji.
The Hawaiian island of Kauai is a good place to start if you want to really see the best of Hawaii's landscape.
This island was the backdrop for the film Jurassic Park, so expect great hiking and walking trails that will take you back in time. A superb walking and hiking in Hawaii book – such as this one – would be a great addition to your suitcase.
And if the budget allows, a helicopter trip over Kauai is something you'll never forget.
Simply put, the landscape in Hawaii is arguably more beautiful and dramatic than in Fiji. However as we mentioned above if you're looking for sun, sea and sand in a tropical paradise, Fiji is probably the better option.
Experience The Culture
You will find a friendly welcome in both Fiji and Hawaii, and both are culture-rich regions where English is the main language. Meaning a vacation in either can often be hassle-free.
However if you're looking for a lively nightlife and shopping scene then Hawaii will be a better vacation destination for you. Hawaii has many lively bars and clubs, and Oahu is a hub of action.
Fiji is more of a laid back nation, where 'Fiji time' exists and things can move a bit slow. Expect waiters to take their time, and buses to arrive late. It's all part of this island's charm.
Below we look at the culture in each island, and what you should expect if you choose to visit!
Fiji: The Culture
Multi-ethnic and multi-religious Fiji has a fascinating culture, some of it stretching back many centuries.
One of their ancient traditions is fire walking, which originated on the island of Beqa. The locals on this island still ceremoniously walk across hot coals, making Beqa a must visit for culture aficionados.
Recommended: The Ultimate Guide to Fiji Culture
This culture rich country is a place where many superstitions still exist – such as believing that coconuts choose who to fall on! But it's also an incredibly friendly and warm nation, where tourists are encouraged to intermingle with locals.
Somes girls are still taught from a young age to weave baskets and bags, and boys are taught to make bowls, spears and even 'cannibal forks' – a fork that was used to eat the flesh of enemies! Thankfully they're just made as tourist items now, and you can buy them and many other crafts at the Handicraft Market in Nadi.
Fiji is home to a sizable population of Christians, Hindus, and Muslims. The largest Hindu temple in the Southern Hemisphere, Sri Siva Subramaniya Temple, can also be found in Nadi. This ornate colorful building should be on your list of places to visit as you temple hop around the island.
While many people are already familiar with Hawaiian culture, Fijian is definitely lesser known. So a trip to Fiji really is a great opportunity to learn something new, and experience a part of the world that is very different from elsewhere.
Hawaii
Hawaiian culture – aloha wear, hula, and luau for example – is almost better known that Hawaii's gorgeous sunsets and swimming waters. So getting a taste of the real Hawaiian experience is a must if visiting here.
The iconic luau – a traditional Hawaiian feast with entertainment – should be the first thing on your list. We recommend the Smith Family Garden Luau in Kauai due to the delicious traditional food on offer, and the colorful entertainment and dances. But almost everywhere on Hawaii you can find a spectacular luau experience.
With your interest piqued in Hawaiian culture after taking part in a luau, head to the Polynesian Cultural Centre in Oahu to learn more about the Polynesian people and culture.
Hawaii is also home to one of the most notorious war crimes in history – the WW2 attack on Pearl Harbor. For military history buffs, the Pearl Harbor Aviation Museum is therefore a must visit.
The great thing about Hawaii is the fact its culture and historical sites are very accessible to all tourists. Big resorts and hotels hold cultural events, and with the archipelago proud of its heritage and English-speaking, tourists can find many places to find their own aloha spirit.
We'd just encourage you to get away from the tourist traps, as the best cultural experiences are usually found outside of resorts.
Where You Should Stay According To Your Budget
Fiji
Shoestring: Imagine your own private villa set on the beachfront, an outdoor infinity pool just steps away and free water activities like kayaking and snorkeling just outside your door.
The white sands of Fiji are the first thing you will see when you wake up, and incredibly all of this you can get on a reasonable budget when staying at the five-star Maui Palms. This resort set in Maui Bay is easily one of the best value for money hotels in Fiji. See photos and rates!
Budget: What could be better than a private villa? How about a private villa set on an exclusive private island? That's exactly what you'll get if you stay at Toberua Island Resort. This place may be serene but it's also licensed to teach scuba diving so if you want some adventure, you have plenty of opportunities! Incredibly, the price tag to stay here is well within most travellers' budgets. See photos and rates!
Luxury: If you want something extra special, then an overwater bungalow is the cream of the crop when it comes to Pacific accommodation. And you can't get much better than the gorgeous much sought-after overwater bungalows that Likuliku Lagoon Resort have.
This adults only resort is all about luxury and relaxation, and as soon as you step through the door you will be treated like a celebrity. Of course all of that comes with a celebrity price tag too. But if you have the money, it's worth it. See photos and rates!
Hawaii
Shoestring: Just one minute from the beach and with free bike rental, Hakuna Matata Hostel on Maui is fun, cheap and friendly. You'll be making memories in no time here, and without damaging your bank account. See photos and rates!
Budget: Located in the heart of Waikiki, 2 minutes walk to the famous Waikiki Beach and surrounded by shopping and dining is the luxury boutique Halepuna Waikiki hotel. This four-star hotel will stretch budgets, but the panoramic views of the ocean and city – alongside the gorgeous infinity pool – will be worth it. See photos and rates!
Luxury: Montage Kapalua Bay on Maui is one of those hotels we all wish to stay in one day. It's extravagant beachfront luxury on a 24-acre landscaped resort with unparalleled views to the sea and beach access. It's everything you'd expect of a five-star resort and more. See photos and rates!
A Taste of Island Life
With both being tropical island paradises, expect an abundance of fruit, coconuts and fresh fish. Below we pit Fiji vs Hawaii as we look at the cuisine on offer.
Fiji: The Food
Fiji's cuisine has been formed though a mix of indigenous and Indian influences due to a sizable population with Indian roots.
Freshly caught seafood is popular throughout Fiji, and fish curry – made with coconut milk – is often on the menu. Another fish dish to try is kokoda (see photo below) -this is a raw fish salad that is commonly served in a coconut shell!
If you get invited to a lovo say yes straight away! This traditional Fijian banquet involves cooking a large amount of meat (chicken or pork), fish and vegetables wrapped in banana leaves and then baking it in an oven dug in the ground. It's a real community affair, and the food's delicious.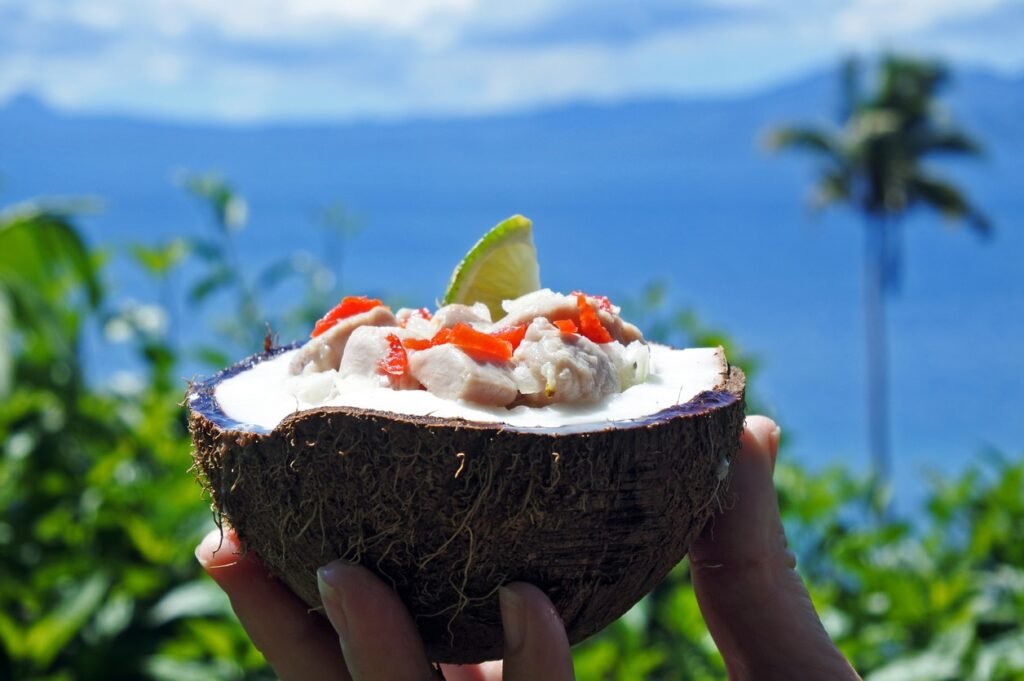 Hawaii: The Food
Hawaiian food is truly unique, combining Polynesian, European, Japanese and American tastes. And with plenty of fine dining options around the islands, alongside street food and traditional dishes, even the fussiest of eaters will find something they like.
However a must try – and what you will almost certainly have at a luau – is Kālua pork. A whole pig is slow cooked for several hours and then the meat pulled apart ready to be eaten. It's absolutely delicious.
For something that has more of an American feel, try loco moco – a burger steak, fried eggs and gravy. Perfect after a day swimming or hiking.
Shaved ice is also common in Hawaii, and is perfect to cool down on a hot day. This tasty treat is flavored with flavored syrup, and is sometimes served with ice cream too!
Fiji vs Hawaii: Which Is The Better Choice?
Both Hawaii and Fiji make excellent holiday destinations. But if you're seeking more time on the beach with a cocktail in your hand, then Fiji will probably be the better choice.
In general Fiji is cheaper and has a range of accommodation choices, including upmarket overwater bungalows that are perfect for honeymoons and romantic holidays.
However if you want an active holiday, and have more than a week to spare, then Hawaii and its constituent islands will provide a holiday that can be packed full of culture and adventure, as well as great beaches and snorkeling spots.
Recommended For Your Trip To Fiji Or Hawaii