Wandering our World is reader supported! If you purchase anything through a link on our site, we may earn a commission at no extra cost to you.
Last updated on October 9, 2022 by Wandering our World
Donner Lake is one of several water bodies in Northern California that offer incredible views, rustic camping, and an opportunity to be closer to nature. Named after the ill-fated Donner Party, a group of pioneers stranded in the area because of an early snowfall, the lake is full of history and untouched nature. It's also one of our favorite places to camp!
No wonder too. As not only is this a beautiful area, but it's also one with many activities to enjoy year-round. In summer there are a variety of water sports to enjoy, as well as hiking, fishing, and mountain biking. In comparison, winter has opportunities for cross country skiing and snowshoeing.
Not only does Donner Lake have excellent campgrounds, but there are also long-term RV parks for "full-timers" to enjoy the Donner Lake area all year round.
As we know this place so well, we share with you the best campgrounds in Donner Lake. We then look at some of the RV parks in the area, and then explain the rules around dispersed camping at Donner Lake.
Donner Lake Camping: The Best Campgrounds In The Area
If you are looking for a rustic yet stunning place to stay in California, you can't get better than a Donner Lake camping experience. This area offers some magnificent campgrounds and RV parks which really allow you to escape from the hustle and bustle of city life into the serenity of nature.
It's rare to find campgrounds located directly on the lakeside. But there's some fantastic options in the forest and mountains surrounding Donner Lake that are worth looking into.
1. Donner Memorial State Park Campground
Donner Memorial State Park Campground offers breathtaking views of the Sierra Mountain Range and Donner Lake. The park is named after the historical group of pioneers that got stranded in the Sierra Mountains in an early snowstorm. The park has hiking, picnicking, boating, fishing, and summer camping. This campground is probably your best option if you want to camp near the waterfront as the other campgrounds in the area require a drive to get to the lake.
Any camper seeking a scenic retreat into the mountains will be spoiled for choice with the 159 campsites they have on offer here. The campground is usually open from late May to September, depending on the seasonal weather. Facilities wise it has metal lockers to lock food away at night from bears, water for drinking, hot showers, flush toilets, and even an amphitheater! It's also dog friendly.
The campground is separated into three loops: Ridge Campground, Creek Campground, and Splitrock Campground. Ridge Campground has 49 sites and is closest to the amphitheater in the park. Creek Campground has 57 campsites and is described as a "sweet spot" by many campers. And Splitrock Campground is the closest campsite to Donner Lake – perfect for lakeside views.
Before booking, be sure that your vehicle will fit in the parking space at the campsite. You can do that on the park website. The park has opportunities to explore the local history, enjoy water sports on the lake, as well as hiking, fishing, and picnicking. In fact the whole park has two miles of frontage on Donner Lake and is near the Donner Lake designated swimming zone! With all of that on the doorstep of this campground, it's little surprise this is one of our favorite Donner Lake camping options.
Fees: Starts around $30 per night.
2. Granite Flat Campground
Located on Highway 89, the Granite Flat Campground offers an outstanding opportunity to camp along the pretty Truckee River. While not that close to Lake Donner, the campground provides an excellent opportunity for fly fishing and camping amongst the forests in the area. This place is truly for nature and fishing enthusiasts.
The campground is more rustic than other campgrounds in the area, and offers bathrooms and bear food lockers, but no showers or dump station.
There's plenty to do though as the Truckee River has numerous activities such as paddle boarding, white river rafting, and hiking up the Eagle Falls Trail. If you want to go to Donner Lake or head into town, you will have to hop in the car for a short drive.
Fees: $22 per site; $5 for extra vehicle.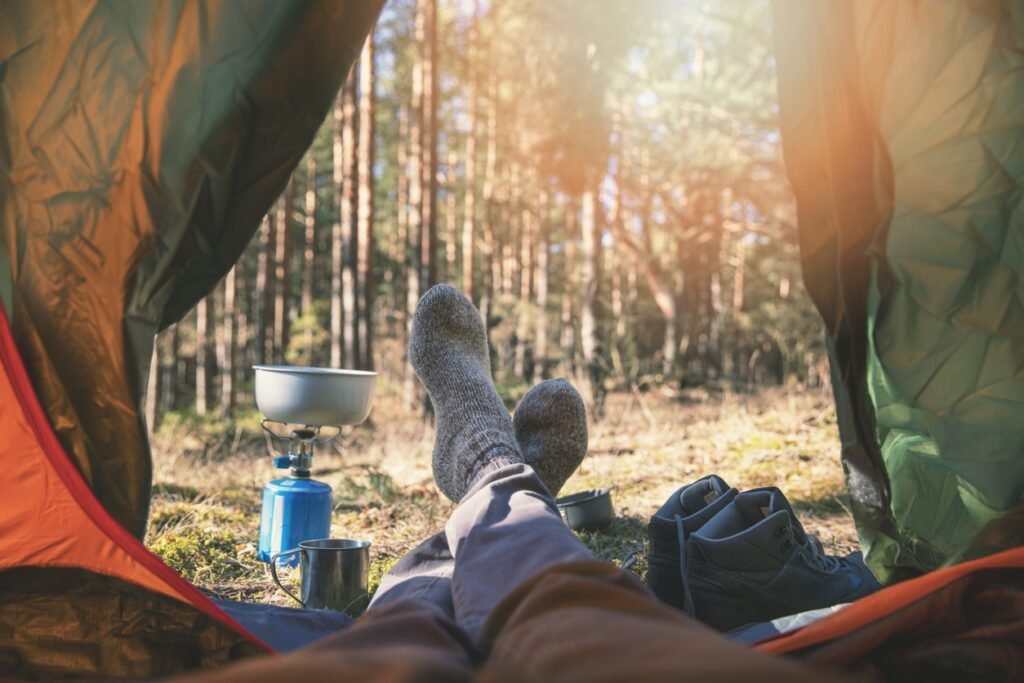 3. Goose Meadows Campground
Just 15 minutes from Donner Lake, the Goose Meadow Campground is another place that offers picturesque camping along the bank of the Truckee River. This is another excellent fishing spot which is also popular for river rafting!
Most of the sites on offer have shaded areas and have single-family campsites with a picnic table, campfire ring, and grill. Bears are common in the area, and campers are encouraged to use the available bear boxes. There are vault toilets and drinking water provided.
A lovely paved trail begins a few miles south at the entrance of Squaw Valley which is popular with walkers, skaters, and bike riders. The campground also offers a great alternative to lakeside camping at Donner Lake, instead giving you riverside views and the ability to enjoy everything at the lake via just a short car ride.
The forested area that surrounds Donner Lake offers many opportunities for adventure, and the Goose Meadow Campground is a great place to stay if you're looking to explore it. Like many of the campgrounds in the area, it is only open during the summer season.
Fees: $22 per site; $5 for extra vehicle.
4. Silver Creek Campground
Further up the Truckee River from Donner Lake on Highway 89 is Silver Creek Campground which offers just 28 campsites. The sites can accommodate tents, RVs, or trailers, with most of the tent sites situated close to the river.
This secluded campground is nestled in a gorgeous Jeffrey and Lodgepole pine forest. You can book some of the campsites, but a few are reserved for first-come, first-served visitors.
If you want to go on a spontaneous weekend away and make up your adventure as you go, then this campsite is a fun option for avid campers.
Fees: $20 per site; $5 for extra vehicle.
5. Tahoe Donner Campground
Tahoe Donner Campground is near Alder Creek, situated close to Donner Lake. The campground offers a convenient way to access the Emigrant Trail and the other extensive hiking trails in Tahoe Donner.
The tent and RV sites have electricity, water, hot showers, and toilets. Tahoe Donner has multiple opportunities to experience nature on-site and in the wider area. Which is exactly why it had to make our list of best Lake Donner camping options.
Fees: Starts from $37 per night.
RV Parks At Lake Donner
If you prefer the comfort of an RV, there's a few RV options around Donner Lake worth checking out.
Nomadic living in some of the world's most beautiful places has become an increasingly popular lifestyle to lead. When you're looking to park your RV for an extended period, there are several options for year-round camping near Donner Lake. Here are some great RV parks near Donner Lake where you can enjoy RV living year-round!
1. Truckee River RV Park
Truckee River RV Park is a few feet away from the Truckee River and a great way to spend an extended period in the area. This campground offers a full hook-up with water, sewer, electricity, and wi-fi.
However while other campgrounds on the lakeside are seasonal campsites, this park offers the opportunity for nature lovers to stay in the area for an extended period as they require a minimum of three months rental. They say this may change in the future, so check their website if interested.
By staying here campers can enjoy everything the lovely Sierra Nevada mountains have to offer. You can enjoy hiking, biking, dirt biking, golfing, white river rafting, and fishing just across the road from the campground during the summer. And once winter hits, you can enjoy all the winter sports opportunities.
Staying in the park also means you can spend more time adventuring on the ski slopes instead of spending money on pricey accommodation. RV living is not just for retirees. It's for anyone who wants to get out of a structure and be enthralled by living close to nature.
2. Coachland RV Park
Coachland RV Park is just 10 minutes away from Donner Lake, near the Truckee Donner Recreation and Park District. This campground has 114 campsites and offers pull-through and back-in sites.
This place is a more upmarket RV park, with a full hook-up on every site and free cable and internet. The site also offers a fitness center, pet parks, a laundry facility, and a clubhouse! It's close to town for shopping and eating out too.
You can experience all your favorite outdoor activities year-round while bringing your animals along for the adventure. Coachland has a lot to offer long-term campers and is a lovely central Donner Lake camping option to enjoy all that the area provides.
Dispersed Camping At Donner Lake
DISCLAIMER: Below we give general advice, but we always recommend staying in an official campsite. If you choose to go wild camping/dispersed camping, then make sure you do so with someone who already knows the area where you're planning on camping for your own safety.
Staying in a campground is not the only way to enjoy the quiet and solitude of nature. Dispersed camping, or remote camping, is when a camper chooses to set up camp in nature and away from a developed campground. (Recommended: Dispersed Camping in California).
Dispersed camping is allowed in most areas of the Tahoe National Forest around Donner Lake. However dispersed camping is not allowed along the Truckee River, around Jackson Meadows Lake, Stampede, and Boca Reservoirs.
The most popular places for dispersed camping in the Donner area are Grouse Ridge, Bowman Lake, Little Truckee River, and Foresthill Divide Road. There are a few areas where there are undeveloped campgrounds created by the Pacific Gas & Electric Corporation on PG&E land. They have a few amenities which may require a fee.
Regardless of where you set up camp, dispersed camping in the Donner area will require a California Campfire Permit if you want to use a camp stove, barbecue, or have a campfire.
Practice fire safety, and make sure you practice good maintenance of your campsite, like leaving your campsite the same or better than how you found it. Leaving the vegetation undamaged is an important part of dispersed camping.
And lastly, staying in an undeveloped campground means you should be aware of your safety while in the wilderness – particularly when it comes to bears. As we cover below.
Lake Donner Camping: Bear Safety
With bears roaming California's public land, you must take steps to avoid attracting them to your campsite. We advise:
If you have a vehicle nearby, store food there rather than in a tent
Use a bear box or bear canister to store food, rubbish, and anything with a scent
Don't pitch your tent near where food is being stored
Never approach any bear, regardless of its size
Don't spray anything with a scent
Other Than Camping, What Else Is There To Do At Donner Lake?
Donner Lake has many attractions that will appeal to the adventurous camper. Let's look at some of the exciting activities that the area has to offer.
Castle Peak Trail
There are many magnificent peaks in the Tahoe area, and the Castle Peak Trail is the easiest of those peaks to hike.
This 9.7km day hike is located near Soda Springs, and although considered the easiest peak, it is still a challenging trail. To get to this hike, you take the Boreal exit off I-80. The hike is a great way to see wildflowers and is best experienced between May and October.
Donner Lake Bike Route
This incredible bike route goes around Donner Lake. The loop is 11.3km and is an excellent way to see the beauty of the lake while getting out into the fresh air. It is rated as a moderate trail and is accessible year-round.
Water Sports
Donner Lake has options for boating, water sports, fishing, and swimming. While the lake can be a little chilly, you can still enjoy all the activities on offer.
Conditions At Donner Lake
The weather at Donner Lake varies throughout the year. Campgrounds tend to be open for summer camping when the weather is lovely and warm. But the winter months are cold and snowy and don't make for good camping unless you want to live in an RV. So whilst Donner Lake has opportunities for adventure year-round, it is best experienced from May to October.
Donner Lake Camping: Our Final Thoughts
Donner Lake has a wide array of exceptional campgrounds, RV Parks, and dispersed camping options with breathtaking views and scenery.
Campers can enjoy the picturesque area, the fantastic water sport options, and get away from the bustle of city life while still enjoying a wide array of amenities. Have fun!