Wandering our World is reader supported! If you purchase anything through a link on our site, we may earn a commission at no extra cost to you.
Last updated on April 14, 2023 by Wandering our World
You're ready for adventure, to explore new places and try new things, including new foods. Tahiti and Bora Bora, two islands within French Polynesia, may be just what you're looking for. Sandy beaches, ocean activities, and Polynesian culture and cuisine await.
Bora Bora consists of a more rural and luxury set up whereas Tahiti is more populated and the biggest of the French Polynesian islands, giving it more of an urban and local feel. But both have a fantastic cuisine culture.
The local cuisine of Tahiti and Bora Bora is a mix of French, Asian, and Polynesian cultures due to the influence of different peoples who've come to the islands over the course of history. So the food consists of delectable dishes made from combining the best of each influence.
As we know the cuisine of Tahiti and Bora Bora well, we're going to take you on a culinary trip.
We'll show you the dishes you must try when visiting, the places where locals eat, and how to make the most of the food and drinks you will discover. Enjoy!
Tahiti & Bora Bora Dishes That You Need To Try
If you want to truly experience a place, trying the local food is a must. Dishes on these islands can be pricey, partly due to import costs of ingredients that don't grow there.
So be sure to plan for this budget-wise if you want to eat at a lot of restaurants and try many traditional dishes.
1. Poisson Cru
The national dish of Tahiti, Poisson Cru, makes for both a delicious and cultural experience, especially if you like eating fish.
The name translates to "raw fish" from French, and it's also known as "ia ota" in Tahitian.
You can find Poisson Cru at most restaurants. The dish usually consists of raw tuna marinated in lime juice – the lime juice not only adds flavor, but its acidity kills bacteria making it less likely you'll get sick from eating raw fish – and coconut milk. Cut up vegetables are then mixed with the fish.
While Tahiti's national dish, Poisson Cru is also common in Bora Bora.
2. Poulet Fafa
If you're not into seafood dishes, try poulet fafa. It's a chicken dish, traditionally made in an ahima'a (an underground oven).
Wrapped in either taro or spinach leaves, the chicken is cooked over rocks heated by fire. It's seasoned with coconut milk, onion, and garlic.
3. Kato
Looking for a snack? Sample some kato! They're biscuits made from coconut milk and commonly served with coffee.
4. Fafa
If you're vegan or just like vegetables, order some fafa. Fafa comes from the leaves of the taro plant. Sometimes it's cooked with meat, but you can also find this spinach-like food as a side dish or by itself.
5. Fafaru
Although it sounds similar to fafa, fafaru is an entirely different type of dish, so try not to get them mixed up if there's a specific one you want to try.
Fafaru, a seafood dish, contains parrotfish or tuna seasoned with crushed shrimp and crabs in seawater.
6. Casse-croute
Craving a sandwich? There's a local one of those too! This Tahitian style casse-croute comes on a French baguette. The inside holds a meat such as ham, tuna, roast pork, or hamburger along with tomatoes and cucumbers. This tasty sandwich is enjoyed by tourists and locals alike.
7. Chevreffes
Like shrimp? Then don't miss out on trying chevreffes. Cooked in coconut milk and vanilla, these fresh water shrimp have a sweet flavor sure to make your mouth water.
Local Deserts in Tahiti and Bora Bora to Try
While most of your food budget will be designated towards meals, it doesn't hurt to have a little extra on hand in order to sample the unique deserts of the area! Bora Bora and Tahiti deserts make for a fun and unique experience.
1. Po'e
Po'e takes local mango, papaya, and banana and transforms them into a delectable pudding covered in coconut sauce. It's sure to satisfy your sweet tooth.
2. Firi firi
A totally different type of desert, firi firis are doughnuts shaped in a figure eight. Like kato, it's typical to dip them in coffee.
Tahiti Drinks to Get Your Hands On
Add trying unique drinks in Tahiti and Bora Bora to your list! In addition to all the traditional dishes, these islands boast a number of drinks for a unique tasting experience.
1. Hinano Lager
If you drink alcohol, then you should try Hinano lager while in Tahiti. It's the traditional alcohol of the island.
The beer is named after a flower in the South Pacific and has been brewed on the island since 1955. You can usually find it on tap, but it also comes in cans and bottles. The crisp taste has a bitter edge to it.
2. Tahitian Noni Juice
Instead of being eaten, noni fruit usually serves its purpose in the famous noni juice. The juice provides many health benefits from its high amounts of anti-oxidants, potassium, calcium, niacin, and vitamin C. Into health drinks? Head for the noni juice.
3. Maitai Cocktail
You might have had a maitai cocktail before. It was originally created in the states by a bartender who invented the drink for his friends visiting from Tahiti.
Its name comes from the Tahitian "mai tai" which means "good". It's a fruit rum and was first flavored with almond syrup, lime juice, and orange curacao. It's now a popular alcoholic drink around the French Polynesian islands.
4. Coffee
We're including this one for your benefit. If you want genuine, fresh coffee on these islands, you probably want to ask for café expresso. Otherwise, your order will most likely be instant coffee.
5. Pape Haari:
Pape Haari is coconut water. It's cheap and healthy! If you're looking for a local thirst-quencher while on a budget, pape haari is the way to go.
The Cuisine of Tahiti and Bora Bora: Food Experiences and Places to Eat
Now that you know about all these dishes and drinks to try, where should you go to find them? What kind of experience do you want to have while eating? Bora Bora and Tahiti have a great mix of places to choose from. But here's our favorites.
1. Ahima'a
A great way of experiencing traditional Tahiti and Bora Bora cuisine centers around an ahima'a, or an underground oven.
Its name comes from a combination of the words "ahi" or "fire" and "ma'a" meaning food. It takes hours to get an ahima'a ready, using fire to heat lava and basalt rocks which are then used to cook many traditional dishes.
If you want to experience food cooked this way, many resorts will have an ahima'a food night.
Also, local families may do ahima'a cooking on Sundays or for special occasions. If you are staying with locals or become friends with locals during your trip, you may be invited to experience an ahima'a cookout.
2. Tamaaraa
Tamaarra is a Tahitian feast with singing and dancing. Native dishes cooked in an ahima'a are served. Along with food, you enjoy a show towards the end of the feast, full of more dancing and costumes.
Expect to have a good time and to use your fingers to eat!
3. Day Cruises
If you want to do some adventuring along with fulfilling your foodie desires, try one of the many half-day and full day cruises the islands offer.
You can expect a fine meal on board or a motu lunch (like an island barbeque) on the beach along with snorkeling, jet skiing, sailing, and maybe even enjoying a beautiful sunset over the ocean.
4. Snack
A 'Snack' is what the locals call a small café or snack bar. You can find a lot of different local dishes at these little places, and they are cheaper than full-fledged restaurants.
5. Roulottes
If you're really on a budget while visiting Tahiti or Bora Bora, you must visit the roulottes! These food trucks offer local cuisine and are frequented by residents as well as tourists. They are some of the cheapest food options on the islands, but you still get good food and the local experience.
Roulottes differ from food trucks in other countries in that they don't usually change locations. This makes it easier for visitors to the islands to find them again if they come across one they really like.
6. Bora Bora's Famous Bloody Mary's
This restaurant is on the more expensive side, but it offers a wonderful experience along with really good drinks and local cuisine. They only offer light meals at lunchtime, so if you want a big meal, go for dinner.
The floor is beach sand, the roof is thatched, and the atmosphere is set up to give off a very island-beach vibe. You choose your meal from the fresh ingredients in the front of the restaurant, including fresh seafood caught by local fishermen.
Bloody Mary's has been around since the 1970's and is often visited by celebrities. So, along with enjoying a scheduled performance put on by the restaurant, keep your eyes open for any famous people eating around you!
The Cuisine of Tahiti and Bora Bora: Food Costs and Tips
Because Tahiti and Bora Bora have to import a lot of ingredients and are touristy locations, they tend to be on the pricier side to eat out. Make sure to give yourself a generous food budget. You might save money by finding little, local places to eat instead of always eating at your hotel or resort.
Importing food affects grocery store costs as well. However, if you're traveling with a group, it might be less expensive to buy breakfast, bread, and snack items at the store. That way you're only "eating out" for two meals a day instead of three.
Different countries view tipping differently. In Tahiti and Bora Bora, tipping is tolerated but not necessary since it goes against the Tahitian idea of hospitality.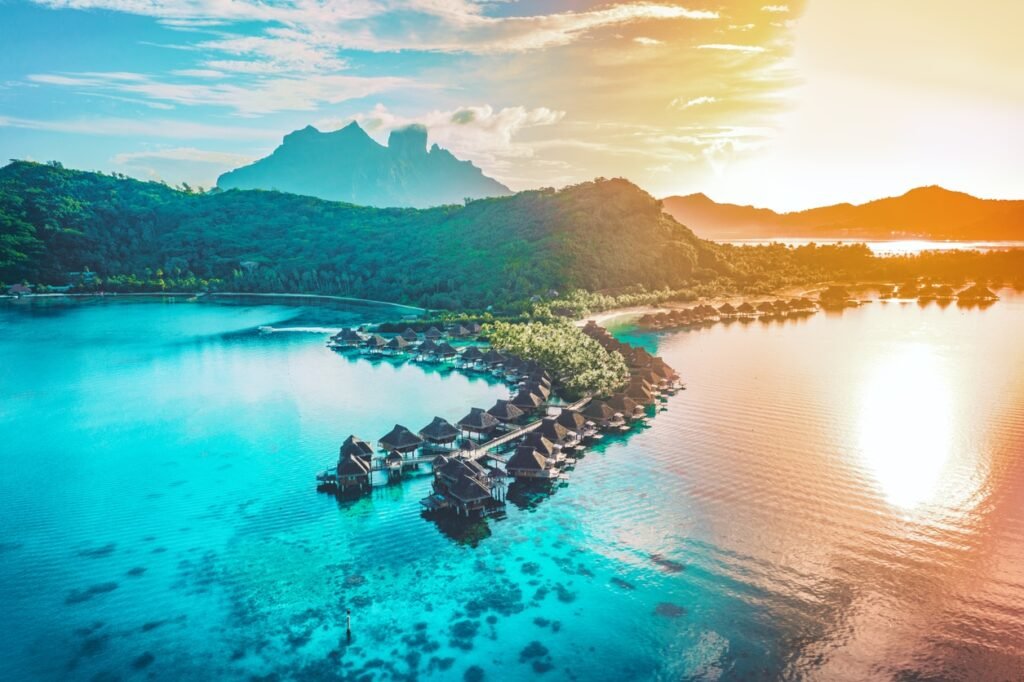 Bora Bora & Tahiti Cuisine: Local Fruits and Vegetables
With their tropical climates, Bora Bora and Tahiti produce a wonderful array of fresh fruits. Keep a lookout for these fruits and vegetables.
Bananas
Breadfruit (Uru)
Papayas
Pineapples
Coconuts
Mangos
Citrus fruits
Vanilla pod
Watermelon
Rambutan
Yams
Taro
Sweet potatoes
Meat
Aside from fresh seafood, the most common meats you'll encounter on the islands are pork and chicken.
Seafood
As per the norm with island cuisine, Bora Bora and Tahiti have easy access to a variety of different types of fish and seafood. So if you're not from an island, they provide a great chance to try some seafood that may not have been available to you before.
Fish
mahi mahi
perch
parrot fish
tuna
bonito
lagoon fish
swordfish
wahoo
Other Seafood
Giant clam
Sea urchin
Korori
Langouste
Kaveu
A Trip for You and Your Tastebuds
Tahiti and Bora Bora are popular vacation islands for good reasons: a beautiful setting, lots of activities, Polynesian culture, and excellent food. If you like fruit and seafood, your inner foodie won't be disappointed with a trip to these islands.