Wandering our World is reader supported! If you purchase anything through a link on our site, we may earn a commission at no extra cost to you.
Last updated on December 1, 2022 by Wandering our World
Once the sun goes down, Clearwater's nightlife really starts to shine. From beachfront bars to hip nightclubs, if it's crowded and crazy, you'll probably find it in Clearwater, Florida. However if you're looking for something more low-key, check out the sports bar scene – there are tons of cool spots right on the water where you can enjoy a drink or two and keep an eye on your favorite teams.
Clearwater nightlife is a mix of tourist spots and local hotspots, so there's aways something for everyone to enjoy.
As we know this place well, we'll share with you the hottest Clearwater nightlife spots. We'll show you the best bars, nightclubs, live music joints, happy hours, and even where to grab late night food. Party on!
The Eight Best Bars and Beach Bars in Clearwater, Florida
If you're looking for a night out in this town, the Clearwater nightlife scene has plenty of bars and clubs to choose from.
From beachfront establishments to downtown hotspots, there's something for everyone in this coastal city. Here are some of the best bars in Clearwater, Florida.
1. Jimmy's Crow's Nest
With a 270-degree view of the sun setting over white sugar sand beaches and sparkling waters, you'll be able to enjoy an evening overlooking one of Florida's most beautiful locations: Clearwater Beach. The rooftop bar at Jimmy's Crow's Nest offers breathtaking views that will make your memories last forever!
Join them for an unforgettable experience as they toast the incredible sunset. They even sometimes offer a FREE drink to celebrate this magical time of day. Watch, laugh, and enjoy!
After filling your stomach from their delicious food menu – which includes everything you love about home-cooked dinner combined into one place, including wings, pizza & buffalo chicken dip – grab another drink at Crow's Nest before heading out to dance.
Jimmy's Crows Nest is a local favorite and the perfect place to spend some time with friends or enjoy an evening out. You always get to create perfect vacation memories at this place!
Address: 101 Coronado Dr, Clearwater Beach
2. The Shipwreck
Party with locals at The Shipwreck! This Clearwater Beach nightlife institution has been around since 1976 and is a favorite spot for good times and cold beers.
With pool tables, darts, golf, and TVs, there's something for everyone at Clearwater Beach's oldest bar. If you're there on Wednesday or Thursday, then pool is free!
And don't forget to say hello to Jeff, Charity, Fito, and Dennis – the friendly staff that will make sure you have a great time. The Shipwreck is open until 3 am every night, so go on down and join the fun.
Address: 647 Mandalay Ave, N. Clearwater Beach
3. O'Keefe's Tavern
O'Keefe's has a long legacy in Clearwater. The DuQuesnay family and dedicated staff work hard to provide everything for an enjoyable experience — they're known for their excellent food, friendly service, and cozy atmosphere that'll make you feel at home from the moment you walk through those doors!
This inviting and spacious Irish pub is the perfect place for anyone who wants to enjoy some good food, great drinks & company. And of course, this Irish pub is one of the best for draft beers in the area.
Join them for a drink and enjoy the view of Clearwater Beach from their sidewalk patio. Or if you want to re-energize after a long day, they've got daily food specials!
What about happy hour? Well it's ALL DAY, EVERYDAY here! Expect 2-4-1 cocktails, house beer, wine and green margaritas. They also have one of the biggest St. Patrick's day celebration on the coast!
Address: 1219 S Fort Harrison Ave, Clearwater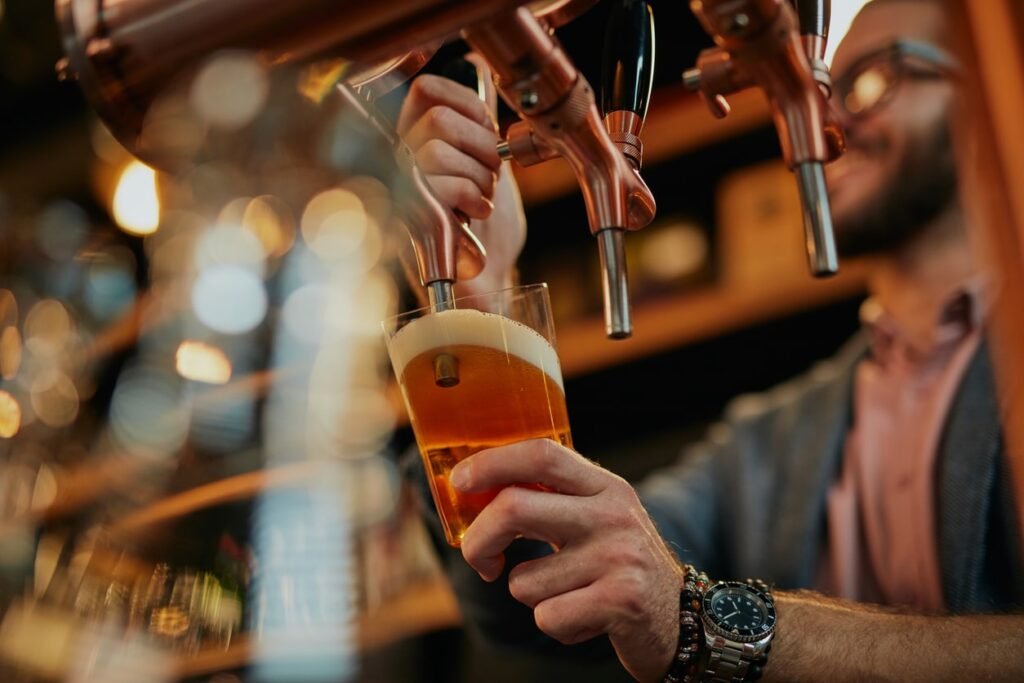 4. Shephard's Tiki Beach Bar & Grill
What better way to spend a beautiful day at the beach than with live music, tiki drinks, and delicious food? You'll be able to enjoy everything at Shepard's from relaxing reggae tunes all afternoon long, to national acts in the evening that will get you up on your feet.
You'll enjoy delicious drinks and tasty beach favorites while taking in some amazing sunsets over the water with soft white sand between your toes!
With their calendar full of exciting events, including special celebrations happening every week during summer – you won't want to miss out!
Address: 619 S Gulfview Blvd, Clearwater Beach
5. Palm Pavilion Beachside Grill & Bar
The casual and laid-back atmosphere at this beach bar is something to experience. Whether you're looking for great seafood, sizzling steaks, or chicken wraps with shrimp & crab soup – they have it all! And don't forget about their famous beach burgers that will make your taste buds sing too.
Be sure you grab a seat early before they're all gone, as watching one of their frequent live music shows isn't something you should miss.
They even have happy hours on the weekdays from 4 pm to 7 pm so you can enjoy your drink of choice & appetizers!
Address: 10 Bay Esplanade, Clearwater
6. Jimmy's On The Edge
Jimmy's on the Edge is a Clearwater Beach favorite for its tropical-inspired cocktails and appetizers. With a beautiful view of the water and Clearwater cityscape, Jimmy's is perfect for a night out with friends. Join them every 2nd and 4th Friday of the month for a live DJ and party vibe!
Their 24-foot long fire bar is perfect for any occasion, and their cocktails are sure to transport you to paradise. Head up to Jimmy's rooftop bar for your next Clearwater Beach nightlife adventure.
Address: 505 S Gulfview Blvd, Clearwater Beach
7. Marina Cantina
If you're looking for a fun and unique Clearwater nightlife option, be sure to check out Marina Cantina. This beautiful Mexican rooftop bar offers stunning views of the marina and is perfect for group hangs. With comfortable couches and high-top seating, as well as crystal clear banisters that offer an unobstructed view of the water, Marina Cantina is a must-visit spot for any Clearwater nightlife adventure.
Marina Cantina is a great place to visit for a night out but also for brunch! They have a huge menu full of Mexican favorites, like chargrilled octopus and tacos with pork belly, grouper, short rib, and crispy cauliflower.
They have an excellent tequila bar, with over 30 different tequila options to choose from. If tequila isn't your thing, they have some great margarita options as well. Be sure to try out the Deseo Del Sol Margarita – it's amazing.
Address: 25 Causeway Blvd, Clearwater
8. Tropico Rooftop Cantina
The Tropico Rooftop Cantina is a great place to watch the sunset in Clearwater Beach. The Latin-inspired dishes are fresh and delicious, and the view of the beach is simply beautiful. If you're looking for a classy spot to enjoy a meal and drinks, this is definitely it.
The open-air patio has a classy vibe and the drinks do too. We recommend the Prickly Pear Paloma – a spin on the classic Mexican Paloma with vodka, grapefruit juice, prickly pear syrup, and lime sour.
If you're looking for a fun and delicious way to spend an evening, look no further than the Tropico Cantina, one of the hotspots of the Clearwater Beach nightlife scene. You'll find Grilled Fresh Oysters, Mini Empanadas, Mexican Street Corn, and Gulf Shrimp Ceviche, all of which pair perfectly with their cocktails.
Address: 301 S Gulfview Blvd, Clearwater Beach
The Three Best Nightclubs In Clearwater, Florida
Nightclubs are a huge part of the Clearwater nightlife scene. If you're looking for something different to do on your next vacation, make sure to check out some of our favorite nightclubs.
The nightclubs here often have live DJs and drink specials that can't be found anywhere else. You'll also find great food options at many Clearwater nightclubs. The best part is that there are plenty of clubs where you can dance all night long, and many bars also double up as a club.
So whether you're looking for upscale or casual clubs, there's always one nearby that will suit you. And if you need somewhere fantastic to stay the night, check out these choices!
1. Jamminz
Jamminz Beach Club is the place to go for a great time. Locals and tourists party together and everyone has a blast. Jamminz offers some of the best drink specials around and has an awesome happy hour from 4:00 – 7:00 PM.
This is one of our favorite Clearwater nightlife spots to visit after a long day at the beach and is perfect for winding down with some drinks. At 9:00 PM, Jamminz turns into the best dance party around so expect colorful drinks and live DJ entertainment 7 days a week!
The DJ spins hits all night, but be prepared for some rap if you hit up Jamminz at the weekend. There's always something exciting going on at Jamminz, so be sure to stop by and party with them!
Address: 411 Mandalay Ave, Clearwater Beach
2. Amorama Latin Night Club
Amorama Latin Night Club is a great place to go if you're looking for some fun Spanish dancing. They play a great mix of music, including Bachata, salsa, merengue, and pop, and the staff are all very friendly. They also have live music and DJs.
Even if you're not an experienced dancer, many of the other patrons will be happy to dance with you and help you learn. It's definitely worth checking out if you're looking for a good time and to make friends!
Amorama Latin Night Club is a great way to spend an evening in Clearwater. Whether you love dancing, or just want to check out the hot Latin nightlife scene, this club is perfect for you.
Address: 13501 Icot Blvd Suite 108, Clearwater
3. WAVE at Shepard's Beach Resort
Looking for a place to party on Clearwater Beach? Look no further than Wave at Shepard's Beach Resort! This popular party spot is perfect for locals and out-of-town guests alike, with both upper and lower levels set aside for bottle service only. Tables are available on a first-come-first-serve basis, so make sure you get there early!
If you're looking for a place to relax and soak up the sun, the patio section is the place for you – but be prepared to share your spot with others, as it's first-come-first serve until capacity is reached. It's an exclusive place open on Friday and Saturday only, from 10pm to 2:30am.
Definitely one of the best party spots on the Clearwater Beach nightlife scene!
Address: 619 S Gulfview Blvd, Clearwater Beach
Clearwater Nightlife: Four Places To Check Out For Live Music & Entertainment
If you're looking for a great night out, Clearwater has plenty of options when it comes to live music and entertainment. From nightclubs that offer DJs and dancing, to pubs with live bands, there's something for everyone.
Many of the bars we've featured above have live music on some nights, but here's a few extra options for great live entertainment in Clearwater.
1. Crabby's Bar and Grill
There's no shortage of fun things to do in Clearwater, especially when it comes to nightlife. Crabby's Bar and Grill is a popular Clearwater Beach nightlife spot for locals and visitors alike, with both indoor and outdoor seating, delicious food, and some of the best happy hour specials on the beach.
You can also enjoy stunning sunset views while you relax at Crabby's. They serve breakfast, lunch, dinner, and late-night eats, plus there's live music every day!
So whether you're looking for a place to have a great time or just want something tasty to eat, Crabby's is definitely worth checking out.
Address: 333 S Gulfview Blvd, Clearwater Beach
2. Surfside Taphouse
At Surfside Taphouse, you can find an assortment of local beer from Tampa Bay area breweries, as well as crafts beers from Florida and across the country. You can also find some of the best macro brews from around the world. It's a beer lovers paradise.
And, if you need to catch up on the game, there are plenty of high-definition TVs inside. Make sure to look out for the live entertainment which starts at 9 pm every night as well!
The atmosphere at Surfside Taphouse is laid-back and perfect for enjoying a cold drink with friends. The outdoor seating is great for catching some rays and experiencing the gulf breeze too.
Address: 395 Mandalay Ave, Clearwater
3. Beach Fire Beach Bar and Grille
The Beach Fire Beach Bar and Grille is the perfect place to go for a fun Clearwater Beach nightlife adventure. With its laid-back, stress-free environment, Beach Fire is perfect for any beach vacation.
They serve breakfast, lunch, and dinner 7 days a week and have fresh, homemade food, and also have a fully stocked bar with amazing tropical drinks and over a hundred craft beers, plus a huge selection of local and national brews. Located on the North End of the beautiful Clearwater Beach, everything is cooked over an open wood fire – hence their name!
They have live music most nights and sports on several big-screen HD TVs, so you won't miss a minute of the big game. Plus, they have karaoke! The ORIGINAL and BEST karaoke spot on Clearwater Beach!
If you want to showcase your talent or cheer on the next rising star, there is an open mic night too.
Relax, enjoy the beach life, watch the big game, or just watch the bronzed bodies stroll by while sipping icy cold brews and amazing libations. Perfect.
Address: 608 Mandalay Ave, Clearwater Beach
4. The Sandbar
The Sandbar is a wonderful place to enjoy a cocktail or two after a fun day on Clearwater Beach. With its cool cocktails, great food, and lively conversation, the Sandbar provides the perfect atmosphere for a casual lunch or drinks with dinner.
There is a delicious variety of fresh Florida cuisine to be enjoyed here, as well as some of the best drinks on the beach. Guests can pull up a chair or stool and take in the beautiful view, complete with a million-dollar sunset.
You can enjoy live entertainment on certain nights of the week, so check out their website to find out what's coming up this weekend. The Sandbar is a great place to grab some dinner and drinks with friends or just come for the amazing view! This is one of our favorite places to begin any Clearwater Beach nightlife fun!
Address: 430 S Gulfview Blvd, Clearwater Beach
Satisfy Your Cravings: The Four Best Places To Grab Late Night Food In Clearwater, Florida
It's late. You're hungry. And you don't want to leave Clearwater's nightlife scene and go home just yet.
If you're looking for a place to grab some late-night food in Clearwater, Florida, then you've come to the right place. We've compiled a list of some of the best places to go for a bite after hours.
So whether you're looking for pizza, tacos, Chinese food, or something else entirely, we've got you covered. Check out our list and see for yourself!
1. Papa's New York Diner
Papa's New York Diner is the place to go for a delicious meal any time of day. The diner is open 24/7, so you can always come by for breakfast, lunch, dinner, or a 4am snack!
Their menu offers something for everyone, with fresh and local ingredients in all of their dishes. Whether you're a regular or a newcomer, they'll make you feel at home with their warm and welcoming service.
Start your day off right with one of their signature breakfast omelets, enjoy a classic sandwich for lunch, or savor a juicy burger for dinner. No matter what you choose, you're sure to be satisfied with the hearty and delicious food from Papa's New York Diner!
Address: 1764 Gulf to Bay Blvd, Clearwater
2. Clear Sky Beachside Cafe
The Clear Sky Beachside Cafe is a charming little spot located half a block from Clearwater Beach. They serve up some of the most amazing breakfast food as well as late-night dishes, with a wide variety of options sure to please everyone in your group. Not to mention, their Mimosas and Bloody Marys are excellent.
But that's not all! The Clear Sky Cafe is also well-known for its mouth-watering lunch and dinner menus. You can find everything from gourmet pizzas and signature paninis to burgers and salads – all with flavors from around the world.
And if you're looking for a sweet treat, they've got you covered too! Be sure to check out their dessert menu for a taste of something truly special.
You can enjoy live music with your meal, or sit outside for a night under the stars by the water. Their friendly staff is more than happy to help you pick out something delicious, so stop on by and give them a try!
Address: 490 Mandalay Ave Ste 1, Clearwater
3. Florida Subs & Gyros
Florida Subs & Gyros is a great place to go when you're looking for some good, cheap eats. The service is prompt and friendly, and the food is delicious.
You won't only find Greek food here, but also classics like burgers, tacos, hot dogs and even platters! The fries are yummy after a night out and the simple salad is an easy side dish to go with your meal.
But the best thing about this place is that it is open until 4 am on the weekends! There is nothing like getting a good sandwich to go with your night out on the town, and possibly make the next day a little nicer…..
Address: 2017 Gulf to Bay Blvd, Clearwater
4. RockHouse Live
RockHouse Live is a great place to eat, drink, and rock out! They have five locations, with their flagship in Clearwater Beach, FL. They're open till 3 am every night, which makes this a great place to end your night of fun!
Their menus include a wide variety of delicious eats that will leave you full and satisfied! Their specialty pizzas come in tons of different styles and you can create your own if none of their options take your fancy.
They also serve up some tasty burgers and sandwiches, as well as a variety of entrees. And you can't forget the cocktails! They have an extensive menu of craft drinks that are crafted to perfection by their skilled mixologists.
Address: 207 Coronado Dr, Clearwater
Clearwater's Nightlife is Calling Your Name!
Clearwater is a great place to spend a night out in the town.
With its vibrant atmosphere and plethora of restaurants and bars, you're sure to find something that suits your taste. Whether you're looking for pizza, beer, wine, tacos, Chinese food, or something else entirely, Clearwater has got you covered.
And if you're looking to keep the party going until the early hours of the morning, there's no better place than the bars and nightclubs in Clearwater. You're sure to have an awesome time and a good drink. So what are you waiting for?