Wandering our World is reader supported! If you purchase anything through a link on our site, we may earn a commission at no extra cost to you.
Last updated on December 5, 2022 by Wandering our World
So, you have your heart set on getting down in Mexico, but you can't quite decide which Yucatan destination is for you. After all, the south-eastern state of Quintana Roo is home to two of Mexico's best-loved and best-known destinations — Cancun and Cozumel.
Both are excellent for sun, sea, and sand, but offer quite different vacations. If you love long, white-sand beaches, lots of action and a party atmosphere, then maybe Cancun is your winner. But if snorkeling and diving is more your thing, alongside less-crowded, laid-back beaches, then Cozumel may be the better choice for you.
However that's just scratching the surface!
As we know these destinations well, we've put together the most comprehensive resource around on which is better. All so you can plan your dream vacation down in Mexico.
Below we pit Cancun vs Cozumel clearly show which of these destinations is best for beaches, activities, and accommodation. We also show which is safer, which has the best nightlife, food, families and even more!
By the end of this article we are confident you will have made your decision.
CONTENTS:
Which Has Better Beaches
Which Has Better Nightlife
Which Has Better Hotels
Where You Should Stay According To Your Budget
Which Is Better For Culture
Which Is Better For Activities
Which Is Better For Food
Which Is Easier To Reach
Which Is Better For A Family Trip
Which Has The Better Weather
Which Is Safer
Which Is The Better Choice
Which Has Better Beaches?
Cancun: The Beaches
If a big part of planning your holiday involves a lot of time spent lying on the sand, then maybe Cancun is the better choice for you.
Cancun is renowned for its delightful powdery, white sand – a true sun-lovers' paradise. Cancun's best beaches are located in the Zona Hotelera – the tourist area – so are very convenient and easy to access. Indeed the beaches in Cancun may be some of the best in the Americas.
Yet the downside is that because of this Cancun is one of the most famous destinations in the Americas too. Subsequently the gorgeous stretches of sand here tend to be highly developed and very busy.
However, because Cancun is so tourist-orientated there's also a very good shopping scene, a huge array of restaurants, and the nightlife is lively with numerous bars and nightclubs. That's good news if you want busy beaches with all the amenities you can imagine.
Cancun's Playa Gaviota Azul is one of the main hubs of activity, and is located in the center of the hotel zone. It has plenty of activities, such as parasailing, for those who become restless after an hour of sun-worship.
To the south, you will find Playa Delfines, which is a little farther from the afternoon shade cast by buildings behind the other beaches. The surf can get a little higher here, so bodyboarding can be a great way of cooling down in the waves. Another fun aspect of this beach are the iguanas that come to sunbathe there. You can often spot dolphins from the beach as well!
Cancun's other main beach, Playa Marlin, is located a close to the shopping mecca of Kukulcan Plaza. So if the heat gets too much, you can take refuge in this huge mall and shop till your heart's content. This location is also great for restaurants and bars.
Cozumel: The Beaches
The island of Cozumel is less famous for its beaches than Cancun. But it still has some great spots for soaking up some sun.
The beaches here are not as long as in Cancun, but their more rugged nature can make for some great photos. In fact this stunning Mexican island is more akin to the Caribbean image that many have in their mind when daydreaming of bucket list destinations.
That's also partly down to the fact there's less crowds here and less high-rise buildings. All of which gives Cozumel a less 'Americanized' vibe than Cancun.
Head to the west of the island if you are looking for protected beaches with good swimming. While the beaches to the east are a little more exposed to the elements, and the sea can get a little rougher there. Of the eastern beaches, Playa Chen Río is the most protected and best for a swim.
To the west, Playa Palancar and Playa San Francisco are two of the best options. Playa Palancar is a great choice if you are planning a full day at the beach as it's close to some excellent restaurants. And if you want a beach day with a touch of class, head to the beach clubs of Playa San Francisco and enjoy their excellent facilities.
When visiting the beaches in Cozumel, consider taking a mask and snorkel too, as you will have the chance to see some colorful marine life in the shallows. In fact snorkeling in Cozumel is arguably better than in Cancun.
This paradise island in the Caribbean Sea is actually one of the world's best underwater destinations. And Playa El Cielo, with its soft white sand and gorgeous turquoise water, is an exceptional place to spy underwater life. The water is unbelievably clear, warm and shallow, and is the perfect place to find colorful reef fish and huge starfish.
While the beaches in Cozumel are less developed and busy compared to Cancun, the more popular beaches can still draw a crowd. So if you want to really get away from it all then head to Passion Island.
This small island near the north coast has stunning white sand, palm trees and hammocks. It's the picture of the Caribbean Sea we all dream of. You can also explore the island and surroundings by hiring a kayak or paddle board.
Which Has Better Nightlife?
Both Cancun and Cozumel boast excellent nightlife, but with its plethora of resorts and clubs, Cancun edges it when it comes to party options.
The island of Cozumel has fewer options, but still has some party options for after the sun has set. The main town on Isla Cozumel, San Miguel, has the widest variety of bars and clubs on the island, so if you are looking for some late-night dancing options, maybe stay in the Centro area rather than the quieter north or south.
Cancun is famed for its exhilarating night life. So if you want to party hard and dance the nights away, then you should head to Cancun and its famous party zone – Punta Cancun.
Some say you haven't truly experienced Cancun until you have partied through at epic nightclubs like Coco Bongo and their themed nights (see picture below) or The Palazzo.
While Cozumel doesn't have the loud, brash and lively nightlife scene that Cancun is famous for, it does have an array of bars and clubs to enjoy.
Check out the reggae beach bar, Freedom in Paradise, for cocktails in a hammock by the beach. Or head to possibly the world's smallest Hard Rock Cafe for beers in an iconic venue. Then finish the night off at Neptuno Dance Club for late night dancing and partying.
If you are looking for to party whilst on vacation, Cancun has the bigger and brighter options, but Cozumel is still home to some excellent bars and clubs too. In that respect, in the Cancun vs Cozumel battle, we think the latter is a more laid-back nightlife destination, yet still has something for everyone.
Which Has Better Hotels?
As two big-hitters of Mexico's tourism industry, both Cancun and Cozumel have plenty of choice when selecting accommodation – high-rise resorts, boutique hotels, apartments, and villas.
Cancun is perhaps Mexico's key destination for luxury and all-inclusive resorts, although Cozumel has some excellent offerings in this department too.
The Hotel Zone of Cancun offers a myriad of hotels to choose from. And although there are a number of high-rise resort-style hotels, there's something for everyone's budget and needs there too.
The central zone of Cancun is a little farther from the white sand, but the nightly rates may be a little cheaper here too.
Cozumel's hotels are mainly set in three different Hotel Zones – to the north, the south, and the central zone. Each of these areas offers a slightly different feel.
If you are looking for big resorts heaving with amenities, then Cozumel has that too. The south of Cozumel is home to the larger hotel chains, such as InterContinental and Wyndham. And if you're planning dipping below the waves and enjoying some of Cozumel's excellent scuba diving, then the southern hotels will put you a little closer to the best dive spots too.
For peace and tranquility, the north end of Cozumel is perhaps the best bet with its luxury apartments and excellent hotel options. Centro, or the central area, is perhaps a little more bustling, but there are some fantastic villas and hotels to choose from here too.
Where You Should Stay According to Your Budget
Cancun
Shoestring: Finding a stylish place on a shoestring budget is hard in Cancun, but Nomads Enigmatic Hotel & Hostel is just that. This modern hostel in downtown Cancun has been created in an old Mexican style but comes complete with bar, outside swimming pool and wonderful shared garden. For the price, it's a fantastic choice. See photos and rates here!
Budget: It's even harder to find luxurious beachside accommodation in the city's famous hotel zone without stratospheric prices attached to it. However Oleo Cancun Playa Boutique All Inclusive Resort offers an all-inclusive experience – and even rooms with sea views – at more than half the price of many neighboring hotels. See photos and rates here!
Luxury: Set in the heart of the action in Cancun's hotel zone, and with every luxury imaginable including butler service, Turquoize at Hyatt Ziva Cancun with its unbelievable beachside views and infinity pool is as high end as you can get. See photos and rates here!
Cozumel
Shoestring: If you're a backpacker then Hostel Auikyani is not only cheap but great fun! This place has music nights, a friendly vibe and is only one block from the ocean. See photos and rates here!
Budget: The funky Villas El Encanto Cozumel is close to Cozumel downtown, has a lovely garden, sun terrace with swimming pool and a palapa roof lounge. It's a great spot, and highly affordable too. See photos and rates here!
Luxury: Tennis courts. Check. Swimming pools. Check. Private Beach. Check. Gorgeous Caribbean waters. Check. Presidente InterContinental Cozumel Resort & Spa is one of those places we all want to check into at some point in our life. See photos and rates here!
Which Is Better For Culture?
But not everybody who visits Cancun or Cozumel is looking to party hard. If you would rather soak up some culture, rather than drinks, then both Cancun and Cozumel can deliver too.
However, with its location on the mainland peninsula, Cancun has more options for cultural and historical sightseeing. Within Cancun's hotel zone, you can find Las Ruinas del Rey – The Ruins of El Rey. This small site is home to a pre-Columbian archaeological area dating back to the Mayan civilization.
A few kilometers beyond the Cancun city limits you can find the Zona Arqueologica El Meco. The ruins at El Meco are more impressive than at El Rey, but still not quite in the league of the more famous Chichen Itza (photo below), which lies around two hundred kilometers to the west of Cancun.
But Cozumel is not entirely devoid of culture either.
San Gervasio is the most significant archaeological site on Cozumel Island. These ruins will also afford visitors a glimpse back into the history of the Mayans. If you want to learn more about the Mayan civilization, you can also head to Pueblo del Maíz – a cultural park near the Centro area of Cozumel.
Which Is Better For Activities?
If you are looking to join excursions and day-trips whilst in Mexico, Cancun also trumps Cozumel in this regard.
Being on the mainland has a big advantage here. From Cancun it's a three-hour drive out west to Chichen Itza, the famed Mayan site. Also reachable from Cancun is Isla Mujeres. This pristine paradise island is a mere twenty minutes away from the shores of Cancun.
However if you are looking for beach activities such as parasailing and jet skis, both Cozumel and Cancun can satisfy your needs.
If you prefer a more tranquil option for enjoying the ocean, such as snorkeling and scuba diving, both are possible from either destination. Seasoned scuba divers usually prefer Cozumel over Cancun though, as the reefs are in better shape and the dive sites are reachable in a shorter time.
In fact the diving in Cozumel is definitely worth checking out – enjoy being gently pushed along the reef by the currents, and keep your eyes open for eagle rays and reef sharks.
But if you are travelling to Cozumel with your own scuba equipment, it may be an idea to ensure you fly to Cozumel International Airport rather than into Cancun and transfer across by ferry.
For divers, another favorite spot to drop below the waves is MUSA – The Cancun Underwater Museum of Art. This offers divers something different – a museum underwater!
This unique dive spot is a pull for divers to Cancun. It features more than five hundred life-sized statues beneath the surface. With a depth of only ten meters, this dive site is suitable for seasoned divers, and first timers alike. The shallow depth also allows for snorkeling, making the museum a great place for kids too.
Recommended: A Local's Guide To Snorkeling In Cancun
Back in Cozumel, if you're looking for something a little different then how about a visit to the only active pearl farm in the Caribbean?
Cozumel Pearl Farm is surrounded by mangroves and lagoon so the only way to get there is a beautiful boat ride. That just adds to the experience of course, as you get to learn and see into the world of pearls and oysters.
Which Is Better For Food?
Food is an essential part of any vacation. And on vacation, we can all forget about dieting or counting calories—vacation is about eating whatever we want to!
For the all-inclusive resorts, excellent food is usually a given, but it's still worth venturing outside the resort to see what other delights are available.
Both Cancun and Cozumel have some amazing culinary creations to sample, and both offer amazing settings in which to enjoy them.
As the two destinations are very close together, there's not a huge difference in the wares available—both, obviously, serve delicious Mexican dishes, and being on the coast, are excellent destinations for seafood lovers.
For the best choice of restaurants in Cozumel, you should head to San Miguel. Within the town, everything is within walking distance, so you are free to wander and explore until you find a menu that catches your eye.
One favorite is Casa Denis – the oldest restaurant in Cozumel. This simple local restaurant has some excellent choices, including traditional Mexican fares and Yucatan specialties. If finer dining is in your plans, check out Buccanos At Night for excellent seafood at the water's edge.
For food options in Cancun, you can explore the ocean-front restaurants in the hotel zone or venture into the downtown area for more authentic Mexican cuisine.
Seafood lovers should not miss the excellent El Fish Fritanga in the middle of Cancun's hotel area. They serve excellent steaks too, but the highlights here are the locally-caught lobster and octopus. If you have an occasion to celebrate, the upmarket Porfirio's in the Zona Hotelera is a must-try too. It's a high-end dining experience, supported by a fine selection of wines and tequilas.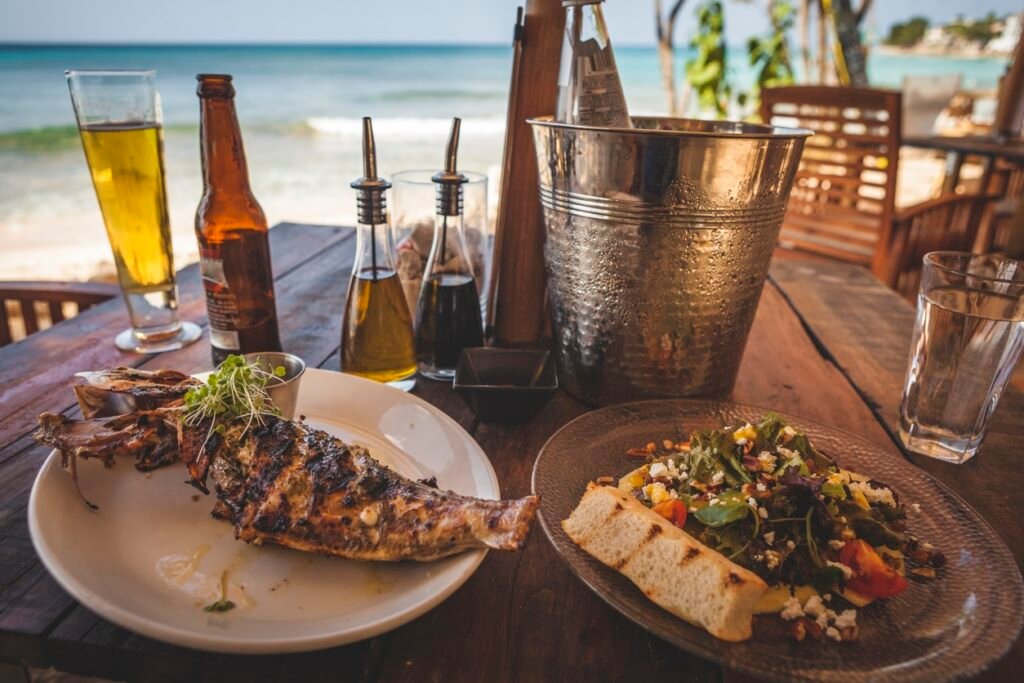 Which Is Easier To Reach?
The distance between Cancun and Cozumel is not huge – about seventy kilometers separate the two. Getting to Cancun is slightly easier though, as it is on the mainland of the Yucatan Peninsula while Cozumel is a small island a short distance off shore.
Both destinations do have international airports, though, so it will depend on your flexibility with dates and your starting location whether or not you will be able to book a direct flight or not.
Cancun is the larger of the two airports, and as such, it may be easier to find a direct flight from your nearest airport.
If you cannot find a suitable direct flight to Cozumel, you can also fly to Cancun International Airport and take a short transfer across the water to the island.
Cancun airport is a relatively short distance to the Zona Hotelera (the hotel zone), and the transfer will take a little under an hour.
If you have arrived in Cancun and are looking to head over to Cozumel, then fear not: the transfer across is also pretty easy and not too time-consuming. The best option is to transfer by air, in a light aircraft. This short flight will afford you an excellent opportunity for some aerial photography of your holiday destination.
There are also bus and ferry options if the budget is a little tighter, or you prefer staying a little closer to the earth's surface.
Which Is Better For A Family Trip
If you are planning a family vacation, you should also pay attention to which destination has the best facilities and activities to keep the kids engaged and enjoying themselves too.
As an island destination, Cozumel can be a little quieter than Cancun, and many find it a better choice for a family vacation.
You can teach your kids about the local history by visiting the ruins at Cozumel, as mentioned earlier, or by visiting the Chankanaab Adventure Beach Park. This eco-archaeological park is located within the boundaries of Cozumel's National Reef Marine Park and is also a great place to educate children about the marine environment with excellent snorkeling.
Cancun also boasts excellent activities for children, but the party crowd sometimes puts people off choosing it as a family destination. But for children with an interest in history, Cancun can be a great place to educate your kids about the wonders of Mayan civilization, especially if you factor in a day trip out to the UNESCO Heritage Site of Chichen Itza.
But If you're a family looking to spend more time relaxing on the beach than filling the daylight hours with activities, then Cancun could be the better option.
The fine sand beaches are larger and more accessible than the beaches found in Cozumel, and offer calmer swimming conditions for children, and possibly even a better chance of finding a quiet spot in the sand as they're so big.
Which Has The Better Weather?
Being in close geographical proximity to one another, Cancun and Cozumel generally experience the same climate and weather conditions.
As with planning any vacation, you should check the general weather conditions for the time of year you plan to visit before making a booking.
However in general, for Cancun and Cozumel the best time to visit is between December and April. The months to avoid are from August through November, as this is hurricane season and the risk of the weather ruining your holiday-of-a-lifetime is higher.
That being said, if you are looking at a family vacation, it's worth noting that April can be the windiest month, so potentially not the best month for swimming in the ocean for smaller children.
Which Is Safer: Cancun or Cozumel?
In general terms, both Cozumel and Cancun are safe places to visit. In fact crime figures suggest they are amongst the safer destinations in Mexico.
But, as with any tourist destination, foreign tourists are sometimes targeted, so please keep your belongings secure and your wits about you. Be extra careful at the beach or in crowded tourist areas.
Cancun does have higher crime figures than Cozumel, but it is also the busier of the two destinations. All-in-all, both are relatively safe places to enjoy your vacation.
Cancun vs Cozumel: Which Is Better?
We are sure you will have a fantastic holiday in either Cancun or Cozumel. There is no clear winner—which one is best will depend on you and what you are looking for from your vacation.
If you love long, white-sand beaches, then maybe Cancun is your winner. Whereas, scuba divers and those seeking less-crowded beaches may decide that Cozumel is the one for them.
Both offer the chance to revisit history and culture, and both will see you well fed.
But if you are planning a hedonistic escape in the sun, perhaps Cancun will offer the best parties, especially if you plan to be there around Spring Break time.
Book your tickets, pack your bags, and have an amazing time exploring either one of these stunning Mexican destinations on the Yucatan Peninsula…