Last updated on October 11, 2022 by Wandering our World
Every year more and more travelers discover how special Vietnam is, and many choose camping as the best way to explore this friendly nation. And no wonder, it's a country flanked by a stunning coastline (up to 15/20x longer than Thailand!), tropical lowlands, and dense lush rainforest. With all that on offer, it's understandable that camping in Vietnam is becoming more popular.
Camping really does allow a visitor to truly immerse themselves in Vietnam's breathtaking surroundings. But it's also a cost-effective way to traverse this Asian nation.
However camping is quite a new phenomenon in Vietnam, and wild camping as a tourist is a little difficult – more on that further down in this article.
Camping In Vietnam
Luckily Vietnam's plucky new generation is embracing the concept of camping and backpacking. And with that, campsites have begun to spring up around the country in some spectacular spots. Just make sure you have a mosquito-proof and rain-proof tent! Two good value tents we would recommend is this one, and this one.
National Park Campsites: A Stunning Base To Explore Vietnam
Many of the national parks in Vietnam now provide campsites (most at the park's entrance) to allow tourists and locals alike to enjoy the country's best natural scenes. These campsites are perfect for keen walkers and hikers, with the parks having many trails of differing difficulties.
With over 30 national parks to choose from spanning the length and breadth of Vietnam, these campsites are a great way to move around and see the country cheaply. But with so many parks, choosing where to go can get a little daunting. Planning ahead is definitely advised, and this great little map here will help you do that.
Some of the national park campsites already have tents set up and you're expected to use them, rather than your own.
If you're flying into Hanoi, then Ba Vi National Park is only 50km away. Regarded as one of Vietnam's most beautiful parks and centered round a three-peaked mountain, this park takes you straight into Vietnam's famous rainforests.
From there, you could make your way to Cuc Phuong (around 100km from Hanoi). This national park has one of Vietnam's most diverse ecosystems, and is dotted with hot springs and caves. Near the park's entrance is a variety of cheap accommodation options.
Or check out Núi Chúa National Park if you want an area with spectacular mountain scenery but set on Vietnam's iconic coastline. For white sandy beaches that will make you have to rub your eyes in wonder, Condao National Park is a fantastic choice. Their website can be visited by clicking here.
To see a list of the 30+ national parks and where they're located on a map so you can plan your camping trip, click here!
As for the best time to visit and camp, that would be the dry season from December through to April. The hiking trails will be much easier to navigate during this time, and far less slippy.
Private Campsites: Covering All Bases
With camping becoming more popular in Vietnam, more and more private campsites are set up every year – catering to all different types of campers. From those looking for a basic experience, to tourists wanting a glamping experience on the beach.
The south coast of Vietnam in particular has seen campsites pop up all over the place, giving campers direct access to the nation's incredible beaches.
Private campsites in Vietnam tend to be very secure, and a great way to make friends on your travels. Some even have small restaurants on site (and BBQ facilities), as well as the usual amenities like hot water, and sometimes internet too.
A nice selection of campsites in Vietnam, and a few reviews, can be found here.
Or for some inspiration and to see what can be done when deciding to explore Vietnam by hopping from campsite to campsite, check out this epic 500km coastal cycling trip. The blog's author even has reviews on the beach camping sites he visited – maybe one will be your next destination!
Below we outline wild camping in Vietnam:
Wild Camping In Vietnam
DISCLAIMER: Below we give general advice, but we always recommend staying in an official campsite. If you choose to go wild camping/dispersed camping, then make sure you do so with someone who already knows the area where you're planning on camping for your own safety.
As we've mentioned in a previous article, wild camping in Vietnam is not the easiest thing to do.
There's two reasons for that. First, it's because tourists are legally expected to register every night of their stay in their country – something that is done by the hotel, hostel, or campsite they are staying in.
The second, is that wild camping is often not tolerated, and some people have reported being asked by police to take their tent down and go to a hotel for the night.
And of course there's a variety of wildlife that could cause you a lot of harm in Vietnam.
However, if you are determined to wild camp in Vietnam (and are aware of any dangers and risk involved), then there are a couple of potential options.
Some wild campers have paid for a few nights at a cheap campsite or hostel, but then taken their tent elsewhere to wild camp. Therefore circumnavigating the rule around being registered. If you wish to do this, it's best to camp in a very rural spot, where you are unlikely to be bothered. Having tent that is discreet and can be pitched quickly, like this one, will be important.
Another option is a hammock. It's quite common in Vietnam for locals to set up a hammock to take a rest during the day. Using a hammock to camp would potentially help you look less like a wild camper, and more like a tired tourist engaging in a regular activity in the country. You can get a good camping hammock for cheap on Amazon, and they also are super lightweight and pack small. Our favorite can be seen by clicking here.
With all that in mind and considering wild camping is not legal, you should avoid campfires. A storm cooker for cooking would be a good investment. The best brand on the market, in our opinion, is the Swedish made Trangia storm cooker. These little stoves are virtually indestructible.
Or if you want to impress even the most experienced wild campers, a solar cooker like this one can also work in the absence of a campfire. Plus, harnessing just the power of the sun to cook your breakfast is pretty damn cool.
Below are our tips for wild camping in Vietnam.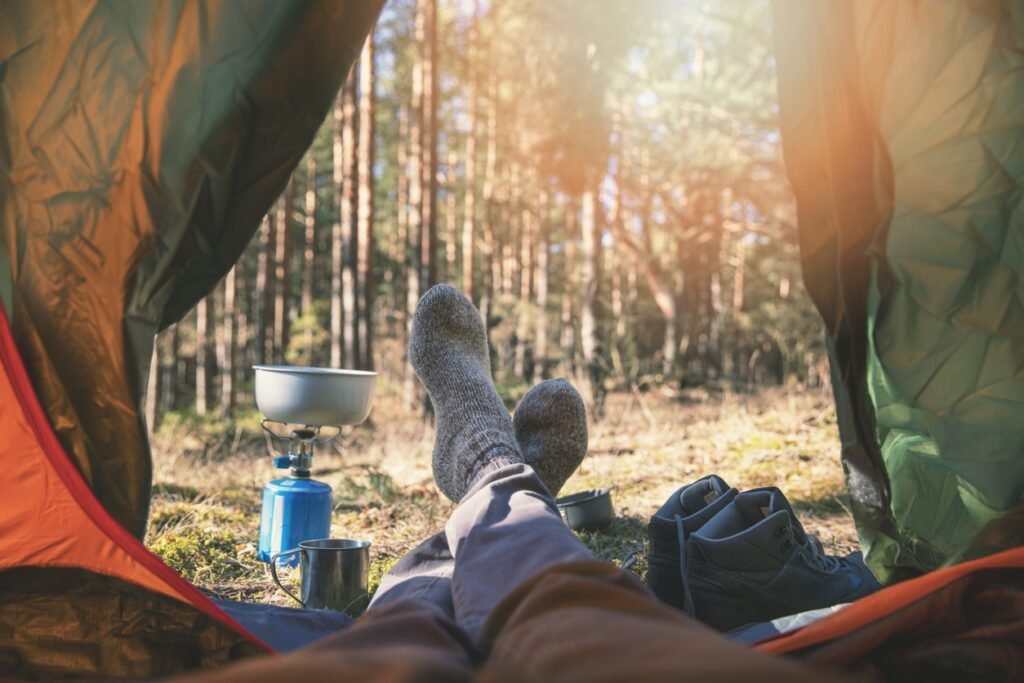 Tips for wild camping in Vietnam:
Choose a rural spot to pitch your tent, one where it is unlikely you will be disturbed. For example, in the countryside far away from villages, towns and cities.
If you are hiking a popular walking route, make sure you choose to camp in a place that won't be in any other hiker's or walker's way.
Do not camp on private land, near buildings, settlements, or on any land that appears to be cultivated.
Avoid camping in restricted areas or on private land.
If you do wish to camp on farmland, or an area that could be private – seek out the landowner and ask permission. Some will be fine with it, some may ask for a small fee. Some may say no – if that's the case then leave and don't make a fuss.
Set up your tent at dusk, and take it down at dawn. Stay no longer than one or two nights at most in the same place before moving on.
Take any trash with you, and leave your camping spot the way you found it.
Make sure your tent is mosquito proof.
When going to the toilet you should do it far from water sources, such as rivers and lakes. Make sure to use a trowel (such as this folding one) to bury any human waste, don't just leave it out in the open.
Like many rugged and wild rural areas around the world, there are flora and fauna to be aware of in Vietnam. So read up and make sure you know what to expect in the region or area you are planning to wild camp in.
Recommended Reading For Your Trip To Vietnam