Wandering our World is reader supported! If you purchase anything through a link on our site, we may earn a commission at no extra cost to you.
Last updated on July 3, 2023 by Wandering our World
This spectacular region of Scotland boasts dramatic mountains, mysterious lochs, and breathtaking valleys. All of which, has made camping in the Highlands of Scotland one of the most popular outdoor vacations in the UK. Especially now, as the North Coast 500 has gained incredibly popularity.
Having spent years going back and forth to the stunning Scottish Highlands, we're now here to help you plan your camping holiday.
Here, we will show you what each region of the Highlands has to offer so you can plan where you want to camp. Then, we will share some of our favourite campsites in the Highlands, followed by wild camping information, and a few ideas for wild camping spots.
So grab your tent and your walking boots – it's time to start your camping adventure!
Which Region Of The Scottish Highlands Should You Camp In?
While the Scottish Highlands is one region in itself, it actually takes up around half of Scotland's land mass, and the landscape varies hugely from area to area.
To make things easy, we've split the Highlands up into four areas: North, South, East and West. Below we show you know what each area has to offer.
North Highlands
The north of the Highlands is sparsely-populated, and unlike other parts of the region, it isn't very mountainous. This area is remote, unspoiled and some parts are as wild and rural as they were centuries ago.
There are some mountains like Ben Hope, Scotland's most northerly Munro (a mountain higher than 3000ft), but this region is mainly characterised by dramatic coastlines, historic crofts and ruins, and small towns and villages.
South Highlands
The southern Highlands starts roughly from the capital of the region, Inverness, down into the Cairngorms and as far south as Glencoe. Expect mountains, raging rivers and iconic valleys and lochs. There are countless walks and hiking trails in this region, so a good walking in Scotland book – like this one – may be useful. (Related: Scotland's hidden hiking paths)
The UK's highest mountain, Ben Nevis, as well as Scotland's most famous body of water, Loch Ness, sit within this region. As Inverness is nearby, it's possible to visit museums, go to the cinema and shop.
East Highlands
It's hard to define the eastern Highlands, but it incorporates the Black Isle and the Moray Firth region. This is an area of rolling hills and agricultural land, but also one with some of the best beaches in the Highlands, as well as ancient ruins and artefacts.
The Black Isle is one of the best places to spot dolphins in the UK, and is also home to a rich legacy of mythology. As the eastern Highlands has fertile land, it has been inhabited by humans for thousands of years, and the remnants of that can be found everywhere – including incredible carved Pictish standing stones.
West Highlands
This region of the Highlands encompasses the west coast, which is regarded by many as being the most beautiful part of Scotland. Expect dramatic peaks, raging rivers, sparsely populated valleys, and stunning islands.
The towns here – like Ullapool – are charming and have many independent shops and pubs, and the traditional music scene remains alive and kicking. Islands like Skye are breathtakingly beautiful, while arguably Scotland's best beach – Achmelvich – is also on the west coast.
Some Of The Best Campsites In The Scottish Highlands
Now we've given you an idea of what to expect in each region of the Highlands, here's some of our favourite campsites. Almost all of the campsites featured are on or close to the North Coast 500 route.
After that we'll look at wild camping and some of our favourite wild camping spots.
North
Altnaharra Caravan and Motorhome Club Site
This region of the Highlands is rural, remote and serene – Altnaharra campsite fits that perfectly. The site has superb access to walking routes, including Ben Kilbreck, and is set in unspoiled nature where it's possible to see red deer roaming around.
The facilities are basic but clean, the staff friendly, and the location perfect for exploring the northern Highlands and places like Cape Wrath and Sandwood Bay.
Ferry View
It's almost impossible to get further north than this quirky, eco friendly, family run campsite, but it's definitely worth the journey getting here.
The price is very reasonable, the facilities are modern and well kept, and there's ample space to pitch a tent or park your motorhome. Open all year round, the surroundings are peaceful and you're close to the ferry for visits to Orkney and Shetland.
Dunnet Bay Caravan and Motorhome Club Site
For exceptional views and access to a huge stretch of beach, then this campsite set in breathtaking surroundings is for you. You'll be waking up with views of the sea and sand dunes at the very top of Scotland.
The facilities are good too, and the site is close to Dunnet Head which is a great bird watching spot, as well as Rock Rose Gin Distillery – a wonderful little distillery.
South
Glenmore Campsite
Set in the Cairngorms National Park, and on the banks of Loch Morlich, this campsite is close to many of Scotland's highest mountains and is also set in an area known for wildlife.
If you're lucky, you may spot several native animals from the site, such as golden eagles and red squirrels – or even elusive pine martens! All of which makes Glenmore a great base for outdoor enthusiasts. The facilities are immaculate too.
The Lazy Duck
This six-acre off-grid campsite is home to eco huts, a bunkhouse hostel and a secluded campsite all in the heart of the Cairngorms.
This organic eco-haven also offers fixed pitch safari style tents, as well as tent-only pitches for camping purists. Whilst after a long day's hike, visitors can relax and enjoy a cup of tea in the wood-fired hot tub, infrared sauna or go for yoga and a massage.
Loch Ness Shores Camping and Caravanning Club Site
This campsite is set on the shores of Loch Ness – one of the UK's most famous natural attractions. Situated between loch and forest, the backdrop here is stunning and it's the perfect place for monster spotting!
The site is well kept, has all the facilities you need including a small cafe, and there's some wonderful walks surrounding the site. The pretty 62m Fall of Foyers is close by too.
East
Fortrose Bay Campsite
Set on the banks of the Black Isle, this well kept, spacious campsite has superb sea views allowing you to wake up to the sound of waves lapping against the beach.
What we love about this campsite is how close it is to Black Isle attractions like Chanonry Point – a dolphin watching area where it's almost impossible not to see these majestic animals! The Black Isle Brewery is just a few miles away too, as is the pretty fishing village of Cromarty.
Blackrock Caravan and Camping Park
This campsite, which sits on the North Coast 500 route, is not only perfectly situated if you're travelling north, but it's also close to some nearby natural sights like the impressive 120ft deep Black Rock Gorge.
The site has all the facilities you need, plus as it situated in the village of Evanton, there's a good little supermarket close by and a pub – perfect for a bite to eat after walking up Fyrish, the nearby hill which has a huge stone monument on top.
West
Camus More
This little-known campsite on the north coast of Skye is peaceful, remote, and simple with very basic facilities. However it's cheap, the owners are friendly, and the coastal views and the sunsets and sunrises here are spectacular.
It's also close to the pretty fishing village of Uig, as well as the iconic Storr – a 674m peak that dominates the eastern coast of Skye.
Gruinard Bay Caravan Park & Camping
This small campsite is set right beside the beach, has stunning views towards the Summer Isles, and is a great place to spot seals.
The facilities are new and well kept, and the owners are friendly and helpful. It's a remote site, but that makes it one of the best in the Highlands for stargazing too.
Port a Bhaigh Campsite
This is another campsite with a view of the Summer Isles, but from the other side! Set by the shore, this is a popular kayaking and paddle boarding area, and there are many great walks and bike trails in the surrounding area too.
Like most campsites in the Highlands, the facilities are basic but modern and clean. However a big plus is the bar/restaurant (The Fuaran Bar) that sits just outside the campground, which serves great locally caught seafood.
Wild camping In The Highlands Of Scotland
DISCLAIMER: Below we give general advice, but we always recommend staying in an official campsite. If you choose to go wild camping/dispersed camping, then make sure you do so with someone who already knows the area where you're planning on camping for your own safety.
Thankfully wild camping is permitted and legal in the Highlands thanks to Scotland's Right to Roam Act. However authorities ask campers to "tread lightly" and to respect a few guidelines:
You should camp away from enclosed fields, and pitch your tent away from buildings, roads, and historic structures.
Campers should be vigilant to avoid disturbing wildlife such as deer, capercaillie, and grouse.
When wild camping in the Highlands, do not light fires as wild fires are a danger. Instead of building campfires, you could look into using a storm cooker for cooking – but check local laws first. Then there is much less wildfire risk and you can cook knowing that the fire is contained. We believe the best ones on the market are Trangia storm cookers.
Take any rubbish with you, and leave your camping spot exactly the way you found it.
The Right to Roam Act also gives access to most of Scotland's land and inland water, as long as it does not encroach on someone's privacy and private land.
Here is a list of what the Right to Roam Act doesn't give you access to, and therefore what you should avoid:
Where you must avoid:
Walking in and going through buildings. An exception would be bothies – small mountain and rural huts that can be used by walkers and hikers – see a list of bothies and where they are by clicking here.
Land clearly attached to a building (private garden, backyard).
Sports fields.
Schools and school land.
Building sites.
Quarries.
Now you know you're allowed to legally wild camp in the Highlands, and where to avoid, here's some of our favourite wild camping spots!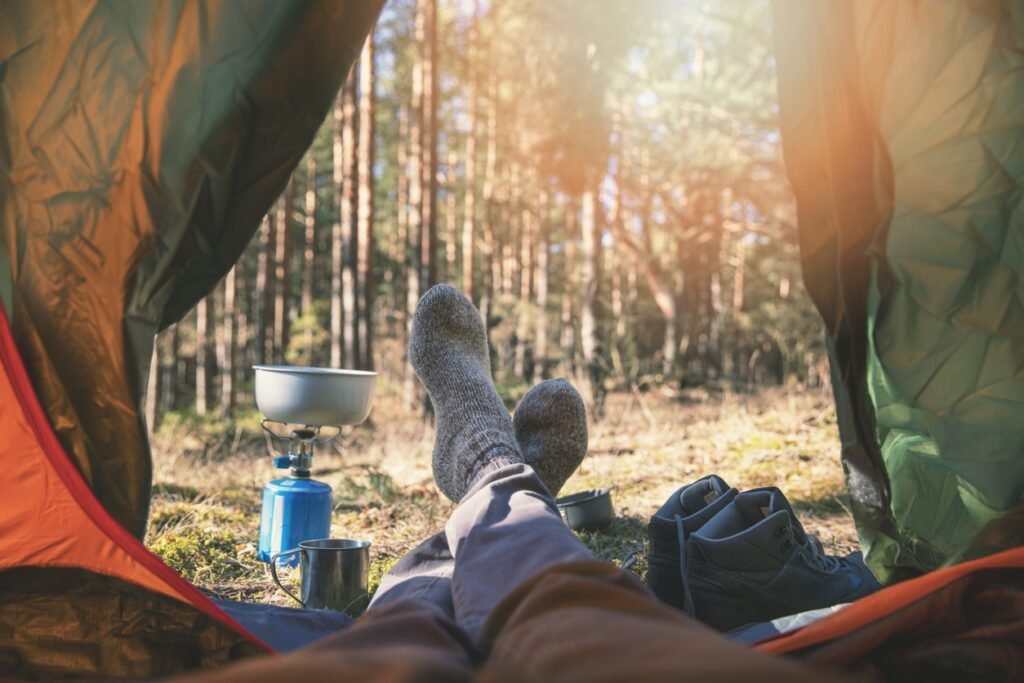 Some Ideas For Wild Camping Spots In The Highlands
DISCLAIMER: The below wild camping spots have been collected from anecdotal accounts, so proceed with caution. You should always be wary of any potential dangers in a region (quarries, bogs, dangerous paths and so on) and should wild camp with someone who knows that specific area well.
Of course one of the best parts about wild camping is finding your own special spot to pitch your tent for the night.
However, if you're looking for inspiration, then below are a few ideas for wild camping spots in the Highlands. Just make sure your tent is midge proof as these little biting flies can be a real menace.
As always, if you are unfamiliar with an area – or it's your first time visiting – then be careful as peat bogs and other dangers exist.
When wild camping, we always recommend using known paths and sticking to them. We also recommend taking a camping friend who knows the area you plan on camping in very well. That's the best way to stay safe.
Loch Etchachan
Set 927 metres above sea level, this stunning loch is deep in the Cairngorms and is the highest waterbody of its size in the UK. A truly memorable spot to spend the night.
Glenfeshie
This romantic part of the Highlands is a must for its waterfalls and craggy mountain scenery. It's ideal for stargazing too, as Glenfeshie is famous for being the most northerly Dark Sky Park in the world.
Shores of Loch Ness at Inverfarigaig
There's many secluded areas along the shores of Loch Ness to camp for the night, but not many places to safely park! However, at this little lochside hamlet you can park at the 'Hiking Car Park' on Farigaig Road and walk down to the shore. Just make sure you set up your tent far from homes, and far enough away from the water.
Loch Ailort
This stunning west coast loch has gorgeous views and exceptional opportunities to spot wildlife. Not far from the lochside is Lochailort train station – so you can reach this rural region without a car.
Sandwood Bay
Sandwood Bay sits at the very top of Scotland and can only be reached by foot. This is one of Scotland's best beaches, and thanks to the fact there's no car access, it's rarely busy.
The walk (see the trail here) to the beach starts at Blairmore car park, and takes 2-3 hours. It's a great place to spot dolphins and large birds of prey like sea eagles.
Camping In The Highlands Of Scotland: Weather & Best Months To Visit
The temperature in the Highlands tends to be pleasant from June through to the start of September. However even summer can be a bit chilly at night, and it is advisable for hikers, bikers, and campers to be prepared for all weather and eventualities.
June and July are prime times for nature lovers as wildflowers are in bloom and birds such as eagles and Scottish crossbills can be spotted.
August is our preferred month for visiting the Highlands as you can experience the Highland Games in many of the towns around the region.
Many campsites are open in Spring and Autumn too, but expect temperatures to range from around 5-15 Celsius. Rain is common in these seasons as well.
Winter can be cold, and temperatures can dip below freezing. That means snow is often forecast in the winter months so wrap up warm if you're traveling to the region.
Recommended for your camping in the Scottish Highlands adventure
*This article may contain affiliate links which allows Wandering our World to make a small commission on any sales made – and keep the coffee flowing! It involves no extra cost to yourself. As an Amazon Associate we earn from qualifying purchases, but only recommend products we believe in.