Wandering our World is reader supported! If you purchase anything through a link on our site, we may earn a commission at no extra cost to you.
Last updated on February 14, 2023 by Wandering our World
Beautifully tucked away in the east coast of England, this East Anglian county boasts a vast array of natural beauty – making camping in Suffolk an unforgettable experience. Bordered by 50 miles of breathtaking coastline, along with quaint villages and medieval towns, Suffolk has plenty of spots to discover.
Whether you are planning to hike, cycle, visit on a day-trip, or are just looking for an inexpensive way to see as much of the region as possible, camping in Suffolk can be a cost effective and fun way to do that. It's also a truly unique opportunity to lose yourself in the quiet scenery that makes this place so special.
There are several campsites in and around Suffolk to choose from – we recommend some of our top picks in this article. We also look at wild camping in Suffolk later in this article too.
So grab your tent and some hiking boots – let's begin your Suffolk camping adventure!
Camping In Suffolk
Famous for its rich history, sweeping viewpoints, and horse racing, this region captures the hearts of many who visit.
There are some great campsites to choose from that are located close to some of the main walking, hiking and cycling routes in Suffolk – we give some of our favourites below.
A good quality walking in Suffolk book – like this one which has dozens of trails – can help you plan what area you may want to visit and walk in, and therefore what campsites may be of interest to you.
However if you're looking for some great campsite recommendations, below we share some of our favorite campsites in Suffolk, before looking at wild camping in Suffolk.
Camping In Suffolk: Some Of The Best Campsites In Suffolk
Mill Hill Farm Caravan & Campsite
Set in the green Suffolk countryside, Mill Hill Farm Caravan & Campsite boasts an impressive 30 acres of meadow and tranquil lakes. Voted the Best Campsite and Caravanning Experience 2019 by the Norfolk and Suffolk Tourism Awards, this peaceful campsite enables campers to kick back and rejuvenate.
The dog friendly site is beautifully located between Southwold and Aldeburgh and has easy access to countless walks and cycle trails in the area. It's also great for bird watching, as the campsite is adjacent to Suffolk Wildlife Trust Darsham Marshes Nature Reserve and only 2.5 miles from RSPB Minsmere.
Campers can enjoy delicious food from the local pubs too – we recommend trying the Bell Inn's ham hock terrine and the tomato & mozzarella salad starters!
Early breakfasts with amazing panoramic views over the farmland, and golden sunsets while tending to a barbecue. That's why this campsite is the perfect sanctuary for relaxing and enjoying a memorable holiday.
Kessingland Camping and Caravanning Club
Situated just over a mile from the Suffolk coastline, Kessingland Camping and Caravanning Club is an ideal base to explore the sandy beaches of Lowestoft, Southwold and Great Yarmouth. This site is adjacent to the famous Africa Alive Wildlife Park too, so is a great getaway for families to see exciting wildlife like lions, giraffes and rhinos.
The surrounding landscape is pretty spectacular too, and here you can walk along cliff tops, as well discover many caves and coves in the area. The nearby town of Lowestoft has access to the Norfolk Broads too – so there's loads of walking and bird watching opportunities.
Lowestoft, the closest town, provides campers with a great variety of attractions; gardens, fountains, two piers, cafes, shops and even a Blue Flag award winning beach – ideal for a family getaway.
Beach View Holiday Park
Offering the perfect mix of camping and glamping, Beach View Holiday Park is nestled between Minsmere and Thorpeness and is a sanctuary for campers who want to experience waking up to the sounds of the waves.
Established in the 1950s, this family-run site is close to the Suffolk Coast and provides campers with great amenities, including a family games room, and a clubhouse bar that's open four days a week with great choices of snacks and drinks.
The Orchard Campsite
Perfectly located on the outskirts of Wickham Market, this charming campsite is a heart-stealer thanks to the friendly staff and stunning River Deben running by the bottom of the site. Some of the best coastal spots in Suffolk, including Aldeburgh, Thorpeness, Dunwich and Southwold are just a short drive away too.
Set in 11 acres of serene Suffolk countryside, this site allows campers to choose from a range of non allocated grass pitches, or you can even choose pre-erected tents which are available on-site and that can sleep up to eight.
With immaculate facilities, campers can also enjoy a wide variety of produce available at the on-site shop, including a great choice of beer. We also love this campsite for the great starlit nights that can be experienced here.
Wild Camping In Suffolk
DISCLAIMER: Below we give general advice, but we always recommend staying in an official campsite. If you choose to go wild camping/dispersed camping, then make sure you do so with someone who already knows the area where you're planning on camping for your own safety.
Like other areas of England , wild camping in Suffolk is not technically allowed, however people still do it. Although campers are allowed to pitch their tent if they have the permission of a landowner. However that's often easier said than done.
Yet the scenic views and fascinating trails that exist in Suffolk makes it a tempting destination for wild camping, whether you've got permission or not.
Therefore if you are planning to free camp in Suffolk – and can't be swayed to stay in a campsite instead – then you should camp in the same place for one night only, and pitch your tent discretely and in a remote place which will not be easily seen. Therefore don't camp in or near settlements, someone's farm or on cultivated land. If you think you're on private land, always try and seek out the landowner and ask permission. They may request a small fee.
Below are our top tips for wild camping in Suffolk:
Heavy rain can happen in Suffolk – even during the summer months. Therefore make sure you have a rainproof tent that can survive rain. A lightweight one-man walking tent like this or similar would be perfect. For a good value tent that fits more than one person, this mosquito-proof one would work well too.
Remember to always have plenty of water on you when you're walking and camping. A space-saving collapsible water bottle would be a good purchase.
If you're wild camping, then go to the toilet at least 30-50 meters away from water sources, such as rivers. Make sure to use a trowel (like this folding one) to bury any human waste at least six inches under ground. Take any tissue paper with you – use a ziplock bag to store it and dispose of it in the nearest bin.
Some Of The Best Places To Visit In Suffolk
RSPB Minsmere
This nature sweet spot is a great way to spend a day wildlife watching. With some of the UK's rarest birdlife here, RSPB Minsmere is also home to four national conservation priorities: reedbeds, lowland wet grassland, shingle vegetation and lowland heath.
Framlingham Castle
An iconic place with rich history and a picturesque lake surrounded by parkland; this castle makes for a fun day out for families.
A great place for a picnic, take a walk along the castle walls and enjoy views of the surrounding countryside.
Lackford Lakes
This 105.8 hectare biological Site of Special Scientific Interest is a wildlife oasis made up of lakes, reeds, meadow and woodland. Open all year round, families can try and spot the iridescent kingfisher, dragonflies or elusive otter.
Some Of The Best Walks In Suffolk
Suffolk Coast Path
This trail is 60 miles long and stretches along the Suffolk coast from Felixstowe to Lowestoft. With rich wildlife, historic towns, shingle beaches and ancient heaths along the way, this trail is our favourite in Suffolk due to the ever-changing views and the fact it passes by one of the UK's premier birdwatching sites; Minsmere Nature Reserve.
Sandlings Walk
This 59 mile long walk encompasses the Suffolk Coast and Heaths Area of Outstanding Natural Beauty from Southwold to Ipswich via Woodbridge.
The starting point is at the coastal town of Southwold, but visitors can enjoy charming views of the countryside and a variety of forests such as Dunwich, Tunstall and Rendlesham.
Stour and Orwell Walk
Beginning on the Suffolk coast at Felixstowe, this walk is 40 miles long and passes the beautiful Orwell Country Park and stunning beach at Nacton Shores. Hikers can also visit Trimley Marshes Nature Reserve on the way.
You will pass by Pin Mill where you can enjoy watching small boats on the river, and can share your day's adventure whilst enjoying a pint at the 17th century Butt and Oyster pub!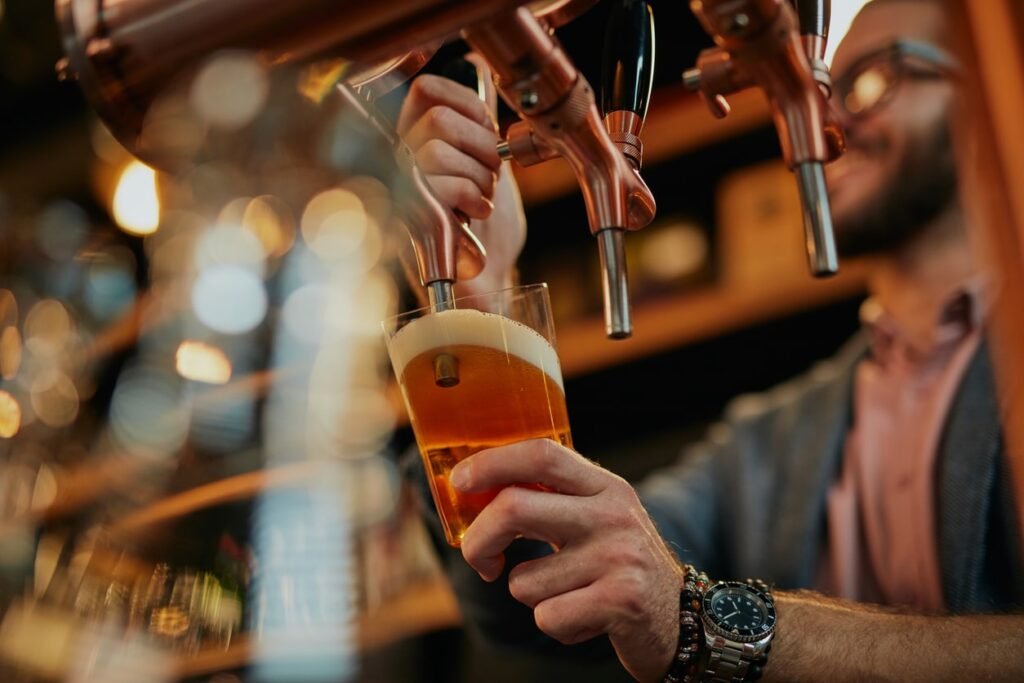 Camping In Suffolk: The Weather & Best Months To Visit
With mild to warm temperatures, spring is the perfect time to visit Suffolk as kids and families can make the most of a full day at the famous RSPB Minsmere. Temperatures range from 10°C to 17°C, and visitors can see flowers in full bloom. This season is also prime time for wading birds to move through on their way north – prepare to be amazed by the switchback display flights of marsh harriers, and the booming call of the elusive male bittern!
Summer is a great time to visit the nature reserves, as well as discover Suffolk's rich history. With daytime temperatures reaching between 18°C and 22°C, visitors can enjoy great views of the ocean and have a pint in a local beer garden. Summer is also when nature reserves come alive with damselflies and dragonflies.
With milder temperatures during autumn, it's the perfect time to avoid the peak summer tourist season, go on hikes, watch the arrival of a wide range of wildfowl and enjoy the ever-changing colours of the woodland.
Winter brings the shortest daylight hours and coolest temperatures, but visitors can enjoy the crisp air during walks on the different trails in the region. We love the wide variety of birdlife during this season as well, such as shoveler, lapwing, goosander and goldeneye which can be seen in the lakes.
Recommended For Camping In Suffolk
*This article may contain affiliate links which allows Wandering our World to make a small commission on any sales made – and keep the coffee flowing! It involves no extra cost to yourself. As an Amazon Associate we earn from qualifying purchases, but only recommend products we believe in.