Wandering our World is reader supported! If you purchase anything through a link on our site, we may earn a commission at no extra cost to you.
Last updated on October 9, 2022 by Wandering our World
Nicknamed the Spanish Village by the Sea, San Clemente oozes seaside charm and fresh air. This seaside city in Orange County, California, is known for its lovely sandy beaches, sunshine, coastal views, and great surfing, so it's little surprise that enjoying the outdoors and camping in San Clemente is becoming more and more popular each year.
Staying at the campgrounds in this area is a great way to be close to the beach, allowing you to surf all day long. And if you head a little inland, you can enjoy the natural surroundings and serenity of the Californian mountains.
As we know this area so well, we share with your ten favourite San Clemente camping options below. While some of these campgrounds sit directly on the beach, we've also included a few that are a short car drive away, but will offer an unparalleled camping experience in serene surroundings.
So read on to begin your San Clemente camping adventure!
Camping In San Clemente: The Ten Best Campgrounds In San Clemente
1. San Mateo Campground
San Mateo Campground is nestled into a wetland habitat and is an excellent option for those who want to dip their toes in the sand, as it's super close to the beachfront.
The individual campsites here are equipped for tented camping and RV parking, but you're only allowed a maximum of eight people on each site. Each campsite has its own fire pit and picnic table.
There's a lot to offer campers here, including excellent views, beach access, restroom facilities, showers and potable water. By following a short trail, campers will enjoy easy access to and from the beach, whilst the campground itself is very picturesque.
Why You'll Love It & What's Close By:
Campers can enjoy some fantastic surfing spots at the nearby San Onofre State Beach which is just steps from the campground. This 3.5 mile sandy beach offers three great spots with a variety of wave conditions for surfers to enjoy.
In fact the proximity to that state beach is exciting for both mountain cyclists and road cyclists as well. That's because the fire roads in the area offer great views for mountain bikers who enjoy a steep ride, whilst road cyclists can enjoy the Pacific Coast Bike Route that passes through San Onofre.
There is an abundance of wildlife around the campground too. Campers can catch glimpses of grey foxes, coyotes, squirrels, and possums, as well as ten different endangered species. And during winter the eucalyptus trees here are home to migratory monarch butterflies. This really is a special place to camp.
Fees: From $30 per night
Address: 830 Cristianitos Road, San Clemente, CA
2. San Clemente State Beach Campground
Camp on the beachfront at the San Clemente Beach Campground! As you might have guessed, this is a very popular campground because of its breathtaking views and proximity to the beach.
Run by California State Parks, there's both an RV park that provides hookups and a separate camping area for tented camping here. The campground is full of amenities that make camping comfortable, including hot showers, restrooms, dump sites, and fire pits. Like San Mateo above, there's a maximum of eight people allowed per campsite.
Why You'll Love It & What's Close By:
This campground is just a hop, skip, and jump from the sea and makes the ideal beach holiday. This place is also known for its wonderful beachfront and bluff views. It's a perfect getaway from the hustle and bustle of city life.
Take advantage of how close the water is by boating, paddling, and swimming. This San Clemente camping spot is also perfect for surfing.
Fees: From $40
Address: Off Interstate 5, 225 Avenida Calafia, San Clemente, CA
3. Doheny Campground
Doheny Campground on Doheny State Beach is another excellent option if you fancy camping right on the beachfront. This campground's best feature is, of course, the beach, perfect for swimming, surfing, fishing, and boating. Especially with Dana Point Harbor right next door to Doheny Beach.
Southern California is known for its warmer waters, and Doheny Beach doesn't disappoint. The north part of this beach is an excellent spot for swimming and boogie boarding. Partly thanks to Dana Harbor offering a buffer against larger waves.
Bring your camping gear, and enjoy this fantastic campground, which has toilets, potable water, and showers. Pets are also allowed.
Why You'll Love It & What's Close By:
If boating is your idea of relaxation, you can get a guest slip at the harbor.
Doheny is fairly famous as a surfing spot too, and while surfing is restricted to the north end of the beach, the nearby area known as the Boneyard makes for a good surfing spot for newcomers.
Bikers can also enjoy the San Juan Creek trail that runs nearby. While at the northern end of the beach there's a five-acre lawn with picnic facilities and volleyball courts.
Fees: From $40 per night
Address: 34381 Pacific Coast Hwy, Dana Point, CA
4. San Onofre Bluffs Campground
Situated on the bluff above San Onofre Beach, this campground offers breathtaking views of the beach. It's a small and relatively basic campground but does have amenities like restrooms, showers, picnic tables, and fire pits on offer.
This campground is more like a large parking lot than a natural oasis to camp. But the access to the beach is unmatched, and the great surfing and swimming spots nearby make this campsite very popular during the summer months. It's worth noting that this campground is closed during the winter season.
Getting to the beach is easy by using one of the trails that lead down from the top of the bluff. We found trail 6, near the end of the campground, to be the easiest one down to the beach.
Why You'll Love It & What's Close By:
The views and the beach!
This campground offers incredible views of the sea from a large proportion of the campsites – sites 1-20, 99-119, and 146-174 all offer those spectacular ocean views.
Fees: From $40 per night
Address: San Onofre State Beach, San Clemente, CA
5. Upper San Juan Campground
The Upper San Juan Campground is a small campground in the Cleveland National Forest. Although some distance from San Clemente, it offers an opportunity for campers to escape into the wilderness and enjoy a variety of landscapes from desert, forest, lakes, rivers, and waterfall.
If you're looking for a San Clemente camping experience away from the beach and immersed in nature – this is it!
This campground is under a group of oak trees, giving it some wonderful shade. The campground is relatively primitive and is best used for tented camping and small RVs. However there is potable water and restrooms. It's operated on a first-come, first-serve basis.
Why You'll Love It & What's Close By:
You'll love this place if you're looking for a primitive camping adventure with lots of outside activities to keep you busy.
There are caves nearby to explore and many swimming holes and waterfalls to have a dip in. Cedar Creek Falls is a particularly popular swim spot, as is the gorgeous Three Sisters Waterfalls. The wonderful Lake Elsinore is close by too.
There are bouldering routes as well, and plenty of opportunities to play around and make climbing routes.
The Loveland Reservoir in the Cleveland National Forest is a great nearby fishing spot to visit. It's filled with catfish, bluegill, and red-eared sunfish and makes for a shady spot to enjoy the water's edge while immersed in nature.
There are many opportunities for biking in the Cleveland National Forest around this campground too. And dozens of mountain biking trails for those who would like to explore the Santa Ana, Cuyamaca, and Palomar mountain ranges.
Fees: $18/night for single unit. $30/night for double unit. $5/night for any extra vehicle.
Address: 74 S Main Divide, Lake Elsinore, CA 92530
6. Caspers Wilderness Park
You can find Caspers Wilderness Park around 10 kilometers back from San Clemente, and it has four fantastic small campgrounds on offer.
The Ortega Flats Campground is known for its shady campsites. The San Juan Meadow Group Campground consists of four group camping sites, and the Star Mesa Equestrian Campground is unique in that it offers facilities for campers who want to bring their horses away for the weekend.
The fourth campground, Live Oaks Grove, has 38 sites and is the only campground in the park to have showers. However these showers are located halfway between the Ortega Flats and Star Mesa campgrounds so are also a quick hike from either campground.
There are amenities like toilets, fire pits and picnic tables at these campgrounds. While the equestrian camp allows campers and their horses to explore the untouched wilderness in Caspers Park with several equestrian trails.
Why You'll Love It & What's Close By:
This park is vast, with 8000 acres of nature's best to explore. It's largely forested, and camping here is one of the best ways to see some of the magnificent untouched wilderness that California has to offer while 'roughing' it in the wild.
Bike riding is the best way to see all that the park offers, and there are many bike routes to do just that.
There are also fantastic hiking opportunities here that allow campers to explore the landscape, and even one hike that leads to a hot spring.
This place is great for wildlife spotting too. When a park's name includes "wilderness," campers can be assured that there will be an abundance to see! Look out for deer, rabbits, squirrels, bobcats, coyotes, mountain lions, and snakes.
Fees: From $20
Address: 33401 Ortega Hwy, San Juan Capistrano, CA
7. Arroyo Campground
Some 30 minutes outside San Clemente, you'll find Arroyo Campground in O'Neill Regional Park. This campground, with 79 campsites, is shaded by sycamore and oak trees and is conveniently situated right by the park entrance.
It has everything you need for a comfortable camping experience, such as potable water, flushing toilets, hot showers, barbecues, ground stoves, and a dumping ground.
Not only are the amenities excellent, but there's also plenty to do in the 4,500-acre O'Neill Regional Park. The park also offers group camping at their Hickey Creek and Sycamore Flats group areas. Whist the Hermon Equestrian Camping area provides accommodation for campers with horses!
Why You'll Love It & What's Close By:
There's plenty of trails to enjoy! Including many bike trails that wind their way throughout the heavily forested O'Neill Regional Park.
The Vista Trail, which has an elevation of 1492 feet, is an excellent hiking trail to see a panoramic view of Orange County. Other hikes will take you through incredible landscapes throughout the park, and see you pass under 150-year old oak trees.
You're also only 30 minutes from San Clemente, so you can enjoy an early hike in the morning then go swimming in the afternoon!
Fees: From $20 per night
Address: 92678, 30892 Trabuco Canyon Rd, Trabuco Canyon, CA
8. Wildomar Campground
Although over an hour away from San Clemente, the Wildomar Campground in the Cleveland National Forest is secluded and perfect for people who love off-road driving.
This place can't be reserved, but it is an excellent spot for those who like to camp in a secluded area. It makes for a perfect spontaneous getaway into the Californian wilderness and is directly off the Los Alamos Truck Trail.
While primitive, there is potable water (but beware sometimes the well isn't working) and toilets available.
Why You'll Love It & What's Close By:
All the activities that make the Cleveland National Forest a great attraction are easily accessible from this campground. So expect lots of hiking, biking and bouldering opportunities.
You can also find natural swimming holes, waterfalls, and plenty of wildlife spotting opportunities around this rural and beautiful campground too.
Fees: $15/night for single unit. $5/night for extra vehicle.
Address: Cleveland National Forest, Los Alamos Truck Trail, Murrieta, CA 92562
9. El Cariso Campground
The El Cariso Campground is found on a pass in the stunning Santa Ana Mountains. This campground is best used for tented camping and offers small camping sites in the shade or sun.
There's potable water and toilets available, and pets are allowed too. It's run on a first come first served basis, and is conveniently located close to the Ortega Highway. Albeit because of that there may be a little road noise at times.
Why You'll Love It & What's Close By:
This campground is an excellent place for immersing in nature while enjoying the rugged outdoors in the picturesque wilds of California. There's plenty of hiking trails, and the price to camp here is very affordable.
The area also has a vast mining history which can be explored along a self-guided nature trail.
Fee: $15/Night for single unit
Address: 32405 CA-74, Lake Elsinore, CA
10. Falcon Group Campground
Group camping is an excellent way to spend time in nature with friends, and the Falcon Group Campground in Cleveland National Forest offers just that opportunity.
Most San Clemente camping options, and campgrounds in the surrounding forests, don't allow group camping. However this place does!
The campground consists of three separate campsites, Lupine, Sage, and Yarrow, which offer basic amenities such as toilets and potable water. At this campground you reserve one of those three campsites in advance, so the price ranges from $60-$120 a night depending on which one you choose. That's very reasonable considering you can camp here in a large group.
Why You'll Love It & What's Close By:
The campground is excellent for mountain biking enthusiasts thanks to the multitude of hiking trails nearby, fishing, off-roading, snow sports, swimming, wildlife watching, and hiking trails.
The Falcon Group Campground is also close to Lake Elsinore, a resort town that offers excellent water sports activities.
Just as a note, the cooler months are the best time to visit this campground if you like hiking as the weather can be intense during the summer seasons.
Dispersed Camping In San Clemente: What You Need To Know
DISCLAIMER: Below we give general advice, but we always recommend staying in an official campsite. If you choose to go wild camping/dispersed camping, then make sure you do so with someone who already knows the area where you're planning on camping for your own safety.
Dispersed camping, or remote camping, is where campers pitch a tent in an area that is not a designated campground.
This form of camping is allowed in national forests and other pieces of public land. In fact, it is often encouraged because it relieves pressure on the designated campsites in the area.
Certain rules apply to dispersed camping and contacting whoever owns that land you want to camp on before beginning your camping adventure is a good idea. Fire safety and leaving the campsite better than when you arrived are important factors to remember when dispersed camping in California.
We've outlined the rules around dispersed camping in California in a previous article – you can read that by clicking here!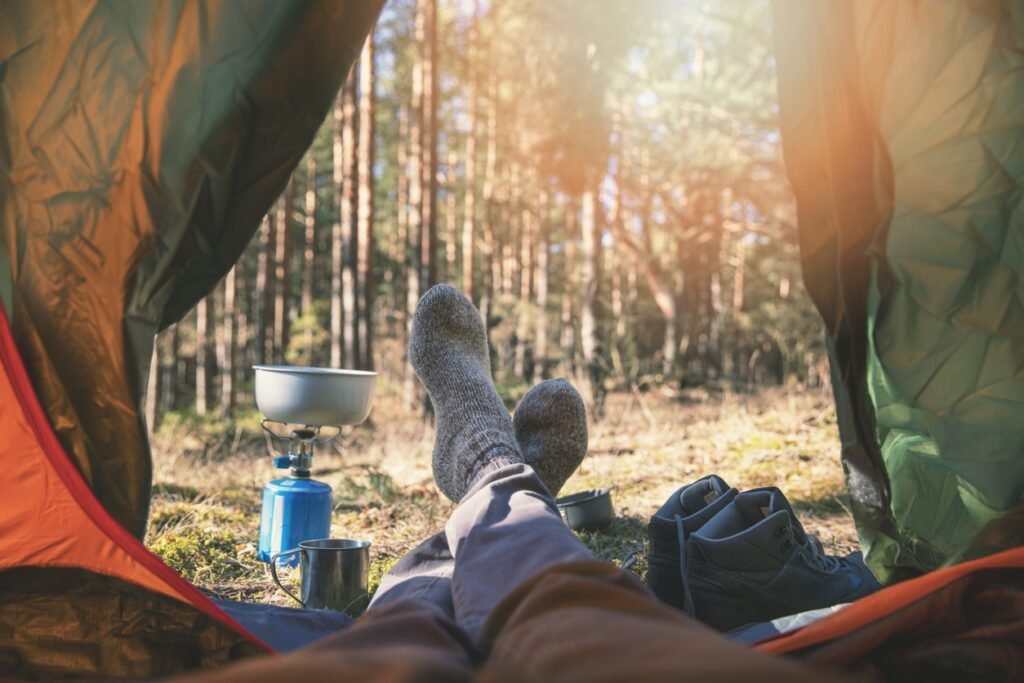 How Long Can You Disperse Camp For?
Legally in Bureau of Land Management Areas you can camp for two weeks at a time within a 30 mile radius during a 28-day period. What that means, is that you may camp within a 30 mile radius for two weeks, either all in one block, or spread out across a 28-day period. This is perfect for hikers who will move camp a few miles at a time.
The regulations are slightly different in California state forests. You may camp at one site for a maximum of 14 days, and you may stay in each district for up to 21 days before having to vacate.
Furthermore, if you are a group of 75 or more people you must gain a permit to camp in a US state forest. You can get that by contacting the local district office. There will be no fee.
What's The Best Time Of The Year To Visit San Clemente
San Clemente is one of those California beachside destinations with pleasant weather all year round. The winter months can be pretty chilly but can still be enjoyed.
The summer months are sweltering but are a popular time for people to escape the city and enjoy camping in San Clemente and cooling down in the sea.
Other Than Camping In San Clemente, What Else Is There To Do?
San Clemente has much to offer, but the best thing to do in and around the city is to enjoy all that nature has to offer.
Whether that's surfing at the beach, hiking the trails in the nearby National Park, or fishing, Californian nature is one of San Clemente's best features. There are also several historical sites to explore and shopping and dining on offer.
San Clemente is the perfect getaway from the city for anyone who wants to enjoy the beach, the surfing opportunities, and the Californian wilderness. There is an ideal San Clemente camping spot for everyone, from rustic and wild, to upmarket and filled with amenities. So get out there and find it!