Wandering our World is reader supported! If you purchase anything through a link on our site, we may earn a commission at no extra cost to you.
Last updated on July 3, 2023 by Wandering our World
With its dramatic history, 360-miles of stunning coastline and a plethora of historic landmarks, camping in Normandy has become a popular vacation in recent years. It's certainly one of our favourite regions to holiday in France, alongside neighbouring Brittany.
There are several campsites in Normandy to choose from. We share some of our favourites below, alongside our recommendations on where to visit near each. Then we tell you some of our favourite things to do in Normandy, look at whether wild camping in Normandy is allowed, and lastly show you what months are the best to visit this region.
But first, here's a few fun facts about Normandy!
Normandy is known for its award-winning dairy products, cider and apple brandy.
The famous painter, Monet, lived in Normandy.
Mont Pinçon is the highest point in Normandy, with an elevation of 362 metres.
Normandy's coastline is ranked amongst the world's most famous coasts, and is made up of stunning beaches bordered by cliffs.
Camping In Normandy
Camping in this region is never going to disappoint as Normandy is home to fantastic walks, a spectacular coastline, a rich history, and some great family friendly attractions. It's also a region that's known for a turning point in World War II – the Normandy landings – and a visit here is a great opportunity to learn about the sacrifices the Allied forces made.
There are some very nice campsites to choose from that are located close to some of those historic sites, ancient landmarks and beaches – we give some of our favourites below.
Camping In Normandy: Some Of The Best Normandy Campsites
Camping Omaha Beach
This pretty 3-star campsite at Vierville-sur-Mer has beautiful panoramic views across the ocean and gives you direct access to Omaha Beach. As such, it's located close to all the D-Day Landing historical sites.
This campsite has well-kept facilities and an indoor heated swimming pool. Here, you'll enjoy beach views from the comfort of your tent but you can also enjoy fresh pizza on Thursday and Saturday from a visiting pizza van!
The site is located close to emblematic WW2 sites such as the American Cemetery of Colleville, Memorial at Colleville (7km), and the Mémorial de Caen.
Campsite L'Escapade
Located in the rural commune of Cahagnolles in Calvados, this campsite is set on 7 acres of natural beauty and has many activities to keep everyone happy.
The 4-star site is open from April to the end of September and is home to two private fishing ponds, horse-riding, tennis, basketball, table tennis, as well as a swimming pool with water slides, and even an indoor heated pool.
Located near the charming city of Bayeux, famous for its tapestries and canals, the campsite is also the perfect base to visit the D-Day beaches and the many museums devoted to it. The enchanting Chateau de Balleroy is about 4 miles from the site too.
Our tip is to grab some of the tasty mussels and chips at the cafe/bar on site. They're very reasonably priced.
Camping Port'land
Camping Port'land has lots of great facilities, including a bar/restaurant where you can grab a nice continental breakfast in the morning, or pizza in the evening. Kids will love the indoor and outdoor swimming pool here, as well as the four fishing ponds and a sports ground.
Situated in Port-en-Bessin-Huppain, Vierville-sur-Mer is a 15-minute drive from the campsite and Bayeux is just 10 km away. For more historical sites, we recommend you visit Omaha Landing Beach and the American Cemetery – both 6 km from the site.
Camping Sous Les Étoiles
We love the relaxed and unique feel of this campsite, as well as its quirky name which translates to 'camping under the stars'. Equipped with a cozy restaurant/bar with excellent food and drink options, as well as immaculately clean facilities, this campsite is a great pick.
The family run site is situated in the village of St Martin des Besaces and is surrounded by lush green fields and has ample space so the pitches feel big and private.
Located in the region of Calvados, you can enjoy a day exploring the pretty countryside in the region, and sample local sparkling cider and cheese. Kids will have fun discovering the variety of animals at Zoo de Jurques which is located less than 5 miles from the site.
Wild Camping In Normandy
DISCLAIMER: Below we give general advice, but we always recommend staying in an official campsite. If you choose to go wild camping/dispersed camping, then make sure you do so with someone who already knows the area where you're planning on camping for your own safety.
Like other areas of France, wild camping or making a bivouac in Normandy isn't officially allowed. Although campers are allowed to pitch their tent if they have the permission of a landowner. You can find more information concerning wild camping here.
However as this area is a popular walking area with amazing natural beauty, outdoor enthusiasts do sometimes wild camp here. If you are planning to wild camp in Normandy – and can't be swayed to stay in a campsite instead – we've compiled the following guidelines to help keep you out of trouble and camp in a considerate manner:
You should camp in the same place for one night only, and pitch your small tent discretely and in a remote place which will not be easily seen. Therefore don't camp in or near settlements, someone's farm or on cultivated land. If you think you're on private land, always seek out the landowner and ask permission. They may request a small fee.
Campers should set up their tent at dusk, and take it down at dawn. A tent that is discreet, blends in with the landscape, and pitches quickly is best. Therefore a lightweight walking tent like this one would be a great investment for someone planning to wild camp in Normandy.
If you are walking a trail, make sure you choose to camp in a place that won't be in any other hiker's or walker's way.
When wild camping in Normandy you must never make a campfire. Instead of building campfires, you could use a storm cooker for cooking – but check local laws first. Then there is much less wildfire risk and you can cook knowing that the fire is contained. We believe the best ones on the market are Trangia storm cookers. Portable solar ovens, like this one by GoSun, are also a good fuel-less option.
Take any rubbish with you, and leave your camping spot exactly the way you found it.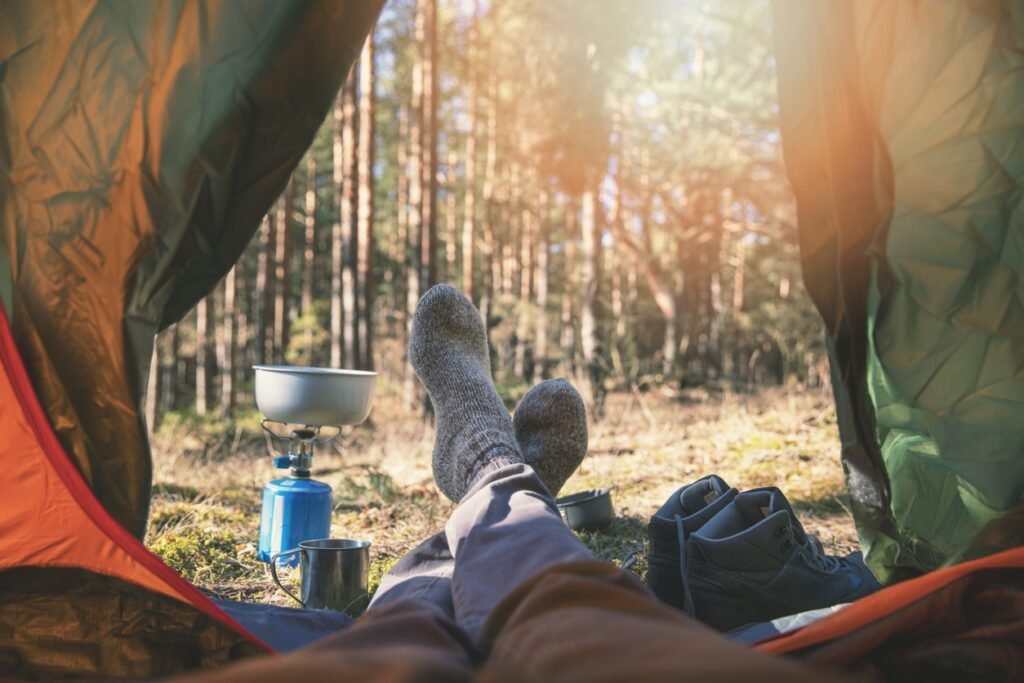 Some Of The Best Places To Visit When Camping In Normandy
Omaha Beach
Marking a turning point in World War II, Omaha Beach is famous for the devastating but successful Normandy landings.
This place is serene with its long sandy beaches, and if you didn't know the history, it's hard to imagine what went on here.
There's a war memorial monument and a museum with artillery equipment that are worth visiting. While the American cemetery of Colleville sur Mer is also situated behind Omaha Beach.
Mont Saint-Michel
It's one of the most visited places in France, but for a reason! The Mont Saint-Michel is a tidal island that boasts a gravity-defying abbey and an awe-inspiring bay.
This stunning island is a pilgrimage destination and a UNESCO World Heritage Site – it's a real must visit.
Étretat
Located on the north coast of France, this stunning area boasts majestic rock formations carved out of white cliffs.
With the cliffs reaching 90 meters in height, including the Porte d'Aval arch and L'Aiguille, Étretat is an Instagrammers dream, but the beaches below can also be a great place for a sunbathe and a swim.
Camping In Normandy: The Weather & Best Months To Visit
Summer is a great time to visit Normandy as the daytime temperatures are a very pleasant 21 °C to 27°C. This season is the busiest but that's because it's the perfect time to sunbathe, do water-sports and enjoy relaxing walks.
With mild to warm temperatures, spring is cooler but families can still make the most of a full day exploring the historical monuments and coastline. Temperatures range from 10°C to 17°C, and visitors can see flowers in full bloom and birds can be spotted during walks
With milder temperatures during autumn – ranging between 6°C to 16°C – this season is a fantastic time to avoid the peak summer tourist season, go on walks, and take in the majestic coastal views. The temperature is mild and pleasant in September, but gradually becomes more cold, windy and rainy as autumn progresses.
Winter brings the shortest daylight hours and coolest temperatures, ranging between 3°C and 9°C, but visitors can still enjoy the crisp air during walks on the different trails around the area.
Recommended For Camping In Normandy
*This article may contain affiliate links which allows Wandering our World to make a small commission on any sales made – and keep the coffee flowing! It involves no extra cost to yourself. As an Amazon Associate we earn from qualifying purchases, but only recommend products we believe in.