Wandering our World is reader supported! If you purchase anything through a link on our site, we may earn a commission at no extra cost to you.
Last updated on July 3, 2023 by Wandering our World
Luxembourg isn't often top of a tourist's 'must-visit' list, but this small nation nestled between Germany, France, and Belgium packs a real punch! The nature is stunning, the people friendly, and the whole experience an absolute must – that's why camping in Luxembourg is becoming more and more popular every year.
This little country is perfect for camping and hiking as the temperature is pleasant and there's a real love for camping in Luxembourg so there are some fantastic campsites located in some stunning locations.
We look at what regions you can camp in and give you a few of our favourite campsites in each. Then we look at wild camping in Luxembourg and the weather to expect when camping here.
But first, here's a few fun facts about Luxembourg!
Luxembourg has the highest minimum wage in the EU.
The last time Luxembourg sent men to war was in 1886. It's believed that the 80 men sent to war came home as 81 – because they made a new friend!
Luxembourg's former Prime Minister Xavier Bettel was the first EU country leader to get married to someone of the same sex.
One third of the country is covered in forest.
Camping In Luxembourg
This picturesque hilly nation is perfect for camping because of its natural scenery. However because Luxembourg is a very rich country, camping is also an affordable option for many who wish to visit this nation.
It's also a great hiking destination. A good walking in Luxembourg book – like this one – can help you plan what walks, and therefore what campsites, may be of interest to you.
To help you choose where to camp, we look at Luxembourg's two regions below, and show you what each has to offer. Then we share some of our favourite campsites in each region.
Oesling (North Luxembourg)
Although this region encompasses parts of Belgium and France, Oesling also makes up the northern part of Luxembourg.
Oesling is sparsely populated and made up of vast forests, raging rivers and quaint centuries-old hill villages. Most of Luxembourg's highest peaks are in this region, making it a great place for any walking and hiking enthusiasts.
If you're looking for a camping holiday that is rural, focused on outdoor activities (like hiking and biking), and away from the hustle and bustle of everyday life, then camping in this region of Luxembourg may suit you best.
Gutland (Central and South Luxembourg)
This region is flatter and more urbanised than the north, and has much larger towns – as well as the nation's capital. However, there are a few areas of this region that are as sparsely populated as Oesling.
Gutland is a great place to be based if you're wanting to explore Luxembourg's cities, or it's capital – which is on the UNESCO World Heritage list due to it's spectacular architecture.
So if you're looking for a camping holiday which will allow you to easily visit Luxembourg's cities, museums, parks, and many restaurants, then camping in Gutland may be the best choice.
Some Of The Best Campsites In Luxembourg
Below are a few of our favourite campsites in Luxembourg, sorted by what region they are in.
Oesling campsites
Camping Clervaux
This lovely campsite may be situated in Luxembourg's more rustic region, but it has great facilities like a swimming pool, BBQ, ping pong, mini golf, and immaculately kept washrooms.
The forested surroundings are peaceful, and the campsite is right beside the town of Clervaux which has some good restaurants.
Camping Troisvierges
This campsite, which sits in Luxembourg's border region, is close to several great walks and trails making it perfect for hikers and bikers. The service is as great as the surroundings, while the modern facilities and the large swimming pool are certainly welcome after a day exploring.
Camping Woltzdal
This campground is more rural than the two above, and is the perfect place to get away from everyday life. The forest, valley and river that make up the site and nearby surroundings are exceptionally pretty. It's green, you can spot wildlife from your tent or caravan, and its a great place for stargazing at night due to the low light pollution. Dogs are allowed too.
Gutland campsites
Camping Kockelscheuer
This campsite is located just outside of Luxembourg City, so is a fantastic affordable place to stay if you want to explore the capital. Even more so as public transport to the city is free from the campground.
The facilities are clean and modern, while the small communal area even has fridge space for everyone that stays here. As an added bonus, there are some good walking trails around the site too. Dogs are allowed on-site as well.
Camping Simmerschmelz
Set in a forest, this campsite is peaceful, the staff are friendly, the food on-site is very good and the facilities (like the swimming pool) are modern and clean.
It's also close to some of Luxembourg's largest towns – and near to the capital – which makes it the perfect base for exploring the central and southern regions.
Wild Camping In Luxembourg
DISCLAIMER: Below we give general advice, but we always recommend staying in an official campsite. If you choose to go wild camping/dispersed camping, then make sure you do so with someone who already knows the area where you're planning on camping for your own safety.
Wild camping in Luxembourg isn't officially allowed, however as we've written about before, it is often tolerated.
That's because Luxembourg is a country with amazing natural beauty and many hiking trails, therefore outdoor enthusiasts do wild camp here.
Free camping is therefore more common here than in other European countries, and as such, is sometimes tolerated by locals if campers respect the land, camp far from buildings, and stick to the principles of leave no trace.
If you do want to wild camp in Luxembourg, you may be asked by police what you are doing. The police tend to be polite, but will sometimes investigate any tents they see that are set up outside of campsites. If it's late at night – and you're quiet, in a small group, and not causing a nuisance – they will sometimes leave you be. However if they ask you to move, then don't argue.
If you are planning to wild camp in Luxembourg – and can't be swayed to stay in a campsite instead – we've compiled the following guidelines to help keep you out of trouble and camp in a considerate manner:
You should camp in the same place for one night only, and pitch your tent discretely and in a remote place which will not be easily seen. Therefore don't camp in or near settlements, someone's farm or on cultivated land. If you think you're on private land, always seek out the landowner and ask permission. They may request a small fee.
Campers should set up their tent at dusk, and take it down at dawn. A tent that is discreet, blends in with the landscape, and pitches quickly is best. Therefore a lightweight walking tent like this one would be a great investment for someone planning to wild camp in Luxembourg.
If you are walking a trail, make sure you choose to camp in a place that won't be in any other hiker's or walker's way.
When wild camping in Luxembourg, you should never make a campfire. Instead of building campfires, you could look into using a storm cooker for cooking – but check local laws first. Then there is much less wildfire risk and you can cook knowing that the fire is contained. We believe the best ones on the market are Trangia storm cookers. Portable solar ovens, like this one by GoSun, are also a good fuel-less option.
Take any rubbish with you, and leave your camping spot exactly the way you found it.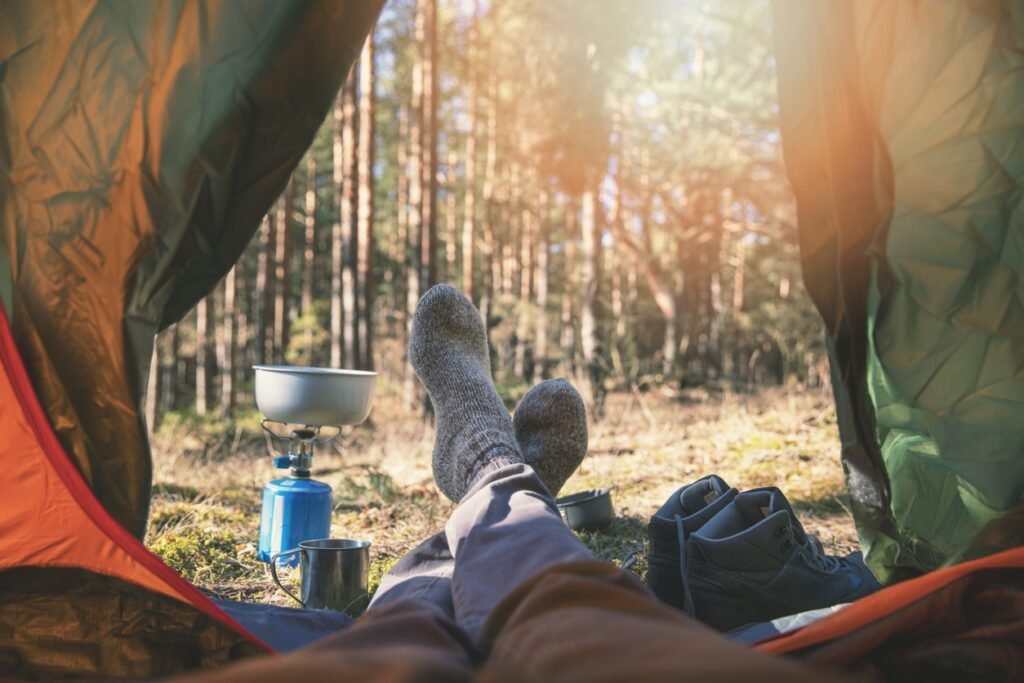 Camping In Luxembourg: The Weather And What Months To Visit
Most visitors choose to come to Luxembourg in summer, when daytime temperatures range around 11-24 Celsius. Rain happens on average around 8 days a month during summer, but it's still a great time to explore the country's quaint villages and go hiking. It can get quite warm inside tents when camping, so make sure you choose a shady pitch.
Autumn and spring are cooler – ranging around 5-15 Celsius during the day depending on the month. Both seasons are great times to avoid the peak tourist season, tackle some of Luxembourg's best walking trails, and enjoy the island's landmarks without a crowd.
It can get quite cold in winter, with temperatures ranging around -2 to 5 Celsius. Snow is possible, so we don't recommend camping during this season.
Recommended For Camping In Luxembourg
*This article may contain affiliate links which allows Wandering our World to make a small commission on any sales made – and keep the coffee flowing! It involves no extra cost to yourself. As an Amazon Associate we earn from qualifying purchases, but only recommend products we believe in.