Wandering our World is reader supported! If you purchase anything through a link on our site, we may earn a commission at no extra cost to you.
Last updated on May 25, 2023 by Wandering our World
It's one of the most famous cities in America, but did you know that camping in Houston and and the surrounding area can provide some of the best vacations too? This Texan city makes for a fun weekend getaway with excellent food spots, proximity to the beach, natural scenery, and rich history. And for many (including us), camping in Houston and the surrounding area is the best way to experience all of that and more.
There are plenty of excellent spots for camping near Houston, within the city, and in the National Parks nearby too. The inner city RV Resorts offer proximity to all of the attractions of Houston, while the national parks outside the city offer serenity and nature.
We know this place well, so to save you time we've put together our favorite Houston campgrounds below.
Some are situated in the heart of the city, while others are nestled in the national parks nearby. But all have something unique that will make your Houston camping adventure special.
Camping In Houston: The 11 Best Campgrounds For Fun, Views, & Adventure
There's plenty of fantastic places for camping near Houston (both tent and RV sites), and we've included some of our favorites below.
However when it comes to camping in Houston itself, choices are mainly limited to a few RV parks owned by the same company. Those do have a wonderful location in relation to downtown though.
Here's our 11 favorite Houston campgrounds for both tent and RV campers. Places we would be happy to return to again and again.
1. Lakeview RV Park
In the heart of Houston, the Lakeview RV Park is an excellent spot to enjoy a camping experience while being close to everything that Houston has to offer. The park offers first-rate amenities and is part of the Quality RV Resorts franchise – which has several Houston-based RV sites.
This RV park offers a full hookup on a concrete pad. There are laundry facilities, a massive swimming pool and jacuzzi, pool tables, a fitness center, super fast internet and two electric vehicle charging stations.
The park also features a dog washing station and a lake teeming with fish!
On-Site Activities and What's Close By
While the park offers a multitude of luxury amenities, one of the park's best features is its proximity to all the attractions that Houston has to offer. It's only 20 minutes away from downtown Houston, so it's easy to hop on Houston's Metro Rail system to visit the many dining spots, shopping, and theaters.
The museum district, NASA Space Centre, and Houston Zoo are easily accessible from the park as well.
This place is central to the action in the city and is an excellent base for any camping in Houston adventure.
Rates: From $57
Address: 11991 South Main Street, Houston, TX 77035
2. Galveston Island Bay Side Campground
The Galveston Island Beach Side Campground is located right on the water in the beautiful Galveston Island State Park. With magnificent views of the water and sounds of the waves as you drift off to sleep at night, this campground is a must-visit.
It's just an hour away from Houston's city center too. So while you're camping near Houston, you're still close to the city.
There's 56 sites available for campers, and good basic amenities for guests such as restroom and shower facilities, potable water, and water and electricity hookups for RVs. Pets are allowed on site too.
On-Site Activities and What's Close By
This campground is right on the beachfront! While Houston may not be known for its surfing, surfers can enjoy the opportunities at Galveston Island. Other activities and things to do on the water include paddling, kite surfing, fishing, and of course, enjoying the fine sunshine on the beach.
The area is perfect for outdoor activities too, like mountain biking on the Galveston Island State Park trails and hiking the park's trails. You can also explore the extensive wildlife and enjoy views of the wetlands, salt lands, and marshes.
The nearby Galveston Island Horse and Pony Rides are also an ideal way to see the scenery the area has on offer by getting on horseback!
With everything on offer, and those beachside views, this is easily one of our favorite camping in Houston options.
Rates: From $15 per night.
Address: Galveston Island State Park, Galveston, TX 77554
3. Lake Houston Wilderness Park
The Lake Houston Wilderness Park Campground is set amongst a forested expanse of nearly 5000 acres of wilderness. This park may only be 30 minutes outside of Houston, but it offers a serene and scenic escape into nature, away from the busyness of city life.
The campground has full hookups for RVs, restrooms, showers, and a dumping site. It's also the cheapest option on our list – you can camp here for under $10!
Several camping sites are available, including tented camping, RV sites, dispersed camping, and group camping sites. With so many options to choose from, it's easy to find a perfect spot here.
On-Site Activities and What's Close By
The park the campground is located in offers so many options to enjoy the outdoors. There is hiking, kayaking, bird watching, and trail running opportunities, while campers with horses can enjoy the equestrian trails in the park.
The campground is a short drive away from central Houston too, so it's easy to have a day in the city before enjoying a night under the stars. A fantastic camping near Houston option.
Rates: From $7 per night
Address: 25840 FM 1485, New Caney, TX 77357
4. The Retreat RV and Camping Resort
Sitting on the gorgeous shores of Lake Houston, The Retreat RV & Camping Resort is the perfect spot for campers to indulge in nature thanks to its paved RV sites, cottages and tent sites.
The scenic and tree-lined property is just 40 minutes from downtown Houston so close to all the action, but also in a serene location perfect for relaxing.
This resort is full of incredible facilities with lots of social spaces perfect for making new friends. There's a clubhouse, fitness center, huge pool and hot tub, playground, mini-golf course, an outdoor area for fun, and a beer garden!
On-Site Activities and What's Close By
There's plenty to do on-site, such as relaxing in the pool, playing mini golf and enjoying beer in the sunny beer garden. There's lots of space for children to play, activities organized on site, and games like volleyball.
But we think one of the resort's best features is its access to Lake Houston. This place has a boardwalk on the lake, a fishing pier, and boat slips. Because of that, boating, kayaking, and jet skiing are just a few of the many activities that guests can enjoy within the resort.
This Houston camping option is also pet-friendly, and has its own 'Bark Park' for dogs to enjoy. Other than that, this place is close to San Houston National Park, the Houston Zoo, Houston's museum district, and The Woodlands, a shopping center.
If you're looking for a camping near Houston spot that has everything, and is close to everything, this may be the right campground for you.
Rates: From $40 per night
Address: 27514 Huffman Cleveland Rd, Huffman, TX 77336
5. Brazos Bend Campground
The Brazos Bend Campground, a little southwest of Houston, has 107 camping sites set amongst beautiful scenery. From shaded areas by the river to an abundance of greenery, there is much to enjoy here. There is also a primitive campground and group camping available at the park as well.
Most of the sites come with electricity, picnic tables, and a potable water supply. There are also showers and restrooms available to campers. The park is suitable for all types of camping, including tents, campers, and RVs.
The campsites here are also some of the most affordable for camping near Houston, so you'll get a fantastic vacation without breaking the bank!
On-Site Activities and What's Close By
This is the perfect spot for any lover of the outdoors as the park offers three lakes for fishing, and miles of hiking trails nearby that range from easy to challenging. There are many opportunities for wildlife watching too with over 5000 acres of bottomland and upland coastal prairie to explore.
The park the campground is located in is also an excellent spot for exploring nature on horseback, whilst there's 37 miles of trails for the avid biker to use.
For any star lovers, an impressive park feature is the George Observatory, which is part of the Houston Museum of Natural Science. You can purchase a ticket in advance from the museum.
Rates: From $12 per night
Address: 21901 Farm to Market Rd 762, Needville, TX 77461
6. Village Creek State Park
There are three campgrounds at Village Creek State Park, giving you many opportunities to explore Big Thicket. The Hilltop Campground offers the most amenities, while Creekside Walk-in Campground is a primitive campground with few amenities. The third is a group camping option.
The park is around 1 hour and 30 minutes outside of central Houston, but the beauty of the nature on offer makes the drive well worth it.
The campgrounds offer sites for tents, campers, and RVs, except for the Creekside Campground, which can only accommodate tented camping. There are restrooms, shower facilities, potable water, and picnic tables at all the campgrounds. Pets are also welcomed!
On-Site Activities and What's Close By
The main feature of the park is the Village Creek where campers can enjoy a dip in the water. The swimming sandbar is the best spot for a swim.
You can pack a picnic and enjoy the day spent outside while looking out for otters, beavers, turtles, and frogs.
The park offers a multitude of things to do, such as wildlife watching, paddling, hiking on the 8 miles of trails, fishing, and biking.
This really is the perfect Houston camping option if you're looking to enjoy the outdoors and get stuck into the best nature that Texas has on offer. It's very affordable too.
Rates: From $10 per night
Address: 8854 Park Rd 74, Lumberton, TX 77657
7. Sheldon Lake RV Resort
The Sheldon Lake RV Resort is another RV park central to Houston. This landscaped and well kept RV park offers a wide range of community areas for guests to socialize and there's a huge array of fantastic amenities on offer.
Those amenities include a laundry service, clubhouse, fitness gym, an outdoor BBQ station, community activities organized by the resort, a coffee station, lounge area with TV, billiards and more.
The location and multitude of amenities makes this an excellent camping in Houston choice.
On-Site Activities and What's Close By
The many activities on offer and the clubhouse makes this a great place to make new friends and keep busy.
While this RV park provides a refuge from the bustle of the city, you're also right in the heart of Houston where there's many things to do. Visit one of the many restaurants and bars nearby, enjoy the historical sites, or head out to the many national parks around the city.
If you're looking for a camping in Houston option in the city, with facilities as good as a resort, then Sheldon Lake will be a great choice.
Rates: From $50 per night
Address: 16925 Crosby Fwy, Houston, TX 77049
8. Lake Livingston State Park
Nearly 2 hours outside of Houston you'll find Lake Livingston State Park which has a variety of campsites to choose from. The park features 2.5 miles of shoreline on Lake Livingston, and so offers access to this pretty but massive 82,400-acre lake.
There's a variety of scenic campsites to choose from along the lakeside. All camping types are welcome; tents, campers, trailers, and RVs. But certain campsites will only cater to specific types of camping.
There is potable water, showers, restroom facilities, and picnic tables. Pets are welcome to accompany campers.
On-Site Activities and What's Close By
The park is another outdoor lover's dream. Fishing is especially attractive on the lake, with white bass, perch, catfish, and crappie all on offer. There are several fishing spots to choose from: one of three boat ramps, multiple piers, and the bank itself.
The fishing opportunities are excellent, but there are also several hiking and biking trails for campers to enjoy. Swimming and paddling are other activities to enjoy in this scenic area.
If you're looking for a camping in Houston option that's close to water and fishing opportunities, then this one is hard to beat!
Rates: From $14 per night
Address: 300 State Park Rd 65, Livingston, TX 77351
9. Stephen F. Austin Park Campground
This well-kept campground is a lovely spot with shaded and spacious campsites. The park the campground is located in is home to some rich Texas history such as the San Felipe de Austin State Historic Site. Campers can also enjoy scenic views of the Brazos River.
The campground has a full set of amenities, including restrooms, showers, and potable water. There are full hookup sites for RVs, and group camping, primitive camping, and regular camping areas for guests to enjoy too.
On-Site Activities and What's Close By
One of the park's best features are the mountain biking trails. The Brazos Botton Trail offers fantastic scenery, where you can cool down by the Brazos River. Alternatively, follow the Barred Owl Trail that leads to an overlook with amazing views of the Brazos River.
If mountain biking isn't for you, you can fish on the riverbank. Admittedly, the fishing isn't fantastic here, but campers can spend a relaxing afternoon by the river appreciating the scenery.
Alternatively, there are many hiking trails to choose from. You will find teeming wildlife and incredible flora and fauna through bottomland and hardwood forests in the park while on those trails.
Rates: From $12 per night.
Address: Park Rd 38, San Felipe, TX 77473
10. Stubblefield Lake Recreation Area & Campground
Found on the west side of the pretty Sam Houston National Park, the Stubblefield Lake Campground is just like rustic camping – but with some basic but well-kept facilities.
This campground is a wonderful spot for campers to enjoy the great outdoors and many outdoor activities.
It's without a doubt one of our favorite options for camping near Houston – quiet, lots of shade, clean facilities and there's usually a friendly host on-site.
The amenities are very basic at the campground but include restrooms, shower facilities, and potable water. There are also picnic tables available for campers to use. The sites can accomodate RVs up to 28 feet long.
The park has other campgrounds that include the Cagle Recreation Area on the shores of Lake Conroe. There is also a dispersed campground, the Kelly's Pond Campground.
On-Site Activities and What's Close By
Stubblefield Campground is a perfect camping spot for those who enjoy off-road driving. There is unique terrain to be enjoyed in the Sam Houston National Forest, and those with off-highway vehicles will have fun exploring the extensive scenery.
If off-roading is not for you, there are plenty of hiking trails to enjoy. Avid anglers will find this place a perfect fit too as there are two lakes to choose from nearby: Lake Conroe and Lake Livingston.
In fact you'll get some of the best nature kayaking, canoeing and fishing in the state here.
Rates: From $15 per night
Address: Forest Service Rd 216, Huntsville, TX 77340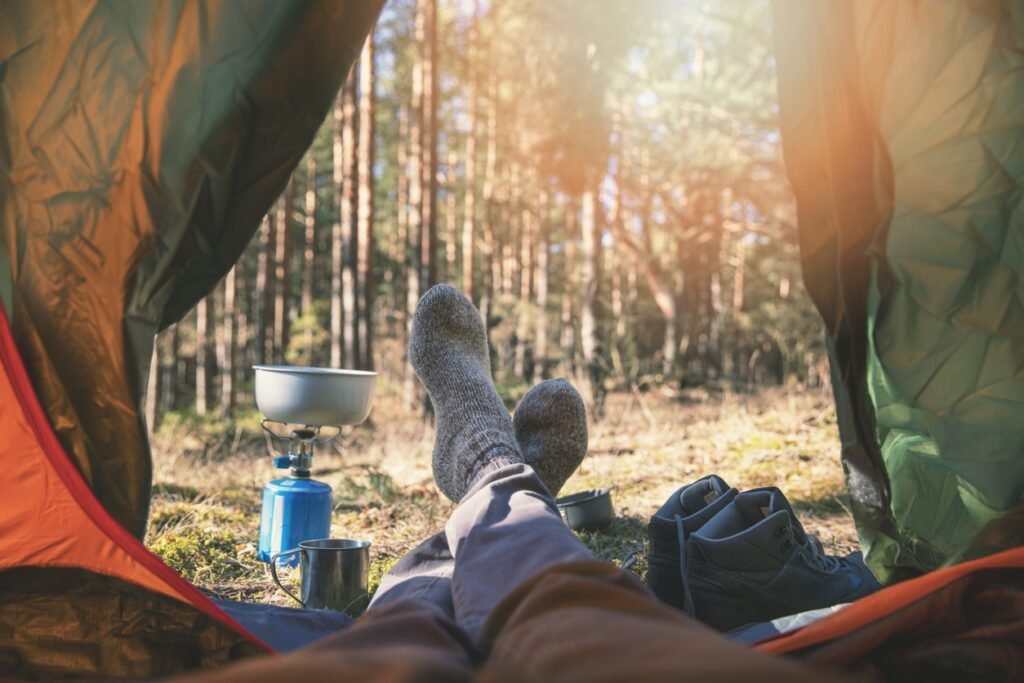 11. Double Lake Campground
On the east side of Sam Houston National Park you'll find Double Lake Recreation Campground. This place has views of whispering pines and hardwoods and surrounds 24 acres of Double Lake. It's a very beautiful camping in Houston spot.
The campground includes restrooms, showers, and full hookups for RVs. There are various sites for RV parking and tented camping, and a group camping facility. The campsites are well kitted with a fire pit, picnic tables, tent pad, and parking spot.
On-Site Activities and What's Close By
The Double Lake Campground is especially beautiful and makes an excellent spot for picnicking and enjoying the outdoors. The lake is a good spot for fishing enthusiasts as it's teeming with fish. Campers can also enjoy kayaking, swimming, a picnic shelter, and the beach.
Double Lake is not only a great spot for fishing enthusiasts, but it is also a great spot for swimming and wildlife spotting. There is a 21-mile mountain bike trail that circles the lake too.
Rates: From $20 per night
Address: 301 FM 2025, Coldspring, TX 77331
Dispersed Camping In Houston
DISCLAIMER: Below we give general advice, but we always recommend staying in an official campsite. If you choose to go wild camping/dispersed camping, then make sure you do so with someone who already knows the area where you're planning on camping for your own safety.
There are many opportunities in Houston for campers who are enthusiastic about camping and prefer not to camp in established campgrounds. For example, a good dispersed camping site can be found anywhere in Sam Houston National Park.
Big Thicket National Park offers no official campsites. But campers can enjoy backcountry camping at its finest in the 113,000-acre swampland. Boondocking is also allowed in the National Parks in Houston.
If you'd like to spend some time by the beach, there are a few options for free camping by the seashore. These spots include the Texas City Dike and Bolivar Flats Free Beach.
For a fun dispersed camping experience, research great spots to visit before arriving. National Forests, and forestry roads, are some of the best places to find dispersed camping spots.
Things To Do In Houston
Houston is a hot spot for cultural activity. While the wider area offers terrific outdoor opportunities, the inner city offers many attractions from fine dining to shopping, history, and entertainment.
A few of the best places to visit are the Museum of Fine Art and the Houston Museum of Natural Arts. There is a long list of things to enjoy in and around the area.