Wandering our World is reader supported! If you purchase anything through a link on our site, we may earn a commission at no extra cost to you.
Last updated on July 3, 2023 by Wandering our World
Boasting long stretches of beautiful Adriatic and Ionian coastline, Albania is situated on the Balkan Peninsula in southeastern Europe. Referred to as Shqipëri in the native tongue, this small, mountainous country is steeped in history, natural beauty, and has outstanding Mediterranean cuisine – and also happens to be perfect for camping!
We cover camping in Albania below, showing you what each area has to offer so you can decide what region you wish to camp. We also share some of our favourite campsites, and then look at wild camping in Albania too.
But first, here's a few fun facts about Albania!
The Albanian town of Berat boasts a Unesco-prescribed Old Town and has been rated as one of Europe's prettiest towns.
Albania is home to over 3,250 species of plants, accounting for 30 per cent of all flora in Europe.
Albania and N. Macedonia share the same highest point. Sitting on the border, Golem Korab is over 2,700 metres tall.
Camping In Albania: Where Should You Camp?
Expect an Albanian holiday to be packed with rugged mountains, dense forests, tranquil lakes and breathtaking panoramas. With outstanding natural beauty, and captivating marine life in the Albanian Ionian Sea, as well as beautiful golden beaches on the Albanian Adriatic coast, there is so much to see here.
We recommend some of the best campsites in Albania later in this article.
But first, we show you what each area of Albania has to offer, so you can make a decision about where you wish to camp in Albania. Then we share some of our favourite campsites in each area, give you information on what weather to expect, and then explain wild camping in Albania too.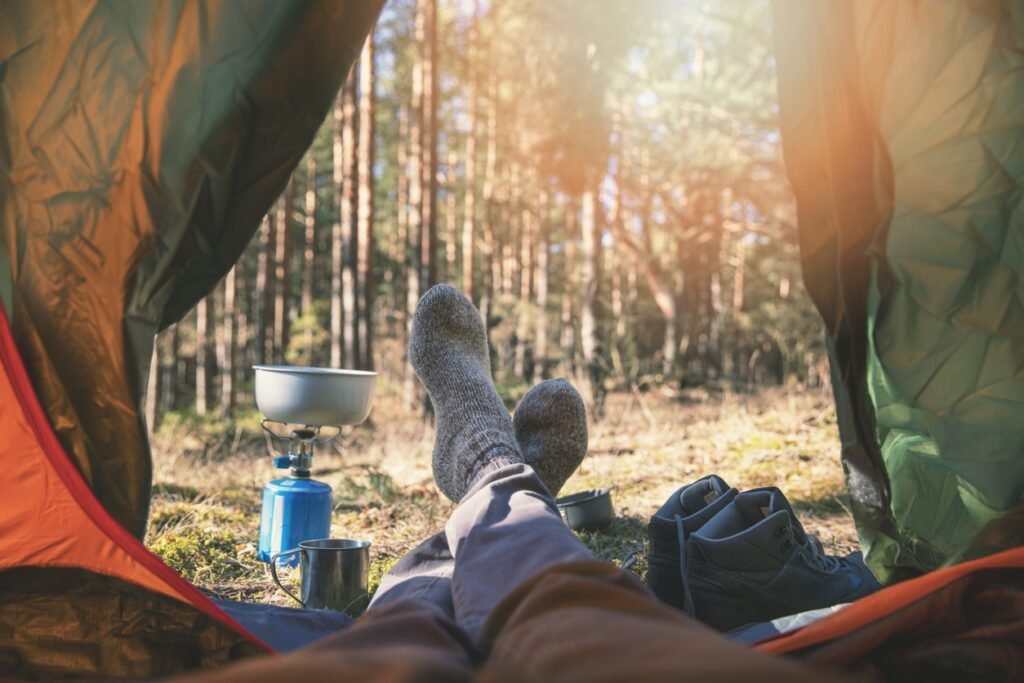 Which Region Of Albania Should You Camp In?
Northern Albania
Consisting of five counties – Dibër, Kukës, Lezhë, Shkodër and Durrës – Northern Albania is full of fun discoveries and hikes.
Here, there's the opportunity to explore the North Albanian Alps, which is an extension of the Dinaric Alps. Northern Albania is most famous for this majestic mountain range, its craggy surroundings and sparse population.
With the highest elevations reaching 8,900 feet, there's an endless variety of stunning scenic climbs and many options to test your rock-climbing skills. With dense forests, beautiful rivers and awesome trekking, Northern Albania is also full of character due to its quaint villages and traditional ways of life.
Central Albania
Extending north-south from the Drin River to central Devoll and lower Osum rivers, Central Albania consists of two counties – Tirana and Elbasan.
More densely populated and less craggy compared to northern Albania, Central Albania still has scenic mountains, hills and valleys. You can also enjoy nice views of the Adriatic Sea from northwest Tirana – the country's capital.
The central region is well worth exploring, with it's scenic hills and serpentine mountains at Bovilla Lake. You can even hike up Albania's renowned highest peak, Mount Korab, and explore the rich – and rare – flora to be found here.
Southern Albania
Encompassing five beautiful counties – Korçë, Berat, Vlorë, Fier and Gjirokastër, -southern Albania boasts extraordinary nature and a pristine 150-kilometer stretch of coastline and beach, making it arguably the most attractive region of the country.
The Ionian coast is home to some of Europe's most pristine and untouched sections of the Mediterranean shore. The rich archaeological heritage from Greek, Roman and Ottoman rules contribute to the beautiful character of this region too.
The south is also home to "The City of a Thousand Windows", Berat, which is amongst the oldest inhabited cities in the world. A visit to this stunning city is a must. There's two national parks in this region too: Llogara and Butrint.
Camping In Albania: Some Of The Best Campsites In Albania
There are many affordable campsites in Albania. Below are a few of our favourites, separated by what area they are in.
Northern Albania
Camping Clandestino
Located near Shkodër, this is a unique eco campsite that has great facilities and delicious fresh food on site. Sitting just 150m from the beach and 25km from the city of Shkodër, this campsite is perfect for enjoying nature and this region.
Camping Legjenda
Situated in Shkodër, this campsite is surrounded by nature and is adjacent to the Castle of Rozafa, and has beautiful views of River Buna.
This campsite is a great base for exploring the city center, which is just a 10 minute walk away. Therefore you will have easy access to some of Shkodër's famous attractions such as Shkodra Lake – which is the largest lake in Southern Europe – and Velipoja Beach.
Central Albania
Camping Tirana
Located in the quaint village of Kashar, near Lake Kusit, Camping Tirana has stunning views of the lake and is a great base for exploring the natural beauty of the surrounding area and the nearby capital city of Tirana.
With loads of facilities and amenities on site such as darts, canoeing on the lake, free bikes to use and a nice garden, you will love your stay at this relaxing site.
Kamping Pa Emer
Situated in the coastal village of Karpen in the central plains of Albania's Western Lowlands region, this campsite is close to the sea. The campsite owners have a restaurant on a nearby small island too which serves great food.
Southern Albania
Ksamil Caravan Camping
This small campsite with great facilities sits just 5 minutes from the beach and is located in the county of Vlorë. The warm welcome and refreshing drinks upon arrival add to the character and charm of the campsite, and you can enjoy fresh Mediterranean food in the bars and restaurants that are just a 10 minute walk away.
Camping Arbi
Boasting a wonderful view of the lake, Camping Arbi is situated in the village of Tushemisht, near the town of Pogradec. We enjoyed the tranquil location and immaculate facilities here, and enjoyed visiting the stunning Driloni National Park which is just 2 miles away. The campsite restaurant serves fresh seafood too.
Wild Camping In Albania
DISCLAIMER: Below we give general advice, but we always recommend staying in an official campsite. If you choose to go wild camping/dispersed camping, then make sure you do so with someone who already knows the area where you're planning on camping for your own safety.
Thankfully wild camping in Albania appears legal – and is certainly well tolerated – and from what we know there doesn't appear to be any law saying you can't camp in nature or on the beach. That said, do ask a local and keep an eye out for signs that prohibit wild camping in certain areas – like nature reserves – and don't camp on private land.
If you are planning to wild camp in Albania – and can't be swayed to stay in a campsite instead – we've compiled the following guidelines to help keep you out of trouble and camp in a considerate manner:
You should camp in the same place for one night only, and pitch your tent discretely and in a remote place which will not be easily seen. Therefore don't camp in or near settlements, someone's farm or on cultivated land. If you think you're on private land, always seek out the landowner and ask permission. They may request a small fee.
Campers should set up their tent at dusk, and take it down at dawn. A tent that is discreet, blends in with the landscape, and pitches quickly is best. Therefore a lightweight walking tent like this one would be a great investment for someone planning to wild camp in Albania.
If you are walking a trail, make sure you choose to camp in a place that won't be in any other hiker's or walker's way.
When wild camping in Albania, you should never make a campfire. Instead of building campfires, you could look into using a storm cooker for cooking – but check local laws first. Then there is much less wildfire risk and you can cook knowing that the fire is contained. We believe the best ones on the market are Trangia storm cookers. Portable solar ovens, like this one by GoSun, are also a good fuel-less option.
Take any rubbish with you, and leave your camping spot exactly the way you found it.
Camping In Albania: The Weather & Best Months To Visit
Most visitors choose to come to Albania during summer, when daytime temperatures range around 22 to 32 Celsius. Summer is the busiest season and we recommend booking your campsite in advance. Rain is rare during this time, except for in some mountain areas. Still, it's a great season for coastal walks, rock climbing, sunbathing and swimming. It can get quite warm inside tents when camping, so make sure you choose a shady pitch.
Autumn and spring have moderate temperatures due to Albania's Mediterranean subtropical climate – ranging around 8-22 Celsius during the day depending on the month. Both are great times to avoid the peak tourist season, tackle some of Albania's best walking trails, and enjoy landmarks without a crowd.
Winter marks the low tourist season, where daytime temperatures range from 5-10 degrees Celsius. Expect rainy and snowy days in some regions, but the fresh air on walks during this season is enjoyable and there's very few tourists. However the high mountainous regions have very low temperatures that can plummet to -15 degrees Celsius!
Recommended For Camping In Albania
*This article may contain affiliate links which allows Wandering our World to make a small commission on any sales made – and keep the coffee flowing! It involves no extra cost to yourself. As an Amazon Associate we earn from qualifying purchases, but only recommend products we believe in.