Wandering our World is reader supported! If you purchase anything through a link on our site, we may earn a commission at no extra cost to you.
Last updated on July 2, 2023 by Wandering our World
The Dolomites are one of the most recognizable geographical features in Italy, so it's little surprise why camping in the iconic Dolomites is so popular. The ancient forests, encircling stunning mountain peaks, transports you back in time. And that's all topped off with the iconic UNESCO World Heritage site, the 'Three Peaks of Lavaredo'.
Simply put, this region is nature at its most beautiful and serene, which is why camping in the Dolomites has to be on anyone outdoor lover's bucket list.
Thankfully, campsites and wild camping are both options here – although rules apply to the latter. We cover both in this article. We give you all the information you need to know, as well as a few of our favourite campsites to visit.
So grab your tent, some hiking boots and good company. It's time to begin your Dolomites camping adventure!
Camping In The Dolomites: A Holiday You'll Never Forget
Camping is a very popular pastime in Italy so there are campsites throughout the Dolomites covering all budgets. Almost all of which have spots for RVs too.
Several of those campsites lie close to the most popular hiking routes too. That means walkers can enjoy a day's trek in stunning surroundings, knowing they can have a dip in a campsite pool at the end of the day. Sounds good right?
For serious walkers, the best way to work out which campsite to use is to determine the route you wish to hike. A Dolomites hiking book like this one will help you decide. Once you have your route, mark out any settlements. It's highly likely they will have at least one campsite near by. A quick Google search will do the rest.
And if you're planning on hiking one of the eight 'high paths' – which can sometimes take up to a week to walk – then camping along the way is definitely the best option.
You can also wild camp in the Dolomites – although that is technically illegal. We will explain more on that, and how you can still do it, further down in this article.
However for less serious hikers, campsites are probably the best option. We share with you our favorites, and why, next!
The Best Campsites In The Dolomites For Fun, Views & Adventure
One of the great things about the Dolomites is that there are a variety of campsites that cater for all types of tourists.
From travelers looking for an adventure, to ones searching for a relaxing holiday in natural surroundings. Here's a few of our favourite campgrounds in the Dolomites:
1. Camping Catinaccio Rosengarten
Set in serene surroundings, with lush mountain-side forests and stunning mountain peak views, this campsite is picture perfect.
The facilities are clean and modern, the pitches for tents and RVs are spacious, and there's even entertainment in peak season. So get ready to join in on cultural events, dances, and food festivals!
Located in the heart of Fassa Valley, this site also has fantastic access to some of the Dolomites' best cycling and hiking routes. It's a great base for those looking for an active holiday!
They also have a communal room with TVs for watching sports, a sauna, steam room, a bar which has a great selection of drinks and fantastic pizza, and even a bus that will take hikers and cyclists to trails nearby.
Address: Strada de Pucia N°4, 38036 Pozza di Fassa TN
2. Camping Seiser Alm
Located in Italy's South Tyrol, Camping Seiser Alm sits in the foothills of Seiser Alm – a beautiful mountain that is also home to the largest high-altitude Alpine meadow in Europe.
The mountain happens to be one of the best places for hiking and skiing in the Dolomites, but that isn't the only reason we like this campsite.
There's a great restaurant, a swimming pool on site, and a natural bathing lake just a few minutes walk away. Perfect after a long day of walking.
This place feels like camping in style. The views are unbelievable, the stars at night are exceptional, and there's plenty of places on site to sit and enjoy a local beer. Perfect.
Address: Dolomitenweg 10 – Via Dolomiti Völs am Schlern Bozen Dolomiten, 39050 Fiè allo Sciliar BZ
3. Steiner Camping
Situated beside South Tyrol's capital Bolzano-Bozen, which is one of the most beautiful towns in the Dolomites, this family-run campsite is tranquil yet offers a lively vibe as it's so close to town.
That doesn't mean you don't get stunning mountain views though. The actual pitches are set within a meadow and have gorgeous mountain views.
So what's on offer? Well alongside fantastic shared facilities, there's also a huge swimming pool, mini-mart, a huge kids playground and play areas, table tennis, beach volleyball, and a great restaurant with al fresco dining options!
The nearby town of Bolzano-Bozen also has great access to many of the popular hiking and cycling routes, a well as a wide array of restaurants, bars, and lots of activities.
Address: Via John Fitzgerald Kennedy, 34, 39055 Laives BZ
Camping Al Plan
One of our favourite Dolomites campgrounds for the views alone, this campsite is located in the breathtaking Fanes-Senes-Braies Nature Park, which is part of the UNESCO World Heritage site in the Dolomites.
Facilities wise this pet-friendly campsite pretty much has it all. Clean, modern toilets, showers and washrooms, free WiFi, a restaurant/pizzeria, plus a sauna and games room amongst other things. The pitches also have electricity, gas, water and satellite TV hook ups!
The quaint village of San Vigilio di Marebbe is right beside this campsite too, and is well worth a visit in itself. While there's plenty of hiking routes and ski slops nearby as well.
Open all-year round, the winter scenes here in particular are utterly spectacular.
Address: Str. Catarina Lanz, 63, 39030 S. Vigilio BZ
Wild (Free) Camping In The Dolomites: Everything You Need To Know
DISCLAIMER: Below we give general advice, but we always recommend staying in an official campsite. If you choose to go wild(free) camping/dispersed camping, then make sure you do so with someone who already knows the area where you're planning on camping for your own safety.
The bad news is that wild camping in the Dolomites is technically illegal. The good news is that it is sometimes tolerated, depending on circumstances and if you follow a certain set of rules.
Legally, national parks and the national authorities in charge of the Dolomites region forbid setting up a tent for the night. However you can do so in an emergency situation – i.e. if you cannot reach shelter and it's getting dark.
However, the majority of wild campers wish to camp in the Dolomites for fun. That in itself isn't allowed.
Yet whilst local authorities try and dissuade people from wild camping, they don't appear to prosecute walkers and hikers for it. After all, if you're hiking one of the longer routes you can't get to a campsite every night. So in theory legally you can wild camp as you must set up shelter before night.
On top of that, we've found wild camping in the Dolomites appears to be generally tolerated if you stick to the following guidelines:
You should camp in the same place for one night only, and pitch your tent discretely and in a remote place. Therefore don't camp in or near settlements, someone's farm or on cultivated land. If you think you're on private land, try and seek out the landowner and ask permission.
Campers should set up their tent at dusk, and take it down at dawn. A tent that is discreet and pitches quickly is best. Therefore a lightweight hiking tent like this one would be a great investment for someone planning to hike and camp in the Dolomites.
If you are hiking a main trail you should camp away from the path as a matter of courtesy. You should also avoid camping in tourist areas completely.
When wild camping in the Dolomites you should never make a campfire. You might want to think about bringing a storm cooker with you for cooking. They tend to be safe, and are often fine to use – but you should check local laws first. The Swedish brand Trangia make fantastic storm cookers that are virtually indestructible.
If you want to go completely fuel-less, a portable solar powered cooker like this one would work. Plus, is there anything cooler than harnessing the power of the sun for your breakfast!
And of course, take any trash with you, and leave your camping spot the way you found it.
Below are our must-know tips for wild camping in the Dolomites: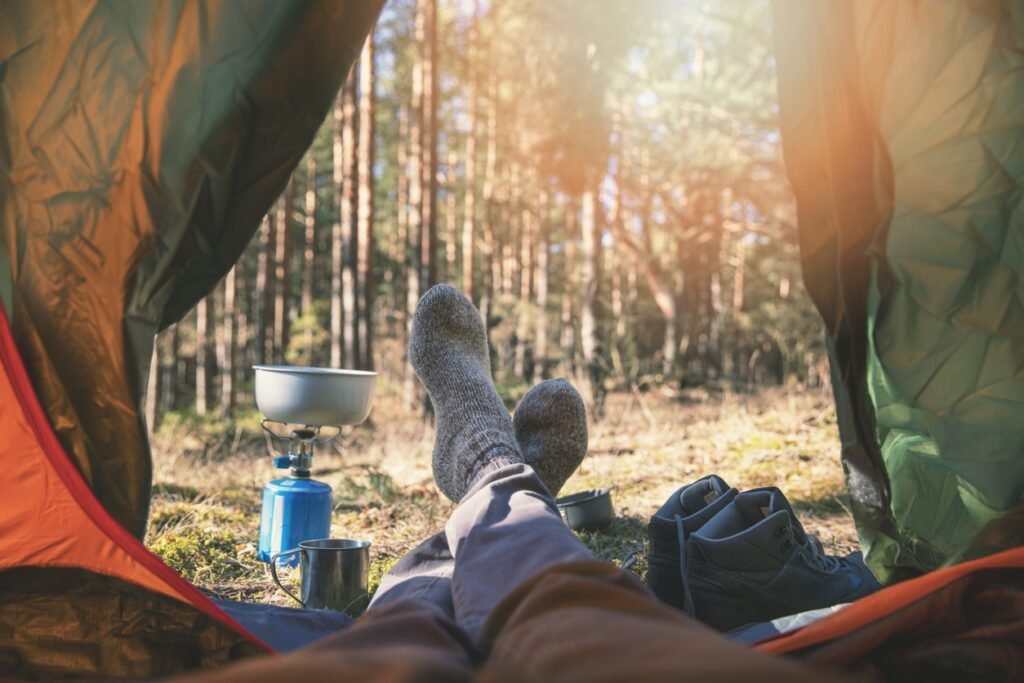 Tips For Wild (Free) Camping In The Dolomites
Thunderstorms and heavy rain can happen in the Dolomites – even during the hiking season. Make sure you have a durable, rainproof tent that can survive heavy rain. A lightweight one-man hiking tent like this or similar would be perfect. For a good value tent that fits more than one person, this mosquito-proof one would work well too.
Keep an eye out for animal poo – if there's a lot near your perfect camping spot, you may end up being woken up by some enthusiastic sheep or something else in the middle of the night!
There are lots of different water sources in the Dolomites, but remember to always have plenty of water on you when you're walking. A space-saving collapsible water bottle would be a good purchase.
When going to the toilet you should do it far from water sources, such as rivers and lakes. Make sure to use a trowel (like this folding one) to bury any human waste – don't just leave it out in the open.
Like many rugged and wild rural areas around the world, there are flora and fauna to be aware of. So read up and make sure you know what to expect in the region or area you are planning to wild camp in.
Recommended For Your Trip To The Dolomites
Tempted to go wild camping elsewhere? Check out our guides to camping in, Estonia, Finland, Norway, Patagonia, Pyrenees and many others!