Wandering our World is reader supported! If you purchase anything through a link on our site, we may earn a commission at no extra cost to you.
Last updated on October 4, 2022 by Wandering our World
When many think of North Carolina, they typically think of Raleigh, Charlotte, the beautiful beaches along the coast, or even the golf opportunities on one of the state's extensive golf courses. But if you're around the area of Winston-Salem, NC there's something you have to do – brewery hopping!
This city is a craft brewery hub, which is great news for us hopheads out there. Here you have the option to try many different breweries all in one evening, as many are within walking distance from one another.
We know this area – and the brew culture well – so below we share with your our ten favorite breweries in Winston Salem, explaining exactly why they're worth visiting.
Some breweries allow you to bring your dog along, some have live music, events and food trucks, but all have a unique atmosphere and superb craft beer. And the best thing is, that by grabbing a drink you're supporting local businesses that provide for this friendly community.
So pull up a bar stool and grab a drink. Here's the ten breweries in Winston Salem that you should check out. Expect good conversation, great beer, and unforgettable experiences.
1. Radar Brewing Company
Sitting in the heart of Winston-Salem is the Radar Brewing Company, regarded by many in the city as one of the best new breweries in the area.
The atmosphere is laid back, and the brand-new beer garden is perfect for relaxing in the sun with a pint of your favorite craft brew. Each outside table is equipped with a large umbrella to block the strong North Carolina sun in the summer, whilst the garden is heated during the winter. If you don't fancy being outside, you can also sit in their cozy taproom.
What's more, this is one of the most pet friendly breweries in Winston Salem, so you can bring your dog, have great-tasting beer, and enjoy the lively atmosphere. The taproom has more than just beer on offer too, so if you bring a friend that isn't a fan of craft beer there's a separate menu for wines and ciders.
The drinks are constantly rotating to keep the menu fresh and unique, so look out for their seasonal options. As for what we recommend, try the Outpost which is a tasty Belgian Dubbel.
Address: 216 E 9th Street
2. Wise Man Brewing
One of the most popular breweries in Winston Salem is Wise Man Brewing, founded by former chemist Sam and two friends. As you'd expect from a brewery with a chemist at its heart, expect experimental craft beers with a unique but delicious taste.
The building Wise Man is housed in is over 90 years old, and has been carefully renovated creating a wonderful industrial chic ambience where good conversation bounces off the brick walls and back into a very unique atmosphere. There's a great outside area too.
Open 7 days a week – perfect for hopheads – Wise Man Brewing has options that fit every taste and craving. They've got an extensive beer menu, but also offer wines, non-alcoholic drinks, and snack options too. That's something you won't always find in breweries in this city.
Wise Man Brewing has entertainment as a priority as well, thanks to their calendar of events. Expect live music, trivia nights, yoga and even outdoor festivals! That makes this place perfect to stop by with family and friends. As for what we recommend, definitely order the Paradise of the Pacific. It packs a tropical punch, but be careful as it's abv. 9.6%!
Address: 826 Angelo Bros Ave
3. Incendiary Brewing Company
The story behind this brewery is one of perseverance, and that's something we can all admire. This brewery started out as a dream between two college students in the 1990s and their love for home brewing. After several failed attempts, they kept trying their luck with brewing at home and decades later ended up winning first place in the IPA Category for the Masters Championship of Amateur Brewing! In 2018 they decided to go professional and opened up Incendiary Brewing.
It's safe to say these guys know what they're doing, and they've now earned multiple awards in the process. There's a laid back taproom and great patio area, dogs are allowed, and the drinks are superb. What more could you want?
Well how about entertainment! There's weekly music nights, trivia nights, comedy shows, local markets and concerts.
And if you are in the mood for tacos from the local food truck next door, Incendiary Brewing will let you have the food delivered right to the brewery. It's just a fantastic friendly place with great drinks run by great people. It's easily one of our favorite breweries in Winston Salem.
Of course we have to give you a recommendation or two to try. So grab the White IPA or Prosody West Coast IPA while there. You won't be disappointed.
Address: 486 N Patterson Ave, Suite 105
4. Foothills Brewing Tasting Room
This brewery started its journey in 2005, and eventually grew into the 48,000 sq ft building it is today. Now not only do they have a tasting room, but they also have their own pub at another location in Winston-Salem!
As one of the largest craft breweries in the state, it's clear Foothills know their stuff. You'll find that not only are their beers exceptionally good, they're also very affordable too. That's always a bonus as craft beers – while unique – can also sometimes be pricey. We recommend trying the Pilot Mountain Pale Ale.
For something else that's unique, why not purchase one of their kegs! Yes, you heard that correctly. You can directly purchase a fresh keg of beer from Foothills to enjoy in your own time at home, or while BBQ'ing.
As for events, they host live music, food trucks, beer and cheese evenings, and even doggie social hours where dogs are encouraged to come to the tasting room and socialize!
As if that's not enough, this brewery has also ventured into brewing fresh coffee as well. All of their coffees are freshly ground, and there's a wide selection. So bring along a coffee lover if you like!
Address: 3800 Kimwell Dr
5. Joymongers Barrel Hall
This spacious brewery in the center of Winston Salem is situated in a renovated, large garage. The exposed brick walls, huge bar, and many long wooden tables give Joymongers a trendy vibe, and with all of the tables created by North Carolina carpenters, you can't get more local either.
This is a favorite brewery for friends to gather in the evenings, and with local bands performing on a weekly basis there's plenty of good beer and entertainment. What else do you need? Well food of course, and in front of the brewery are food trucks that always have fresh food to pair with fresh brews!
The beers are constantly changing and are extremely good! For something that is bound to go down well, we recommend trying the Belgian Blonde. Sounds as good as it tastes.
Address: 480 W End Blvd
6. Hoots Beer Co.
The name behind this brewery is a tribute to the building it's housed in. Situated in what was "The Hoots Roller Mill", this building has now been restored and transformed into one of the best breweries in Winston Salem.
Expect craft beer encompassing the traditional, but with a modern twist and flavors. In fact what they've done to the old building – updating and renovating – is what they've done to beer. They're creators, and while they've kept true to craft beer traditions, Hoots have also brought them into the 21st century. We think the Hoots Payne Road Stout sums that up well.
The tap room is cozy and eclectic, while the outside patio area is laid-back and perfect for drinks under the sun while enjoying the events Hoots hold. Look out for the photos throughout the brewery – they're of Winston-Salem in years gone by.
Address: 840 Mill Works St, Ste 110
7. Steinhaugen Brewery
A small, but special local brewery well worth checking out is Steinhaugen. Although at the time of writing they don't yet have have a taproom, one is in the pipeline and will be completed soon.
Keep an eye on their Facebook page for when that taproom will be opened. But in the meantime look out for their craft beers at other taprooms around Winston-Salem! One of the most popular drinks is the creative yet refreshing Cucumber Blonde – give it a try if you see it anywhere.
Address: 1017 Ivy Ave
8. Small Batch Beer Co.
This place is a local favorite due to their handcrafted cocktails and exceptional beers. As the name suggests the beers here are all brewed in small batches, so you never quite know what will be on tap. In fact they don't even have a regular beer menu!
Instead expect unique beers that may never be created again. How's that for a special experience! That passion to constantly create new craft beer ideas is why Small Batch is one of our favorite breweries in Winston Salem.
They have a giant projector for sports, host weekly trivia nights, and have other events too, so there's plenty going on. They also have a restaurant, so you can grab lunch or dinner if you swing by.
If it's available (and you never know what will be) then try the Blood Orange IPA which is exceptionally tasty!
Address: 241 W 5th St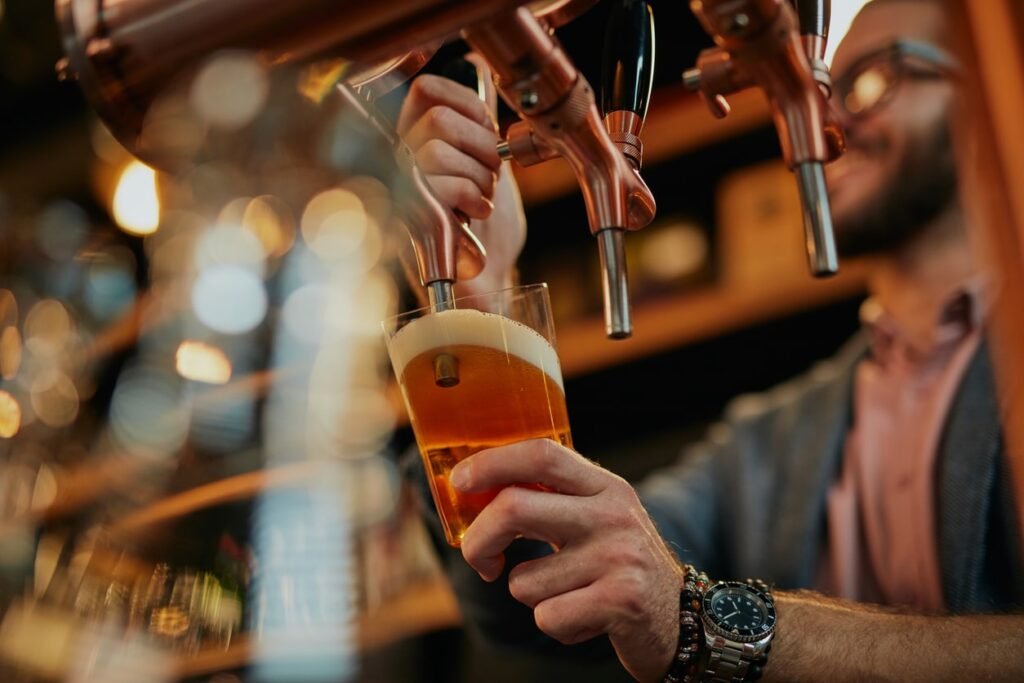 9. BJ's Restaurant & Brewhouse
A popular, local favorite is BJ's. They're fully equipped with a restaurant and brewhouse, and can boast over 200 awards for their hand crafted beers.
They have been brewing since 1996, and now have seven breweries in five states. They're known for their pizzas too, so if you want great beer and a bite to eat, this is the place to go.
Try the Piranha Pale Ale or the Hopstorm IPA, both are excellent choices.
Address: 192 Hanes Mall Cir
10. Kernersville Brewing Company
Last, but not least, we can't forget Kernersville Brewing Company which began as a one-barrel brewery in a tractor shed!
It's not so small these days, as they've expanded into a popular little brewhouse with an atmospheric tap room perfectly formed for good conversation.
While not in Winston Salem, this brewery is just a short drive away in Kernersville. The drive alone is worth it for our two favorites – Great Mistakes and the tropical flavored Pineapple Hats.
Address: 221 N Main St, Kernersville
Our Final Thoughts on Breweries in Winston Salem
The breweries in Winston Salem are fantastic, the locals are extremely kind-hearted, and there's plenty of events on offer. So stay over in a hotel, go brewery hopping and enjoy the real Winston Salem experience!