Wandering our World is reader supported! If you purchase anything through a link on our site, we may earn a commission at no extra cost to you.
Last updated on October 4, 2022 by Wandering our World
Williamsburg, Virginia is acclaimed for being the largest outdoor educational museum in the country and there's a feeling here of a time in American history far gone. This city is full of museums, including the living-history museum where actors dress in period clothing and act as if they are from that time. It's pretty cool.
Despite being part of the "Historic Triangle" with Jamestown and Yorktown, Williamsburg is rich in more than just history. Thankfully it's also rich in breweries! So once you have had your fill of museums, and the natural beauty that is Virginia, it's time to take a load off and enjoy a nice cold brew at one of the several fantastic breweries in Williamsburg, VA!
You can't be in one of the most important places for the American Revolution and not have breweries and distilleries, right? We're sure that's a rule written down somewhere. Anyway, kick-back and let us take you through six wonderful breweries in Williamsburg, VA, that are well worth visiting!
The Six Best Breweries In Williamsburg, VA
1. Alewerks Brewing Company
Founded in 2006 by Chuck Haines, Alewerks has been brewing award-winning beers to the town of Williamsburg and the surrounding area ever since. Brewmaster Geoff has now taken Alewerks to the next level and they are literally one of the biggest success stories in Williamsburg since the American Revolution.
This ale-focused brewery has tons of personality, and if you want to see it for yourself right now, then go have a look at their website. We're sadly well over the age of 21, but one of our favorite things to do when checking out brewery websites is to see what happens when you click the button that says you're not 21. Alewerks takes the award for now as it took us to Sesame Street's website!
The original brewery is based right up Route 60 from the town of Williamsburg. The building is a one story, very corporate looking building, but looks can be deceiving. Inside is a gorgeous bar and restaurant that tastefully mixes the 1770s with a modern feel. With 16 taps available of their signature brews, you will also find some exclusive ones that you can only get in their home town here in Williamsburg.
Finally, the beer! They have five year-round beers always available, and a few seasonal beers. Not to be confused with their specialty beers, of which they have six at the time of writing.
Alewerks obviously focuses on ales, but their American IPA is very tasty. Made with Amarillo and Simcoe hops with mango and passionfruit, it's a delicious must try.
Their Chesapeake Pale Ale is also a great brew, made with Chinook, Amarillo, and Centennial Hops. Try the imPOSSIBLE! if it's available too. This 6% sour ale is brewed with orange and mango and has an orange juice flavor followed by a real tartness.
When it comes to seasonals, they have a very interesting Tangerine Wheat Ale, made with, you guessed it, tangerines. It is only available May-July so get on it! Finally, our personal favorite, the Deja Vuberry. This is another wheat style ale made with blueberry and light vanilla.
This places isn't just for hopheads though, as they have fostered a fantastic family-friendly feel at this brewery, with games and non-alcoholic beverages available.
Aleworks also have a gorgeous patio perfect for summer nights, do brewery tours and have visiting food trucks! It's a very friendly place, with a lively atmosphere that's understandably popular at the weekends.
Address: 189B Ewell Rd, Williamsburg, VA 23188
2. The Virginia Beer Company
Founded by college friends and explorers Chris and Robbie, The Virginia Beer Company must have one of the coolest buildings we've ever seen for a brewery. Bright white with a red stripe, brick front, red lettering – it makes a statement. It almost looks like an old repair shop out of the 40s.
Located right on VA-162, you really can't miss this place. Instead of having their own kitchen like most brewhouses do, The Virginia Beer Company switches things up and allows food trucks to post up and share patrons.
This brewery also has a huge beach like porch in the front, with picnic tables and a fire pit, making this the perfect place to enjoy some tasty brews in the sun.
The inside of their brewery is just as nice with a comfortable and welcoming warehouse environment. An exposed ceiling, a wood finished bar and bright colors are what you will come across first. They also have big windows that peer into the brewery itself, so you can watch the magic happen right in front of you!
They have so many beers it is almost overwhelming, and even have an archive of over 18 pages of beers! Their taproom is essentially a test kitchen for their small craft beers, so expect lots of new inventions, and maybe some that will never be created again. Talk about special.
The Virginia Beer Company currently have around a dozen beers on tap with a little something for everyone. Although they definitely specialize in IPAs. Their Saving Daylight, which is a citrus wheat ale is brewed with Grapefruit and Orange peels, and is absolutely fantastic. It's an American wheat and its making our mouth water just thinking about it again!
Another beer of note is their Bramble On, which is an imperial fruited sour ale. This wonderful sour is brewed with blackberries, pomegranates, and lime zest. Tasty.
You are doing an injustice if you don't pay this place a visit next time you are in the area. Definitely one of the best breweries in Williamsburg, VA. Look out for their frequent events like live music and DJ nights if visiting!
Address: 401 2nd St, Williamsburg, VA
3. Billsburg Brewery
This brewery is located right on the Jamestown Marina, making it the perfect place to grab a beer and enjoy some waterside views.
Situated close to the Jamestown Beach Event Park and nearby the Jamestown Historic Ship Museum, James Fort and the Jamestown Glasshouse, and just a few steps away from the Virginia Capital Trail, it's easy to see why this scenic brewery is a great stop-off if you've been touring Williamsburg.
Billsburg itself sits inside a gorgeous white and red barn-like building, and the taproom and deck – located just steps from the brewery – looks a bit like an old power station building! Its definitely a spot that needs to be seen in person to be truly appreciated.
The taproom is friendly, there's loads of outdoor seating to take in those waterside views, and the beer is fantastic. As an added bonus, this is also one of the most dog friendly breweries in Williamsburg, VA.
The first beer that caught our eye was the James City Export, a German export lager. They don't offer too much in descriptions, but that's all the more reason to visit and have a try yourself. Another must try is their Oktoberfest – we all know what that is!
If you are there you might as well stop by The Hungry Pug food truck. It's located close to the brewery and has some tasty food – the balsamic chicken sandwich in particular. Great food, brews and views. What more do you need!
Address: 2054 Jamestown Rd, Williamsburg, VA
4. Precarious Beer Project
If you are searching for another unique brewery, then look no further, Precarious Beer Project delivers a fresh creativity to modern brewing. They look to break the norm in beer brewing everyday and from what we've tasted they exceed those expectations. They also like to make really bad jokes and we're all for it!
When it comes to beers, their Head Brewer Adrian Garrett doesn't fail to deliver. Their Geronto is a cream ale that pays homage to the town's historic brewing history. The Mo Money Mo Prague-lems is a Foeder aged Czech dark lager that not only pushes the bounds of acceptable puns, but also Czech Lagers. Made with chocolate and mocha coffee, it's the perfect beer to warm you up.
At the time of writing, their Precarious Beer Hall has the Electric Circus Taco Bar, and man are these tacos and bowls amazing. There's a huge selection too.
That's not all. They also have an arcade in there, have live music, do events like Taco Tuesdays and host up and coming musicians and donate $1 from every beer bought to the musician. How cool is that. To sum up, this place is lively, atmospheric, fun and full of life and energy.
The brewery itself is located on South Henry Street and Francis Street West, right down the street from The Art Museums of Colonial Williamsburg. The building looks like an old brick colonial town hall, but it's actually home to one of the best breweries in Williamsburg, VA. Go check it out!
Address: 110 S Henry St, Williamsburg, VA
5. Brass Cannon Brewing
Williamsburg has a very old alcoholic beverage industry, and the first explorers in the new world actually brewed beer here way back in the 1580s. One of their contemporaries, Brass Cannon Brewing, continues that tradition and in unique style too. They are the only beer company in the area that doesn't distribute their beer to wholesalers, so you can only get it at here. They just love making great beer.
You can't miss this place when driving down Virginia 603. It looks like the kind of building you would see in a ski town, with a painted wood exterior and eye-catching bright green and yellow trim.
They also have sign at the end of their driveway with the flags of all the active branches in the U.S. Military – after all they do discounts for members of the military, vets and first responders.
What do they have on tap? Well at the time of writing the Maui Hot, a fruit beer made with Pineapple and Jalapenos, is a combination of flavors that's really worth trying. They also offer a passionfruit sour, cleverly named the Passion Project.
In total they have 11 beers on tap and those are just two of the many greats they have. Honorable mention also goes to the Angry Scot, a Scottish wee heavy ale. This beer has a lot going on and is a testimony to the uniqueness of Brass Cannon. They don't have a kitchen but do offer snacks such as peanuts, jerky, chips, and soft pretzels.
What's really unique is they also offer monthly lectures on things such as military history, general history, politics, and science. For example, not long ago they had a retired Navy Intelligence Officer give a lecture on Japanese mini-subs during the attack on Pearl Harbor. Along with that they have live music, karaoke nights, and many entertainment events. All of which has made Brass Cannon's taproom a real community hub.
This is an interesting place with some fantastic unique beers that you can't buy anywhere else.
Address: 5476 Mooretown Rd, Williamsburg, VA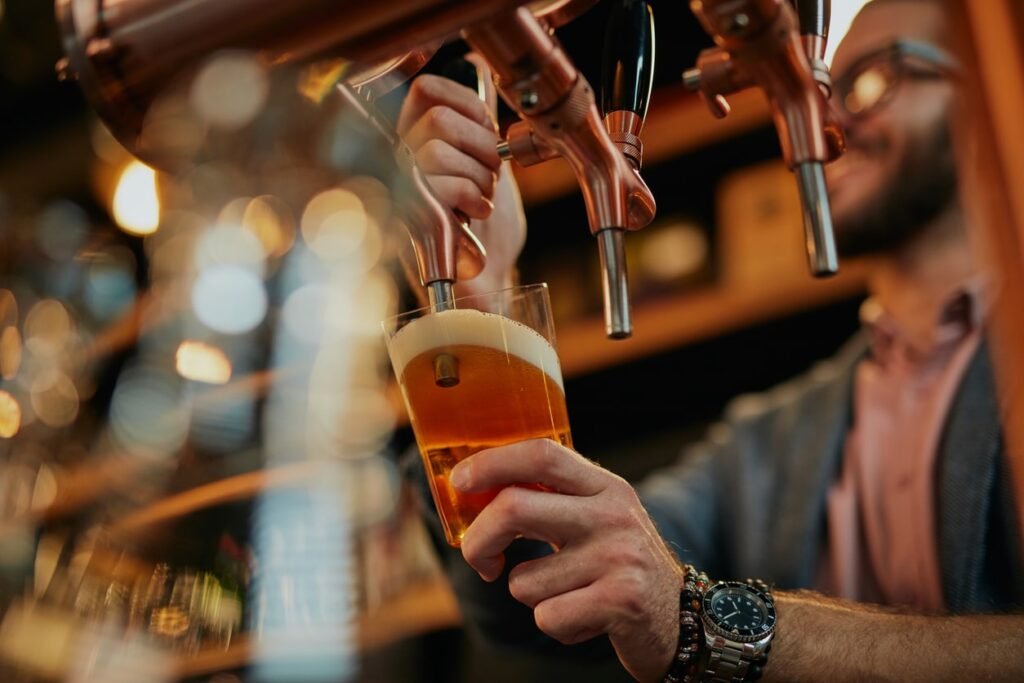 6. Joker Brewing
Joker Brewing is Alice and the Wonderland meets brewer, with unique bright colors and an alternative atmosphere that makes this brewery a real unique place to visit.
There's something else that makes IT unique too. They claim to be the first brewer in Virginia to offer hard kombucha! Kombucha is a tea that is fermented with sugar, bacteria, and yeast. Joker Brewing's Kombucha is clean and organic and goes with any type of food, it also typically doesn't have the heavy next day feeling that beer and liquor has.
Despite it not being beer, it is still a brewery and the spiked kombucha is definitely something you need to try at least once in your life. They also allow you to rent out the brewery for parties and gladly show you the brewing process! That's pretty cool.
The brewery itself is located in a shopping center strip at Palace Lane off of Bypass Road, right near Rocco's Smokehouse and Grill. While they don't have the ability to prepare food onsite they do welcome outside food. So you can sit in their large outside area, enjoy some food, sun and interesting drinks!
Looking for something different? Well this may just be the most unique of all the breweries in Williamsburg, VA.
Address: 113 Palace Ln STE D, Williamsburg, VA