Wandering our World is reader supported! If you purchase anything through a link on our site, we may earn a commission at no extra cost to you.
Last updated on October 4, 2022 by Wandering our World
The Pocono Mountains truly is the hidden gem of Pennsylvania. This area is full of wildlife and has a massive amount of outdoor recreational areas and miles upon miles of hiking. Another thing the Pocono Mountains doesn't have shortage of is quality breweries. There are so many breweries in such a small region, we had to slim down our list, or this would end up being a novel!
That being said, here is our guide to some of the best breweries in the Poconos. You're not going to be disappointed!
1. Susquehanna Brewing Company
Susquehanna Brewing Company (SBC), located in Pittston, isn't too far from the river that bares the same name. The brewery is a massive warehouse off S Main Street and the inside is absolutely beautiful. Self-described as craft brewery and tasting room, they don't have a bar menu listed on their website, but they do have bar snacks in the tasting room.
The beer is absolutely fantastic, with our favorite being the Orange is the New Ale, a shandy-style blood orange ale. It is smooth and tasty, the perfect blend of fruit and beer. It's a great choice for a summer afternoon, or for after a long hike at Ricketts Glen State Park.
While not always available, their Pils-Noir is a node to the Black Forest brews that Pennsylvania have become known for. In fact it may come as no surprise to hear this is a great place to be for Oktoberfest beers.
As an added bonus, they have live music, trivia nights and sometimes do free brewery tours which involves free beer! This is a must stop if you are ever in the Poconos or Wilkes-Barre Scranton.
Address: 635 S Main St, Pittston
2. Pocono Brewing Company
Located right down Route 611 from Mt. Pocono, Pocono Brewing Company has the enviable position of sitting on the edge of the forest. This brewery has a mountain top feel with brown wood siding and green roof. and is the go to place after hitting the slopes.
The brewery is constantly going through changes and they have recently added a large outdoor seating area and bar. This area is completed with games and firepits as well.
The inside of the brewery is just as beautiful, with a cabin feel thanks to the wood and stone accents throughout. But even better, when you walk in you are immediately greeted by the brewery equipment, and sometimes you are lucky enough to see the brewing process in action.
As for what we recommend, the Pokawachne Golden Ale is fantastic. It is a golden ale using a "flora hop aroma". The Mauch Chunk Pale Lager is also a favorite, named after the famous town of Jim Thorpe. This pale lager is light bodied, refreshing and has a dry finish.
As for the food, well the pizzas are delicious and all made in a wood fire oven. They have a bevy of both red and white pizzas.
Definitely one of our favorite breweries in the Poconos, and a place any true beer lover needs to stop.
Address: 2092 PA-611, Swiftwater
3. Wallenpaupack Brewing Company
This brewery might be in the greatest location of them all when it comes to breweries in the Poconos. Literally minutes from Lake Wallenpaupack (from the famous cruise episode in The Office), it has become a brewery for summertime fun on and off the lake.
WBC has a cozy modern feel with its stone counter tops, dark wood stools, garage doors, and huge glass windows where you can watch the magicians at work brewing some of the best beer Pennsylvania has to offer.
Their food menu is absolutely mouthwatering with a Sunday brunch menu, and winter food menu. The winter menu has pierogies, a charcuterie board, mac and cheese, and meatloaf. Their regular menu has what you would expect: wings, burgers, special chili fries and brewers pretzels.
They also have poutine! For those who don't know, poutine is a Canadian dish that features fries topped with cheese curds, gravy, and scallions. The gravy is made from their own Paupack Cream Ale and is as good as it sounds.
Now for the beer. They have 15 beers available, most of which have a German influence. Noteworthy brews are For the Love of Lager: Zwickelbier, a light amber made with Vienna malt and hops. The Black Diamond Lager is another must try – this German style lager is darker with roasted chocolate malts.
Address: 73 Welwood Ave, Hawley
4. Barley Creek Brewing Company
Barley Creek Brewing Company is located minutes from Camelback Mountain Resort in the town of Tannersville, Pennsylvania. The building is designed to look like a cabin, with brown wood outside and a green roof, and it very much has big mountain vibes. The inside of the restaurant cleverly mixes ski lodge and diner and has exposed indoor framing and tasteful decorations.
When it comes to beer, they currently have 13 of their own beers on tap with several special guest beers too. They offer plenty of info about their beers on their website if you want to form your own opinion, but the Pocono Punch and the Winterfest Lager are beyond fantastic. The Pocono Punch is a fruity beer with Hawaiian feels. The Winterfest Amber Lager may just be one of the best Amber Lagers we've tasted.
When it comes to food they have seven menus, including a kids menu. They also have award winning wings in four unique flavors to BCBC. The burgers, sandwiches and wraps are great choices, but they also have a fantastic breakfast menu called The Morning Toast, complete with breakfast sandwiches and crepes.
This really is one of the must try breweries in the Poconos.
Address: 1774 Sullivan Trail, Tannersville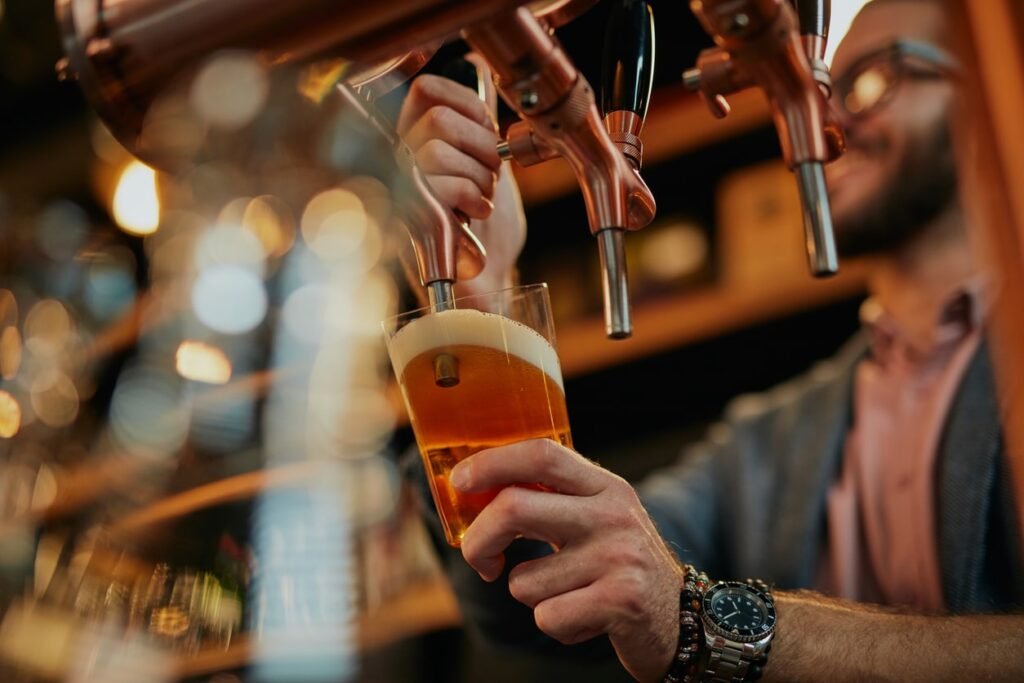 5. Here & Now Brewing Company
Here & Now Brewing Company is located in the beautiful town of Honesdale, Pennsylvania. You'll know it when you see it due to the colorful mural over their brick wall. The restaurant and brewery itself screams Pennsylvania thanks to those rough brick walls.
They only have around eight beers for sale but trust us when we say those eight are made well!
The DDH Neipa will transport you from the mountains to the beach, with plenty of pineapple and salt. They also have 7th Street Citrus, an imperial pale ale made with Citra. They offer non beer drinks for any non-beer drinking friends.
Address: 645 Main St, Honesdale
6. Mountain View Brewing Company
This place just screams Poconos as it's not just a brewery, but also vineyard, winery, and distillery. So if you are bringing someone here and they can't find a drink they want, you might need better company!
Situated just outside of Stroudsburg, Pennsylvania, imagine a mountain top cabin and give it a major infusion of fancy, and that's Mountain View Brewing Company. This is definitely one of the prettiest breweries in the Poconos.
They have around eight beers on tap, and at the time of writing, three canned beers. If it's available, try the Black Cherry Vanilla Ale, or the tasty Cranberry Ale.
Just putting it out there, but Growlers are half off on Tuesdays! If you are interested in beverages beyond beer, they do have award winning wines and fantastic spirits too.
Their bistro menu is superb with shareable options such as the charcuterie board, hummus, spinach and artichoke dip, crab dip, and our favorite, Bavarian pretzel twists. They also have flat breads along with soups and salads. For dessert? Dark chocolate truffles of course!
Address: 2332 Walters Rd, Stroudsburg
7. Groove Brewing
Groove Brewing is the first microbrewery located in Scranton, Pennsylvania. They were founded in 2020 by 25-year brewmaster Ed Generose. The brews change often as they only have one brewing system, so you're going to get something unique whenever you visit!
It doesn't get much more like being at home here too, as this brewery is a refurbished house with both indoor and outdoor seating areas!
Right now, they are offering a Sour, Imperial Stout, CA Common, Pilsner, Pale Ale, and West Coast IPA. This is one of the smallest breweries in the Poconos, but you should definitely stop by and say hi next time you are Scranton and give this place the try it deserves.
Address: 1344 N Washington Ave, Scranton
8. The Lion Brewery
Founded way back in 1905, then known as the Luzerne County Brewing Company, this brewery is one of the oldest in Pennsylvania. And it's the second largest brewery in the state after D. G. Yuengling & Sons.
The brewery sells over 750,000 cases a year and you can't miss the building while driving down Pennsylvania Ave in Wilkes-Barre. It is a massive red building with yellow lettering on the side!
They don't have a restaurant, they just make really good beer. They have six beers in their rotation right now including a Pilsner, light beer, IPA, Belgian White, DIPA and Pumpkin beer.
The Pilsner is an American Pils brewed with American malts. Brewed in this 100-year-old brewery, it is a must try for any beer drinker or a history buff. The Indian Pale Ale is also extremely tasty. It's is a one in a million IPA and a must try for an IPA lover.
Separating themselves from most breweries in the Poconos, they also sell a non-alcoholic root beer, brewed on site. They started brewing this root beer in 1920, helping the brewery stay in business during prohibition. If you do visit make sure you try the root beer that saved The Lion Brewery!
Address: 700 N Pennsylvania Ave, Wilkes-Barre
9. Downriver Brewing Company
Going back to Stroudsburg, we can't not mention Downriver Brewing Company. Two blocks from McMichael Creek and down the street from the Sherman Theater, it is located in the heart of Stroudsburg.
Inside Downriver is almost like farmers market meets brewery and its absolutely gorgeous. It also comes complete with axe throwing. You heard that right, on Fridays, Saturdays and Sundays you can throw axes here! Downriver also has trivia nights, bingo nights, and many live music events.
Their food menu is mesmerizing with beer batter shrimp in buffalo or sweet Thai chili sauce. Of course there's wings and a jumbo pretzel with German mustard and beer sauce too. Or try any of their six different quesadillas including the Bitchin' Bartenders, which is with pulled pork and chipotle BBQ sauce. Delicious.
As for what to try beer wise, the Quaker Alley Pale is a New England Pale Ale with citrus-dank hops, and a nice bitterness to it. They also have brewed hard seltzers, brewed in 19 different flavors!
However the most interesting beer has to be Smokey the Bier, named after the famous character and nickname for Pennsylvania's State Troopers. This beer is made for BBQs and is made with applewood and cherrywood smoked malts. It even pairs well with meats and cheese – a true German beer!
This brewery makes the perfect night out with friends, or date night with a loved one, thanks to the tasty food and a great atmosphere.
Address: 564 Main St Inside, Main St, Stroudsburg
10. ShawneeCraft Brewing Company
Last but not least, ShawneeCraft Brewing Company is one of the best breweries in the Poconos to grab a beer and stay the night as they have their Shawnee own inn right alongside the Delaware River! It has one of the coolest outdoor seating areas around with lights on string and rudimentary tents – the perfect atmosphere for good beers with good company.
There are two restaurants right near the brewery too – Gem and Keystone Tavern, and the River Room Restaurant. The first is a casual pub and the second is a fine Italian restaurant located in the heart of the resort.
When it comes to beer you have a choice between the Brewery and Beer Garden, both solid choices. They have 16 beers in rotation including two hard seltzers. They have a little for everyone with multiple IPAs, Ales and Lagers.
If you want to spend a great weekend away, this Poconos brewery is the way to go!
Address: 100 Shawnee Inn Dr, Shawnee on Delaware