Wandering our World is reader supported! If you purchase anything through a link on our site, we may earn a commission at no extra cost to you.
Last updated on April 13, 2023 by Wandering our World
Boone, North Carolina is one of those unique places that sticks in your mind long after you've left. This historic town is named after the famous pioneer, Daniel Boone, and is nestled in the gorgeous Blue Ridge Mountains in western North Carolina.
There's a little to offer everyone here, from foodies to hikers. In the winter the town is lucky enough to be close to three ski resorts, and during the summer it's a fisherman's paradise. The only thing that makes this town even better is the plethora of breweries in Boone, NC!
Inside the town there are several breweries and there are three close by too, some of which sit at the bottom of ski slopes! The mountains here offer a little bit of everything and are a fantastic place to spend a weekend away. But for us, it's all about the breweries, pubs, and fantastic brew culture!
So let us guide you on your brewery adventure in the Blue Ridge Mountains. In our humble opinion, beer tastes better when you are surrounded by mountains – and even better when brewed in the Tar Heel state.
The Breweries in Boone, NC, That Have Us Visiting Again and Again
1. Booneshine Brewery Company
Right down Route 421 from the Rocky Knob Mountain Bike Park is Booneshine Brewing Company, comfortably nestled beside Brookshire Park. Booneshine takes the modern warehouse style and blissfully mixes it with a rustic atmosphere. It is like someone took downtown Charlotte and the Rocky Mountains and surgically pieced them together into the perfect place to drink and eat with friends.
Booneshine has a full-service tasting room and restaurant. And to make things even better they also have a fantastic beer garden and delightful food truck.
The food menu is spectacular, skilfully mixing all types of foods and flavors to perfectly pair with your favorite brew. Their smalls menu features handmade pretzels from Stick Boy Bread Co, a local company that even uses Booneshine beer in their baking process!
Boonshine's Bolick Burger is the talk of the town too. The beef itself comes from Bolick Farms one mile down the road from the brewery. And believe it or not, the cows themselves feed off the spent grains provided by Booneshine themselves!
Their beer garden has a different menu, which has some great items such as the Smash Burger and Brisket Cheesesteak. However, Saturdays are the day to be at Booneshine as they have BBQ Saturdays! They smoke a plethora of brisket and pulled pork which you then have on a sandwich, plate, or order as a group. We recommend grabbing the beer cheese too.
Currently on Booneshine's menu are 16 beverages in their tasting room, including German Pilsners, IPAs, Amber Ales, and our personal favorite, Dunkelweizens. Their DunkMaster Flex is worth trying, and is a twist on a German Hefeweizen with caramel malts. They also have five Imperial Mocha Stouts on the menu, perfect for the winter season!
If you are an avid brewery fan, you need to put Booneshine very high on your list. This is easily one of our favorite breweries in Boone, NC.
Address: Booneshine Brewery Company, 465 Industrial Park Drive, Boone
2. Appalachian Mountain Brewery Company
We won't sugarcoat it. If you go to Boone and don't visit Appalachian Mountain Brewery, you didn't actually go to Boone! It's that simple. They truly have one of the most eye enticing breweries in the state of North Carolina.
This brewery was founded in 2013 and claims to be the first brewery in Boone. AMB (Appalachian Mountain Brewery) promotes their mission of being a sustainable brewery, working with farms and multiple organizations to reach that goal. They're doing a great job too.
Like most breweries, AMB offers a fantastic food menu to match their wonderful brews. What is really quirky about eating at AMB is that all their food comes from their own food truck, Farm 2 Flame Food! What do we recommend? Well, the pizza is superb!
They have a selection of 25 beers with a few rotating seasonally. The Boone Creek Blonde is a sure-fire fan favorite with others having some more then clever names. They also make their own ciders! Want a tip? Well Monday is 'locals night' where you'll get $3 pints, $4 ciders, and $5 high gravity beers.
If you are in Boone or skiing nearby, you have to stop in AMB and say hi. Food truck and beer, sign us up! Definitely one of our favorite breweries in Boone, NC.
Address: 163 Boone Creek Dr, Boone
3. Lost Province Brewery Company/Lost Province at Hardin Creek
If you are going to support anything local, always make sure its breweries! Lost Province has been around since 2014 and is a microbrewery and gastropub located in the heart of Boone's historic downtown.
Family owned, this brewery is a favorite between locals and tourists alike. They are even lucky enough (well we are lucky enough) to now have two locations. Between the main brewery and their Hardin Creek Tap Room, there is no reason not to pay them a visit.
Their main brewery building has a gorgeous brick front with an adorable small side porch. They also have ample parking in the parking lot and surrounding streets. Their Harden Creek location have knocked it out of the park taking a warehouse and making it look and feel like a cozy cabin. Finished off with skilful murals and outdoor seating, it is one of the premier places to grab a drink in Boone, especially when the weather is nice.
As an added bonus, they are one of the more dog friendly breweries in Boone, NC, as your pooch is allowed to sit on the porch. Whilst at the original downtown location, you can now sit on the roof on the 'top deck'.
All the food they serve is sourced locally, so it's as local as you can get. Their menu ranges from cheese boards, wood fired pizzas and of course pub fare! All burgers are cooked perfectly to medium, and the Lost Province Burger is absolutely mouthwatering. Of course, food-wise our favorite is the Beer Brat served with beer mustard. They also rotate seasonal specials.
Brewed in Boone and only in Boone, the downtown location has 12 beers on tap while the Tap Room has 19 beers on tap. Some of their best beer names are beers like; What's Up Bro? and Up Schitt's Kriek – classic, but delicious too. They have a drink for everybody though, with IPAs, Ales and Lagers. The mighty three!
If visiting in winter see if they have their Christmas Ale on tap. Called St. Nick's Reward, this malty English-style winter warmer has flavors of citrus and honey.
Address: 130 N Depot St, Boone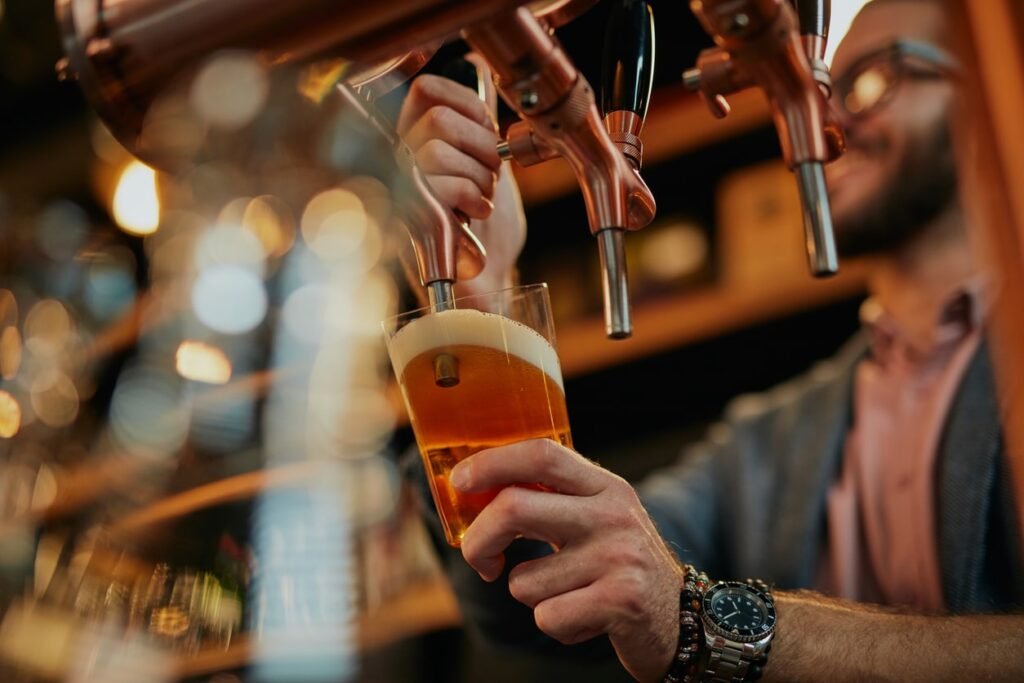 4. Kettell Beerworks
Kettell Beerworks is a blink, and you'll miss it (and we really hope you don't) sort of place in Banner Elk, North Carolina. This brewery has been around since 2013, new ownership took over in 2017, who have rebranded the brewery and the rest is history! The inside has a beautiful wooden cabin feel, making it a very cozy place to have a great beer.
They don't have a menu on their website but their small kitchen serves pizza, pretzels, wings, and a few other items. Kettell currently has ten beers on the menu, a few of which are rotating seasonal beers. Their Crabby Louie is particularly interesting and is an Imperial IPA with stone fruit and pineapple, yum!
You don't have to visit the brewery to find their beer, but you should. They are sold in multiple locations all over the region and are listed on their website too. Kettell Beerworks are still running on temporary hours and are closed Sunday to Tuesday, so keep that in mind when planning your trip.
Address: 567 Main St E, Banner Elk
5. Blowing Rock Brewing Company
A little outside of Boone, you will find arguably the homiest brewery on the east coast, Blowing Rock Brewing Company. Started in 2007, the founders of this brewery had one simple goal, "create a beer that captured the finest qualities of the High Country". We believe they've achieved just that.
Located in the historic district of Blowing Rock, you can call this place the heart of the town. They also own the Blowing Rock Ale House and Inn and have grown from a humble mountain brewery to a statewide beer distributor. That's the kind of story we all love to see.
They have two breweries, the one in the Blowing Rock historic district and another in the Hollar Mill Plaza. Blowing Rock offer brewery tours and even offer fermentation studies for local colleges and universities, and internships if you are looking to break into the industry. It's clear just how much they care about the art of craft beer.
The Blowing Rock Draft House and Brewery has to be one of the most beautiful buildings to host a brewery. It's multi-storied with a deck and there's plenty of space for games and live music. They have on menu what you typically find in a brewery, with their Carolina Bison Burger a must try.
With a catch phrase like "go to the mountains", you know you are in for one hell of a beer. Their Midnight Raspberry Wheat won Gold at the Carolinas Championships of Beer, and they have multiple Silver and Bronze winners as well. They have eight core beers, including a few that are only available seasonally. There's also a multitude of small batch and specialty brews, including that award-winning Midnight Raspberry Wheat.
What really sets Blowing Rock Brewing Company apart from their competitors is the fact you can stay at their inn, which is situated at the brewery. If you want such a unique beer vacation, then check out their website for availability and to make reservations.
Address: 152 Sunset Dr, Blowing Rock
6. Beech Mountain Brewing Company
This right here, may be the brewery to end all breweries in North Carolina! To find another brewery with views like Beech Mountain, you might need to travel across the country to Colorado.
This brewery is located in the Beech Mountain Resort village and is perfectly placed for enjoying the mountain and nature year-round. While part of the resort, it is open to the public. It is the only brewery owned and operated by a ski area in the entire country, and the views are spectacular. You can hike, bike and ski minutes from this picture-perfect brewery, making it the perfect base for a day out.
Beech Mountain literally couldn't be in a more perfect spot. From a distance you may even think it is a ski shop, but no, it's one of the coolest breweries in Appalachia.
Their food menu is short and simple, sure to fill you up after a day on the slopes or trails. They mostly serve burgers or sandwiches, but also offer veggie options as well.
However, beer is where they truly shine with ten year-round beers always available. Good options include Beech Blonde, First Chair Coffee Blond, and Downhill IPA. Our recommendations? The Russian Imperial Stout is fantastic, as is the Pineapple and Mango Blonde and the Tangerine Dream Fruited IPA.
Winter or summer, this is a must visit brewery near Boone. Also, doesn't beer just taste better when there's mountain views to enjoy? Maybe that's just us.
Address: 1007 Beech Mountain Pkwy, Beech Mountain
Breweries in Boone, NC: Our Final Thoughts
While some of these breweries in Boone, NC, are not located directly in the town, they are all worth a visit when you are in the area.
The town of Boone has a website which is worth checking out. That will walk you through the best things to do in and around town and where to stay. There is a plethora of skiing locations, resorts, restaurants, parks, and museums surrounding the town.
Boone has a very scenic and worthwhile wine trail if that is something you are interested in as well. The town isn't very far from Appalachian State University either, making Boone the perfect place to visit during your college visitations.
'Explore Boone' also offers visitor guides delivered directly to you. So grab a guide, note down your favorite breweries in Boone, NC, and get out there. Enjoy!