Wandering our World is reader supported! If you purchase anything through a link on our site, we may earn a commission at no extra cost to you.
Last updated on February 20, 2023 by Wandering our World
When it comes to tropical island paradises, you can't get much better than Bora Bora or Fiji. However, other than their stunning sun-kissed beaches and turquoise lagoons, these islands are very different.
So making the right decision between Bora Bora or Fiji for your dream getaway is vitally important…
For example, If you have an image in your head of an upmarket tropical island getaway that includes sipping cocktails from a coconut, and spending more time sunbathing beisde an overwater bungalow than anything else, then Bora Bora may be better.
However if you're looking for sun, sea and sand, but also a bit of culture and world-class snorkeling than Fiji is probably the right choice. This island offers more than just turquoise lagoons, is brimming with culture, and is far more budget friendly than Bora Bora.
But that's just the beginning when it comes to how these spectacular destinations differ…
Luckily after spending time in both, we compare Fiji vs Bora Bora below. We show you which has the better beaches, what excursions are available, compare the culture, food and more. All so you can make the right decision!
CONTENTS:
A Quick Overview & Comparison
How Do The Beaches & Landscape Compare?
Explore The Sights & Experience The Culture
Where To Stay According To Your Budget
A Taste Of Island Life
Which Is the Better Choice?
A Quick Overview & Comparison
If you want gorgeous white sand beaches, and crystal clear swimming water then Bora Bora and Fiji will both be perfect. Each has an unbelievable coastline, however they also offer quite different vacations.
Bora Bora specializes in upmarket resort holidays, and has become an exceptionally trendy destination in recent years. The scenery and lagoons on the island – and in French Polynesia in general – are spectacular, and we believe they are better than what you get in Fiji.
However as such a popular destination, Bora Bora has become quite commercialized and overbuilt with resorts. And the overwater bungalows that it's famous for (see picture above) are incredibly expensive. The cheapest often cost around 500 USD a night. The more expensive, upwards of 2000 USD a night.
Fiji is much cheaper, and not just in regards to its own upmarket resorts and overwater bungalows. It also has many different types of accommodation options – such as guesthouses – which makes it far more budget friendly.
That's not a huge surprise considering the population of Bora Bora is around 10,000 people, compared to nearly 900,000 in Fiji.
Because of its bigger local population, Fiji also tends to be a more local experience where you can explore the island, go on excursions away from your hotel, and interact within the community.
That's in contrast to Bora Bora which is very expensive as it focuses almost exclusively on luxury holidays in secluded resorts. Subsequently, there's less integration between the community and tourists.
In terms of snorkeling, the sites in Fiji are world class, and from our experience they are slightly better than in Bora Bora.
Both islands also have a lush hilly interior which opens up hiking and walking possibilities too. But Fiji's highest point is 1324 meters, nearly twice the height of Bora Bora's highest peak (727m).
There are more hiking trails in Fiji too, and many that are more accessible as well. On top of that there's plenty of picturesque waterfalls to enjoy and swim in around Fiji, whereas in Bora Bora you will struggle to even find one. So if you're looking for adventure away from the coastline Fiji will likely be the better option for you.
Below we share some of our favorite places on each island, before comparing the culture in both and the hotel service you should expect. Spoiler alert – they're very different!
How Do The Beaches & Landscape Compare?
Bora Bora: The Beaches & Landscape
The French Polynesian island of Bora Bora is undeniably beautiful when it comes to sparkling blue lagoons, and picturesque palm trees languidly lining its sandy beaches.
It's the perfect place for an upmarket holiday where you can easily while away your time in Bora Bora's iconic overwater bungalows on stilts, sipping cocktails on the beach.
For one of our favorite beaches though, head to Matira Beach for white sands surrounded by greenery.
Although best known as a romantic destination, the turquoise lagoons of Bora Bora also provide the ideal conditions for kayaking, snorkeling, diving, kite-surfing, jet skiing and other water sports.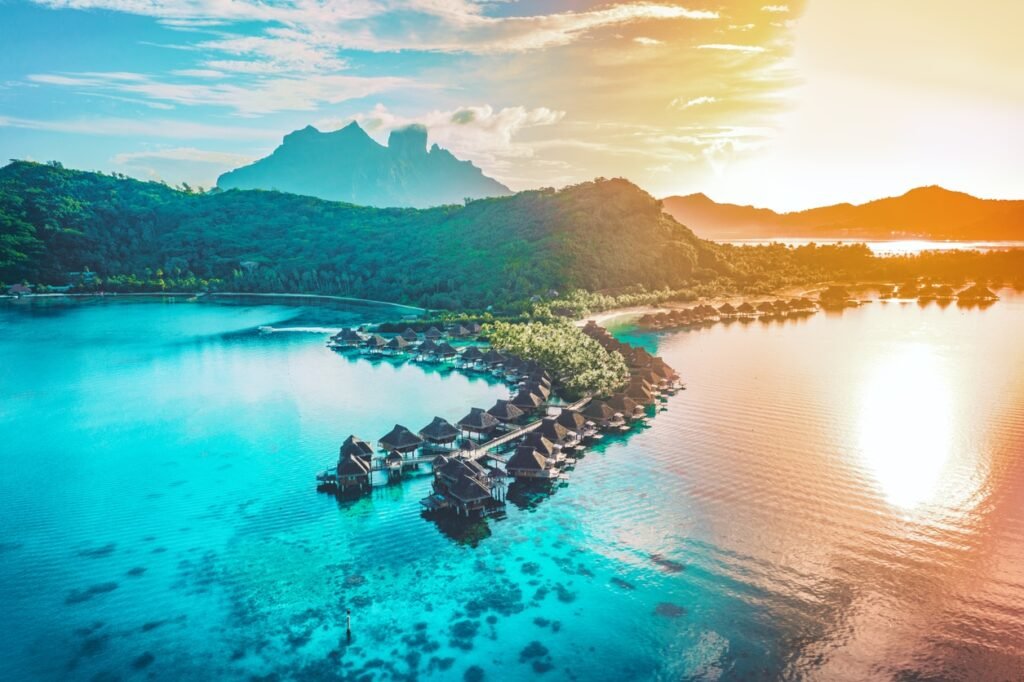 One of our favorite areas is Bora Bora Lagoon. This colorful reef is a great snorkeling spot to watch rays, reef sharks, and countless multi-colored fish!
If you want a break from the sea, you can also opt to trek through the island's jungles! Hikers will revel in climbing Bora Bora's highest peak, Mt Otemanu.
This old volcano is best scaled with a local guide, but it will be well worth it. The dramatic volcanic peaks on this island – and French Polynesia – are breathtaking, and the views unmatched. In fact Bora Bora may just be the most beautiful island in the world.
If you're traveling to Bora Bora from June to November then it's also peak whale-watching season!
Humpback whales migrate Bora Bora in order to breed during this time, and can even be spotted while snorkeling around the island. Having a great underwater camera – such as this one – is a must.
Fiji: The Beaches & Landscape
As a general rule, the more remote you go in Fiji, the more spectacular the beach. And if we're to be honest, we believe Fiji to have more beautiful beaches than Bora Bora.
Some of our favorite beaches are on the dreamy Mamanuca Islands. This group of 20 outlying islands has a real castaway feel to them, and no wonder – it's here that the U.S. television series Castaway was filmed. Just be careful, as seven of the islands are covered by water at high tide!
There are beautiful beaches on the main island too, like the one at Natadola Bay. The crystal clear water here lapping against the soft powder-like sand makes it the perfect spot to relax and enjoy a beer.
The snorkeling is fantastic in Fiji too. One of our favorite snorkeling spots is Rainbow Reef at Taveuni. As the name suggests, expect multi-colored coral to go with the colorful reef fish you will see!
However Fiji is also a vacation destination where there are many things to do away from the beach too. This volcanic island nation is full of mountains, hills and rainforests that are begging to be explored.
Recommended: Are There Snakes in Fiji
On Taveuni, hike through the rainforest at Bouma National Park and head to the towering Tavoro Falls. This group of three waterfalls have pools that are perfect for swimming, all within a spectacular forest backdrop.
While there keep an eye on the trees – Fiji is home to many colorful species of parrot. In fact as the bigger destination and with more wild and rugged areas than Bora Bora, you're far more likely to spot land-based wildlife in Fiji than Bora Bora. That's certainly worth keeping in mind for any animal lovers!
Feeling energetic after a few days resting on the beach? Then tackle Fiji's highest peak Mount Tomanivi on Viti Levu. The hike can be tough going, but the panoramic views across Fiji and the Pacific from the top are just breathtaking.
Explore The Sights & Experience The Culture
As Bora Bora is more focused on resort-based holidays and the local population is very small, interaction with the community and culture tends to be limited. That's unless you make a trip away from the private island resorts, and into nearby population centers in French Polynesia.
The service at resorts and hotels in Bora Bora is exceptional though – it's their specialty after all.
Expect good service in Fiji too, but 'Fiji time' does exist. This is a laid back nation, and things can move a bit slow. Expect waiters to take their time, and buses to arrive late. It's all part of this island's charm.
Below we look at the culture and cultural sights on each island, and what you should expect if you choose to visit!
Bora Bora: The Culture
Visiting the French Polynesian island of Bora Bora gives visitors the opportunity to really experience a different culture. If you're willing to step outside of your resort…
Recommended: Traveling to Bora Bora? Here's the Culture Guide You Need
Get away from the your all-inclusive villa and try your hand at spearfishing or learn the incredible meanings behind traditional Maori tattoos.
Plus on islands like Bora Bora and nearby Tahiti, you will also find dance performances of the 'Ori Tahiti', and there are places to even take lessons with locals.
A trip to Bora Bora's only town, Vaitape (pop: 5000) is worth it in order to experience some of community life. Although the town is focused on the tourist trade, a visit there will give you a chance to try out local cuisine. Some of which we recommend later in this article.
Fiji: The Culture
Multi-ethnic and multi-religious Fiji has a fascinating culture, some of it stretching back many centuries.
One of their ancient traditions is fire walking, which originated on the island of Beqa. The locals on this island still ceremoniously walk across hot coals, making Beqa a must visit for culture aficionados.
Recommended: The Ultimate Guide to Fiji Culture
This culture rich country is a place where many superstitions still exist – such as believing that coconuts choose who to fall on! But it's also an incredibly friendly and warm nation, where tourists are encouraged to intermingle with locals.
Girls are still taught from a young age to weave baskets and bags, and boys are taught to make bowls, spears and even 'cannibal forks' – a fork that was used to eat the flesh of enemies! Thankfully they're just made as tourist items now, and you can buy them and many other crafts at the Handicraft Market in Nadi.
Fiji is home to a sizable population of Christians, Hindus, and Muslims. The largest Hindu temple in the Southern Hemisphere, Sri Siva Subramaniya Temple, can also be found in Nadi. This ornate colorful building should be on your list of places to visit as you temple hop around the island.
All in all, it's definitely easier to experience a different culture and life in Fiji than Bora Bora. The island archipelago is bigger, there's more locals, and in the remote regions the tourist trade hasn't completely taken over yet.
Where You Should Stay According To Your Budget
Bora Bora
Shoestring: Bora Bora is an island synonymous with luxury, so finding somewhere great on a tight budget isn't easy. However at Oa Oa Lodge you get beachside accommodation, your own private garden villa, exceptional service, and an unbeatable location within walking distance of Vaitape – the island's largest city. And all of that for a fraction of the price of other accommodation on the island. See photos and rates!
Budget: What's better than staying at the beach? Staying at the beach on a private island of course! Fare Ahuna is an exclusive property located on Motu Ahuna Island, which is a 3km boat trip from Vaitape.
You'll get incredible sunset views over Bora Bora as you stay on your very own private island paradise in the lap of luxury. See photos and rates!
Luxury: It's Bora Bora, an island famed for overwater bungalows. And you'll find arguably the best at the five-star InterContinental Bora Bora & Thalasso Spa.
The bungalows come with a celebrity price tag, but you'll get celebrity treatment, a private swimming pool and the best seat (and bed) in the house. Simply put, staying at this resort is a once-in-a-lifetime experience. See photos and rates!
Fiji
Shoestring: Imagine your own private villa set on the beachfront, an outdoor infinity pool just steps away and free water activities like kayaking and snorkeling just outside your door. Incredibly all of this you can get on a reasonable budget when staying at the five-star Maui Palms. See photos and rates!
Budget: We found you a private island in Bora Bora, so why not a private villa set on an exclusive private island in Fiji too! That's exactly what you'll get if you stay at Toberua Island Resort.
This place may be serene but it's also licensed to teach scuba diving so if you want some adventure, you have plenty of opportunities! Incredibly, the price tag to stay here is well within most travellers' budgets. See photos and rates!
Luxury: If you want something extra special, then an overwater bungalow is the cream of the crop when it comes to Pacific accommodation. And you can't get much better than the gorgeous much sought-after overwater bungalows that Likuliku Lagoon Resort have.
This adults only resort is all about luxury and relaxation, and as soon as you step through the door you will be treated like a celebrity. Of course all of that comes with a hefty price tag too. But if you have the money, it's worth it. See photos and rates!
A Taste Of Island Life
With both being tropical island paradises, expect an abundance of fruit, coconuts and fresh fish. Below we pit Fiji vs Bora Bora as we look at the cuisine on offer.
Bora Bora: The Food
In Bora Bora, the food is mainly seafood based.
Try raw fish with coconut milk. Usually, this is made from tuna or bonito fish. It is sliced into cubes and marinated in coconut milk, lemon juice, onion, cucumber, tomatoes, garlic and spring onion.
With such a big Chinese-Polynesian population, there is a wonderful fusion of cuisines on French Polynesia.
For example, Chao men (fried noodles with vegetables, meat and shrimp), chicken with lemon sauce, chao chap (roasted duck), and mapo tofu are popular dishes on the islands. Raw fish is also very prominent in Chinese cooking on French Polynesia.
A notable French influence in Bora Bora also shines through in sweet treats such as firi firi (Tahitian doughnuts) and banana crepes. A favorite breakfast food is coconut bread!
Related: Exceptional Restaurants in Bora Bora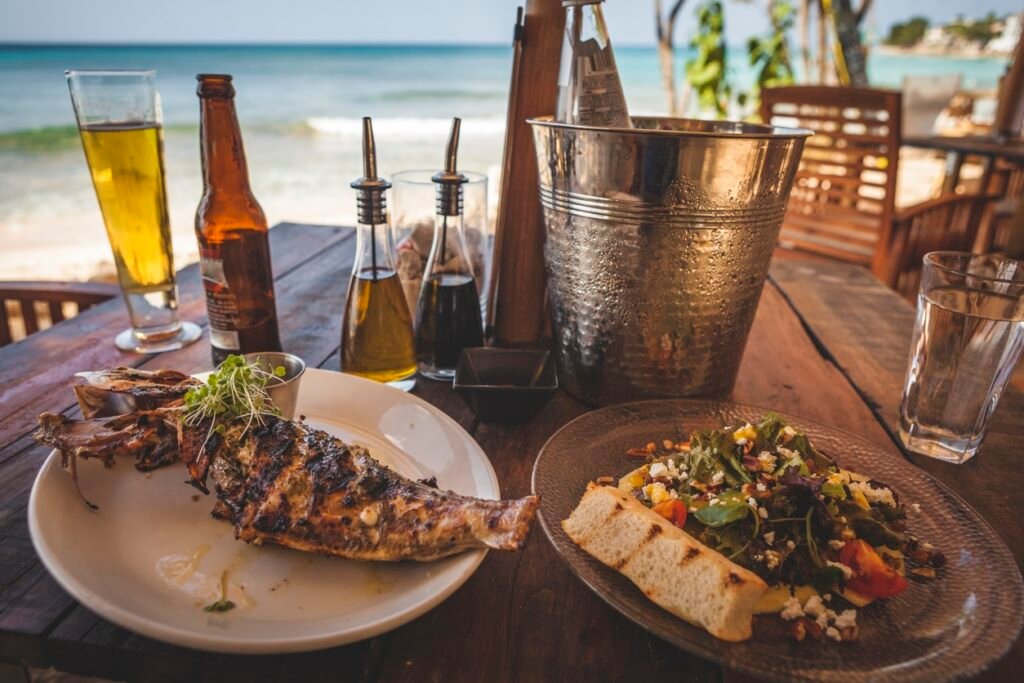 Fiji: The Food
Fiji's cuisine has been formed though a mix of indigenous and Indian influences due to a sizable population with Indian roots.
Freshly caught seafood is popular throughout Fiji, and fish curry – made with coconut milk – is often on the menu. Another fish dish to try is kokoda (see photo below) -this is a raw fish salad that is commonly served in a coconut shell!
If you get invited to a lovo say yes straight away! This traditional Fijian banquet involves cooking a large amount of meat (chicken or pork), fish and vegetables wrapped in banana leaves and then baking it in an oven dug in the ground. It's a real community affair, and the food's delicious.
Lastly, we'd say that the food scene in Fiji is more accessible than in Bora Bora. It's easier to find local restaurants and traditional dishes, so if you're a foodie, then we think Fiji will likely suit you more.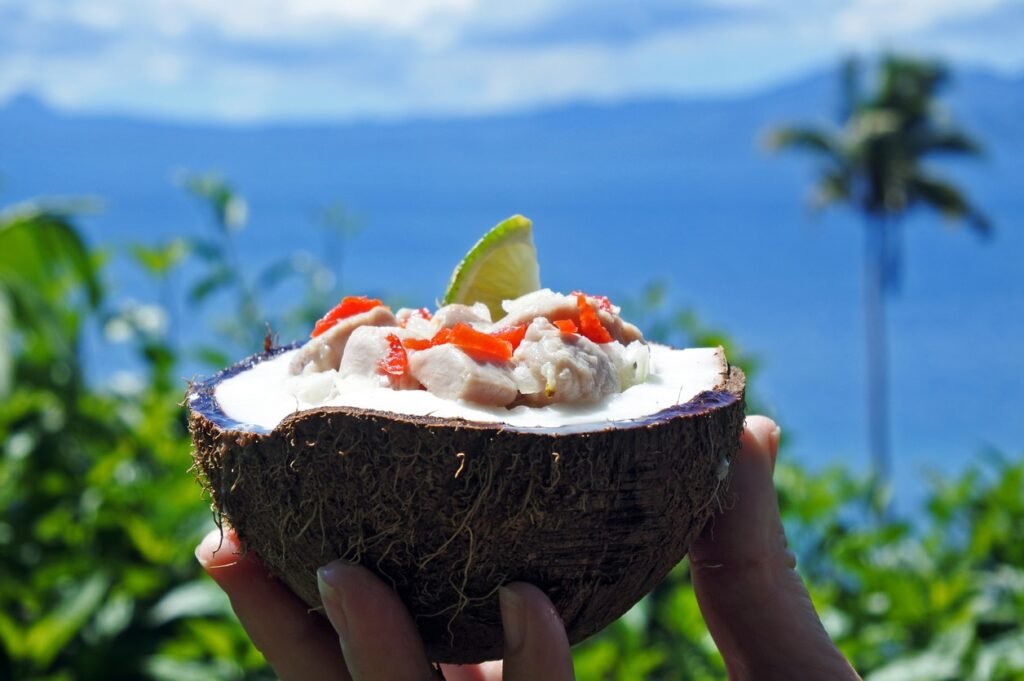 Bora Bora vs Fiji: Which Is The Better Choice?
If time and money weren't limited, then we would recommend visiting both of these island paradises.
However if you're looking for sun, sea and sand, but also a bit of culture and world-class snorkeling than Fiji is probably the right choice. This island offers more than just turquoise lagoons, is brimming with culture, and is far more budget friendly than Bora Bora.
If you have an image in your head of a tropical island getaway that includes sipping cocktails from a coconut, and spending more time sunbathing at a high-end resort than anything else, then Bora Bora may be better.
This French Polynesian paradise – which almost exclusively centers its tourist trade on upmarket resorts – can be very expensive though. However this island may just be the most beautiful island in the world, and the hotel service you receive will be exceptional.
Recommended For Your Trip To Bora Bora Or Fiji