Wandering our World is reader supported! If you purchase anything through a link on our site, we may earn a commission at no extra cost to you.
Last updated on October 2, 2022 by Wandering our World
The beautiful seaside town of Blackpool has been attracting tourists and visitors since the 19th century. Back then, the trend was to go to the coast in the summer because it was seen as good for your health. But nowadays, Blackpool is known for donkey rides, the Pleasure Beach – a vintage amusement park with old-style wooden roller coasters – and the iconic Blackpool Tower which hosts a circus, observation deck and a ballroom.
However the Blackpool nightlife scene has gained a reputation for being great fun too, and it's often when the sun goes down that the real party starts in this city.
Blackpool has thrilling casinos, fun nightclubs, the best drinks, and rockin' live music venues. But if this is your first visit here, where do you start?
Don't worry! We're here to help by showing you the best that Blackpool nightlife has on offer. Party on!
CONTENTS:
The Six Best Live Music Venues in Blackpool
The Five Top Bars and Party Spots in Blackpool
The Four Best Places for Late Night Food in Blackpool
Three Unique Blackpool Nightlife Spots
The Best Places For Each Day of the Week
The Six Best Live Music Venues in Blackpool
We can all agree that listening to live music is one of the best ways to spend a night. Luckily Blackpool has some fantastic live music venues. Here's a few of the best:
1. Waterloo Music Bar
There's a reason Waterloo Music Bar has attracted big name artists and international acts for years. The stage, the lights and all-round production all work together to create an experience that is truly unforgettable. They host punk bands, tribute acts, local bands, and pretty much any kind of music around.
Claimed as the UK's fastest growing music venue, they even have special music themed food and arguably some of best burgers in Blackpool.
Address: Waterloo Rd, Blackpool FY4 2AF
2. The Tache Rock Club
Are you sick of the same old dance music found at every club you go to? Well, if you visit Tache Rock Club – an alternative nightclub and rock venue in Blackpool – you are definitely in for a treat.
Heavy metal, punk, and rock bands play regularly here throughout the night. Luckily, the staff are not as gruff as the music – but rather the opposite! They are friendly and chatty, so If you want a night of head banging fun in a friendly atmosphere, this is the place.
Address: 22 Corporation St, Blackpool FY1 4NY
3. Kings and Queens
Located at the entrance of the famous Central Pier, this live music bar specializes in acts that pay tribute to the Kings and Queens of rock and pop. Some of the tribute acts you may find are Michael Jackson, Taylor Swift, Arianna Grande, Robbie Williams, Prince and more.
They tend to have at least four tribute acts per show so you may get to see a few songs from your favourite artists! There's cheap drinks and a great atmosphere too. You really can't ask for more than that!
Address: Central Pier, Blackpool FY1 5BB
4. Galleon Bar
Galleon Bar is an energetic bar with some of the best live music on the Blackpool nightlife scene.
The retro memorabilia and neon lights that cover the walls here makes this a very photogenic place (and the bathrooms are even Doctor Who themed!), but music is the main focus of this bar and you'll find tonnes of live bands playing throughout the week.
Happy hour also runs all day until 10pm with cheap drinks all night! If you're looking for retro pop and rock music venue, which is friendly and has great drink deals, Galleon Bar is hard to beat.
Address: 68-70 Abingdon St, Blackpool FY1 1NL
5. Yellow Submarine
"We all live in a Yellow Submarine". . . . . and we drink there too!
The Yellow Submarine Bar is a unique Beatles and 60s themed bar located at 9 Rigby Road – what a well named street considering the theme of this bar!
This place guarantees a great time with live music every weekend that will take you back to the golden age of music. They host a resident band in addition to several guest bands and have a wide selection of beers, cocktails, and even non-alcoholic drinks.
You can come together at all times of the night here too as they are open until 4am! Say Hey to Jude by visiting Yellow Submarine!
Address: 9 Rigby Rd, Blackpool FY1 5DE
6. Soul Suite
Are you in the Motown mood? Well then you should mosey your way down to Soul Suite to have the time of your life in one of the best places for soul music in the UK.
They host Northern Soul nights and classic Tamala Motown nights, and also serve some fantastic food! The dance floor never seems to be empty here as this is one of the funnest Blackpool nightlife spots around.
And the cherry on top is that they support charities as well. So you can have a good time knowing you're supporting a great business and good causes.
Address: 142-144 Promenade, Blackpool FY1 1RE
The Five Top Bars and Party Places in Blackpool
It's time to dance! Let us take you on a tour of the best places to drink and party in Blackpool. From quality cocktails to a 90s throwback, you definitely won't be bored at any of these Blackpool nightlife spots!
1. Popworld Nightclub
Popworld is a nightclub straight out of the 90s located in the heart of The Strand. They pride themselves on their cheesiness and their perfect party atmosphere – so if you want some Spice Girls with your drinks, you know where to go!
This place is the epitome of fun, and with their cheap drinks it's pretty impossible not to have a good time here. There are a variety of different drink deals to try out too with your friends, including the 'Partinis' where you can get a "Poptail" and share it with your friends!
Popworld is here to party for the long run so they are open seven days a week and only close at 3am.
Address: 120-122 Promenade, Blackpool FY1 1RA
2. Trilogy Nightclub
Are you a person who thinks the bigger, the better? If so, Trilogy Nightclub is the place for you! This club has not one, not two, but three floors – hence the name!
The first floor is called Play and is the perfect place to start your night of fun. The DJ plays commercial floor fillers and the room is decorated with what the company describes as 'sumptuous decor' with red lasers located on the ceiling. You can even grab your very own VIP booth for that extra bit of privacy.
The next floor is called Disco Disco. There you can dance to the greatest pop and party songs of all time! Enjoy the retro disco vibes as the rainbow light-up dance floor changes colour and shimmers below you.
The final level is named Exile and it's where you will only hear the most recent dance anthems. The whole room is decked out with stadium lighting, lasers, and screens. They have high-quality sound systems, sometimes entertainment and dancers, and even Co2 cannons to liven up the party even more!
Address: 11 Talbot Rd, Blackpool FY1 1LB
3. Nellie Dean's Music Bar
Nellie Dean's is the perfect stop for anyone who enjoys karaoke and live entertainment – so sign us up!
Open from Thursday to Saturday, this small nightclub has limited hours but maximum fun and is filled with energy and music.
They are most known for their karaoke nights and live entertainers, and even feature many different tribute acts. On top of that Nellie's has a huge drinks selection which you can enjoy as you watch your friends or others sing their hearts out.
Whether they are in tune or not we know you will have the night of your life here!
Address: 150-152 Promenade, Blackpool FY1 1RE
4. Revolution
In the heart of the city centre lies Revolution – one of the funnest places to party in Blackpool's nightlife scene.
It's right next to North Pier so is the perfect stop after a sunset walk along the pier, especially as Revolution has a large kitchen menu and a famous cocktail menu. There is a VIP area too which you can book for special events, and you can even take a cocktail master class to learn how to make their quality cocktails yourself!
However the main draw here is the dance-floor and regular live music and entertainment they have. Open until 3am, this is a fun place to dance and party until your feet say "no more"!
Address: 35 Market St, Blackpool FY1 1EX
5. Ma Kellys
If you are looking for a variety of entertainment and drinks then Ma Kellys is for you! This bar features live music and acts every day of the week giving many artists a chance to show off their skills. Expect live bands, cabaret shows, karaoke, DJs and more!
Did we mention the admission and shows are completely free as well? So the only thing you need to pay for are your drinks!
Ma Kellys staff are friendly, funny, and quick to serve, while the whole atmosphere of this place is welcoming and extremely fun. Open until 1am every day, it's easy to spend the whole night here!
Address: 77 Talbot Rd, Blackpool FY1 1LL
The Four Best Places for Late Night Food in Blackpool
Want to refuel and keep the party going late?
Don't worry! Blackpool has plenty of late-night food joints that not only serve delicious food, but are a blast to hang out at too!
1. Bootleg Social
Bootleg Social is a Blackpool nightlife staple. They regularly host events such as live music, comedy nights and even poetry. Simply put, if you want to get a sense of the real Blackpool, then Bootleg Social is the place to be.
This is more a live music venue than a place for food, but there's no doubt the Social is a great spot to grab cocktails, beer and some of the best looking and tasting pies we've ever had!
Good music, gourmet pies, and a venue that's open from 7pm till late on Fridays and Saturdays – that's guaranteed fun!
Address: 30 Topping St, Blackpool FY1 3AQ
2. 1887 The Brew Room
The Brew Room is Blackpool's first full-size brewery pub! The charm of this place is not only in its cozy atmosphere, but of course due to their wide selection of national and regional beers!
Located in the former building of the Stanley Arms Hotel, you can sit here for hours and enjoy the wide selection of drinks, fantastic burgers and homemade pies.
Their most popular drinks are the Joyston Stout and the Taste of Summer Blonde ale, but you can't go wrong with any of the options in this high-quality pub.
Address: 139 Church Street FY1 3NX Blackpool
3. No. 10 Ale House and Thai Kitchen
If you are looking for a last-minute late-night meal, No. 10 Ale House and Thai Kitchen is open until midnight!
They first opened in July 2018 as Blackpool's first micro bar and are especially proud of their real ales, lagers, ciders, wines, gins, spirits, atmosphere, and friendly service.
No. 10 serves delicious Thai food at very affordable prices. In our opinion, you can never go wrong with good beer and great Thai food!
Address: 258-260, Whitegate Dr, Blackpool FY3 9JW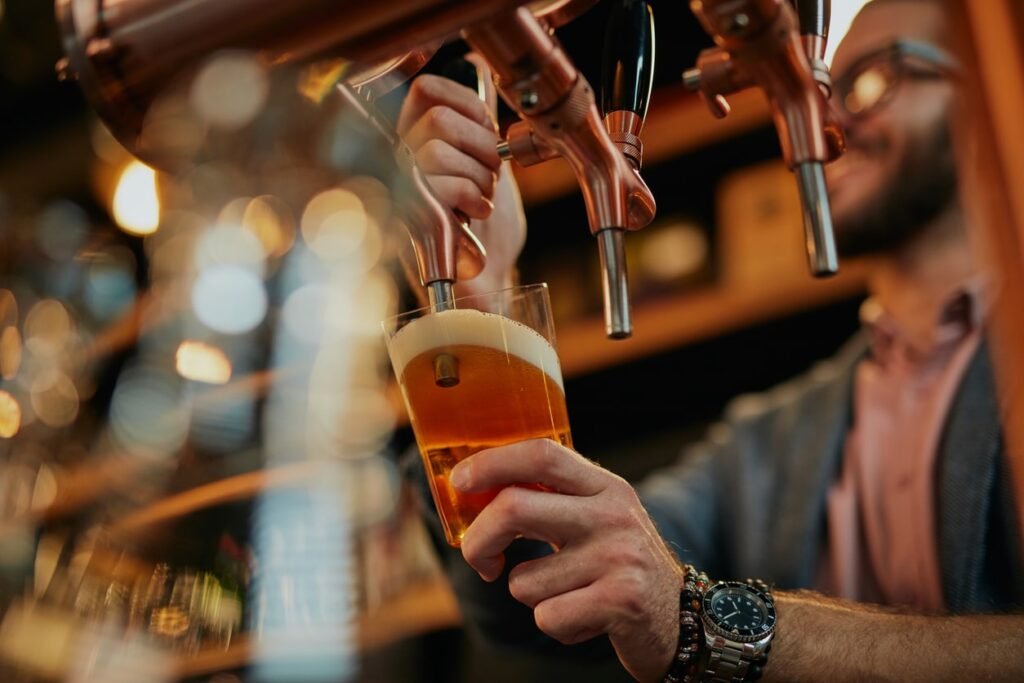 4. La Fontana Italian Restaurant
This award-winning family-owned Italian restaurant has been around for over 25 years and is open till 11pm – so you'll have plenty of time to enjoy what's on offer!
Expect lots of delicious Italian comfort food classics, whilst the presentation of the food is almost as amazing as the taste!
They have multiple seating options including underneath their 'twilight sky lighting" as well as on a patio which has a fountain.
Address: 17 Clifton St, Blackpool FY1 1JD

Three Unique Blackpool Nightlife Spots
Are you tired of attending the same kinds of club one after another? Are you looking for an exciting, new, or different way to spend your time in the evening? If so, here's three suggestions for unique Blackpool nightlife spots which we think you'll love.
1. Comedy Station Comedy Club
Comedy Station is in a prime spot on Blackpool's coast, near to Blackpool Tower. Visiting this comedy club is essential to any Blackpool nightlife experience, and it's a club that's hosted many famous comedians such as Jason Manford, Justin Moorhouse, and TapeFace.
It's best to book seats ahead of time as this club can get very busy. Open Thursday to Sunday from 6:30 pm to 10:30 pm, this is a great spot for some fun and laughs during your visit to Blackpool.
Address: Bank Hey St, Blackpool FY1 4RU
2. The Grand Theatre
Set in a beautiful Grade II listed building, The Grand Theatre is the perfect late-night outing. Especially during Christmas when they have pantomimes that are an absolute must-see!
Other than that, expect fun shows, stunning costumes, comedies and dramas. There's usually something going on at this theatre, so check their website in advance to see if there's a show you like when visiting. Be sure to dress 'smart casual' to fit in with everyone else.
Address: 33 Church St, Blackpool FY1 1HT
3. Viva Blackpool
Do you want to see the show of a lifetime? Do you want to sing and dance? Well, Viva Blackpool's the place to do it! And not only that, you can also have dinner with your show!
Here you'll see shows like musicals and cabaret, all while enjoying food, drink and a good time!
Address: 3 Church St, Blackpool FY1 1HJ
Blackpool Nightlife: The Best Places For Each Day of the Week
If you aren't a local, it can be hard to tell what happens on certain days of the week.
But here are some suggestions for what's happening on the Blackpool nightlife scene by each day of the week.
Monday
On Monday, Trilogy nightclub has free entry before 11pm and £1.50 drinks the entire night.
Tuesday:
Tuesdays are quite quiet on the Blackpool nightlife scene, but you can get 2 for £10 on R-Heart cocktails from 3pm – 7pm at Revolution.
Wednesday
You can get great deals at Trilogy nightclub on what they call 'Wacky Wednesdays' where they have £1.50 drinks all night and free entry before 11 pm.
Thursday
Popworld has 'Thirsty Thursdays' where entry is free and drinks are only £1.75!
Trilogy hosts 'Thursday Socials' where drinks are only £1.50, entry is free before 11 pm, and they have beer pong.
While at Comedy Central tickets can be bought for only £5!
Friday
On Fridays, Popworld has 'Shake it like it's Friday' deals where entry is free before 10 pm and they have a special two for one cocktail deal.
Trilogy hosts 'Frisky Fridays' where entry is free before 11 pm, double spirits and mixers are £3.50, and beer and VK's are £5.
Comedy Central tends to show their front-line acts on Fridays as well.
Saturday
Trilogy nightclub hosts 'Saturday Sessions' where you can get in for free before 11 pm, double spirits and mixers are £3.50, and beer and Vk's are £5 pounds before 11 pm.
Front line acts are usually shown at Comedy Central.
Sunday
On Sundays, the Comedy Central Comedy club tends to present a lot of new material, so it can be a good time to see some great comedy.