Wandering our World is reader supported! If you purchase anything through a link on our site, we may earn a commission at no extra cost to you.
Last updated on July 4, 2023 by Wandering our World
Betws-y-Coed is a small village located in Snowdonia National Park, North Wales. With stunning views and a wealth of outdoor activities on its doorstep like hiking and climbing, it's little surprise camping in Betws-y-Coed is so popular.
This quaint village is surrounded by green rolling hills and thick forests that are perfect for exploring on long hikes or picnics. The most popular – and touristy – attraction in Betws-y-Coed is Swallow Falls, a series of three waterfalls located on the River Conwy not far from the village.
But regardless of your reasons for visiting, we believe camping is the best way to experience this village and region!
Having spent years going back and forth to stunning Snowdonia and Betws-y-Coed, we're now here to help you plan your camping holiday.
Related: The Best Restaurants In Betws-y-Coed
Below we share our favourite Betws-y-Coed campsites, before looking at wild camping in Betws-y-Coed.
There's even more – such as a free camping game that's perfect for kids. That's right at the bottom of this article!
So read on to begin your Betws-y-Coed camping adventure!
CONTENTS:
The Best Campsites in Betws-y-Coed
Wild Camping in Betws-y-Coeds
Unique Things To Do When Visiting Betws-y-Coed
Free Scavenger Hunt Game
The Best Campsites In Betws-y-Coed For Fun, Views & Adventure
Camping is a popular activity in Betws-y-Coed, as lush forests and hills surround the village. There are several campsites located in and around the village, so we're sure you will find one that suits your needs.
But if you haven't visited before, we're here to help!
Below are our favourite Betws-y-Coed campsites – we're sure at least one will be perfect for you.
1. Cwmlanerch Campsite and Cottages
This is a family-friendly campsite that offers beautiful riverfront views. It is adjacent to a working farm and just a 20-minute walk from the village of Betws-y-Coed.
The campsite offers pitches for tents and motorhomes but does not allow groups. Caravans are not permitted on the property, but seasonal touring pitches are available in the adjacent caravan park.
The toilet block at this campsite features five hot showers that are free for campers (always a bonus!), washbasins with both hot and cold water, electric hand driers, a shaving point, and electric sockets. Unfortunately, there are no electric hookups available.
Guests can also make use of the chemical toilet facilities and the dishwashing facilities, which include a washing machine and a tumble dryer.
Additionally, there is a coffee shop and breakfast bar on-site that is open at peak times! However as the campsite is situated on a working sheep farm, dogs are not allowed.
What's Close By
Cwmlanerch campsite is located by the River Conwy, adjacent to a family farmstead. It is in an excellent central location for exploring North Wales as it sits within Snowdonia National Park.
The riverside location provides lovely surroundings, and it is only one mile from Betws-y-Coed. Cwmlanerch is the perfect base from which to explore all that North Wales has to offer!
Address: Cwmlanerch, Betws-y-Coed, LL24 0BG
2. Maes y Bryn Campsite
Maes y Bryn Campsite is situated on a small farm near the market town of Llanrwst, in the North Wales countryside. This campsite is a great base for a relaxing getaway surrounded by beautiful scenery. It's perfect for families and couples – but not groups.
It feels rural and peaceful, while still being close to popular holiday resorts on the North Wales coast. Llandudno, Rhyl, and Colwyn Bay are only a 25-minute drive away.
This campsite was voted one of the top ten campsites in North Wales, so you can be sure you're staying in a great place when camping here.
There's plenty of flat, grassy pitches for both campers and tourers. Glampers will also find plenty to keep them entertained, with a fabulous wooden lodge situated in the scenic Garden of Peace, as well as a tipi near a babbling stream. Please remember to bring your own bedding and towels if you're planning on glamping, and don't forget the food and toiletries!
The farm where the campsite is located is also home to all sorts of animals, including sheep, chickens, ducks and geese, making it a perfect place for animal lovers. The animals are very popular with kids too.
On top of that, this Betws-y-Coed camping option has great facilities too. There are both male and female toilet and shower blocks, complete with hot running water, which is perfect for campers and glampers. In addition, there is an amenities block that houses a coin-operated washing machine and tumble dryer.
You'll also find a nature trail on the campsite, as well as a small shop selling essentials and gifts for the whole family.
What's Close By
The area surrounding Maes y Bryn is teeming with historic houses, castles, museums, cromlechs, the Ffestiniog Railway, and slate caverns at Blaenau Ffestiniog, just to name a few attractions.
For those who love the great outdoors, there are also plenty of opportunities for hiking, biking, and exploring the scenic forests and rivers.
Meanwhile, those who crave some excitement will love the bustling holiday resorts of the North Wales coast, which are a short drive away.
If you're looking for some downtime, the charming town of Llanrwst offers a taste of Welsh culture, with locals usually speaking the language in their day-to-day lives.
Address: Carmel, Llanrwst, LL26 0NT
3. Riverside Touring Park
Riverside Touring Park is a 5-star base for peace and relaxation located in the heart of Snowdonia National Park. Here, visitors can enjoy clear lakes, sweeping forests, and majestic mountains.
The park is also close to Zip World, making it the perfect jumping-off point and base for all that Snowdonia offers.
Riverside is situated on eight acres of lush land amongst trees, right next to the town of Betws-Y-Coed in the Conwy Valley. With around 60 touring pitches available, including fully serviced super pitches and a small number of backpacking tent spots, the park can cater to a range of campers. Dogs are also welcome!
The site facilities include heated toilet and shower amenities, a washing up area, and a fully equipped laundry room. WiFi is available on site for guests to use. The site is also highly secure, with accessible facilities for all guests.
There is also a shop that stocks essentials for guests' convenience. In addition, The Stables Bar is located half a mile from this Betws-y-Coed campsite and serves some great food and a fantastic craft beer selection!
On top of all that, there is also a first-class golf course nearby for guests to enjoy.
What's Close By
The village of Betws-y-Coed is a beautiful place to visit, with lots of tasty restaurants, cafes and pubs to enjoy. There's some great walking trails for those looking to get some exercise as well, with Swallow Falls and Fairy Glen two popular spots to explore in the area.
If you're looking for more things to see and do, head north to Llandudno, Conwy, or other nearby towns on the coast. There you'll find lovely coastal scenery, beaches, and historic castles to explore.
There is plenty to enjoy in Snowdonia National Park for outdoor enthusiasts, from long hikes to scenic bike rides and lakeside activities.
This area is also rich in history, with many historical sites to see and even some adrenaline-pumping activities like ziplining at Zip World.
Address: Riverside Touring Park, Old Church Rd, Betws-y-Coed, LL24 0AL
4. Swallow Falls Hotel Campsite
Swallow Falls Hotel Campsite is a beautiful site located next to the stunning Swallow Falls. This hotel has 19 bedrooms and also offers YHA accommodation for those who want a more rustic experience, alongside the campsite.
That campsite is terraced and spread across four levels, with parking available for camper vans in the main car park. There is also a limited number of electric hookups for those who need them. The campsite is only accessible by car when loading and unloading, which helps to keep the noise down and makes it a more peaceful experience.
The BBQs and water taps are spread across the various terraces of the campsite, and there are large sinks available on the lower level for cleaning dishes.
You'll have access to all of the facilities at the complex, including hotel's cafe and pub, and guests are free to use whatever they want. There is also a children's play park nearby for added fun.
What's Close By
The popular Swallow Falls is right on your doorstep, but so is Betsw-y-Coed which is a short peaceful walk away.
If you're looking for something more exciting, Capel Curig is just a short distance away and offers great climbing, rambling, and mountain biking trails. Plus, the area is great for canoeing on the River Conwy.
Address: Holyhead Road, Conwy, LL24 0DW
5. Popcorn Camping Betws-y-Coed
Popcorn Camping is located in the Snowdonia National Park, right by the scenic River Conwy so expect gorgeous views and the sound of the river if staying here.
Just a mile from the village centre, it's the perfect spot for your North Wales adventure. This back to basics site is rustic and offers non-electric standard pitches for tents. It's a place to get back to nature, where the emphasis is on exploring the snowy peaks and lakes of Snowdonia at your leisure.
With Mount Snowdon just 20 minutes away, and Zip World close by, there's plenty to keep you busy during your stay.
And if you're looking for a place to camp where your furry friend is welcome,, look no further as this campsite is dog friendly.
Here, you'll also find plenty of space to set up your tent and relax, and there's communal areas where you can gather around a fire and share stories about your day with fellow campers.
You're also free to cook on your own BBQ, as long as it's raised off the ground.
What's Close By
The dramatic landscape the campsite sits in offers plenty of opportunities for outdoor enthusiasts to get out and explore.
From the village itself, there are plenty of walks, including the amazing Fairy Glen and from there you can even follow the Conwy River all the way to the Shallow Falls.
If you're looking for a more adventurous experience, you can head to Snowdon Mountain Railway or try your hand at zip-lining at Zip World.
For those who want to explore the coast, Colwyn Bay is only 30 minutes away, and the awe-inspiring Isle of Anglesey is just 45 minutes from Betws-y-Coed.
Address: Popcorn Camping Betws-y-Coed, Craiglan Road, Betws-Y-Coed, Conwy, LL24 0SH
Wild Camping In Betws-y-Coed: Everything You Need To Know
DISCLAIMER: Below we give general advice, but we always recommend staying in an official campsite. If you choose to go wild camping/dispersed camping, then make sure you do so with someone who already knows the area where you're planning on camping for your own safety.
Like most parts of Wales, wild camping in Betws-y-Coed is illegal. However it is sometimes tolerated by locals if you are not camping in a group and you respect the land.
The reality is that people will often wild camp when walking long-distance routes like the Wales Coast Path or hiking in Snowdonia. In general wild camping while hiking tends to be tolerated throughout the UK if done in a considerate manner. (Recommended: Wild Camping in Wales).
Although we always advise choosing a campsite, if you do decide to go wild camping in Betws-y-Coed, then make sure you camp respectfully and discreetly.
Be careful not to damage the ground where you pitch your tent and if you think you're on private land (like a farmer's field) then you should always seek out the permission of the land owner. They may ask for a small fee, which is only fair.
Wild camping has its dangers too, and you should only go wild camping in a new area with someone who knows the terrain.
If wild camping in Betws-y-Coed, we'd advise sticking to the following guidelines in order to be as good and respectful as possible:
You should camp in the same place for one night only.
Pitch your tent discretely and in a rural spot. So don't pitch it near settlements or on farmed land. If you think you're on private land, always seek out the landowner and ask permission.
Campers should set up their tent at dusk, and take it down at dawn. A tent that is discreet and pitches quickly is best. So a lightweight hiking tent like this one would be a great investment for someone planning to walk and camp in Betws-y-Coed and the surrounding area.
When wild camping in Betws-y-Coed and the surrounding area you must never make a campfire. Instead it may be worth looking at using a stove or storm cooker – but check local laws first to see if they're allowed. The Swedish brand Trangia make great camping storm cookers that are safe and virtually indestructible.
When going to bathroom you must do it far from any water such as rivers and lakes. Make sure to use a trowel (like this folding one) to bury any human waste – don't just leave it out in the open.
Like many rugged and wild rural areas around the world, there are flora and fauna to be aware of. So read up and make sure you know what to expect in the region or area you are planning to wild camp in.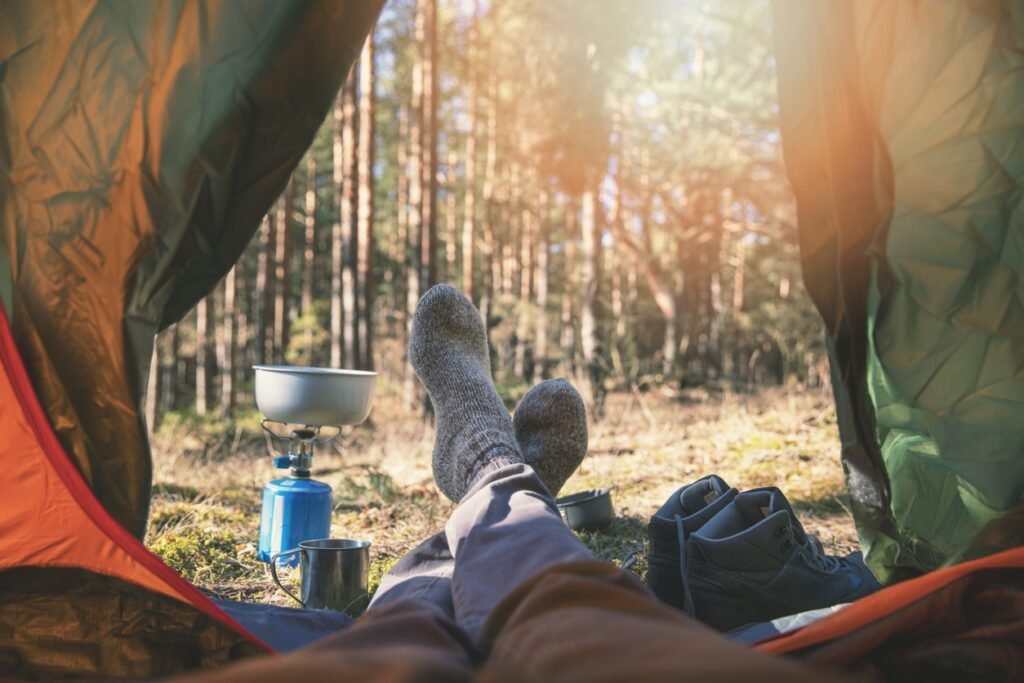 Unique Things To Do In Betws-y-Coed
Betws-y-Coed is a quintessential Welsh village that boasts a charming mix of rustic charm and natural beauty. If you're looking for outdoor activities, this area offers plenty of opportunities to hike, bike, fish, and canoe.
There are also several historic sites nearby, including castles, museums, slate caverns, and ancient cromlechs.
Here are some of our favourite attractions and activities in Betws-y-Coed:
1. Go Hiking
There are numerous hiking trails in Betws-y-Coed, ranging from easy walks to more challenging hikes.
One of the most popular trails is Llanberis Path, which is around 9 miles and takes approximately 6 hours to complete.
2. Visit Swallow Falls
The spectacular Swallow Falls are located just outside of Betws-y-Coed and are easily accessible by foot. The falls are made up of three main cascades with the total height of these falls standing at 42 m.
With its scenic location and easy accessibility, Swallow Falls is a popular spot for both tourists and locals alike.
3. Go Fishing
If you love fishing, you will find many excellent spots in Betws-y-Coed, including the River Conwy and various lakes in the surrounding region.
Whether you are an experienced angler or a beginner, there are plenty of opportunities to enjoy a day on the water.
4. Explore the Historic Sites
Betws-y-Coed is home to several historic sites and monuments that date back hundreds of years.
The town itself was founded in medieval times, while some other sites were used by Druids more than 2,000 years ago.
5. Visit Snowdonia National Park
Snowdonia National Park is located just a short drive from Betws-y-Coed and is one of the most popular tourist destinations in Wales.
The park covers an area of 823 square miles and includes mountains, lakes, forests, and glens. Whether you want to hike, picnic, or simply enjoy the incredible scenery, this is a must-visit destination while in Wales.
Camping In Betws-y-Coed: Free Scavenger Hunt Game
If you're looking to keep kids amused while camping in Betws-y-Coed – or you fancy having some fun for yourself – then we've created a printable scavenger hunt game!
Print it out, then tick off what you manage to find and accomplish during your camping holiday. Have fun!