Wandering our World is reader supported! If you purchase anything through a link on our site, we may earn a commission at no extra cost to you.
Last updated on October 7, 2022 by Wandering our World
A seaside town with history going back at least 6000 years thanks to the Stone Age flint mines found here, a trip to Worthing is always going to one full of interesting things to see and explore.
On a sunny day you can relax on the beach and explore the pier or take a picturesque walk through Hightown Gardens to see the massive carp there. And should you need to tire the kids out you can't go wrong with Splashpoint Leisure Centre.
There's no doubt that Worthing is a fantasic place to visit, but there's another reason we love this place so much – the diverse selection of pubs in Worthing!
Regardless of how you spend your time in Worthing, if you're like us then after a day of adventuring you'll want some delicious food and a refreshing pint.
To help you out, we've decided to put together a list of what we believe are the best pubs in Worthing.
As you'll see there's plenty of great food, live music, nightlife, beer gardens and refreshing local ale to enjoy.
So sit back and relax while we guide you through Worthing's pub culture!
The Eight Best Pubs in Worthing For Beer, Food & Fun
1. Anchored in Worthing
To kick things off we've got not only the first micropub in Worthing, but the first in Sussex!
While micropubs usually tend to specialise in craft beer, there is a selection of ale available at Anchored from a variety of local brewers. And in keeping things local, they've also got Sussex wine, gin and ciders.
Even the soft drinks and crisps are from local companies – which we think is fantastic.
As for the craft beer, there will often be up to 40 available which is rather impressive. And you guessed it – they're from local brewers.
Decorated with small wooden anchors and with a cosy, friendly feel, this place is as photogenic as the beers are tasty. There's also some unique furniture such as the B-17 airplane chair.
During lunchtime feel free to grab some food from the café next door and bring it inside, and if you take your dog this Worthing pub will provide them with treats!
On top of all that they've even got a quiz night once a month. The only downside is they're not open on Monday – we do all deserve a day off though!
Address: 27 West Buildings, Worthing, BN11 3BS
2. Brewhouse & Kitchen
This is the part where you hit bookmark as not only will you need somewhere to eat and drink in Worthing but also a place to stay, so why not stay at a 'Brewtel'!
Situated just five minutes away from the beach this Brewhouse/hotel is a great all in one spot.
Everything has a modern look, but the building itself is old and original features have been retained. There's also a fantastic outside area where you can enjoy some fresh air with your pint. And should the weather suddenly turn there's covered seating outside too.
Breakfast, lunch or dinner, Brewhouse & Kitchen have you covered. And if you enjoy a tapas feel to your dinner (who doesn't) then there are plenty of small plates to choose from – so grab and share.
For something more filling their most popular dish is the Beer Can Chicken infused with their own pale ale. The food on offer is mainly classic pub grub, with steaks, burgers, sandwiches and many vegetarian and vegan options available too.
The food is fantastic, but we think the main event here is the beer.
As you'd expect from a brewhouse there's a large range of in house brewed ale, craft beer and lager to enjoy. They also feature beers from other local breweries too, so as to promote the whole area. As for what to try, if it's a golden ale you're looking for then order the Stormtrooper, and for an IPA try the Scombrini.
If you're like us, when you visit somewhere like this it's always fun to pick up some knowledge from the brewmasters themselves. And luckily you can do just that with the 'experience days' they hold here. Spend the day brewing, enjoying beer pairing classes, beer tasting or even a gin masterclass – sounds fun right!
Address: 14 Wykeham Rd, Worthing, BN11 4JD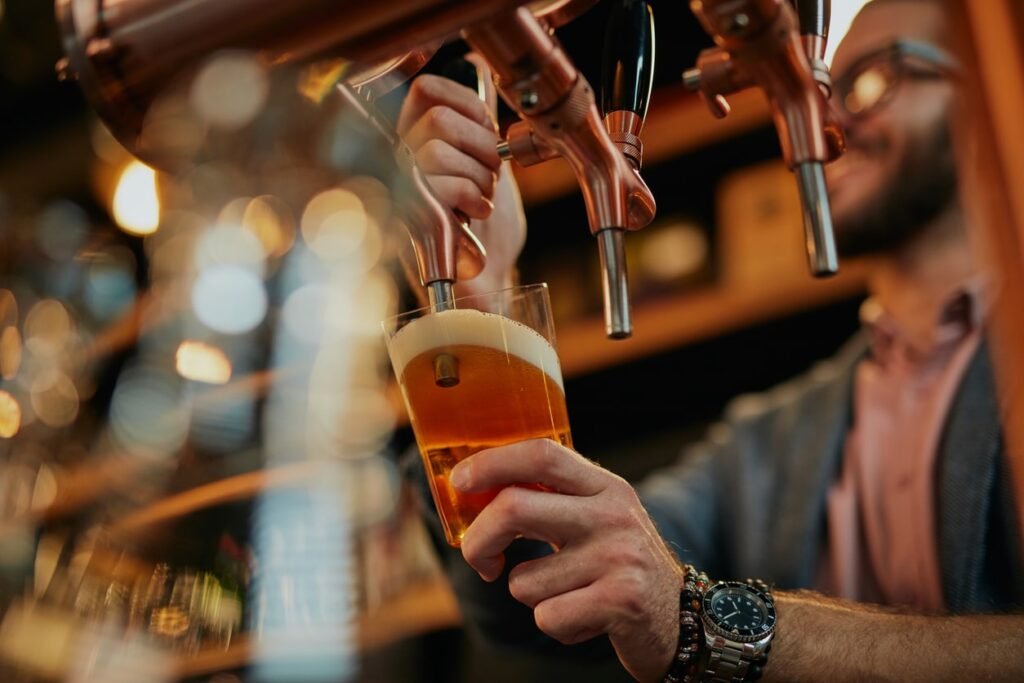 3. The Rose & Crown
If you're looking for some live music during your time in Worthing then The Rose & Crown may be the place for you.
This traditional looking pub has a large bar with plenty on offer and very friendly staff. But you won't want to stay inside when the weather is nice as there is a colourful, walled in beer garden to enjoy outside.
Back to the music. There's often live entertainment here, including live bands and retro discos – this is definitely one of the best pubs in Worthing when it comes to evening fun! Just be sure to check their website to see what will be on when you're in town.
There's plenty to choose from drinks wise, and in terms of ale there's usually three on offer: Castle Rock Harvest Pale, Harvey's Sussex Best Bitter and St Austell Tribute. On top of that this is one of the most dog friendly pubs in Worthing too.
Address: 169-173 Montague Street, Central, Worthing, BN11 3DA
4. The Hare & Hounds
Another great pub for live music is the bustling Hare & Hounds which is situated close to the centre of Worthing.
This historic pub has a traditional look and features a U shaped bar that leads out onto the conservatory and enclosed garden.
For entertainment, Tuesdays are reserved for live jazz and there will often be bands playing on Saturday evenings. Other than that they've got a general knowledge quiz on Wednesdays and a music quiz on Sundays.
Should you get peckish, food is served every day of the week here and they've got a great menu filled with hearty comfort food as well as lighter snacks. All Day Breakfasts, Sausage Beans & Chips, Cottage Pie and Burgers are just a few of the great options.
There's a separate vegetarian menu too and if you opt for a Sunday Roast, you'll receive a free dessert!
To wash the food down there is a fine selection of ales, and often you'll find Exmoor Ale, Harvey's Sussex Best Bitter, St Austell Proper Job and Timothy Taylor Landlord on tap.
This is a family friendly pub with fantastic food and great entertainment, so it's easy to see why we think it deserves a place on our list of the best pubs in Worthing.
Address: 79-81 Portland Road, Worthing, BN11 1QG
5. Thieves Kitchen
In our opinion, one of the best pubs in Worthing to catch some sport on TV during the day is the Thieves Kitchen.
This large pub is great for groups thanks to the big tables, but the bar area is also kitted out with comfortable seating and some booths for dining. While upstairs you'll find a pool table which is always good fun after a few drinks.
For something light to go with your pint when watching a game there's Wings, Sandwiches and Nachos to share.
Or to fill you up there's the perfect selection of classic pub food with the likes of Fish & Chips, Mac & Cheese, Burgers, Pies and plenty of other delicious dishes. For those with a sweet tooth be sure to try their Apple Pie which we thought was fantastic.
To go along with your meal there are four ales to choose from, or perhaps enjoy some wine as they've got a fantastic selection available.
The weekends here get a bit more lively compared to the more relaxed atmosphere that exists at other times, as in the evening a DJ will often start playing and the dance floor is illuminated.
Open every day of the week and with disabled access not an issue, this is a venue for all to enjoy… apart from children when things pick up in the evenings and the drinks start flowing!
Address: 10-12 Warwick Street, Central, Worthing, BN11 3DL
6. Charles Dickens
If you've spent the afternoon strolling along the seafront in Worthing, you'll be pleased to know there's a pub not too far away where you can pop in for a drink and let your legs have a rest.
To make things better the Charles Dickens even have a sun trap of a beer garden to enjoy, so your time in the sun doesn't have to end!
This pub boasts a traditional exterior and interior with wood panelling and a mirror behind the bar giving that classic pub look. Whether it's a cup of coffee, some ale or wine, whatever you're after all are welcome here to enjoy a drink – including dogs!
Sports are shown on the TVs and if you end up staying a little longer than expected they occasionally have live music in the evenings. So popping in could easily turn into a night out.
Address: 56 Heene Road, Central, Worthing, BN11 3RG
7. Grand Victorian Hotel
Grand – adjective; magnificent and imposing in appearance, size, or style.
That's the best description of this place we can give. And it's not just the spectacular building that's grand, but all that goes along with it.
For those who enjoy some history, the original hotel here was named the Railway and opened its doors back in 1898 – since then it's been through different names but has always kept its Victorian aesthetic.
Evidence of that can be seen in the traditional bar area complete with tinted glass lamp shades. To the back of the pub there's a patio to enjoy and to one side is a conservatory, while to the other is a nightclub – not so Victorian anymore!
If you're looking for a three course meal then this gorgeous gastropub may be the place for you so grab a bottle of wine and start off with the delicious Loaded Potato Skins or Onion Rings. The usual gastropub fare is available with mains like Burgers, Fish & Chips and Steak to name a few. To finish things off you can't go wrong with the Apple Crumble or Sticky Toffee Pudding.
Should you be after ale, there's two taps. While we were in they had Fuller's London Pride and Sharp's Doom Bar.
But one of our favourite things about this place is the regular live entertainment each week from live bands to DJs covering everything from the 80s to soul nights and even some karaoke! So be sure to take a look at their Facebook page before you visit to see if there's something for you.
Even if there's not, it's well worth visiting this historic pub to enjoy a pint and food in a memorable atmosphere and surrounding. This is easily one of the best and most interesting pubs in Worthing.
Address: 27 Railway Approach, Central, Worthing, BN11 1UR
8. Corner House
As always we have found the oldest pub in town for you! There has always been a pub at this location since circa 1805, although there was a bit of a rebuild in 1895. Nowadays the Corner House is a great gastropub with lots on offer.
The interior is spacious, and although refurbished, they've retained a traditional look with wooden flooring and a log burning fire with some sofas close by. To the rear of the pub you can access the paved garden which has shelter and heaters available.
If you're looking for food, then unfortunately the kitchen is closed on Monday and Tuesdays but if you're hungry on those days then let a member of staff know and they'll give you a pizza menu from a nearby pizzeria, order it for you and have it delivered!
A regular menu runs from Wednesday to Saturday and for something a bit different on Wednesdays, the chef prepares a whole variety of of vegan dishes from burgers and hot dogs to curry so it's a great chance to try some excellent food that you normally wouldn't.
To wash down all that fantastic food there's a fine selection of ale and wine to choose from.
If you're visiting on a Monday then pop along as there's a weekly pub quiz with the proceeds going to a good cause. Whilst on Sunday afternoons there's live music to soothe you if you've just filled up on the very popular Sunday Roast.
Address: 80 High Street, Worthing, BN11 1DJ