Wandering our World is reader supported! If you purchase anything through a link on our site, we may earn a commission at no extra cost to you.
Last updated on December 1, 2022 by Wandering our World
Whether you're on a romantic weekend getaway or simply touring the Berkshires, Lee's quaint, small-town charm will make you fall in love with its old brick buildings and cute restaurants.
Speaking of restaurants, you'd be surprised to find such a wide array of cuisines available in such a tiny old town – Italian, American, Indian, Peruvian, Mexican – you name it.
So to help you out as we know this town so well, we've put together a list of what we believe to be the best restaurants in Lee, MA.
You'll find places with great aesthetics, top-quality service, and of course, some divine food. Let's dig in!
Our Top Eight Restaurants In Lee, MA: Fantastic Food and Memorable Experiences
1. Morgan House Inn
What's a trip to the Berkshires without dining at a colonial-style restaurant? With its rustic wallpaper, wooden floor, and cute fireplace, Morgan House has a history dating back to the 1800s and the house resonates with quaint, colonial charm.
Have a meal within its relaxed, warm dining room where you'll often find local artists playing live, mellow music. Or go al fresco at the back or on the front porch where you can sip Sangrias and be reminded of how nice Lee is when it's sunny outside.
Either way, you'll be pleased to find a menu full of traditional New England fare, such as the clam chowder – a local favorite – or the special Turkey Dinner, which is filled with cornbread and comes with mashed potatoes, veggies, and gravy on the side. Such homey, rustic goodness!
We're more biased towards the Prime Rib, though (served only on Friday and Saturday), which is a big portion of meat cooked to perfection along with some potatoes and asparagus – simply delicious!
They've also got plenty of gluten-free and vegan options, so drop by any day of the week from 4 to 8.30 pm (11.30 am to 9.30 pm on weekends), and don't forget to order some fancy cocktails to complement their New England fare and pretty setting. It's little wonder this place easily makes our list of the best restaurants in Lee, MA.
Address: 33 Main St, Lee, MA 01238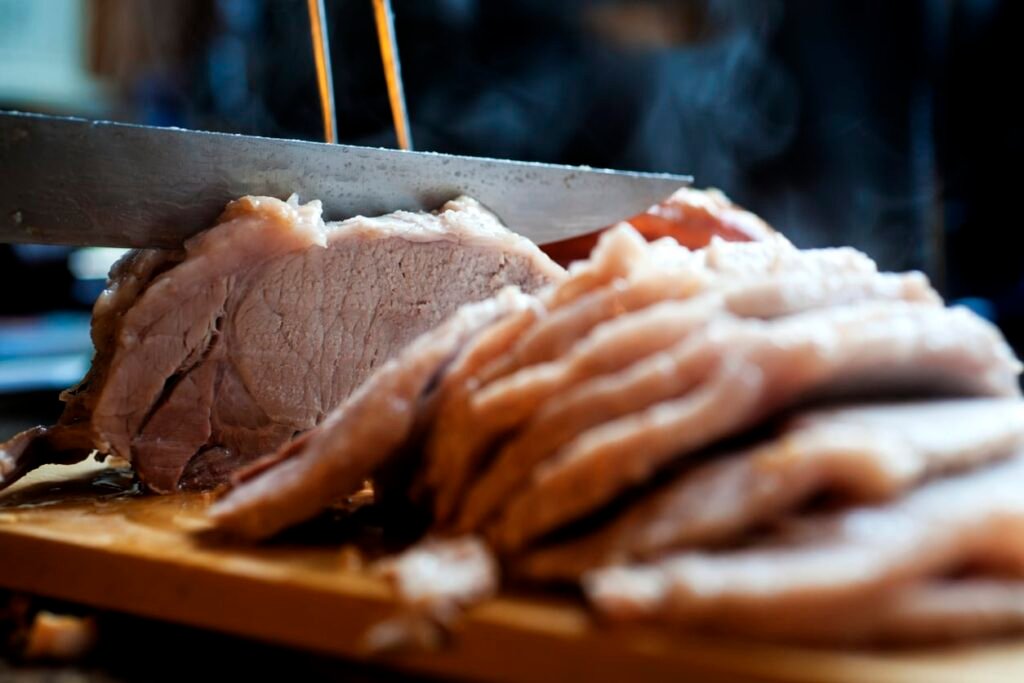 2. Starving Artist Cafe and Creperie
If you have only one morning to spend in Lee, we suggest you spend it at Starving Artist Cafe and Creperie for the best breakfast/brunch experience in town!
As the name implies, this place is part cafe and part art gallery. Pretty unique, huh? Various works by local artists adorn its walls, and there's a whole area dedicated to interesting sculptures and decorative items. The vibe here remains casual and down to earth, though, with a relaxed and fun atmosphere. You'll even find local artists playing live music every other Sunday for brunch, so drop by during this time for a lively meal.
While the whole art gallery affair is interesting, what keeps the crowds coming back is their downright delicious, savory crepes. You'll find lots of creative takes on the ordinary crepe – think BLT, smoked salmon, and Tempeh (Indonesian soybeans). Our favorite, though, is the French Toast Crepe – filled with fried eggs and bacon and topped with maple syrup, berries, and whipped cream. Weird? A little. Delicious? Absolutely!
Plus, most of the items on their menu have a vegan or gluten-free version available, and all of their sauces (except the pesto) are vegan and gluten-free too. They even have vegan cheese, chocolate, and ice cream! So if you have a plant-based diet, you'll know where to come for the best brunch ever.
Despite plenty of seating, there's usually a line at the counter here (no surprise though), but the food will be worth the wait. You can find them dishing out delicious dishes from 8 am to 3 pm, except for Tuesdays and Wednesdays when they're closed. When it comes to breakfast and brunch, this is easily one of our favorite restaurants in Lee, MA.
Address: 40 Main St, Lee, MA 01238
3. Mint Lakeside Indian Dining
Want to splurge a bit and treat yourself? Go to Mint, a fine-dining restaurant that brings the famous flavors of Indian cuisine to the quaint town of Lee.
Located on an off-beat path right beside Lake Laurel, Mint offers a spectacular lake view from within its beautiful glass walls alongside a lavish atmosphere. It's perfect for a romantic date or celebrating an occasion in style.  
For starters, go for their signature vegetable samosa – a delectable morsel that is probably the most widely-available street food item in India. Filled with potatoes that are cooked in a mix of spices, these pastries are the perfect way to romp into the world of Indian cuisine.
As for the entrees, there's a lot to choose from, and our favorite is the Biryani – a fragrant, super savory plate of rice that is prepared with fried onions, tomatoes, herbs, meat, and a heavenly blend of strong spices. Among other notable items is the Lamb Rogan Josh, which is a delicious lamb curry eaten with Naan (Indian flatbread). Its exceptionally bold flavors and fall-off-the-bone tender meat is so delicious that we're sure there will be rounds of 'mmm' and 'this is so good' around the table.
Mint also caters to vegan and gluten-free diets. Oh and, feel free to inform the wait staff about your spice tolerance – they'll adjust the heat accordingly.
With an impressive collection of wine, including Indian beers, and an impeccable view of the lake, Mint is well worth spending an evening at. They're open every day (except Tuesdays) from 12 pm to 2 pm and 4.30 pm to 9 pm.
Address: 435 Laurel St, Lee, MA 01238
4. 51 Park Restaurant and Tavern
If there's one word to describe 51 Park, it's 'cozy'. A repurposed house for a restaurant, this place gives off farmhouse vibes – everything from its Victorian porch and hanging lights to the dark wood furniture and walls speaks warm, comfortable, and homey. So if you find yourself out on a rainy or cold day, this restaurant will be the perfect spot to cozy up for a casual lunch or dinner – especially if you snag a seat on their pretty outside porch.
Just like the atmosphere, their menu is pretty easy and relaxed, focusing on burgers and woodfired pizzas for the most part, along with excellent renditions of the classics like Baked Mac and Cheese or Chicken Pot Pie.
As for our recommendation, the classic Burger Melt – a protein of your choice along with caramelized onions and American cheese – is our all-time favorite. You can also go for more daring creations, like the Cado – a combination of avocado, pickled onions, muenster cheese, and meat – that somehow works wonders on the taste buds. Oh and, don't forget to get truffle fries as the side. You won't regret spending the extra few bucks once you dig into them!
Along with all the great food, 51 Park also serves interesting cocktails, like the Hibiscus Margarita, and a vast variety of wine and beers on tap. They also have a special kids menu, so bring the whole family – they have plenty of seating on both floors and outdoors.
Open every day and located just a short drive away from Lee Premium Outlets, this place is the perfect pit stop for a casual meal after some retail therapy.
Address: 51 Park St, Lee, MA 01238
5. Timothy's Restaurant and Pizzeria
There are a few things you can count on when dining at Timothy's: the atmosphere will be lively, you'll be pleased with the friendly staff, and there will be some amazing food – lots of it in fact, as they have enormous portions! Serving Italian classics since 2010 and winning generations of loyal customers, Timothy's is the best restaurant in Lee, MA to put all your pasta and pizza cravings to rest.
Don't expect a very fancy interior, though – the place is down to earth with a simple layout, which is kind of perfect for the hearty, comfort food that is to come later. And as an added bonus, they sometimes have acoustic musicians performing!
We suggest you begin with their seafood appetizers (we get it – you can't hold yourself back from the mozzarella sticks, go ahead and get them too). The mussels, in particular, are a real hit here – steamed, fresh, and swimming in a creamy sauce with herbs and tomatoes. And while the pizzas are great, hone in on the classics, such as the Signature Lasagna. Lots of meat? Check. Cheesy and creamy? Check. What about a hearty, huge portion? Mega-check. It's every lasagna lover's dream!
Open from Tuesday to Saturday between 4 – 8 pm, there's an inevitable wait on most days as this place is typically jam-packed.
So don't hesitate to sit at the bar and have some drinks as you wait for some great Italian food at one of the best restaurants in Lee. These are dishes that will leave you saying Mama Mia!
Address: 54 Main St, Lee, MA 01238
6. Salmon Run Fish House
Between fresh clams, perfectly cooked salmon, and some great-tasting wine, Salmon Run Fish House is easily one of the best restaurants in Lee, MA for seafood. With its humble booth seating, affordable pricing, and small outdoor patio, this family-owned place has a comfortable, simple layout with a casual, pub-like ambiance along with a bar that whips up some pretty creative cocktails.
While the interior may not impress you, the food definitely will. The star dish here is the house special pan-roasted salmon (no surprise there) with a honey maple glaze, served with perfectly seasoned potatoes and vegetables. An absolute knockout, we can tell you! As for any clam fanatics, this place offers them in various forms – fried, stewed, slathered in marinara, and better yet, raw in the shell, so there's something for everyone.
The menu also spans classic seafood dishes, and our favorite so far is the pan-seared, melt-in-the-mouth scallops that come on a bed of perfectly cooked risotto with beurre blanc sauce and some veggies. But let's not forget their pasta bowls – the shrimp and scallop Alfredo, in particular. An ample amount of scallops and shrimps drowned in a perfectly-nailed cheesy, buttery Alfredo sauce? Yes, please!
With a good selection of wine and beer and attentive, friendly staff, this place is what every seafood restaurant aspires to be – renowned for its reliably good, fresh food. Give them a visit any day from Wednesday to Sunday, between 4 pm and 9 pm, and you'll know why locals rave about this place.
Address: 78 Main St, Lee, MA 01238
7. Alpamayo Restaurant
If your taste buds are curious to experience the exotic taste of Peruvian cuisine, head towards Alpamayo – Lee's only restaurant that serves authentic Peruvian food.
The setup of this place with its small dining area, quaint outside patio, handful of decorative items, and simple seating arrangement speaks fast-casual, but the food is certainly fine-dining quality. If the food isn't enough of a draw, the friendly staff and refreshing Peruvian drinks will surely win you over.
Of course, the first thing anyone who's seeking Peruvian food wants is ceviche, and we're in love with Alpamayo's Ceviche Mixto. With a whole load of fish, shrimp, mussels, and calamari drenched in lime juice and mixed with onion and cilantro, this appetizer with its burst of citrusy freshness is going to spark up your taste buds and ready them up for what's next on the menu. For the entree, don't miss the expertly-made Filet Mignon Saltado, a Peruvian classic, which comes with a sensational mix of stir-fried beef, bell peppers, onions, tomatoes, and soy sauce.
If you can make it past all the food, don't forget to indulge in some of Alpamayo's most popular drinks, such as the Chicha Morada. Sit outside on the small patio in a quaint street of Lee as you sip on these refreshing drinks, and you'll thank yourself for dropping by this place.
Alpamayo is open every day, from 11.30 am to 8 pm, except for Mondays – this is easily one of our favorite restaurants in Lee, MA.
Address: 60 Main St, Lee, MA 01238
8. Baja Charlie's
On days when you want to stay in your sweatpants and don't want fancy food, head towards Baja Charlies, a small joint located just a couple of blocks away from the Housatonic River. Serving Cal-Mex cuisine – so great Mexican food with a touch of California – in a fun, casual atmosphere, this is the place to indulge in some hearty, cheesy food that will leave you full and satisfied. Another reason to bring those expandable sweatpants!
While the dining room may be small (but with cute surf decor), Baja Charlie's is big on flavor. Begin with their Baja Nachos that come loaded with cheese, though you'll be served free tortilla chips and salsa soon after you're seated (the more the merrier, right?).
Once you're done devouring that load of cheesy goodness, try not to drool when the fish tacos come your way. Filled with crispy fish, cabbage, avocado, and guac, these tacos are so flat-out tasty that you may find yourself ordering some more for takeaway. You probably won't need to, though – their portion size is so generous, that you may not be able to finish your meal.
Oh and, do try their awesome Margaritas – they certainly know how to make one! And if you managed to save some room, head to Lucky's Ice Cream next door for the perfect end to a satisfying meal.
Baja Charlie's s only open from Wednesday through Saturday, 4 – 8 pm, so don't forget to drop by then for all your taco fixes!
Address: 62 W Center St, Lee, MA 01238
The Best Restaurants In Lee, MA: Our Final Thoughts
After a look at our eight favorite restaurants in Lee, MA, you'll understand why this town is known for its food scene.
From spicy samosas and flavorful tacos to fresh ceviches and hearty lasagnas, the list of cuisine you can indulge in here is huge compared to the town itself!
Is your mouth watering yet? Well, now you know where to get some great food when in Lee. Bon appetit!